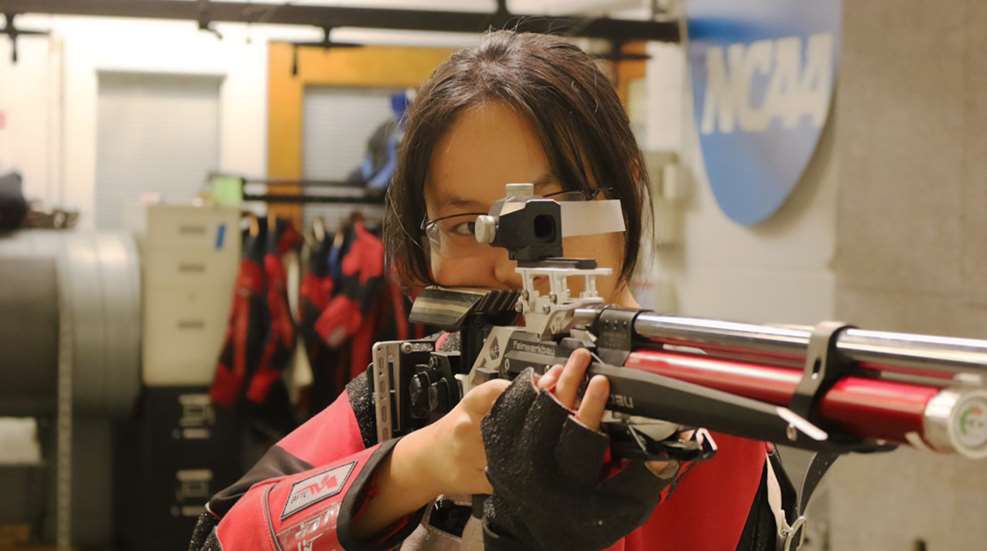 Below is an excerpt from a question-and-answer session with coaches and athletes from the Massachusetts Institute of Technology rifle team. The article was shared by the CMP.
Q&A with Athletes and Coaches: Massachusetts Institute of Technology (MIT)
The rifle program has been an integral part of Massachusetts Institute of Technology culture since its founding years—dating back to 1899. That same year, the first Inter-Class Rifle competitions were held Walnut Hill Range in Woburn, Mass. MIT's Rifle Club gained momentum and began to hold regular matches in 1907, funded largely by the National Rifle Reserve, which was created to train young men in marksmanship in preparation for war. The MIT Rifle Team was officially declared a sport of the school in 1916, using carbines and Springfield service rifles.
The current varsity rifle program is one of MIT's two co-ed varsity teams, participating in both air rifle and .22 rifle competition.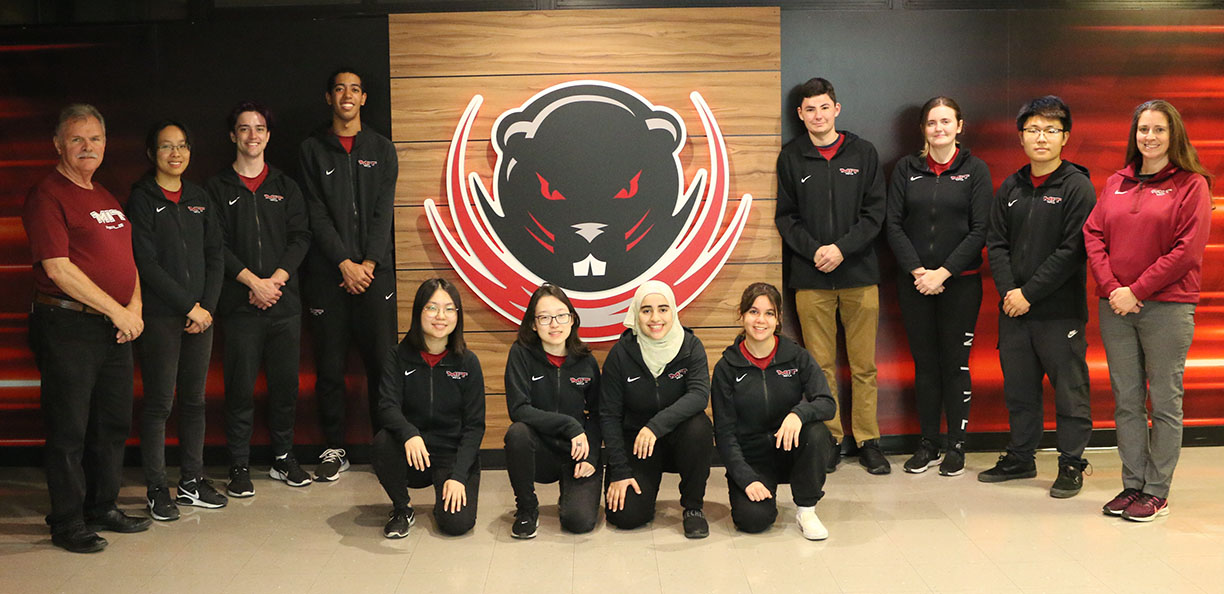 COLLEGE COACH QUESTIONS
Name: Melissa Mulloy-Mecozzi
Hometown: Middleton, Mass.
College Coach for: Massachusetts Institute of Technology
Were you a marksmanship athlete before coaching?
Yes, I competed for the University of Alaska-Fairbanks from 1998-2001 and was a member of three NCAA Championship teams. Finished eighth in 3x20 at the 2000 Olympics in Sydney, Australia, and won an Olympic quota in air rifle for the Athens 2004 Olympics. In addition, I have my MBA and a bachelor's degree in business.
Favorite reason for coaching?
I love working with all my student-athletes. They come from around the world and have backgrounds that are so different from my own. I'm constantly learning from them. Everything from countries and political issues I didn't know existed to foods I've never had. They also keep me current on so many things from books, popular apps and what shows I should be streaming. I have always had such a wonderful group of athletes here at MIT, and I really enjoy the time I spend with them.
MIT is like the Olympics of academia. My students have so much drive and ambition and always want to do their best at everything. Most of them have never participated in rifle prior to college. However, the strong work ethic and competitive nature that brought them to MIT makes them easy to coach, and they tend to advance quickly.
What is a day as a member of your team like? What is your biggest challenge as a coach?
We practice four days a week. MIT has no academic classes from 5:00 p.m. to 7:00 p.m. each day so that students can pursue interests outside the classroom. As a result, we always practice as a team. We are fortunate to have our own range located in the athletic center equipped with Sius electronic targets. Our biggest challenge was the covid pandemic. Our entire 2020-2021 athletic season was cancelled, and the team was dispersed around the country and world. However, the wait was worth it when the entire team returned to campus in September of 2021.
Advice for junior athletes wanting to compete in college and for college athletes and graduating college seniors?
If you are interested in shooting in college, I would highly recommend it. You will need to spend several years in high school preparing yourself. Obviously, academics are important. However, depending on which schools you are considering, you will want to give yourself as much training and competitive experience as possible.
If you are not on a high school team or organized group that meets regularly, this part can be a bit harder. However, finding training partners and competition opportunities that motivate you to train on your own can help. Competing at the NCAA level requires a high level of commitment. You will be training on a daily basis, and most of your weekends will be occupied with competitions. However, it can also give you the opportunity to leave home and have many new experiences. I have met some of the nicest and most genuine people I have ever known through rifle (both as a coach and athlete).
For those graduating, cherish the time you have with your team. You will miss them after graduation. Chances are, they will have prepared you more for your next adventure than you could have ever imagined.
ASSISTANT COLLEGE COACH QUESTIONS
Name: Jerome "Jerry" Dausman
Hometown: Grand Rapids, Mich.
Were you an athlete before coaching?
I was on the varsity rifle team at MIT before I became a coach. My coach, Jon Mooar, was a competitive athlete who believed strongly that by coaching others your own shooting skills would improve. Consequently, I improved to the point where, by the end of my junior year, I had won a "Straight T," the highest athletic award given by MIT. My senior year, I participated in the Olympic shooting trials. When I stayed on at MIT for graduate school, I became the volunteer assistant coach.
I maintained an "A" average through all six years of undergraduate and graduate school. Part of my academic success is due to the concentration and discipline I practiced on the team.
Favorite reason for coaching?
Watching the "light bulb" effect as a young athlete starts putting the pieces together, reaches a new level and a smile breaks out on their face.
What is a day as one of your athletes like? What is your biggest challenge assistant coach?
The day starts by battling the urban transit system just to get to campus. Once on the range, all the noise and confusion of the city disappears and focused tranquility reigns. We greet each other as the athletes, get their equipment and prepare for practice, often exchanging a joke or chatting about the latest news: a friendly and relaxing atmosphere.
The biggest challenge comes during shooting—what can I do to help? Often, it's only something as simple as providing an Allen wrench when needed or sweeping up brass for a student who needs to leave early for an evening class. Most of the time, I concentrate on an individual athlete, looking for anything that has changed or needs to change. If I'm not sure of what I'm seeing, the next thing to do is run it by Coach Melissa. She's had much more experience at a higher level of coaching and shooting than I have, and an extra set of eyes generally brings new insight or nuance to a question. The bottom line is I always want to provide positive input to the athlete, even if it's only an encouraging word.
Advice for juniors wanting to compete in college and for college athletes and graduating college seniors?
For junior athletes, I would suggest thinking about what you'd like to accomplish in college, both academically and on the range. Investigate the colleges that can meet these goals and email their coaches with a question or two.
Some advice—when I got to college, I started out as a rank beginner in a Physical Education rifle course. I joined the team my sophomore year, and by the time I graduated, I was headed to the Olympic Trials. You can go a long way if you want to, and in shooting, you meet many wonderful people along the way.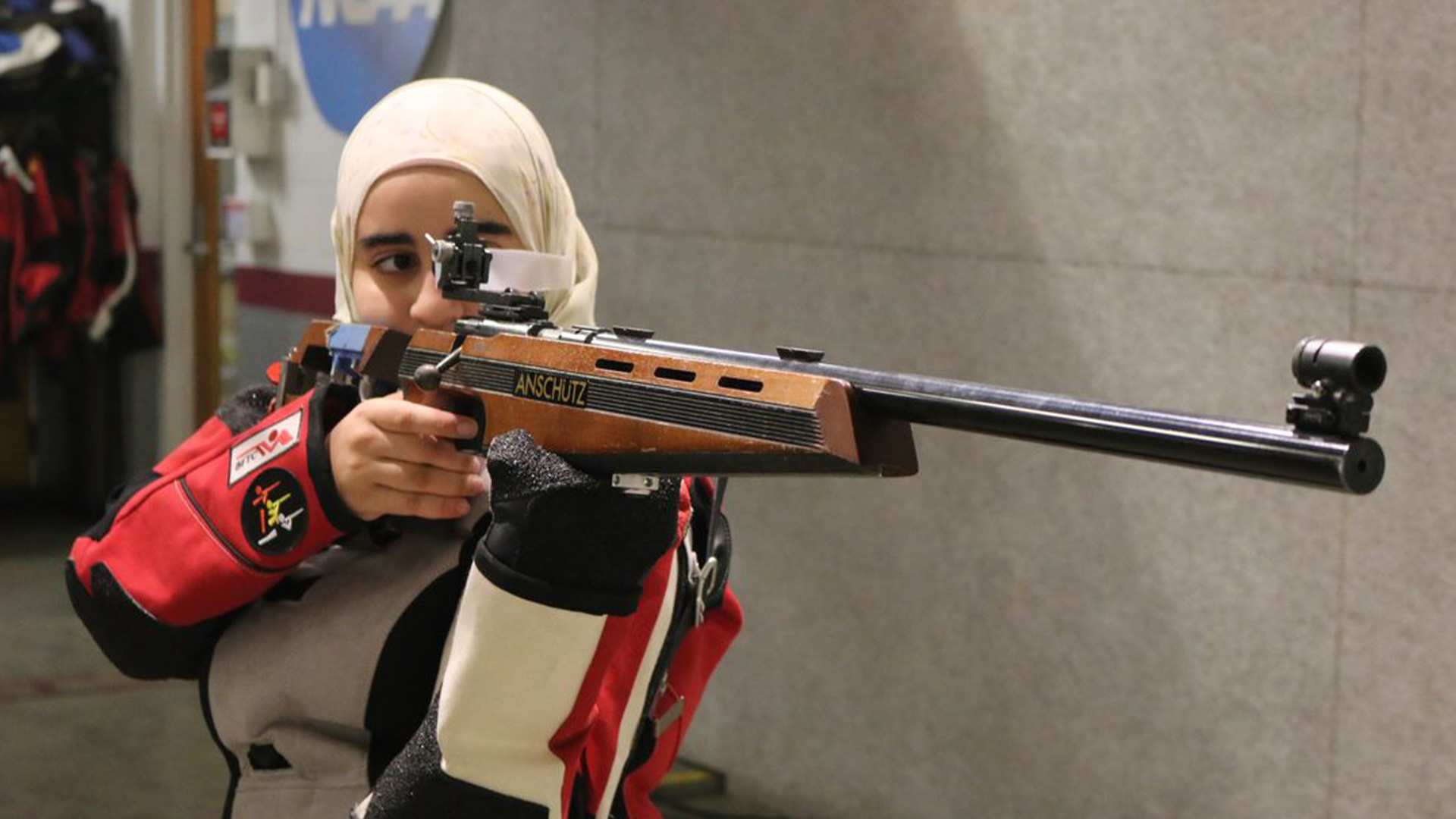 COLLEGE ATHLETE QUESTIONS
Name: Jaden Anderson
Hometown Team: Georgia/Wiesbaden High School Rifle Team
What is your major?
Right now, Im going for a joint Chemistry and Biology major. I enjoy learning about the chemistry that drives biological system. My favorite class right now has to be Organic Chemistry—it's been really cool to learn how chemical reactions actually happen.
What is the most impactful piece of coaching advice you have been given?
Last year, Coach Mulloy-Mecozzi mentioned how I should focus a lot less on my score and spend more time focusing on my form, breathing, essentially just everything but the score. This helped me build a healthier mindset around improving my skill in the sport.
What got you involved in rifle?
I randomly joined my high school team during freshman year just to do something, but I ended up really liking it.
How many hours a day, and days per week, do you practice?
We practice three days during the week for two hours, and then have a two-to-three hour Saturday practice.
What is a week at college like?
For me, a week is a usually hurried mix of classes, rifle, cooking, volleyball and then finding time to hang out with friends.
What is the biggest life lesson you have learned from rifle?
Rifle has helped me learn how necessary it is to bring a positive growth mindset to every situation.
---
Name: Rose Alsalman
Hometown: Palestine
What is your major?
Physics and computer science. I find quantum computing to be a fascinating cutting-edge field that lies at the intersection of quantum physics and computer science, and I would love to contribute to this amazing field.
What other clubs, sports and hobbies did you have in high school?
I used to do karate and gymnastics. I also was the president and co-founder of YouCode, which is a club that tutors middle and high schoolers in the basics of coding.
What is the most impactful piece of coaching advice you have been given?
When you're too overwhelmed, stop, take a rest and reevaluate your position.
Do you have a mantra or saying?
Always aim for the stars, and if you can't reach it, you will still reach the moon.
What is a travel match like for you?
Travel matches are fun for me, as they provide great opportunities to bond with my teammates and meet other teams in different environments.
Advice for new competitors joining the sport?
Take it one step at a time and slowly but surely you will reach your goal.
---
Name: Chloe Smith
Hometown: Leeds, England
What is your major?
Mechanical engineering with a robotics concentration. My favorite class has been MIT's Toy Design class, which provides an intro to mechanical engineering through a fun project. You work in small teams to produce a toy that is marketable within a semester (though you end up with three weeks to build it), and then present it in a massive showcase at the end of spring semester.
Outside of rifle, are you part of any other organizations or clubs?
I am part of MIT's motorsports team, where I work on the mechanical engineering side of things. I love Formula 1, so it tracks that in my spare time I build racecars. Though we don't have the same restrictions that the F1 cars have, so we can accelerate much faster than they can.
How old were you when you got involved in rifle?
I started in the fall of my freshman year in September 2021 as a walk-on to MIT's varsity team. I had no prior shooting experience.
Favorite rifle (air rifle vs .22) and stage (kneeling, prone or standing)?
I tend to switch favorite rifles dependent on how each match goes (as I score similar points in each), though currently my favorite is air rifle standing. The lack of changing positions means that once you're properly sighted in, then you're completely good, and there's no need to change settings on your gun between stages. I do enjoy the variability of competing in .22, though I really do not enjoy .22 standing. Prone is for sure my favorite in .22.
What do you do outside of rifle to train and better yourself (workout, meditate, etc.)?
As an MIT student, it is rare that I find enough time in my schedule to consistently commit to a workout routine, so instead I focus on eating well and getting enough sleep. Regardless of what I have going on, I will always prioritize my sleep.
Future plans and goals for rifle and life?
While I do love rifle at a collegiate level, it is highly unlikely that I will carry on shooting once I'm done with my bachelor's. I enjoy competing with a team, and the likelihood of that happening after MIT is unlikely. In terms of my life plans, if I decide to go into academia, I want to be a professor of robotics. If I decide to go into industry, I will be focusing on human-robot interaction.
---
Name: Jenny Zhang
Hometown: Austin, Texas
What is your major?
I'm majoring in Electrical Engineering and Computer Science, while minoring in Mechanical Engineering. I am passionate about multidisciplinary fields like robotics and mechatronics controls, and this allows me to explore all aspects from design to manufacturing and implementation. My favorite class so far has been Analysis and Design of Feedback Control Systems. It really made clear the fundamentals of control theory and had cool labs and design problems.
Favorite junior match?
The first away match my freshman year on the team was a lot of fun and made me feel more connected to my teammates as the group of us numbering in the single-digits tried to take up as much space as we could on a huge tour bus. (Spoiler alert: We couldn't fill that much space.)
Outside of rifle, are you part of any other organizations or clubs?
I've been a member of the MIT Solar Electric Vehicle Team since freshman year as well, and I have served as Electrical Lead and Systems Engineering Lead. We design, build and race a solar-powered car cross-country and have won the American Solar Challenge two years in a row with our most recent car, Nimbus. I also do research in the MIT Biomimetic Robotics Lab.
Do you have a lucky charm that you have on the line with you when you are shooting?
I always wear a four-leaf clover necklace my parents gifted me for my birthday.
What is a practice day like for you?
I take some time to set up my space with the appropriate gear after deciding which position(s) I want to focus on for the day. I start off just by holding my rifle in position, closing my eyes and focusing on breathing, figuring out where my natural point of aim is and shuffling until I'm happy with how things feel. Then I shoot some sighters to determine if I need to adjust the sights and start practice—working out a rhythm in between each shot, set of shots and determining when I need to take a break.
What has rifle taught you?
Rifle has taught me patience and the value of mental equilibrium. When I pick up the gun intending to make a shot, nothing should stop me from realizing things feel wrong and putting it down again without making the shot, taking a few more breaths then trying again. Whether I make a good shot or a bad shot, it should not change my mindset going into the next shot, and this is one of the hardest things to do in the sport.
Learn more about the MIT rifle team and CMP.