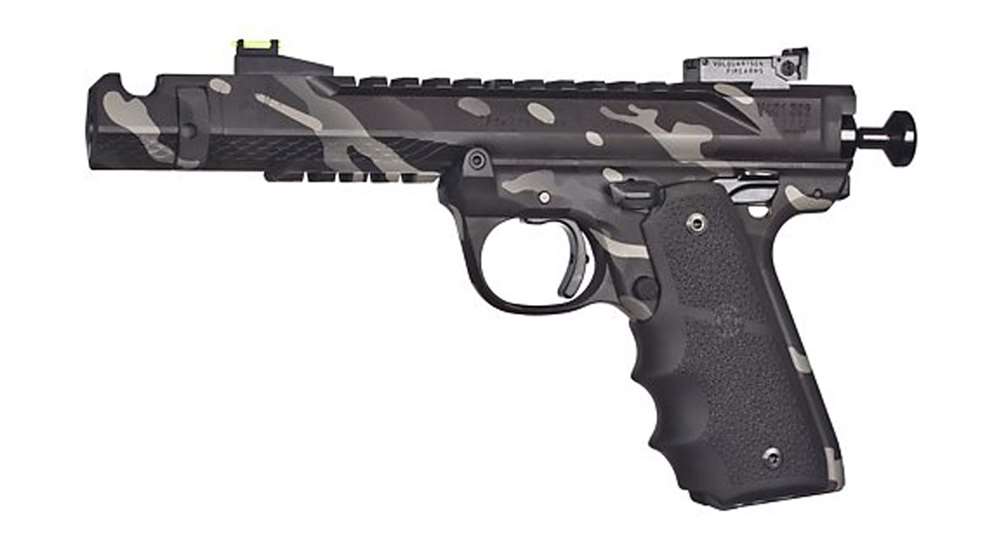 In the early 1970s, Tom Volquartsen could be found in his home basement in Carroll, IA, restoring, bluing and customizing guns. He never set out to become one of the preeminent makers of precision rimfire rifles and pistols, just to be true to himself. Days spent as a tax collector would soon turn to becoming a full-time gunsmith, with the support of his wife and four kids. His vision for custom guns gave him an almost immediate following. Volquartsen guns at the time were totally unique in the market, both in terms of looks and performance; they were an incredibly precise breed of semi-automatic rimfire guns. The Volquartsen mission: Build Firearms Worthy of Those Who Use Them; "Quality is Quintessential."
Volquartsen is now run by the family's second generation, brothers Scott and Nic working together to embody their father's relentless drive and quality standards.
"We craft every firearm and accessory we make using only the highest quality materials and production methods, ranging from time-honored hand tooling techniques to custom in-house CNC and EDM precision-built technology. For added quality, every gun we make is built from start to finish by a single craftsman, who not only hand-selects his raw materials, but also test-fires each gun before it's ready to ship. Each product is a promise—and we take that very seriously."
There are several different custom rimfire rifles and pistols in the current lineup, many of which can be found in the hands of the top rimfire shooters in the world. The website also boasts a very large selection of custom parts and accessories for several models of rimfire pistols and rifles. There are Remington 870/1100 shotgun extractors and a new trigger for the Ruger PC9 carbine and a list of gunsmithing services available.
For the Volquartsen family it's personal, "Every day we walk into our workshop, we work to make meaningful headway in the impossible pursuit of perfection. We always strive to challenge ourselves to make the best products we can. It's not just our ethos as makers—we're avid shooters, too. We understand and appreciate the experience as a whole, which is why we're devoted to building the best products we can."
During the USPSA Area 5 Steel Challenge Championship I picked up the Volquartsen Black Mamba that Brian Conley from Hunters HD Gold had recently purchased. Conley has a table full of custom guns that are on hand if a competitor has a gun go down or just wants to try it. Since I am known for being well-prepared for matches, it was an obvious choice for me to pick up something that I have never shot and hit an Area Championship Match. I ran the gun the entire match, shooting the CCI 22 Clean ammo with no issues. After the match Brian asked me how it went and then informed me that he had just received the gun, straight from the box and to his table. I didn't set any records that day, but to take a brand-new rimfire pistol with untried ammo and have no issue for several hundred rounds (I miss a lot) is pretty impressive.
Check out the entire lineup of Volquartsen custom rimfires and accessories here.
Article from the November/December 2019 issue of USPSA's FrontSight magazine.