The History of Marine Corps Competitive Marksmanship
(1960 to 2010), Vol. II
By Karen Davey
472 pp. Marine Corps Distinguished Shooters Association. $29.95
"Stars Wars," "Fast and Furious"—all the blockbuster movies have sequels. Even outstanding literary works have sequels too, like"To Kill a Mockingbird," "The Lord of the Rings," "Ulysses" and "Through the Looking Glass." Now, we have a follow-up to the story of some of the greatest shooters in the U.S. and the world.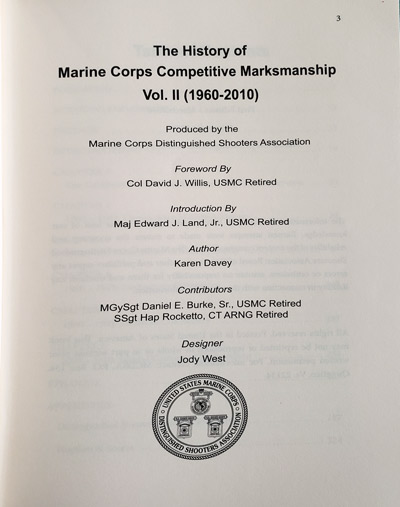 It gives me great honor to announce the release of "The Red Book, Vol. II," properly known "The History of Marine Corps Competitive Marksmanship (1960 to 2010), Vol. II." Written by Karen Davey, the book covers decades of match results, shifts in leadership and legends in the shooting world of sports. And, the book's foreword was provided by Col. David J. Willis (USMC Retired) and an introduction by former NRA Secretary, Maj. Edward J. Land, Jr. (USMC Retired). Much more than a simple match bulletin, what makes this book such a good read is the fact it tells an important story—the life of the U.S. Marine Corps Shooting program as it evolved over 60 years.
In an interview, Col. Willis complimented author Karen Davey. "She did a good job getting vast interviews, getting opinions and fitting them in to make it enjoyable to read." He added, "The text extends itself like a magazine, trying to convey a thought, not just a score. She had a lot of tenacity and was very dedicated to making it as correct as possible."
The author herself noted, "To the humbleness and gratitude of Col. Willis, Maj. Land and all the other Marines I interviewed. They would thank me for my efforts when all I could think about was how much they have given of themselves to serve our country."
Reading a typical history book can be dry. Full disclosure: This book is personal to me. Over the years, Marines have had a great influence on my life. In my youth, participating in monthly matches at Quantico, VA, I had the honor and privilege to know Greg Connor, Ray Green, Jerry Boswell and D.I. Boyd. They were always punctual, polite and at the top of the scoreboard. It was like a beginning athlete in a tournament with the pros. In my adult life I had a supervisor and mentor that was a Marine. Heck, I even ended up marrying a Marine. Who knew? But now I can look back and see the positive influences they had on my youth and adulthood. I cannot be more grateful than I am. My hat is off to the Marines, from a personal perspective. They certainly shaped my shooting career and professional career in positive ways I never could have imagined.
Now for the spoiler alert. While reading this book, I discovered many interesting facts. There is one that really stuck in my mind. Prior to reading the book, I knew D.I. Boyd was a terrific shot. Well, I learned just how great he really was. As it turns out, D.I. Boyd is the only Marine to have earned all five Distinguished honors. It is quite a feat to earn one, but he earned all five. (Page 117) I always had the utmost respect for him as a shooter, but now that bar has been raised. That is just a sample of the amazing facts you will find in "Vol. II."
We owe it to future generations to record history as accurately as possible. The intensity that everyone put forth contributing to "Vol. II" is off the charts. So, what is so important about "Vol. II"? It shows that hard work, dedication and commitment did not stop. Training programs for soldiers to prepare them for field work may evolve, but the fundamentals to marksmanship do not change. Learning the basic skills correctly teaches Marines to trust their rifles, whether he or she is on the firing line or going through qualification or even at war. The Marines have a lot to think about in training for combat: mapping, fitness, their pack, etc. The more they practice with their firearms and practice correctly, the more likely they can accomplish their mission. They train hard and it shows.
As Maj. Jim Land states in the introduction: "To acknowledge the achievements of the many competitors, coaches, armorers and technicians who put in countless hours to perfect their craft and share their knowledge with fellow Marines ensure the combat readiness of the Corps and the freedom that we enjoy as Americans."
"Vol. II" provides a personalized journey over several decades. It will be interesting to see who picks up the "rest of the story" as Paul Harvey used to say. Don't throw match results away.
If you are interested in purchasing a copy, contact Danny Burke, current President of the MCDSA at [email protected]. If you prefer using the postal service, you can write to Burke at P.O. Box 134, Quantico, VA 22134. The price for members of the U.S.M.C Distinguished Shooters Association is $24.95 and $29.95 for non-members.
Burke commented, "It is a great piece of work!" Who knows, maybe you are a future member of this elite group of athletes or you are coaching one currently. Whose name will be on the trophies next time around?
Kathy (Kelly) Quandahl was a member of the Fort Hunt High School Undefeated Rifle Team, the Acorns JRC, three-time All-American for West Virginia University and the U.S. Army Marksmanship Unit. She collected numerous National Records over her shooting career and continues her involvement in marksmanship training in her spare time.
---
See more:
NRA Coach Education Program: What You Need To Know