Team Winchester's Anthony Matarese Jr. continued his winning streak in 2021 with an impressive performance earlier this month at the National Sporting Clays Association (NSCA) U.S. Open Sporting Clays Championship. Matarese Jr. bested the field to win the Main Event title, marking his third U.S. Open win, as well as runner-up in the FITASC event. The combined 2020/2021 NSCA U.S. Open was held Jun. 7–13 at Claythorne Lodge in Columbus, Kan. (Last year's event was rescheduled due to the pandemic.)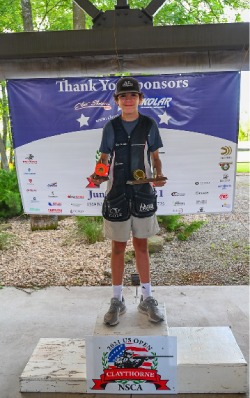 Additionally, the youngest member of Team Winchester, Connor Daniel, 13, racked up an impressive list of accomplishments, including Sub-Junior champion at the Main Event, first place in the Main Event AA Class and also in the FITASC Event AA Class.
Matarese Jr.'s and Daniel's shotshell of choice is the Winchester AAHLA127. This Lite Handicap is loaded with a one-ounce, high-antimony shot traveling at 1,290 f.p.s. The higher velocity has plenty of energy for far targets and lessens the lead required on fast-moving birds. In addition, the 6 percent antimony shot reduces pellet deformation to keep patterns tighter and allows shooters to use the smaller one-ounce shot charge, which provides less recoil.
Matt Campbell, the vice president of marketing and sales at Winchester, expressed his excitement about the performances of both shooters. Here is what he had to say.
"Congratulations to Anthony and Connor on excellent performances against an extremely talented field of competitors. We are extremely proud of Team Winchester and excited to watch them as they continue to compete at the highest levels across the shooting sports this year."
The National Sporting Clay Association Championship Tour, Powered by Winchester, had the company's popular AA shotshells available for all competitors to sample.
Learn more about the combined 2020/2021 NSCA U.S. Open here. The 2022 NSCA U.S. Open will be held May 16–22 at the Back Woods Quail Club in Georgetown, S.C. Find out the latest news from Winchester Ammunition at winchester.com.
---
Read more:
Team B&P Adds Karen Shedd