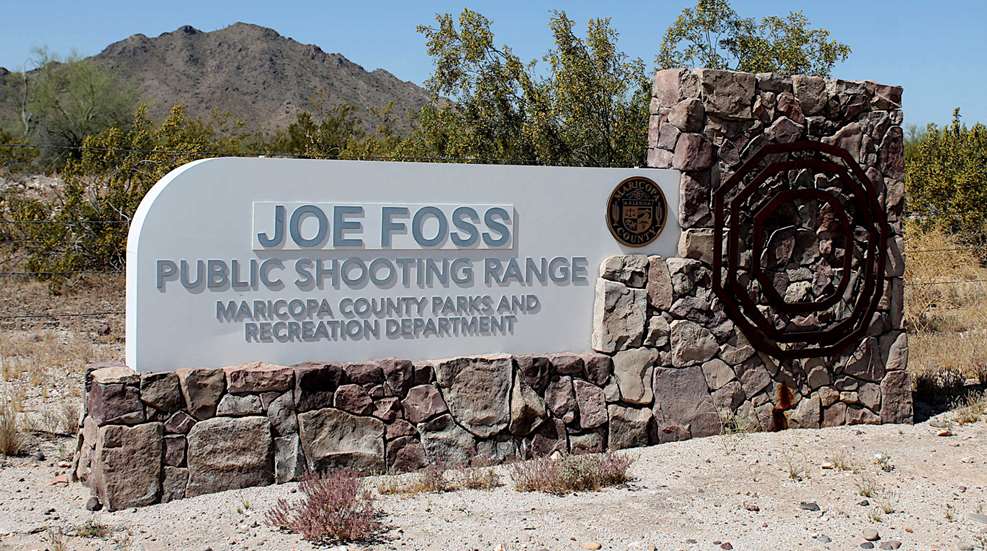 Arizona is likely the most shooting sports-friendly state in the country, so it's no surprise that a shooting range in the fastest-growing county in the United States bears the name of a former NRA President, Joe Foss. Also unsurprising, an all-volunteer staff of Arizonans operates the range for the benefit of the public.
Maricopa County, which encompasses 9,224 square miles around and westward of Phoenix, has been the fastest-growing county in the U.S. for several years now, reaching a population of nearly 4.5 million by the end of 2022. The 1,650-acre Ben Avery Shooting Facility in northern Phoenix is the premier shooting range in the state—voters named it a Point of Pride—and for 10 years the Arizona State Rifle and Pistol Association (ASRPA), an NRA state affiliate, ran the world-class facility for Maricopa County. In 2006 the County turned ownership and operation of the range over to Arizona State Game and Fish Department, and ASRPA remains active in organizing and operating competitions, practices and other training on a near-daily basis at the facility.
Maricopa County foresaw even then the need for another large shooting range, and within a year the County Board of Supervisors approved plans to construct a 120-acre shooting facility to house both a public range and a law enforcement range. The County wisely selected a site surrounded by BLM land, not readily available to developers, to forestall any encroachment from rapid urban growth.
Construction of the Buckeye Hills Shooting Range near the town of Buckeye, west of Phoenix, quickly moved forward. In 2008, Maricopa County received approval from the Joe Foss Institute to change the name of the facility to the General Joe Foss Shooting Complex. Mrs. "Didi" Foss, Mr. K. Michael Ingram (a member of the Joe Foss Institute Board of Directors) and Dave Roberts (president of the Joe Foss Institute) attended the grand opening on January 16, 2009. To operate the Complex, Maricopa County again contracted with ASRPA.
ARIZONA HEROES
ASRPA volunteers operate the Complex under a Special Use Permit granted by Maricopa County Parks and Recreation. Serving multiple needs, the General Joe Foss Shooting Complex is divided between public, private and law enforcement use. The 200-yard Ensign John C. Butler Main Range has 40 firing points and is open to the public on weekends, while the 50-yard Training Range is reserved for law enforcement and occasional action pistol competitions. Other groups, such as commercial firearms training businesses, also use the Complex during the week. The Ensign John C. Butler range can accommodate fully automatic firearms and large calibers (excluding .50 BMG), and the Complex also includes a trap and skeet field.
The Main Range is named after Ensign John Clarence Butler of Liberty, Ariz. Ensign Butler, a Navy dive bomber pilot of VB-3 (USS Yorktown), was killed at the Battle of Midway in 1942, along with his enlisted gunner; he was 21 years old. President Roosevelt awarded Butler a posthumous Navy Cross for heroism, and in 1943 the Navy named the destroyer escort vessel John C. Butler (DE-339) in his honor.
Joe Foss is a name well-known among NRA members, having served as president of the organization from 1988 to 1990. Foss is most famous for his exploits as a U.S Marine Corps fighter pilot ace during the battle for Guadalcanal, for which he was awarded the Medal of Honor. He later served as Governor of South Dakota and as the first commissioner of the American Football League. Foss also became involved in a number of charitable organizations before moving to Arizona and forming, with his second wife Didi, the Joe Foss Institute, a non-profit working with veterans and schools to educate youth in U.S. civics and history. While living in Arizona, Joe Foss once related an anecdote that illustrates the disturbing loss of both a sense of history and of respect that permeates our culture today. Back in 2002, a security guard stopped Foss when he passed through Phoenix Sky Harbor airport security with his Medal of Honor as carry-on luggage. The Transportation Security Administration guard didn't know what the medal is, and he intended to confiscate it for destruction. The conflict resolved in Joe having to ship the Medal of Honor back to himself.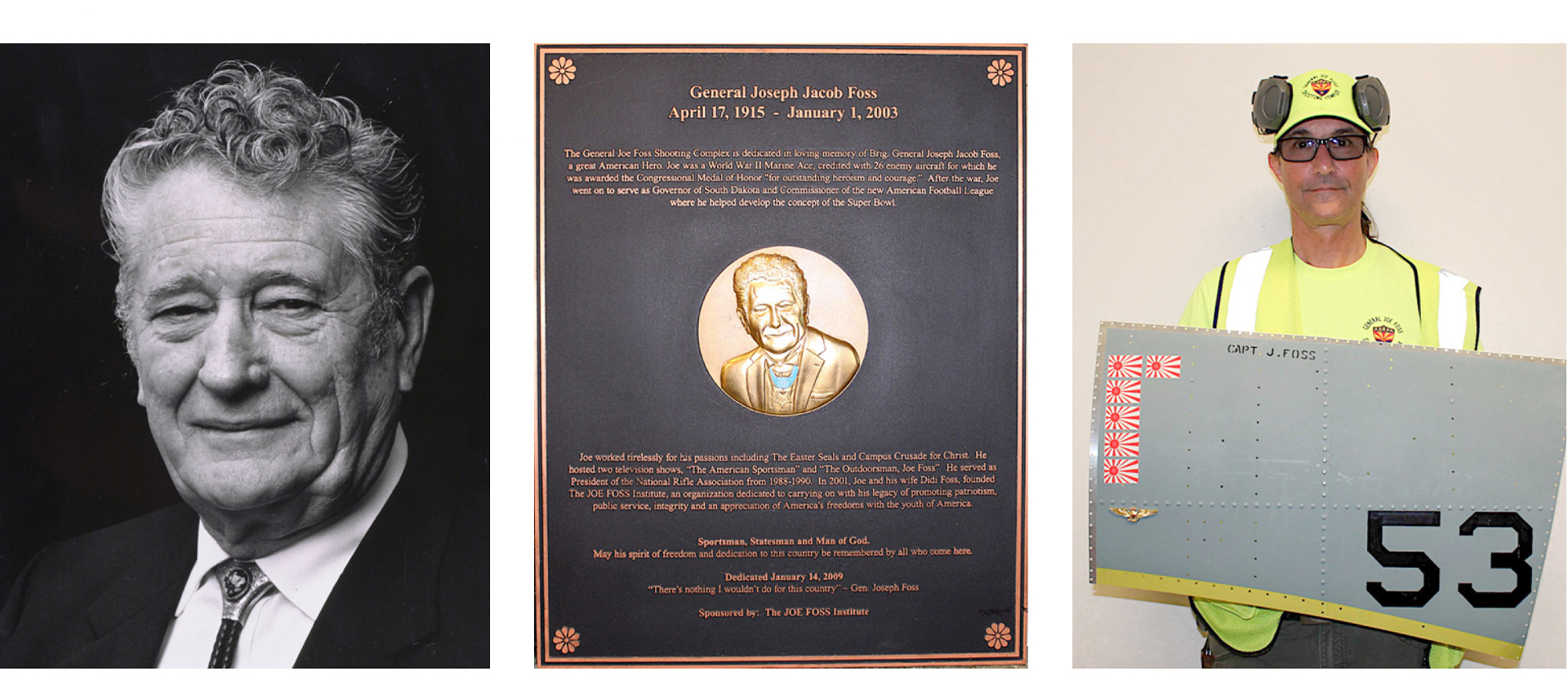 "I wasn't upset for me," he later said of the incident. "I was upset for the Medal of Honor, that they just didn't know what it even was. It represents all of the guys who lost their lives—the guys who never came back. Everyone who put their lives on the line for their country. You're supposed to know what the Medal of Honor is." Joe Foss passed away in Scottsdale, Ariz., on New Year's Day 2003.
DEDICATED INDIVIDUALS
A core of 10 ASRPA volunteers serve as rangemasters, range safety officers and in other capacities at the Complex that have no titles. Coincidentally, they are all military veterans. "We're like a little family," Rangemaster Carol Muñoz said. She staffs the combination office/store every weekend and ensures first-timers to the range watch the three-minute safety video. Carol's husband, Rangemaster Tony Easton, said the range has, "A really good safety record—nothing more serious than a cut finger in 10 years." He said the group conducts a safety meeting each morning before opening to reinforce policies and procedures.
Thursdays are maintenance days, when volunteers police the range, clean classrooms and restrooms, rebuild shot-up target frames and restock trap and skeet machines. Weekends are busy, with all 40 lanes generally full. "We have a core of regular shooters who show up religiously," Tony said, "and they're usually waiting for us to open in the morning. Summers here, it reaches 110 degrees, easy, and by 9:30 or 10:00 a.m., the crowd begins to taper off." The firing line's quality steel roofing deflects direct sunshine to provide some shooter comfort, but it's still 110 degrees in the shade.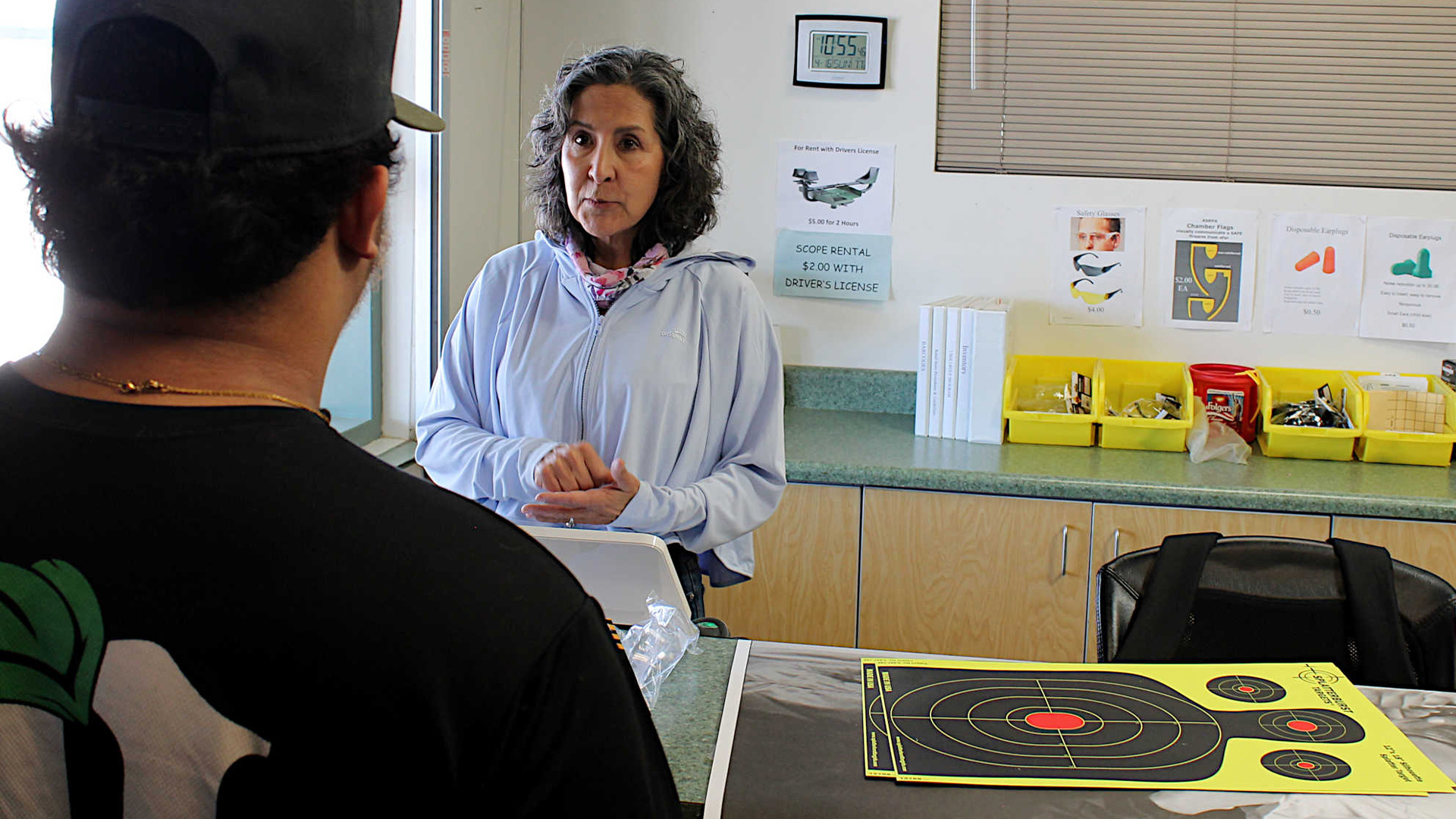 On the April day I visited the Joe Foss Shooting Complex, it was a crackling cool 89 degrees and windless, a perfect morning for shooting. As a matter of curiosity, I polled about 30 shooters, asking, "Do you know who Joe Foss is?" None of the shooters under age 40 knew of Joe Foss before coming to the range, but two older shooters did know of him. Tony showed me a remarkable artifact kept under lock and key at the complex, a piece of duraluminum skin from, Tony said, one of the airplanes Foss flew, decorated with Japanese flags indicating six of his 26 aerial "kills," and Naval Aviator wings, which Marine pilots still wear today. Perhaps someday it will be displayed prominently inside the Complex office by the Joe Foss commemorative plaque where visitors can see it upon entering.
A WORK-IN-PROGRESS
Still a work a work in progress, the archery range at the Complex has temporarily closed. "Mid-last year we closed down archery as it was infrequently used and is in need of renovation," Craig Joyner said. He is the general manager of the Complex for ASRPA. "We have a group that has expressed interest in funding the renovation, but we do not have a date as of yet as to when that may happen." Maricopa County retired the Complex's unreliable solar powered electrical system, and County Supervisors approved a plan to bring in standard grid electrical power. Maricopa County has slated an update to the Buckeye Hills Master Plan, which includes the Complex, within the next three years. Surrounded by BLM public lands, the potential for growing the General Joe Foss Shooting Complex along with the needs of a rapidly increasing population of recreational shooters, is there.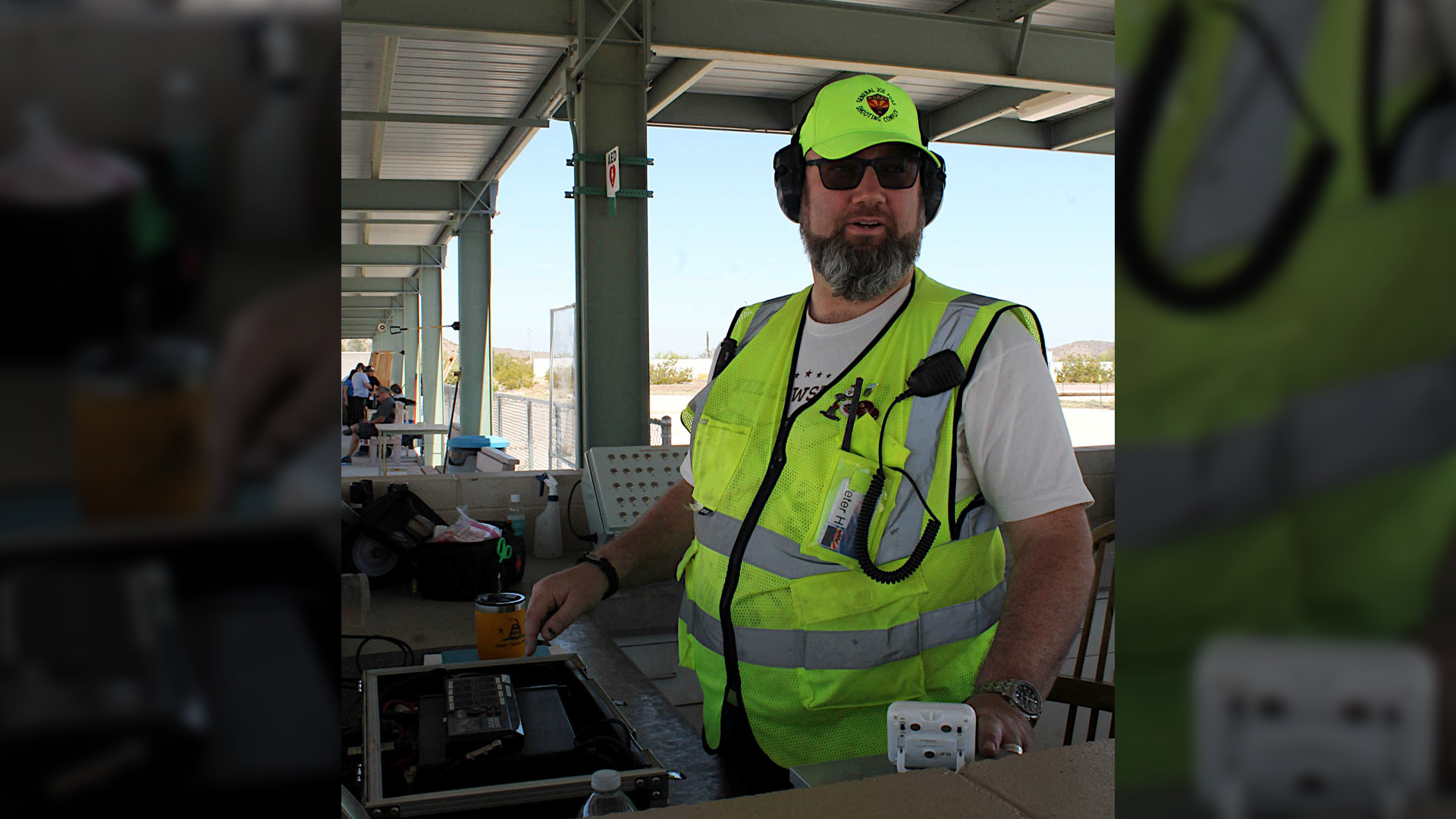 Range fees for adults at the Ensign John Clarence Butler Main Range—including nonshooting observers—is $7; children under 18 with adult supervision shoot for free. Active duty military and law enforcement shoot for $5 and, unsurprisingly, ASRPA members enjoy a discounted range fee.
Arizona is blessed more than many other states in retaining the core American value of Second Amendment civil rights. It comes by design, by vote, by the deliberate work of organizations like ASRPA and the Joe Foss Institute. Protecting our civil rights ensures that a growing community can have a place to shoot and to compete. The sustained dedication of the ASRPA volunteers is the driving force that makes it happen at Buckeye, and the cooperation between ASRPA and Maricopa County in creating and operating the General Joe Foss Shooting Complex serves as an example to other NRA state affiliates of what can be accomplished in the shooting sports.
For more information, visit the Maricopa County Parks and Recreation General Joe Foss Shooting Complex website.