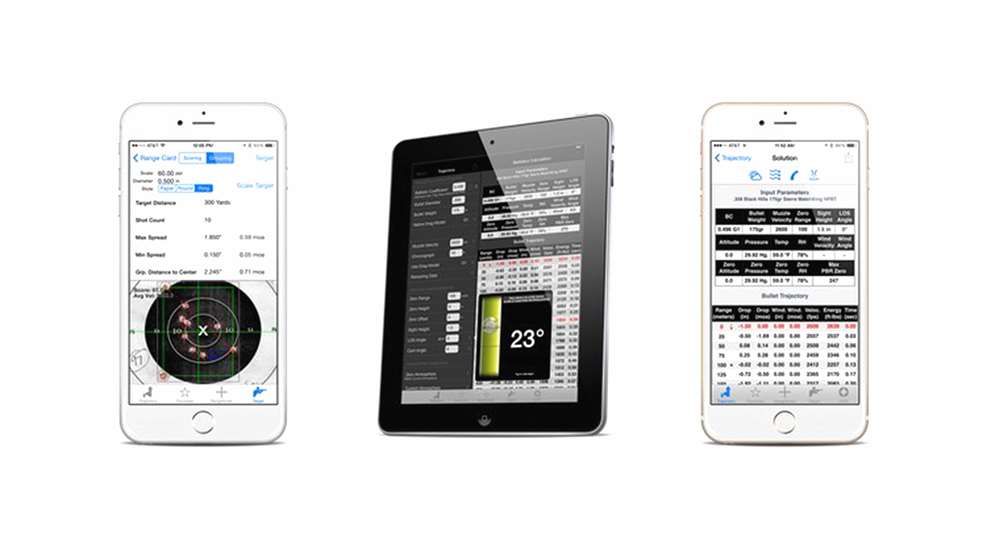 Long range shooters are constantly collecting data on rifles and loads, along with the various conditions that can affect their shooting. As a matter of fact, there really can't be enough data in precision rifle shooting—particularly at longer distances.

Obtaining and storing that data is made easier with the Ballistic App, which is now available in three flavors for iOS devices. Whether using the BallisticStandard, Ballistic Advanced or BallisticiPad editions, the Ballistic App uses the proven JBM Ballistics engine for precise calculations, along with a ballistic library containing more than 5,300 commercial and military loads.

BallisticStandard comes with one-touch atmospheric correction, a shooting log, distance estimates using both mil-dot or MOA reticles and ballistic charts to show drop, energy and velocity, additionally to compare wind drift.

BallisticAdvanced is the flagship program, featuring an advanced heads-up display for real-time angle acquisition, 3D trajectory imaging, mil-dot rangefinder and high-tech wind kit, as well as long range rifle guru Bryan Litz's custom G7 ballistic coefficients.

BallisticiPad comes with with a few extras to take advantage of the larger screen size, such as full-screen 3D trajectory imaging and hi-resolution charts, and larger target sizes in the range log. Even better, the iPad edition can even show split-screens with ballistics, favorites and range log. On top of that, there's a handy mil-dot rangefinder that uses on-screen controls.

All three editions of this app can be used to calculate shots using factory loads; develop handloads for those interested in extreme accuracy at any range, and additionally keep records of shots for use in all conditions—even in areas without cellular reception.

Whether shooting at 100 or 1,000 yards, Ballistic is a great tool available for competitive shooters to help improve their accuracy.

For more information, visit ballisticapp.com.