Competitive shooters and hunters alike can now download the new ZEISS Mobile Hunting and Shooting App available for iOS and Android devices. The app is a free download and offers several features for hunting, shooting and scouting. A ballistic calculator for precise long-distance shots, a field notes journal with photo capture entry function, GPS tagging for the documentation of scouting or hunting experiences and a detailed, global weather forecast.
"With the ZEISS Hunting App we address the tech-minded and modern day passionate hunter," explains Matthias Raff, product manager at Carl Zeiss Sports Optics. "The large number of features optimally support planning, the success of the hunt and documentation. Registered users can access their account using several different devices."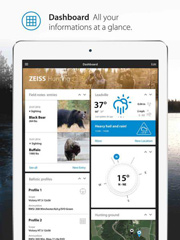 Once the app is opened, the dashboard—the user's customizable homepage, offers a quick overview of the features. The integrated ballistic calculator allows hunters and shooters to easily customize the settings to suit their ZEISS long-distance shooting products—whether it's the Rapid-Z, ASV+, ASV LongRange, or ASV Competition. Characteristics of different calibers and loads, as well as the impact of current weather conditions and the inclination angle at the point of impact, can be precisely determined. You can select from an extensive database containing over 5,000 calibers and cartridges.

The weather tool displays the forecast for five days—temperature and precipitation, wind direction and speed, humidity and air pressure are displayed hour by hour. There is also a compass and a glare-free, automatic night mode.



"We wanted those who use our proprietary ballistic reticles and target knobs for precision shooting and hunting to have a tool that could be used virtually anywhere—even when you don't have a cell signal or WiFi connection," stated Tom Andrews, vice president of Carl Zeiss Sports Optics. "We are constantly striving to provide truly innovative technology that will assist our passionate customers when they are out in the field."