Since making its official Olympic debut at the Squaw Valley 1960 Winter Games, a podium finish in biathlon at the Olympics has proven elusive for U.S. athletes. But Team USA is inching closer to that goal. In February at the Beijing 2022 Winter Olympics, Vermont Army National Guard Sgt. Deedra Irwin thrust U.S. biathlon into the spotlight after her seventh-place finish in the women's 15-km individual event. Capturing our nation's highest-ever non-relay result in biathlon at the Olympics, Irwin had a lone miss out of 20 shots, and her time of 45 minutes, 14.1 seconds was only one minute, 1.4 seconds behind that of the women's 15-km gold medalist, German biathlete Denise Herrmann. She missed a medal by one shot. Even more amazing—it was a scant five years ago when she first picked up a biathlon rifle.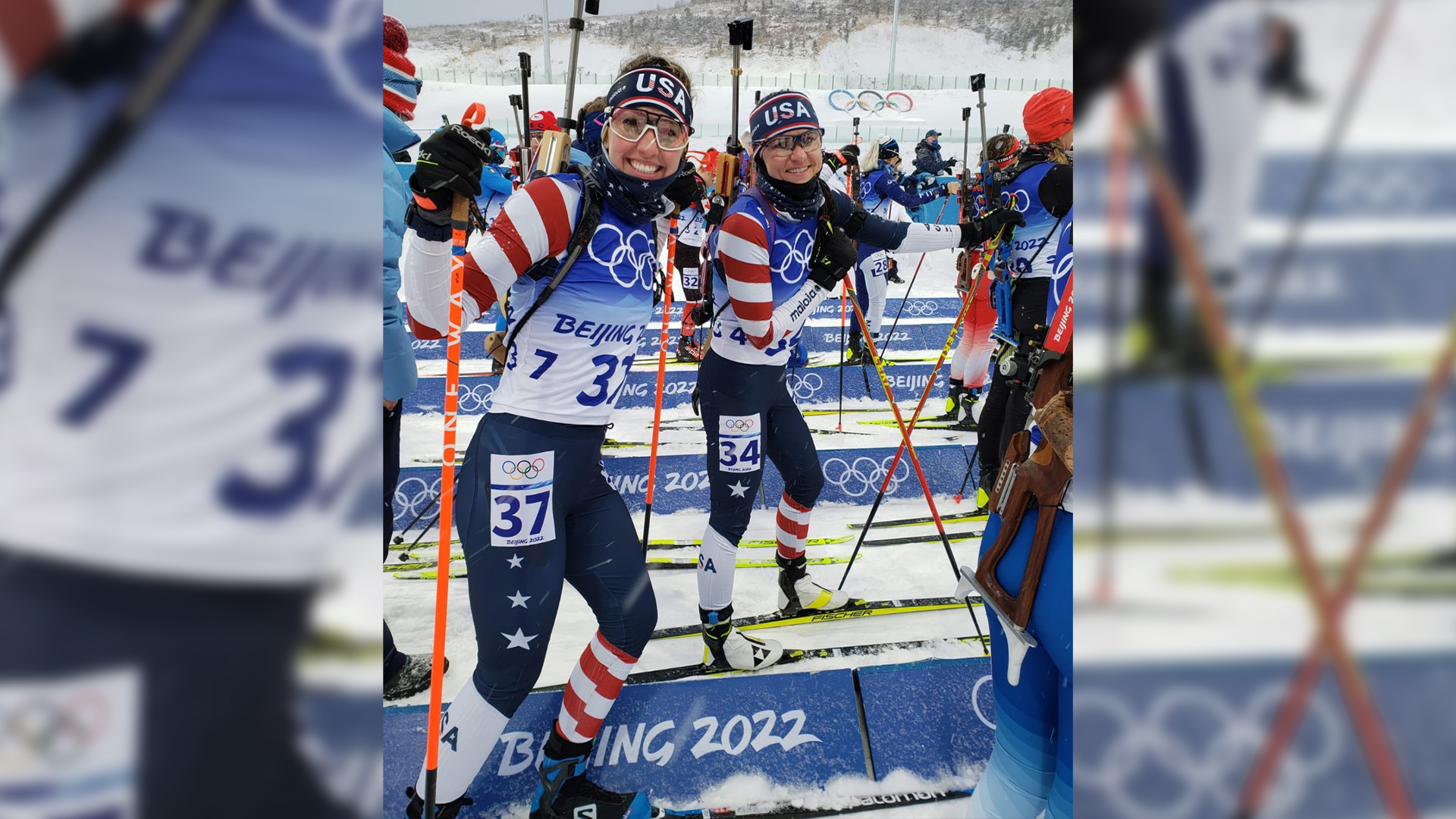 A military-inspired Olympic event combining cross-country skiing and rifle target shooting, biathlon is among the most grueling sports out there. In the women's 15-km biathlon event, individual competitors race five ski laps around a loop with rifles strapped to their backs. Between laps, they face two strings of prone shooting, plus two more in offhand standing position. Each trip to the range alternates between prone and standing targets. All four strings have five targets at 50 meters for both positions. Accuracy is at a premium; in biathlon, the standing targets are 115 mm in diameter, and the prone ones even smaller at 45 mm. And unlike other biathlon events—where the penalty for each missed shot is skiing a 150-meter lap—the individual biathlon events instead add a one-minute penalty to the final time for every miss.
During the 15-km race in Beijing, Irwin was on fire. For her first Olympic event, the wind was calm at the Zhangjiakou National Biathlon Center. Climbing to fifth place in the field by the fourth lap after nine km, Irwin's only miss was at her final trip to the firing range. To get back in the zone, she stuck with her game plan to stay calm on the range and to be ready for anything. "I train all year to be able to shoot with as much precision and consistency as I can, with my heart rate ranging anywhere from 140 to 180 beats per minute," said Irwin. "I'm still learning the nuances of biathlon, such as shooting accurately and quickly with a high heart rate. That's the fun challenge with biathlon—figuring out a rhythm that works best for you."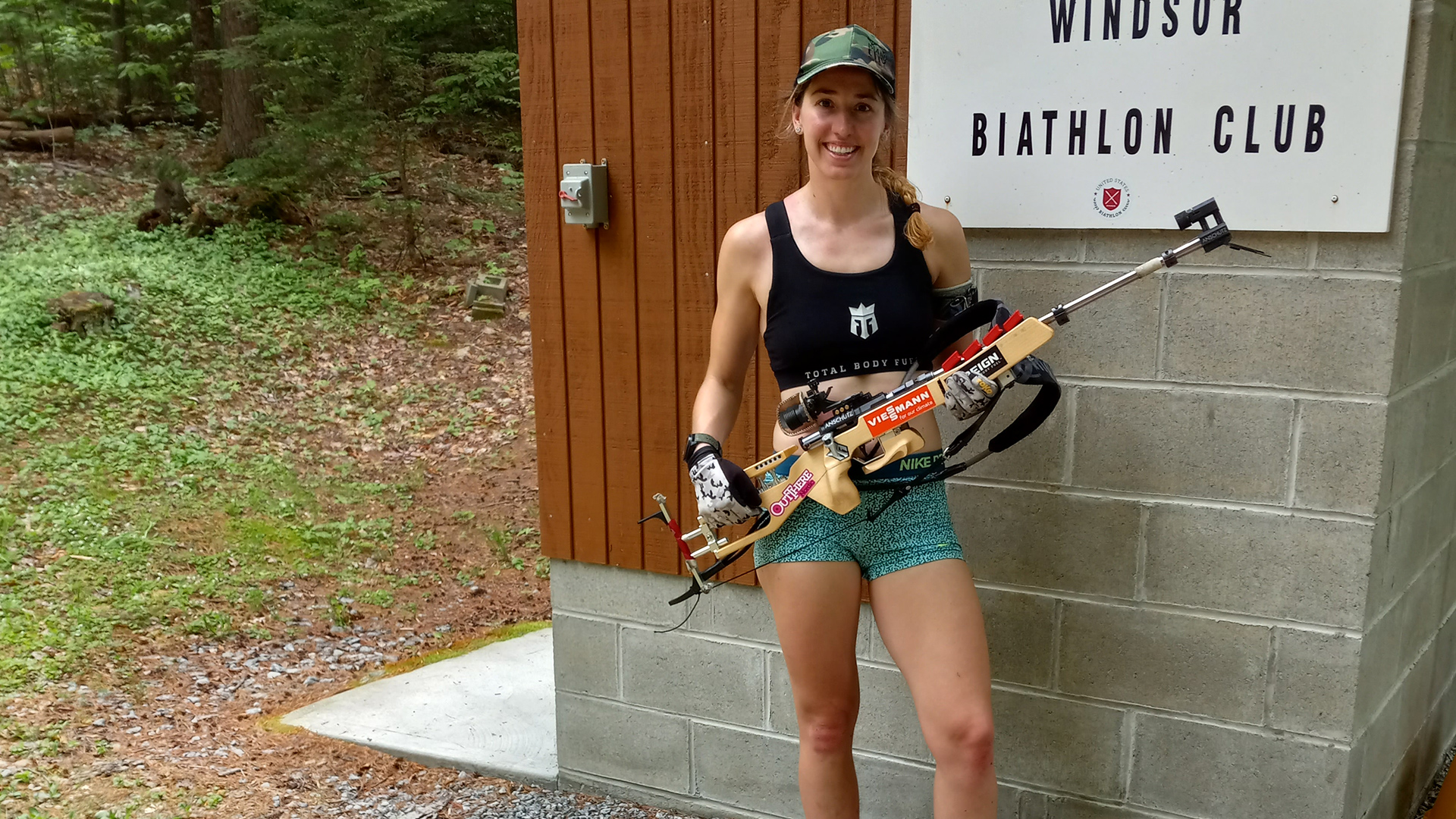 A lifelong athlete, Irwin, age 30, ran cross-country and track in college, and was a professional Nordic skier before starting in biathlon. She reflected on how humbling this sport can be. "You can go from cleaning a race and being on top of the field, to missing three shots the next day and being at the bottom," said Irwin. She also emphasized the need to have a good attitude. "[You] have to look at what you did right and what you did wrong. It's critical to have the ability to move on after setbacks, and head to the start line the next day."
Her first exposure to the sport was a weeklong U.S. Biathlon talent recruitment camp at Lake Placid, N.Y., in June 2017 that she attended on a whim. After the camp, she received an invitation to train with the team full-time. "I was thinking about retiring after hitting my peak in Nordic skiing," said Irwin. "Biathlon added such a cool aspect to skiing, a sport that I loved. Every race is different."
She didn't interact much with firearms prior to biathlon. As a student at Michigan Technological University, one of her first experiences with guns was at a Ladies Night held in the basement of a campus building where she learned the basics. "I was so intrigued by it. That night was my introduction to the NRA. I thought it was a really cool community," said Irwin. "Little did I know that five years later I would be picking up a precision rifle for biathlon competition, and join the military."
She graduated college with an exercise sciences degree in 2015. After joining the Vermont Army National Guard in 2019, Irwin spent more time training at Camp Ethan Allen, a world-class biathlon facility in Jericho, Vermont. "The Vermont Army National Guard Biathlon Team helps develop National Guard biathletes nationwide, not just the ones from Vermont," said Irwin. "They provided me funding, training and a place to live while competing in biathlon."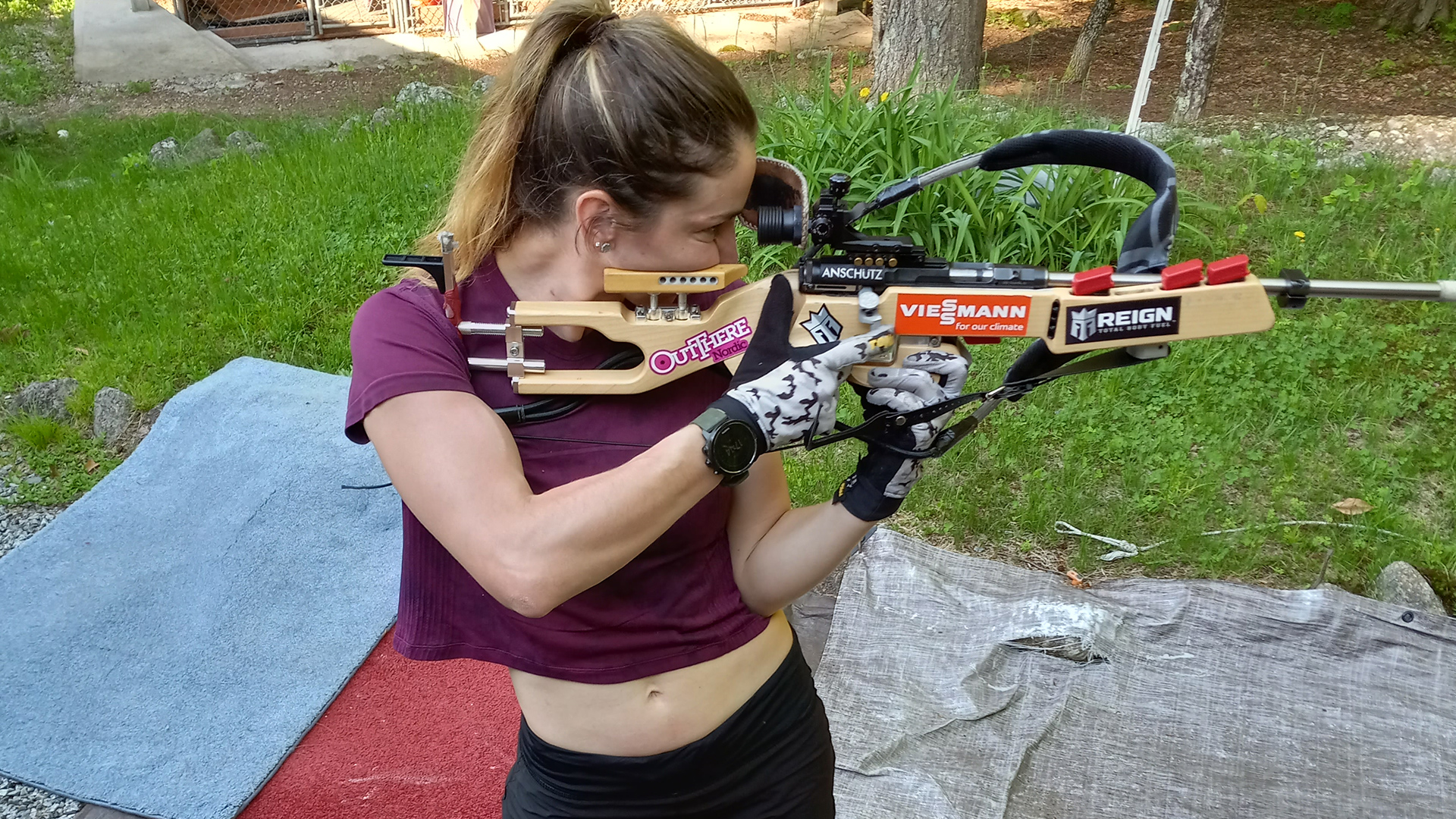 Irwin trains for biathlon every day. Not only is it a punishing sport, the schedule is demanding. The U.S. Biathlon Team gets the month of April off, and that's all for the year. "Our training starts on the first day of May and we are going hard until we leave in November for our first competition," said Irwin. "During the season, I pretty much just pack my bags and head to Europe for the big competitions, and I won't return to the U.S. until the end of March."
Biathletes use customized lightweight rimfire rifles with straight-pull actions and special folding stocks. Irwin has a modified Anschutz Fortner .22 LR rifle, a common action for biathlon use. "The barrel is made by Anschutz, with a Sanseigne stock which is made in France," said Irwin. "It's a great beginner rifle I purchased a few years ago. The stock is ergonomic, and I've modified different parts such as the cheekpiece." While in Europe at World Cup competitions, some of her biathlon teammates have employed top European stockmakers to build them highly personalized stocks. There are even 3D-printed biathlon stocks now. Irwin said she may upgrade her stock in the future.
The U.S. Biathlon Team uses a few different brands of ammo. Irwin mentioned that Federal's .22 LR loads are a popular choice. With Lapua as a U.S. Biathlon sponsor, the team also uses the company's Polar cold-weather rimfire loads while training at Lake Placid, and in the summer switch to SK Ammunition for its precision. "Lower velocity ammo is better for biathlon targets," said Irwin.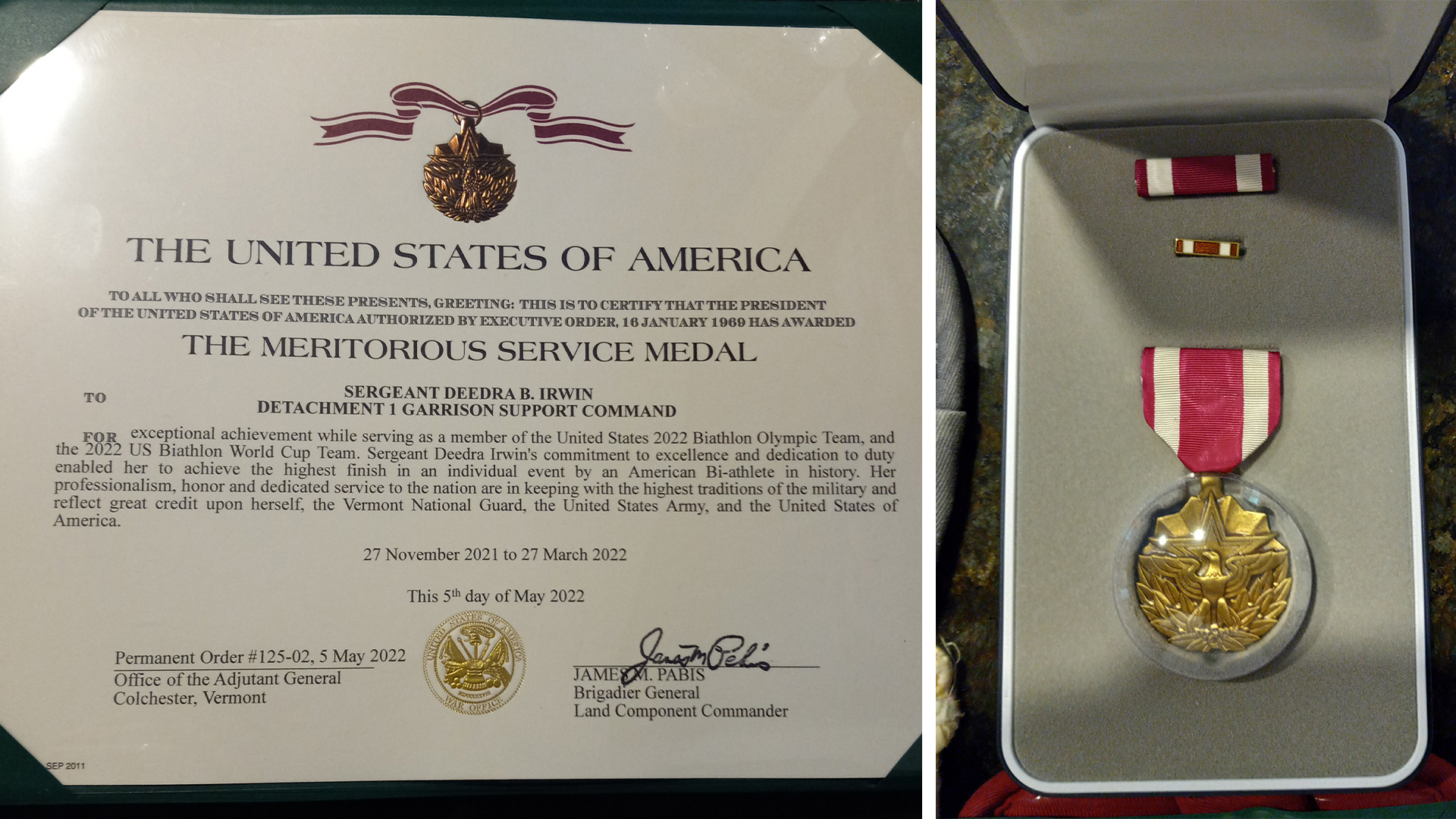 After getting closer to an Olympic podium than any previous U.S. biathlete, she plans to keep challenging herself and improving her game. You won't find many people with a better attitude towards competition. "In Beijing at the Olympics, I was really lucky to have my best race ever—with everything coming together perfectly," said Irwin. "But it doesn't always happen that way, so there's still so much for me to work on. I'm really excited to keep going forward, and becoming more consistent in my shooting and more efficient in my skiing."
Up next for Irwin is Biathlon World Cup competition, along with vying for a spot on Team USA at the 2026 Winter Olympics in Milan, Italy. In closing, she has high praise for biathlon, but not only because of her recent Olympic success. "I've learned a lot from the different sports I've played. Biathlon has taught me about forgiving myself for bad performances and celebrating the good performances," said Irwin. "It's one of the most amazing sports that I have participated in."