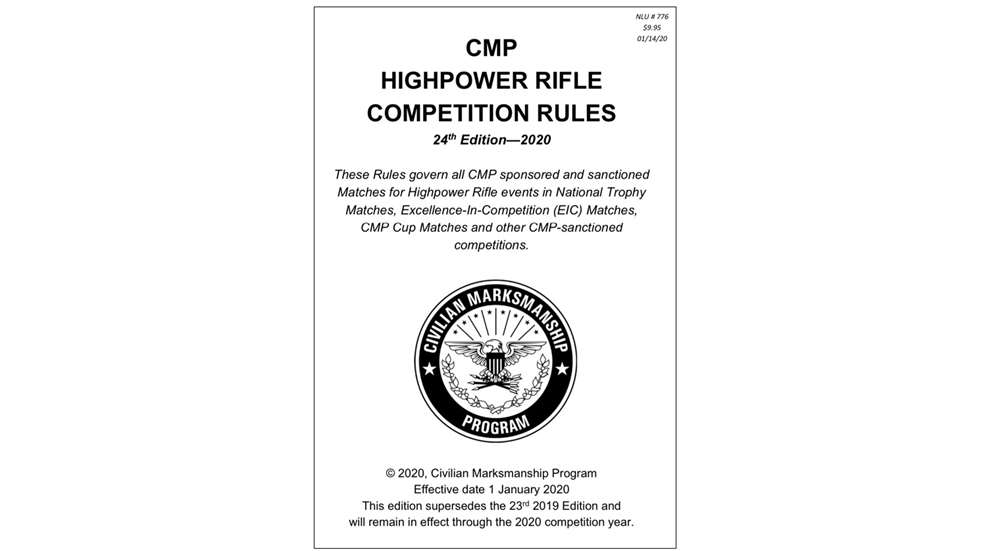 For the 2020 season, here are loud and not so loud changes to note from the annual release of the Civilian Marksmanship Program's rulebooks.
The Eyes Have At It
This year, CMP is requiring all competitor and match officials to wear eye and ear protection while on the firing line in order to participate in any sanctioned shooting tournament. What constitutes proper eye and ear protection is left up to the individual. The only requirement is that it cannot be none. The CMP has multiple rulebooks—High Power Rifle, Smallbore, Pistol and Games matches editions. Some versions of the rules also recommend that competitors and officials wear safety gear in the target pits and other areas of the range. For High Power, the mandatory eye protection requirement is only for personnel on the firing line; technically, that means forward of the ready line.
On social media where snark and memes reign supreme, the discussion is a combination of jovial and heated. The more serious discussions are about how to conform to the rule change by persons who use specialized eyewear; bearing in mind that the 2020 rule does provide almost infinite leeway for each competitor to tailor their solution. It just can't be none.
For some that may be a show stopper. The most affected competitors would be shooters using the AR-15A2 with a rear iron sight with a hooded aperture. These shooters tend to have head positions very close to the rear sight that can and do scratch expensive eyewear. I've gouged more than one costly prescription lens snuggling up to the A2 on my time.
The solution is to put a piece of tubing that acts as a rubber bumper over the hood. That in turn makes it slightly more cumbersome to change aperture hoods in response to light changes during the course of the day. Is it the absolute end of the world? That depends on how much of a curmudgeon you are. For the AR-15 competitors who have shifted to optics-sighted rifles, it's not an issue. But, I can see the added expense of having your glasses become a consumable store being a concern.
Still, there's a good reason to have eye protection. Many things can come at you when that open cycle adiabatic heat engine in right in front of your eyeball ignites the primer.
As the social media discussion progresses, more members of the competitive shooting cadre chorus the same thing as they weigh in. Adapt and get back to focusing on shooting Xs. That's how the rulebook viral storm plays out every year.
Modern Military Equipment Race
The optics-sighted Service Rifle acrimony of 2016 has pretty much subsided. Indeed, in 2020 an optic can be added to the M-14/M1A if one so chooses. I haven't heard that it's trending much. There are just too many advantages the M-16 platform has over everything else in the Service Rifle arena.
Replacing Service Rifle equipment racing is the Standard Modern Military Rifle used in CMP Games competitions. The CMP changed the weight limit on these rifles back to 7.5 pounds while at the same time opening up the use of free floated barrels and ¼ MOA click-adjustable sights. For reference here, the Vietnam-era pencil barrel, triangle guard M-16A1—a.k.a. the "Mattel" rifle weighs around 7¼ pounds. That means if you want to take advantage of technical improvements, you have just 4 ounces of leeway to play with.
While Modern Military Rifle class has an overflow Unlimited category for rifles that exceed the limits of the Standard rifle rule. The bragging rights are getting it done with a standard rule compliant boom stick. Naturally, there are people attempting to get as close to a lightweight High Power Service Rifle as they can get.
Others, including me, are going down the "Mattel" path. You shoot an un-floated AR differently from a Service Rifle; just as you would shoot a 3-gun configured AR differently from either paper target gun. The bottom line is that when it comes to marksmanship, we adapt to the game at hand and shoot Xs anyway. That's the challenge.
Revolvers in the National Match/EIC Service Pistol Class
Two revolvers were added to the Service Pistol list. These are the Smith and Wesson Models 10 and 13 both in .38 Special. This is both welcome and curious because these are out of production handguns and nothing in the rules allow for other S&W products that are in production that are identical in configuration. I expect this will be accommodated at some point.
Electronic Targets Deliver Promise and Angst
CMP has made a major commitment, as have many shooting clubs around the country, to change over to running tournaments using electronic target systems. This is a work in progress and the 2020 rules reflect this. Match operations are greatly improved over manual pit service when using E-targets making them attractive at both the club and national levels. At the same time, current generation E-targets rely on acoustic detector technology that has limitations and presently requires calibration to ensure that the physical center of the X-ring is aligned with the hearing center of the detector array.
That this does not always perfectly align can be an issue, particularly at the U.S. national championship level where shooters get no sighting shots and top shooters have the skills to group everything into the physical X-ring they see through their sights. If the E-target detectors are off, you lose points.
Annual updates for the E-target rules and procedures has been part of the learning curve of the CMP as these systems have become available. In 2019, CMP elected to not make use of electronic targets for the EIC series of matches at Camp Perry because the technology wasn't ready yet. Competitors went out to the pits and serviced targets manually.
But, even as the CMP works to solve the use of E-targets for national matches issue, it also needs to set rules that will guide the operation of electronic target system at club level sanctioned matches. Furthermore, the CMP has to accommodate not just one E-target design, it has to set up a rulebook that will work fairly across different technology solutions available in the marketplace.
E-target technology will likely change from acoustic systems to laser radar (LIDAR) in the future. I also expect that there's a point in time when official targets will change to have printed calibration marks that can be identified by electronic target detectors that will auto center the target readings. There's probably a day when you'll be able to score a 10.99 if not a 10.999 electronically. But, that day is not today.
However, what's really being rendered obsolete by E-targets is the record-keeping part of the scorebook. A record of of the string is as easy as taking a photo of the display, or even a screen capture of it on your own device at a club match. You are better off using the scorebook to plot shot calls that you can compare to your saved image later.
---
See more:
NRA 2020 Rule Changes