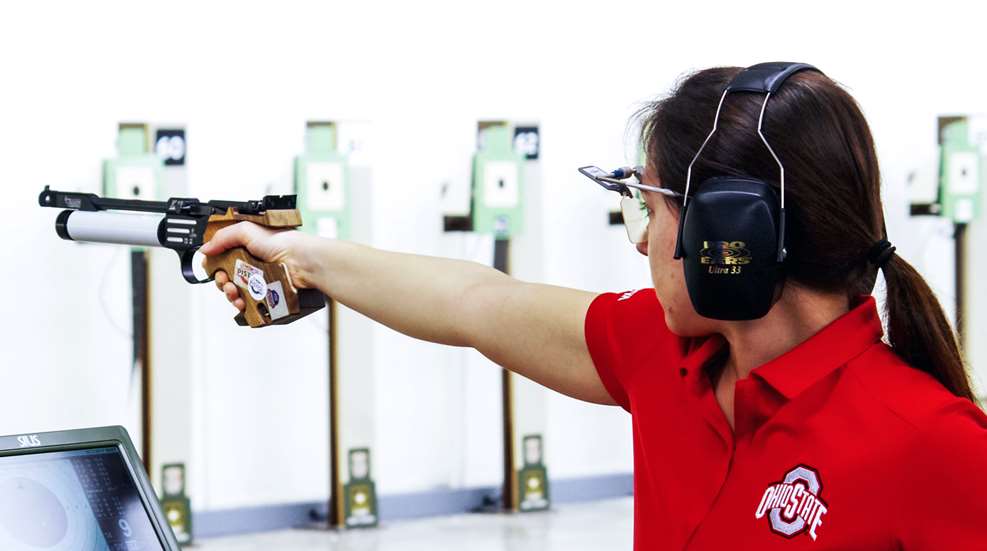 This month's cover feature revisits a very popular article by Dr. Norman Wong that was originally published in the May 2009 issue of Shooting Sports USA called "Winning Vision." The article has Dr. Wong, a longtime bullseye shooter, shares the knowledge he has gained during a career spanning decades. In the 10 years since the original article was published, Dr. Wong has learned much—enough to revisit the topic. Learn how to get the most from visits to the eye doctor by reading his article, "Winning Vision, Revisited."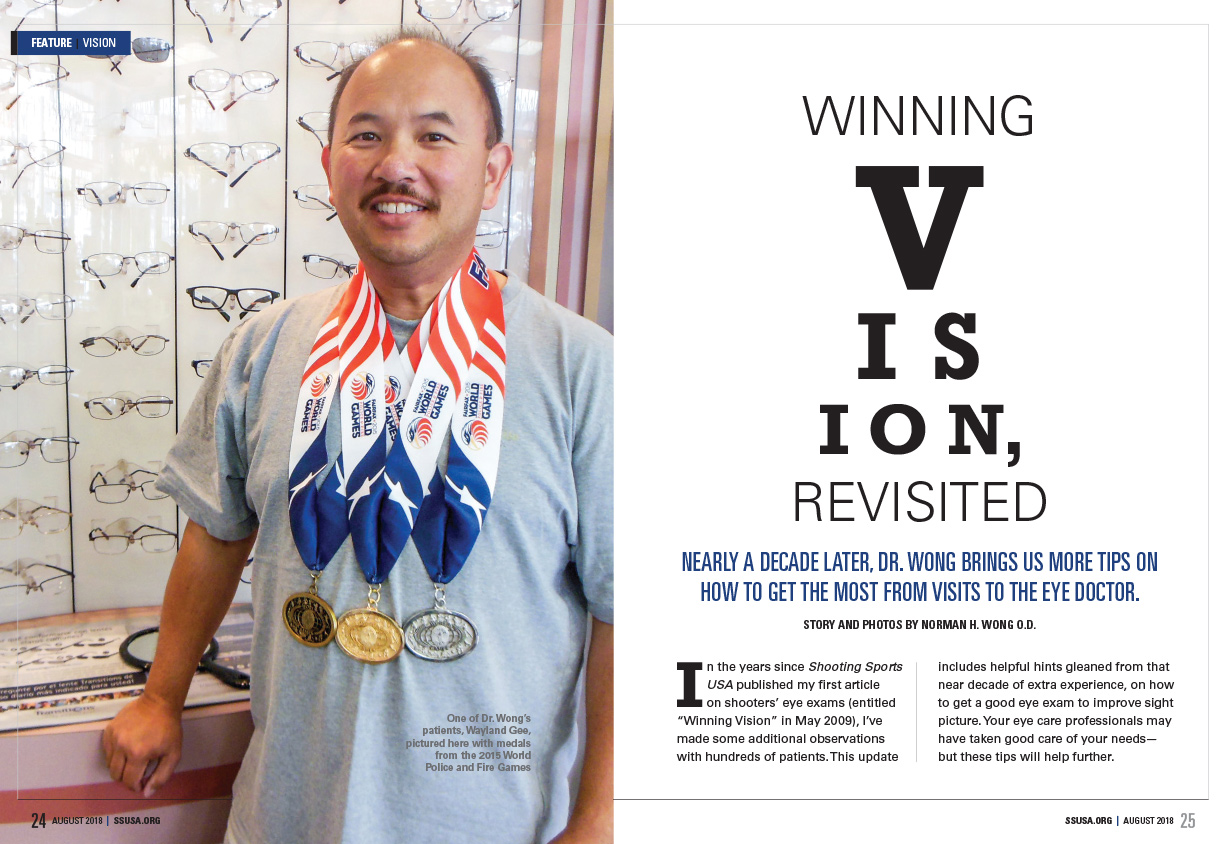 ---
Anyone familiar with Ruger's 10/22 rimfire will feel right at home with their new PC 9mm Carbine. Field Editor Chris Christian reviews the new carbine in August's Product Focus. Additionally, this month's Product Focus includes a review of Decibullz reactive ear plugs by Field Editor Art Merrill.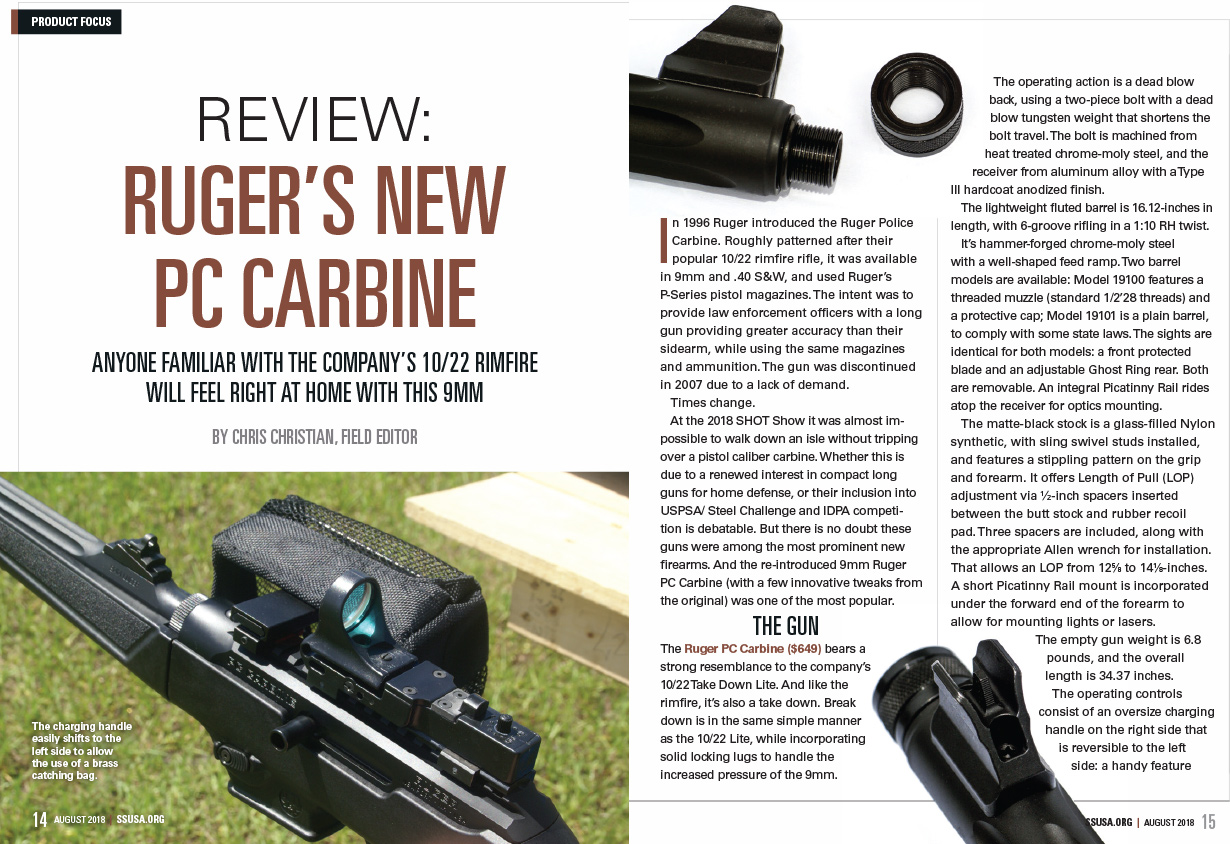 ---
This past June, I attended the inaugural Aguila Cup in Decatur, TX, along with 400 other shooters vying for a piece of the $65,000 prize purse. Notably, the match included a $5,000 "Triple Threat" prize to the top shooter in combined rimfire, shotgun and 3-gun stages. This was a fantastic event that really placed an emphasis on trying out new shooting disciplines.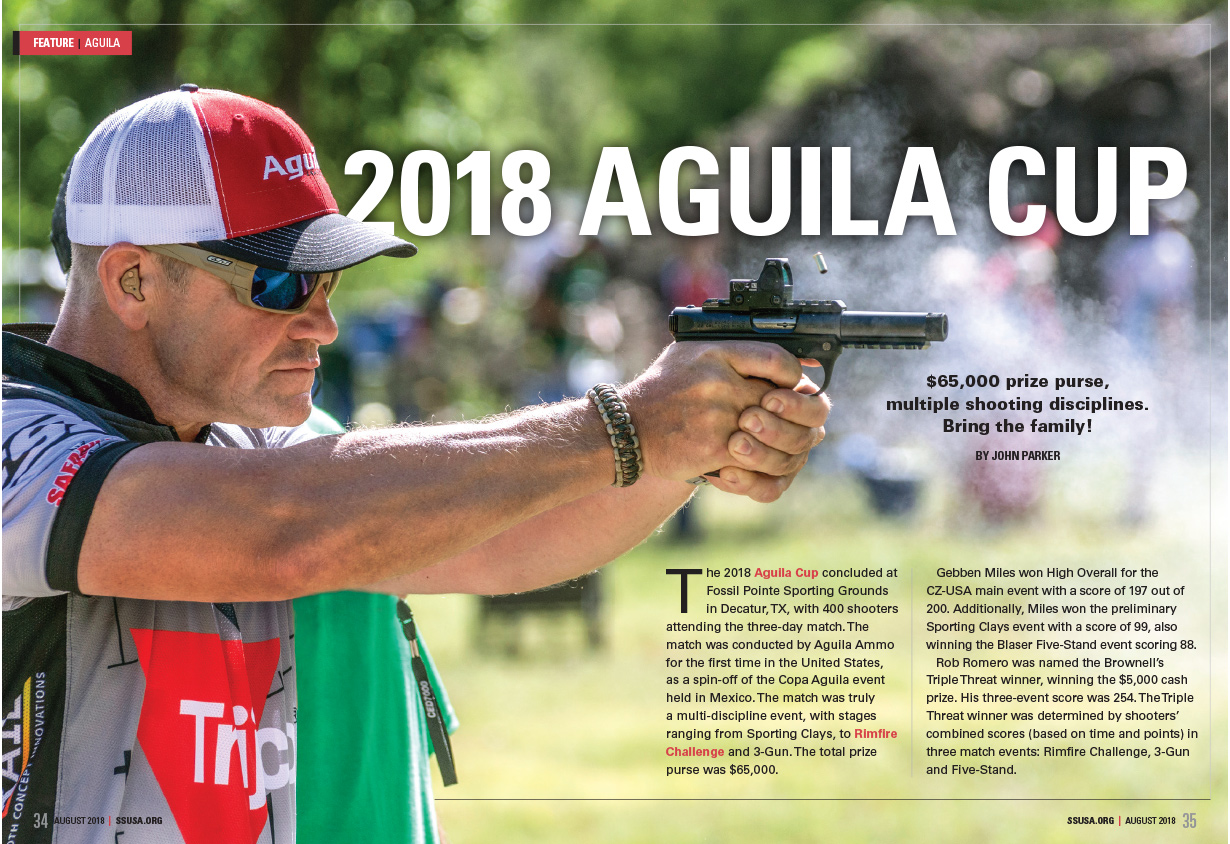 ---
When Larry Bartholome received his new SOLO personal electronic target system, he discovered just how easy such a setup can be. The SOLO, developed by Silver Mountain Targets, uses remote sensors attached to a target frame that send data to devices on the firing line. Learn how Larry used the SOLO system to make long range ammo testing easier.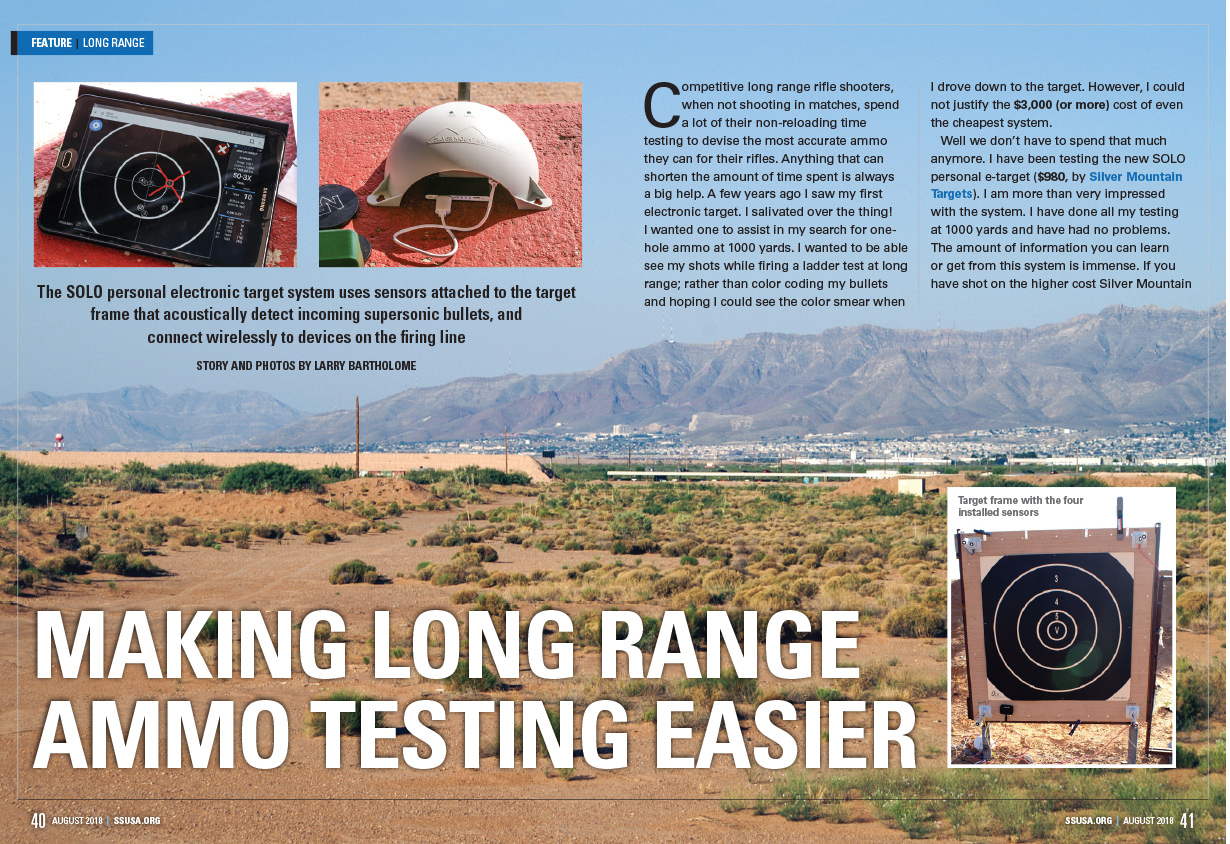 ---
World renowned German arms maker Krieghoff once again wowed the gun community at the IWA Show in Nuremburg, Germany, earlier this year with a one-of-a-kind shotgun featuring engravings of works of art by none other than renaissance master Leonardo daVinci. Check out this fine firearm in our article, courtesy of Phil Schreier, the senior curator of NRA Museums.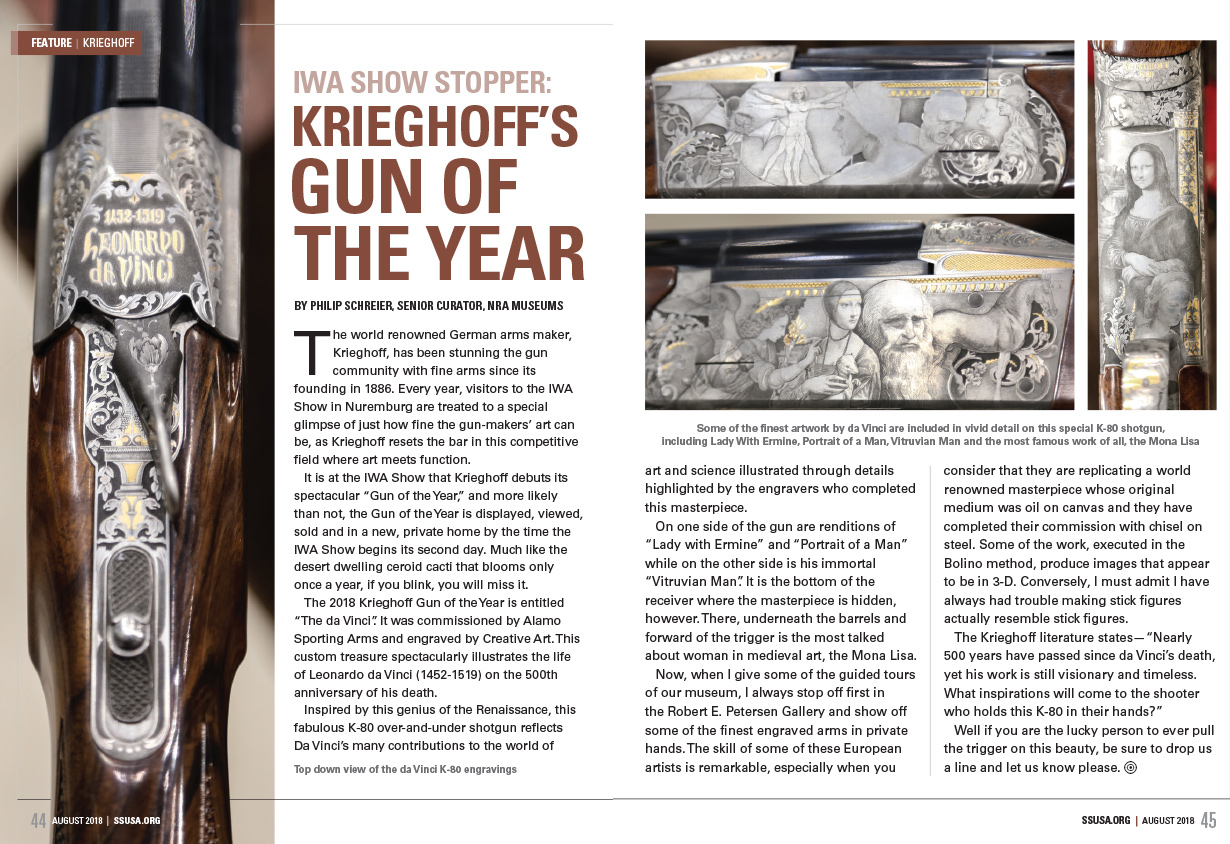 ---
In July, hundreds of competitive shooters traveled to the three marquee NRA Championships that comprise the historic National Matches: the National Precision Pistol Championships, Camp Perry, OH; the National Smallbore Championships, Bristol, IN; and the National High Power Rifle Championships, Camp Atterbury, IN. As we did in 2017, we went live during the National Matches via the NRA Competitive Shooting Facebook page to bring the championships to you. And beginning this September, read our in-depth match coverage in the digital magazine. Subscribe for free at www.ssusa.org/sign-up-for-updates.

—John Parker
Managing Editor, Shooting Sports USA