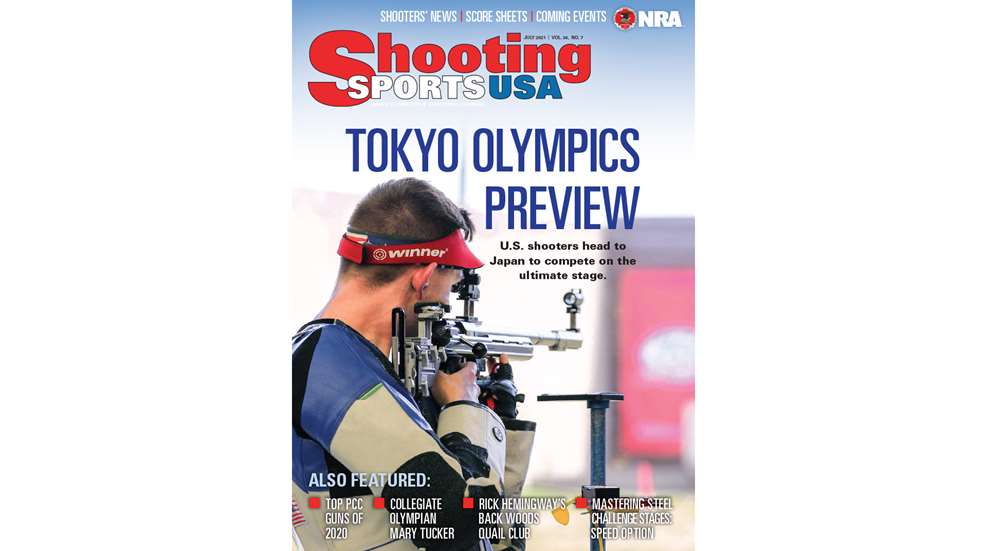 After much uncertainty and a yearlong delay because of the pandemic, the Tokyo Olympic Games are set to begin in July. One of the true success stories in athletics, U.S. Shooting Team members have collectively won 115 medals in Olympic and Paralympic competition since the modern Olympics began in 1896—nearly twice the medal count of the next nation. The Tokyo Olympic Games will begin Friday, July 23, with the opening ceremonies. Shooting events will take place from Saturday, July 24 to Monday, August 2. Shooting Sports USA is ready to be your one-stop shop for coverage, starting with our primer on U.S. Olympic shooters headed to Japan to compete on the ultimate stage.
In addition to our U.S. Olympic Shooting Team feature, this month we have an interview with one of the most dynamic shooters in competition today, Mary Tucker of the University of Kentucky rifle team. Tucker heads to Tokyo to compete in women's rifle events ranked as the number-one air rifle shooter in the country. Fortunately for us, the talented markswoman found time to sit down with Michelle Cerino for an interview prior to her journey to Japan. Learn what Tucker had to say.
For July's Product Focus, Field Editor Chris Christian lists the most popular Pistol Caliber Carbines and associated gear for action shooting competition. He compiled the list from shooter survey data taken at the 2020 USPSA PCC National Championships. In addition to PCCs, Christian shares the best optics, ammunition and more favored by top USPSA shooters. Additionally, Christian reviews the Burris FastFire 4 red-dot optic, the latest in the company's affordable reflex sight lineup. Check out the July Product Focus.
Rick Hemingway of Georgetown, S.C., has made quite the name for himself as a top sporting clays course designer and match director, but these achievements pale in comparison to his biggest accomplishment—building the Back Woods Quail Club. One of the most fascinating people in all of the shooting sports, I had the chance to speak with Hemingway about how he transformed his father's coastal South Carolina farm into a premier clay target shooting and hunting destination. Next year, the club will host the National Sporting Clays Association U.S. Open Championship—an event that generally draws upwards of 1,500 shooters for its main event. Read my article about Hemingway and the Back Woods Quail Club.
Finally, don't miss the second installment of our guide to mastering Steel Challenge stages. This month, Chris Christian provides tips on how to tackle the Speed Option stage. With a wide swing arc and far targets, learning how to minimize the number of reverse transitions needed for this stage can shave precious seconds from your scores. Master the Speed Option stage by reading his guide.
John Parker
Executive Editor, Shooting Sports USA
Are you a subscriber?
Not receiving the monthly digital magazine announcement in your inbox? Become a subscriber. Not only is it completely free, it only takes a minute to sign up and it guarantees you'll never miss a single issue of the NRA's competitive shooting journal. Subscribe here.
---
Read more:
Competitors' Corner: June 2021