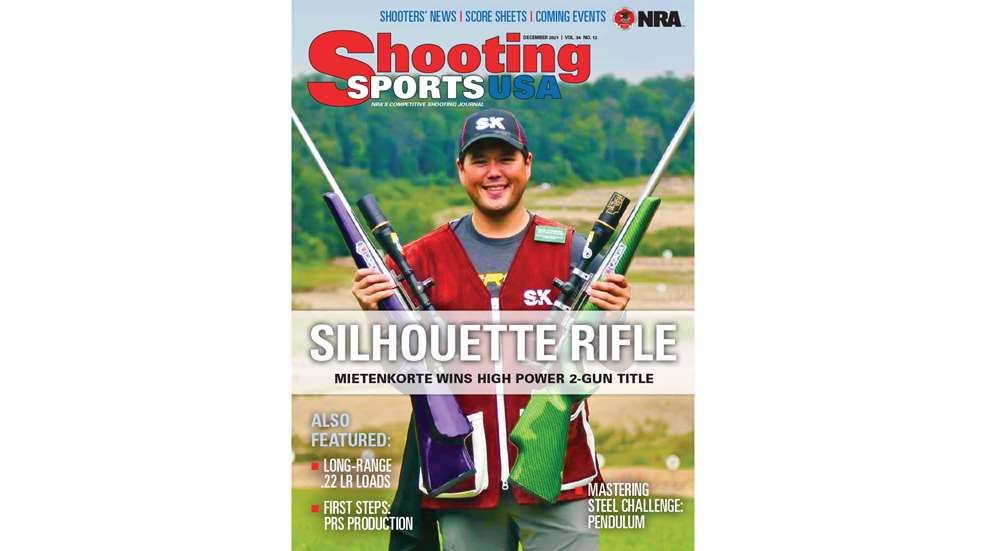 I want to start this month's letter by thanking you, the reader. Whether you have read a few of the articles posted to SSUSA.org, or you're a subscriber who receives the digital magazine each month, every interaction is appreciated. As with all NRA Publications, the website has an especially robust comment section, and I encourage everyone to take advantage of it.
In retrospect, 2021 was one of the biggest years ever for competitive shooting, and our talented writing team was covering as much of the action as possible. The summer months in particular were dominated by two stories: NRA and the debut of its much-heralded National Matches at Camp Atterbury, and the Tokyo Olympics which, after a year-long delay, saw U.S. shooters securing six total medals, including three golds. (Read our coverage of the Tokyo Olympics in the October issue.)
And news keeps rolling in. As I write this, Team Ruger's Doug Koenig has won the Precision Rifle Series Production title at the 2021 season finale held at the NRA Whittington Center. Perhaps better known for his 19 Bianchi Cup Action Pistol wins, Koenig has also been a top PRS Production shooter since starting in the sport about five years ago. Author Josh Honeycutt recently spoke to Koenig, who shared his tips for success in PRS Production division (page 24).
Silhouette is one of the backbones of NRA competitive shooting, and this year's Rifle Nationals held at the Ridgway Rifle Club in Ridgway, Pa., did not disappoint. One shooter who distinguished himself this year is Team SK's Erich Mietenkorte, who put on a marksmanship clinic to win the 2021 NRA Silhouette High Power 2-Gun title, an aggregate of the standard and hunter rifle scores. Mietenkorte graces the December digital magazine cover while holding both rifles. Don't miss our coverage of the 2021 NRA Silhouette Rifle Nationals (page 30).
Handloading .22 Long Rifle cartridges is a topic that Field Editor Art Merrill has covered in the past, and this month in Product Focus he tackles rimfire long-range load development. The popularity of precision rimfire competition has grown immensely over the past five years, and Cutting Edge Bullets now offers lathe-turned, solid copper .22 LR bullets for handloaders (page 12). This article is a must-read for precision shooters and handloaders seeking an edge in long-range .22 LR competition.
Speaking of ammunition, author Brad Miller examines the .357 SIG and .357 Magnum cartridges with the goal of determining which is more powerful (page 34). For his article, Miller tests the two high performance medium handgun calibers with selected semi-automatic pistols and revolvers, and you may be surprised by his findings.
Also featured this month is Field Editor Chris Christian's latest article on mastering Steel Challenge stages. Previously, he covered the Five To Go, Speed Option, Smoke & Hope, Roundabout, Showdown and Accelerator stages. This month, he shares his tips for taking on the Pendulum stage (page 40). Next month's issue will cover the Outer Limits stage.
Finally, I want to thank all of our contributors and staff for another successful year, and once again thank the readership for their everlasting support and reading and commenting on our articles. From all of us here at Shooting Sports USA, warmest wishes for a happy holiday season and a wonderful New Year!
John Parker
Executive Editor, Shooting Sports USA
Are you a subscriber?
Not receiving the monthly digital magazine announcement in your inbox? Become a subscriber. Not only is it completely free, it only takes a minute to sign up and it guarantees you'll never miss a single issue of the NRA's competitive shooting journal. Subscribe here.
---
Read more:
Competitors' Corner: November 2021