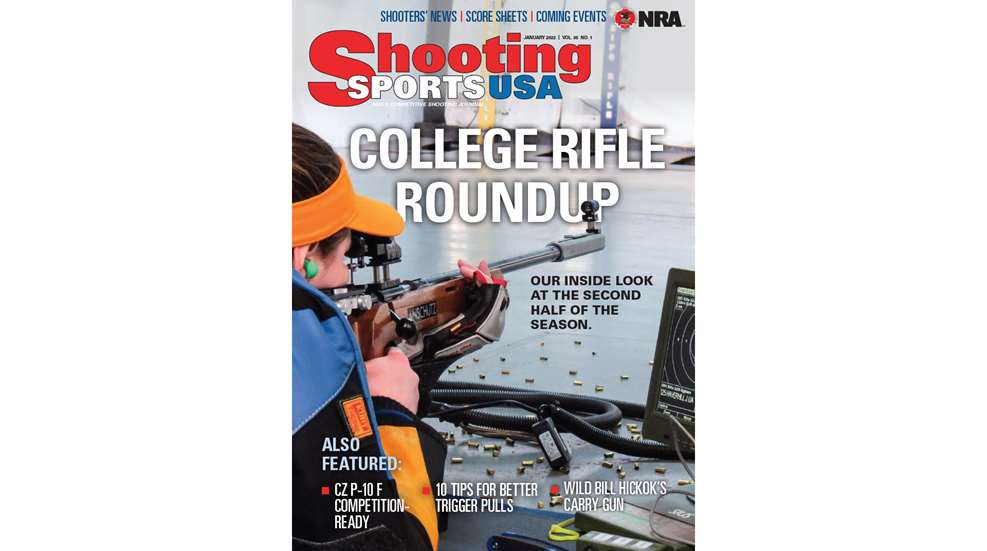 Happy New Year's to all of our readers. I sincerely hope that all of you had a wonderful holiday season spent with family and friends. After a memorable 2021 that was filled with great moments in the competitive shooting world, I'm looking forward to this year being even better.
To kick off the new year, Shooting Sports USA is previewing the second half of the collegiate rifle season. Coached by Will Anti in his second year, the University of Alaska-Fairbanks rifle team currently leads the Collegiate Rifle Coaches Association poll rankings, after rotating in and out of the top spot throughout the season's first half. Alaska-Fairbanks is followed by two schools currently tied for second place: 19-time NCAA champion West Virginia and Kentucky, the 2021 defending champion. Read my college rifle roundup (page 20) to learn more about the top 20 teams as we head into part two of the season.
CZ-USA's new P-10 F Competition-Ready 9 mm pistol has a barrel and slide that are a half-inch longer than the standard P-10. While the extended sight radius benefits users of the fiber-optic front sight and rear target sight, the slide also comes milled to aid in mounting popular red-dot optics. A five-inch hammer-forged competition barrel, extended controls and an upgraded trigger round out the improvements, along with gold accents. Find out what Field Editor Chris Christian learned about the P-10 F Competition-Ready in this month's Product Focus (page 12).
If you haven't mastered the art of a good trigger pull, you probably won't find much success in competitive shooting until you do. Executing a smooth trigger pull is a fundamental skill that is essential for achieving satisfactory shooting results. Incorporating input from the folks at Timney Triggers, author Josh Honeycutt shares 10 tips (page 24) to help improve trigger-pull skills.
When author Dick Jones is researching for an article, he often ends up discovering an entirely new topic. Which leads us to his article this month about the legendary Will Bill Hickok and his choice of carry gun (page 30). In Hickok's time, defensive pistol technology quickly advanced from unreliable, flintlock single-shot guns to multiple-shot, cartridge-firing revolvers. Jones sees in this a parallel to modern times—it wasn't that long ago when many people were carrying a five-shot revolver. Now, lightweight, striker-fired pistols carrying 10 to 12 shots are state-of-the-art, and improvements are arriving all the time.
The final entry in our Mastering Steel Challenge series focuses on the unique Outer Limits stage. Chris Christian says this is the toughest stage, since it requires competitors to move between shooting positions, all while the clock is ticking. Check out his stage breakdown (page 36) for tips on how to shave precious seconds from your time.
Finally, some housekeeping: Online registration for the 2022 NRA National Matches at Camp Atterbury should be available starting March 1 via the NRA Competitive Shooting website. Also, be on the lookout for the 2021 NRA National Matches retrospective, a free digital magazine from NRA Publications with additional coverage of the NRA's inaugural competition in Indiana. The best way to receive the latest updates is to subscribe to our free Insider newsletter.
John Parker
Executive Editor, Shooting Sports USA
Are you a subscriber?
Not receiving the monthly digital magazine announcement in your inbox? Become a subscriber. Not only is it completely free, it only takes a minute to sign up and it guarantees you'll never miss a single issue of the NRA's competitive shooting journal. Subscribe here.
---
Read more:
Competitors' Corner: December 2021