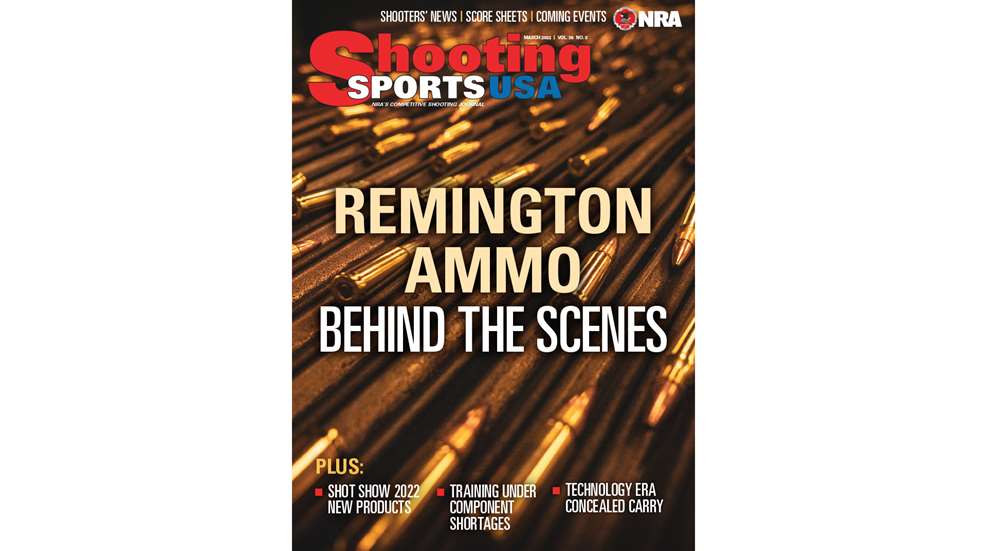 This month's cover feature is a behind-the-scenes look at the Remington Ammunition plant in Lonoke, Ark., which has been churning out ammo since 1969 and is the site of the last operational shot tower in the United States. It's an impressive facility with many longtime employees manufacturing ammo and components 24 hours a day, seven days a week. Don't miss my inside look at this gigantic complex (page 22) and learn about how millions of shotgun, rifle and pistol rounds and components are made at the Lonoke ammo plant every day.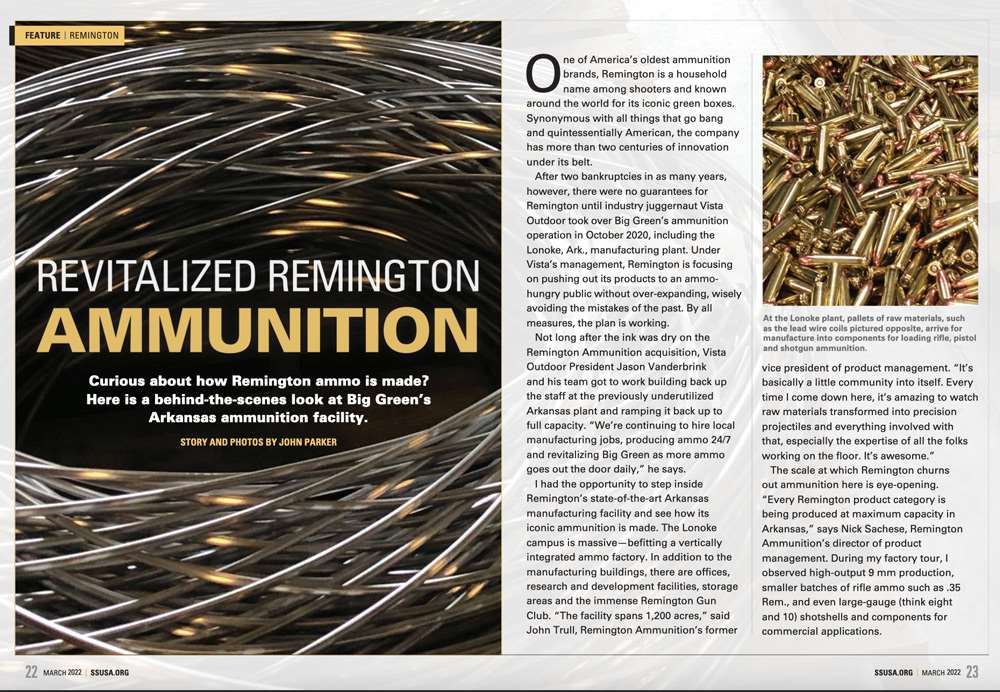 It was great to be back in Las Vegas in January for an in-person show after SHOT Show was halted in 2021 due to the pandemic. Which leads us to another must read section in the March issue, Product Focus. Deviating from the usual formula, instead of focusing on a single product, this month's Product Focus is a roundup of favorite new items from SHOT Show 2022 (page 12), with input from Field Editor Art Merrill, contributor Frank Melloni and myself.
To maintain proficiency as a competitive shooter, you have to practice. While dry-fire is a major part of any well-balanced training regimen, live-fire practice and replicating match conditions are equally important, along with load development. Author Dennis Santiago says that the current supply chain shortages have made it harder for competitive shooters to continue building preferred loads, especially for high power rifle. In his article this month (page 28), he outlines his new strategy with tips on how to train during a time of component shortages.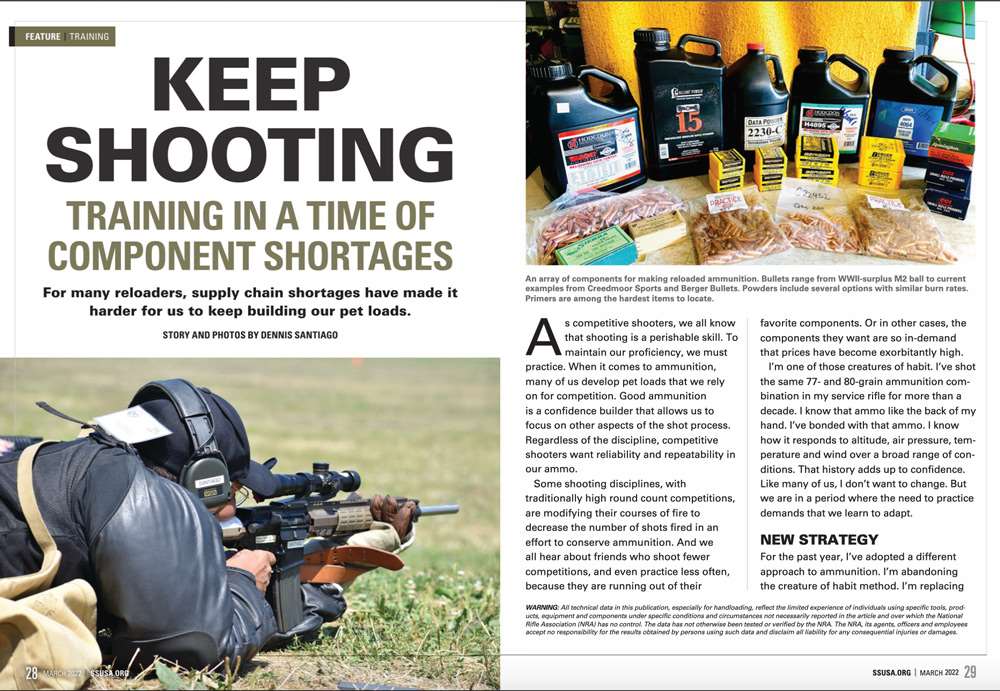 We are currently in a Golden Age for concealable defensive pistols, thanks to modern technology and manufacturing methods. In his latest article, author Dick Jones breaks down the metamorphosis of the concealed carry handgun during his lifetime (page 36), which has evolved from underpowered revolvers to the variety of sub-compact, high-capacity 9 mm pistols that are available today.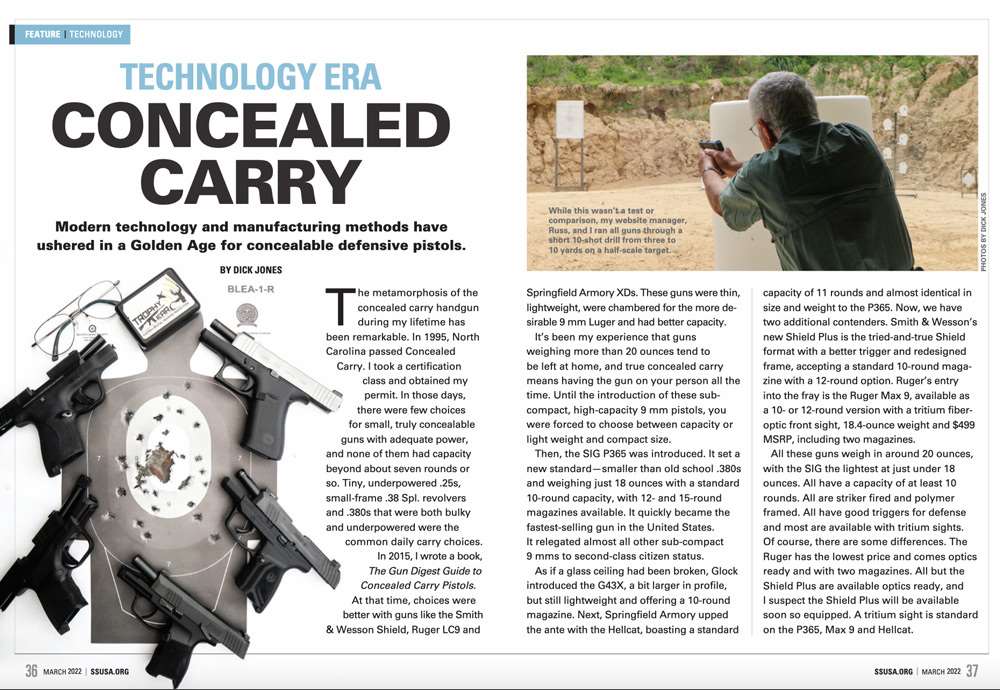 Held in Harrisburg, Pa., the 2022 NRA Great American Outdoor Show in February was a massive success, with attendance totalling more than 165,000, not far from the 2020 pre-pandemic peak number. With several exhibit halls dedicated to hunting, fishing, boating, shooting, archery and more, it's the world's largest outdoor consumer show. Read about my visit to GAOS here.
Also coming soon is the 2021 NRA National Matches special-edition publication with enhanced coverage of the inaugural event at Camp Atterbury, Ind., including the Precision Pistol, Smallbore Rifle and High Power Rifle Championships. Be sure to subscribe to the Insider digital newsletter for more information on how to read this free publication.
Finally, online registration for the 2022 NRA National Matches at Camp Atterbury will be open on Thursday, March 31. Go to competitions.nra.org/competitions/nra-national-matches to set up a profile and to register. [This article has been updated to reflect the new registration date of March 31]
John Parker
Editor in Chief, Shooting Sports USA