February's cover feature highlights the 2021 NSCA Sporting Clays Championship, which by all accounts was a massive success. Attracting a staggering 1,762 competitors for the 300-target main event last October, this national tournament—held every year at the National Shooting Complex in San Antonio—is the premier sporting clays event in the United States. This month, our friend, ClayShootingUSA Editor Dana Farrell, shares his match report (page 16) with info from stages on all four courses, plus profiles of two of the top shooters.
Until recently, Laser Ammo as a company was best known for its dry-fire training products geared towards action shooters aiming to perfect practical maneuvers, such as drawing and target transitions, without much to offer precision rifle shooters and long-range boltaction enthusiasts. That changed last year with the release of the 6.5 mm Creedmoor SureStrike adapter, which author Frank Melloni tests in February's Product Focus (page 10).
Last November, the annual Fort Benning Multi-Gun Challenge returned after a yearlong hiatus due to the pandemic. This match is well known for clever stage design, thanks to the U.S. Army Marksmanship Unit's talented action shooting team. With stages filled with tasks such as firing while sitting in a kayak, climbing over walls and firing from a moving see-saw, opportunities at Fort Benning abound for the AMU to challenge competitors in unique ways. Author Serena Juchnowski was on the scene in Georgia for the match and brings us her report (page 24).
According to author Josh Honeycutt, "Learning to become a top-shelf long-gun competitor requires strong footing, and taking it one step at a time." For his article this month on building a solid foundation as a competitive rifle shooter (page 30), Honeycutt tapped USPSA Grand Master Keith Garcia for the expertise that can only be gained from someone who has reached the upper echelons of the competition world.
Top F-Class shooter and author Larry Bartholome has plenty of knowledge he wants to share about his favorite discipline, distinctly branded with his own style of humor. In his latest article (page 36), he answers the tongue-in-cheek question: "How can you make your scoring rings bigger?" This article is a must-read for both F-Class beginners and veteran shooters alike.
Finally, last month at SHOT Show 2022 in Las Vegas, Nevada, there were many interesting new products on display. If you haven't read it already, be sure to check out Field Editor Art Merrill's top picks from Industry Day at the Range on the website. And, check out Shooters' News in the February issue (page 6) for more top product picks from the show. The March issue will include a roundup of our favorite items from the show that you won't want to miss.
John Parker
Executive Editor, Shooting Sports USA
Are you a subscriber?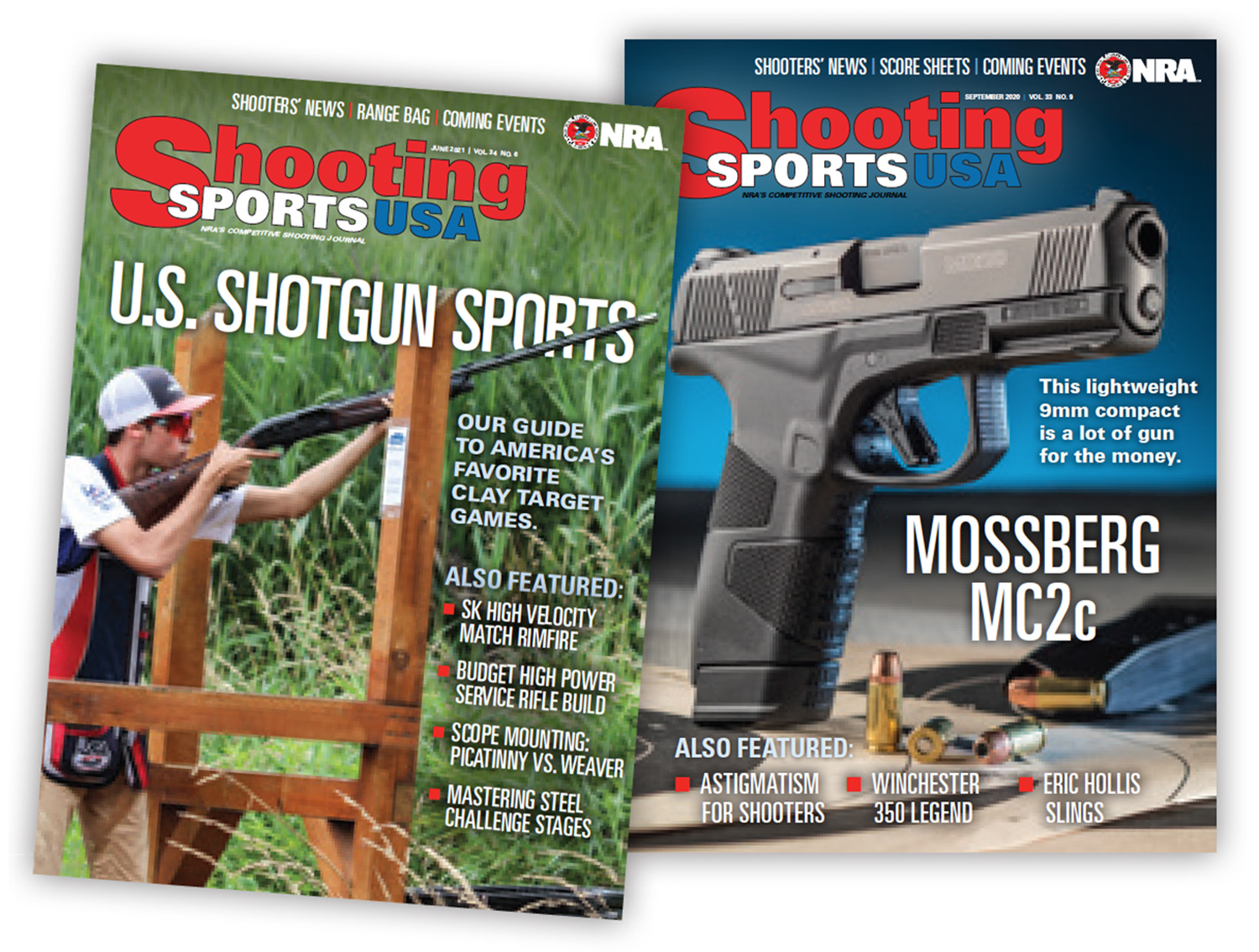 Not receiving the monthly digital magazine announcement in your inbox? Become a subscriber. Not only is it completely free, it only takes a minute to sign up and it guarantees you'll never miss a single issue of the NRA's competitive shooting journal. Subscribe here.
---
Read more:
Competitors' Corner: January 2022