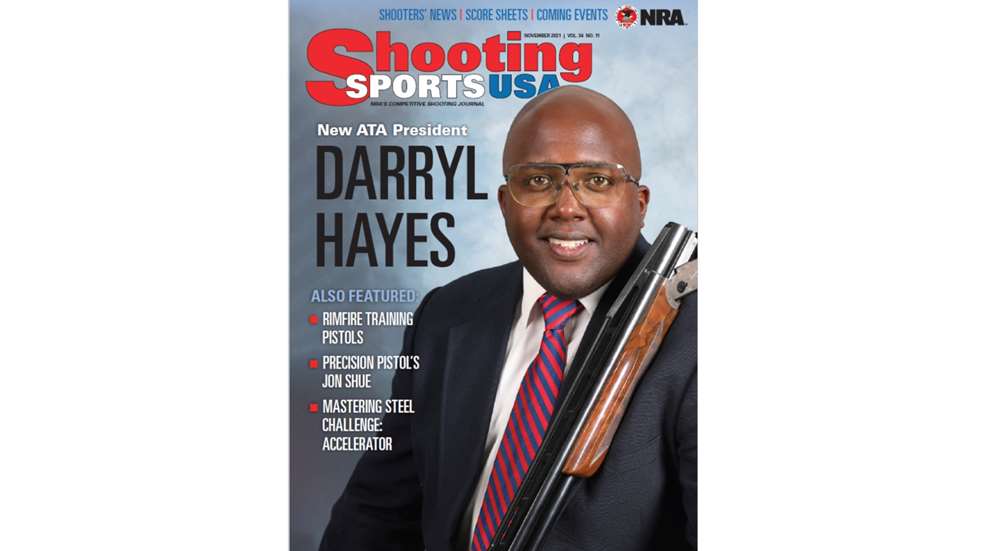 November's cover highlights my interview with new Amateur Trapshooting Association President, Darryl Hayes. The first person of color to head the organization, as well as the youngest at age 40, Hayes represents an exciting new chapter for the ATA and trap competition. He is taking his new responsibility seriously, as he prepares for the challenges that ATA currently faces, along with expanding the reach of the organization and nurturing the next generation of trapshooters. Read my interview (page 20) and learn about the vision of Darryl Hayes.
This month, Field Editor Art Merrill reviews the latest electronic training device from Mantis, the Blackbeard, which allows for true semi-automatic dry-fire practice in your AR-15. Merrill says that you can practice the timing of rapid-fire high power stage shots during dry-fire practice with the Blackbeard. Check out his article in Product Focus (page 14) to find out how you can use the Mantis Blackbeard to improve your competitive shooting performance.
Author Dick Jones says that "there's been no training tool for rifle or pistol that's been more effective as a training tool, than the .22 Long Rifle rimfire cartridge." In his must-read article this month covering Rimfire Training Pistols (page 26), Jones outlines four different .22 LR handguns that are useful for training applications, especially for replicating the look and function of larger-caliber models.
Precision pistol shooter Jon Shue is one of the most electrifying competitors in the sport today, garnering two victories at the NRA Pistol National Championships since 2017 and a runner-up finish this past summer at Camp Atterbury. Shue was kind enough to speak with me at Camp Atterbury during the 2021 NRA National Matches this summer as the Pistol Nationals winded down. Read my interview with him (page 32) to find out more about this top bullseye pistol shooter and machinist.
Also in this issue is the latest article in Field Editor Chris Christian's series on mastering Steel Challenge stages. In the previous five articles in the series, Christian has guided us through the Five To Go, Speed Option, Smoke & Hope, Roundabout and Showdown stages. This month, he shares his preferred method for tacking the Accelerator stage (page 36). Next month's issue will cover the Pendulum stage.
We hope you'll share your match results with the Shooting Sports USA community. Our Score Sheets section (page 18) is a great way to have your local match recognized and published in a future issue.
John Parker
Executive Editor, Shooting Sports USA
Are you a subscriber?
Not receiving the monthly digital magazine announcement in your inbox? Become a subscriber. Not only is it completely free, it only takes a minute to sign up and it guarantees you'll never miss a single issue of the NRA's competitive shooting journal. Subscribe here.
---
Read more:
Competitors' Corner: October 2021