This month's cover feature is on the 2020 U.S. Helice National Championships. For those unfamiliar with the game, helice is a clay sport that has been popular in Europe since the 1960s and is gaining ground stateside. Instead of using a traditional clay bird, the target for helice (often called a "ZZ bird") has a round, plastic "witness cap" attached to a propeller. The wings provide for erratic flight and a difficult shooting game. When struck by pellets, the witness cap separates from the propeller, which signals a successful hit. Author Greg Tinsley recaps the 2020 Helice Nationals, and goes more in depth about the sport in "Beauty and the Helice."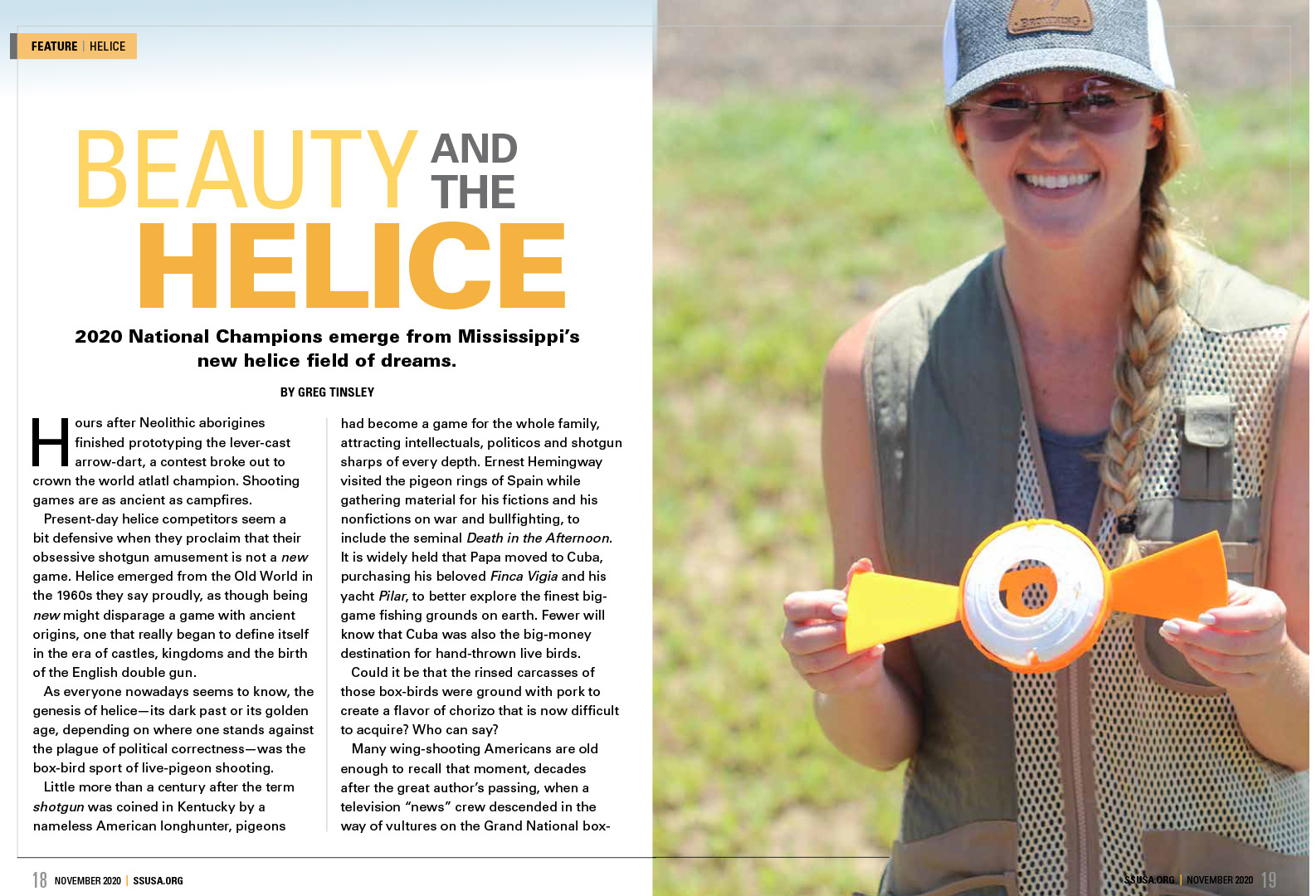 Field Editor Chris Christian says, "You don't need to spend big bucks to get into Action Pistol competition." Despite this, newcomers often wonder where to begin when shopping for a suitable pistol. Luckily, we have done the heavy lifting for you in November's Product Focus, where Christian shares five affordable pistol models that will give you the biggest bang for your buck.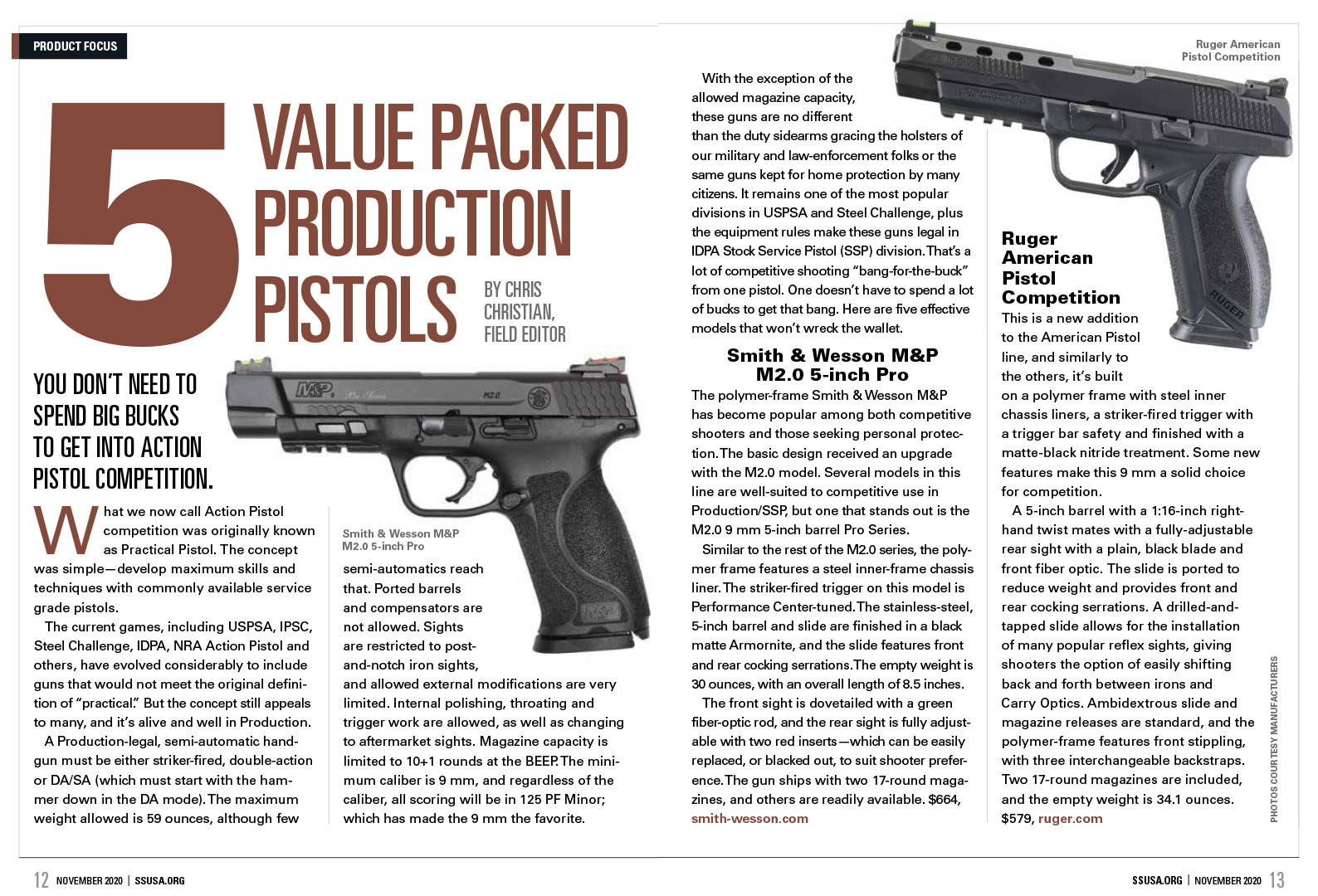 It's November, which means that it's crunch time if you haven't already found the perfect present for the favorite competitive shooter in your life. Our 2020 Holiday Gift Guide includes 23 great gift ideas, including pistols, rifles, shotguns, optics and more. Check it out here.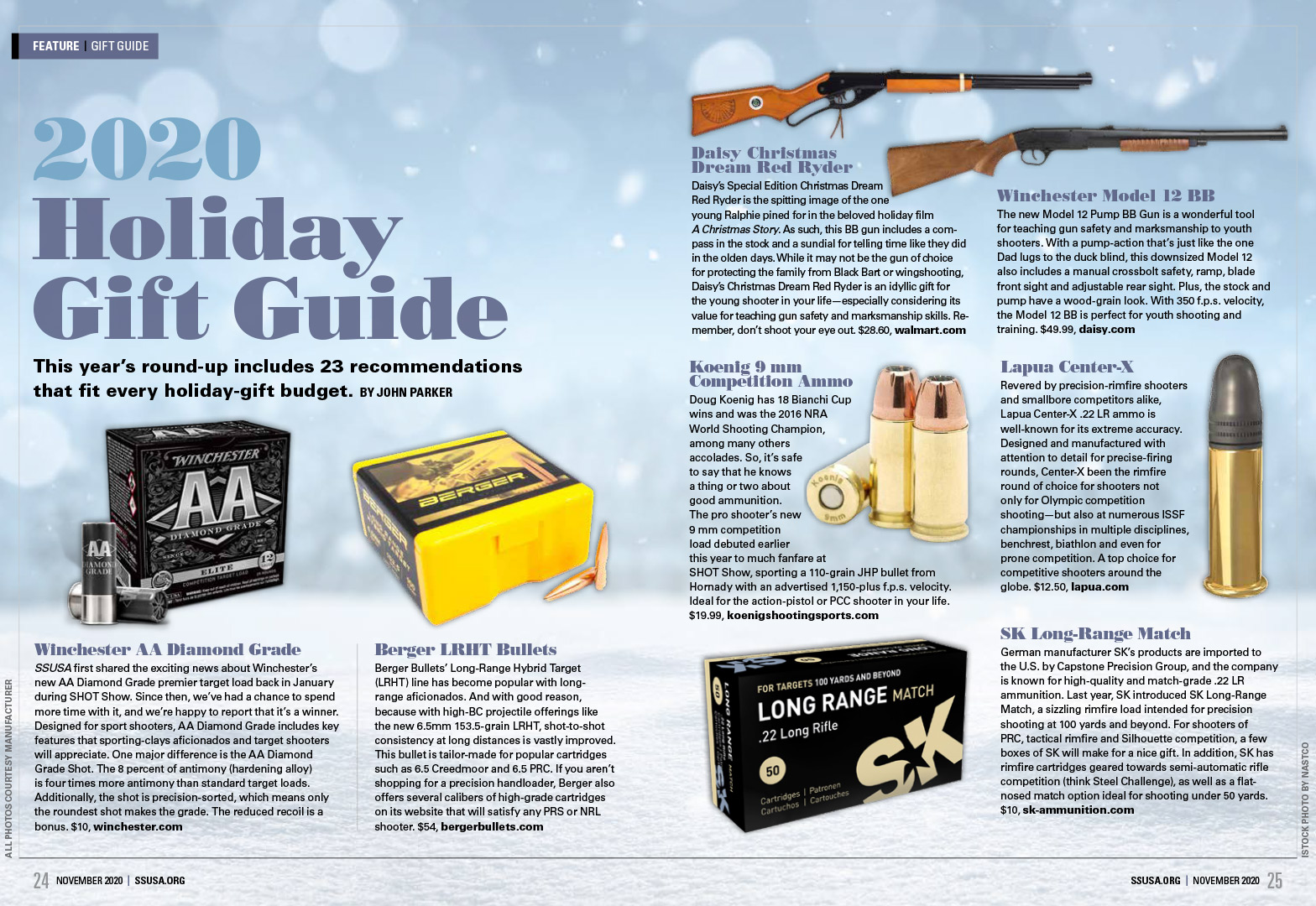 Champion Range and Target offers a plethora of products for clay shooters. The company's EasyBird Auto-Feed 6-Packer Trap is a rapid-fire launcher that can throw birds in the air quickly and with minimum fuss. Author Frank Melloni shares his experiences with this convenient, portable machine that is more affordable than you may think. Read his review.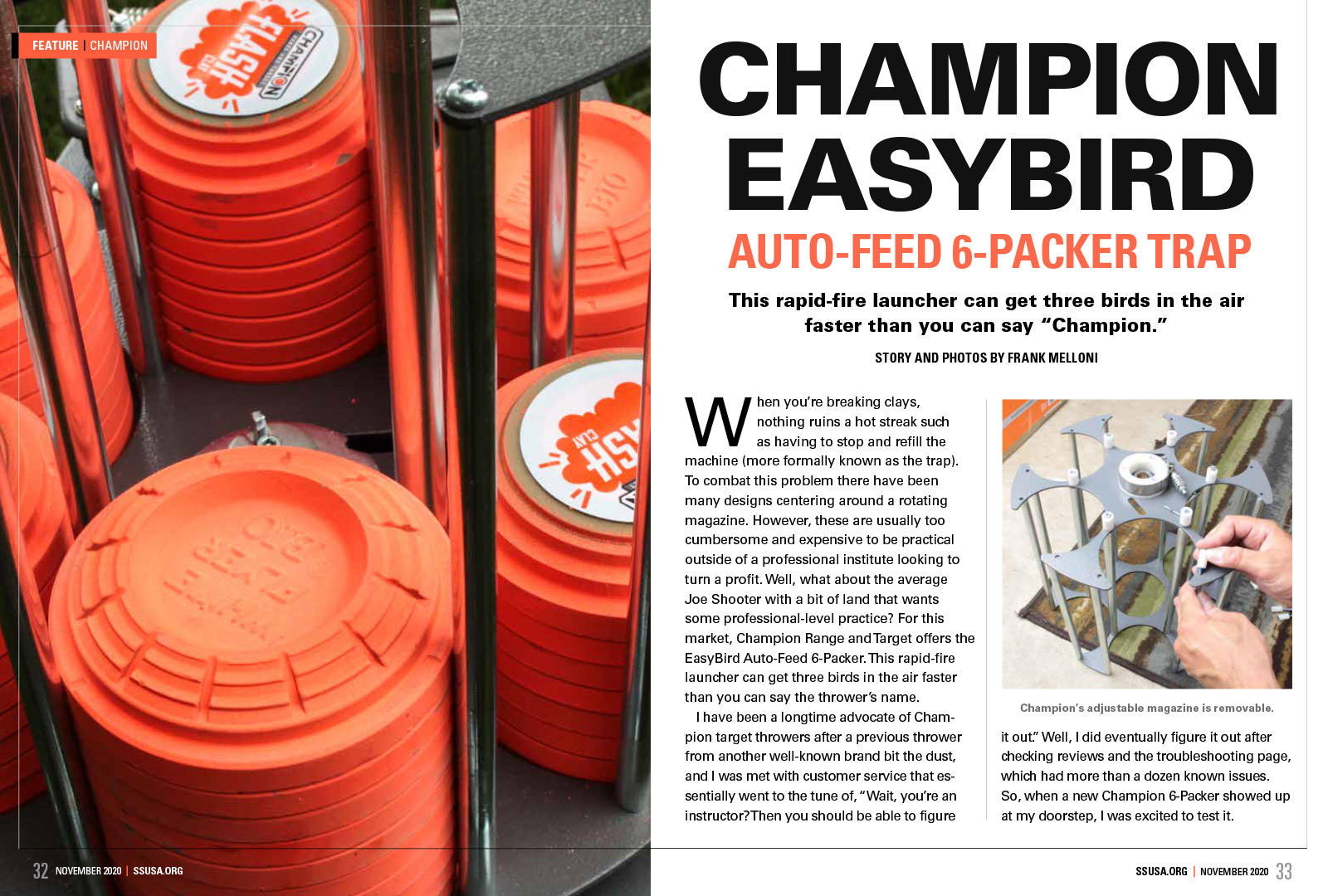 Getting an M1 Garand rifle to shoot well, while still remaining "As-issued," can be quite intimidating for people new to this historic firearm. This month, Frank Melloni shares his practical maintenance routine for the Garand, which he says "has shaved several MOA of error from my favorite piece of American heritage." See his tips here.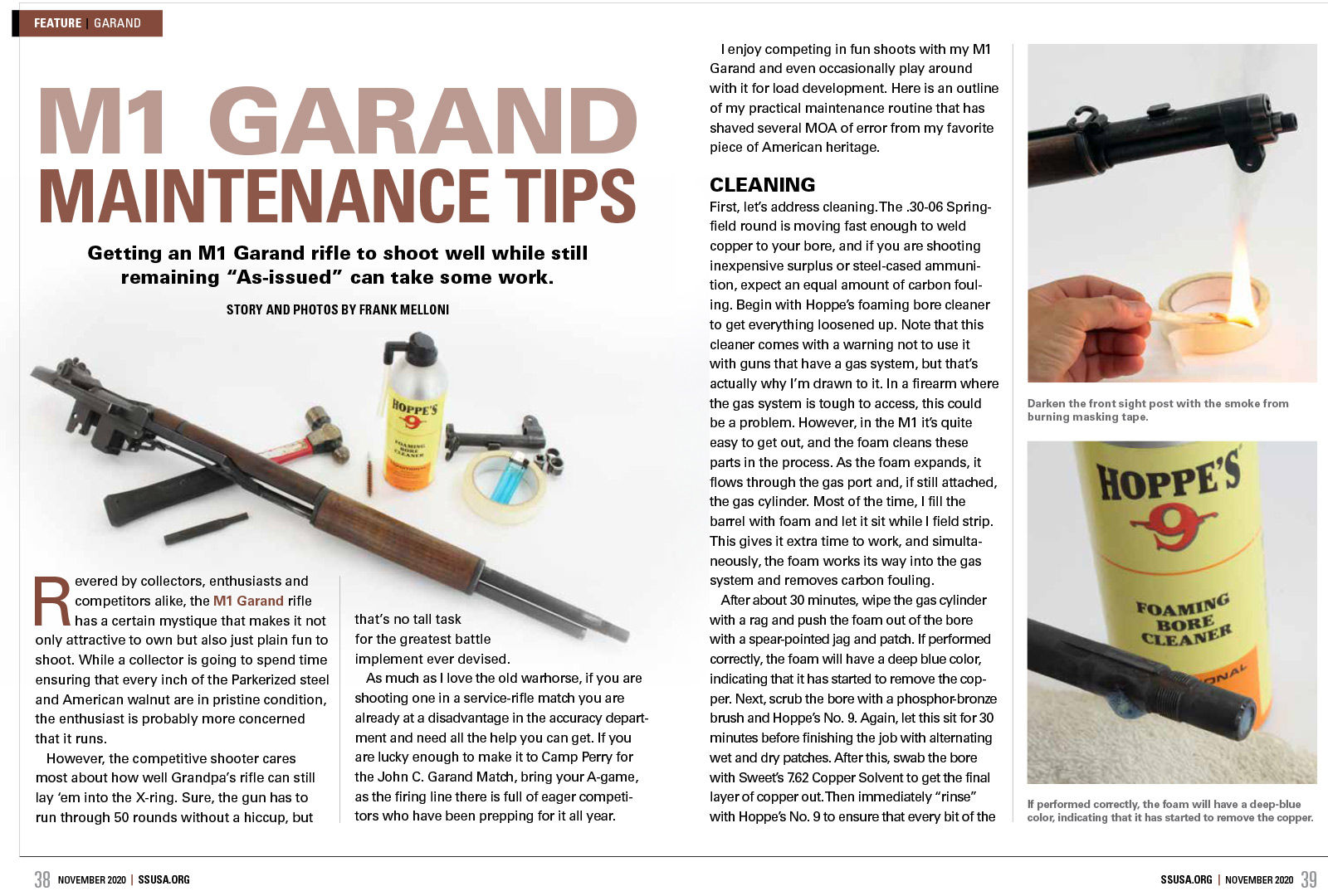 Due to state COVID-19 regulations, last month, the NRA was forced to cancel next year's Great American Outdoor Show, which was to take place Feb. 6-14, 2021 in Harrisburg, Pa. While the NRA will certainly miss the opportunity to celebrate America's great firearm, hunting, fishing and outdoor heritage next year, we all can look forward to seeing old friends and meeting new ones at the Great American Outdoor Show currently scheduled for Feb. 5–13, 2022. Be sure to subscribe to the free SSUSA Insider newsletter for the latest updates.
I wish all of you a Happy Thanksgiving. Although COVID-19 may have derailed your usual holiday plans—as it has for me—there is no reason that the 2020 holiday season can't be as memorable as all the ones that came before them. Follow good judgement and safety precautions, but remember that above all else, the holidays are a time for family and friends to come together and celebrate.
Finally, in case you haven't heard, there's an election this month—and a pretty important one at that. Our Second Amendment rights have never been more at risk. So if you're reading this letter prior to Tuesday, Nov. 3 and you haven't already done so, please make sure to head to the polls and exercise your right to vote.
---
Read more Competitors' Corner articles: