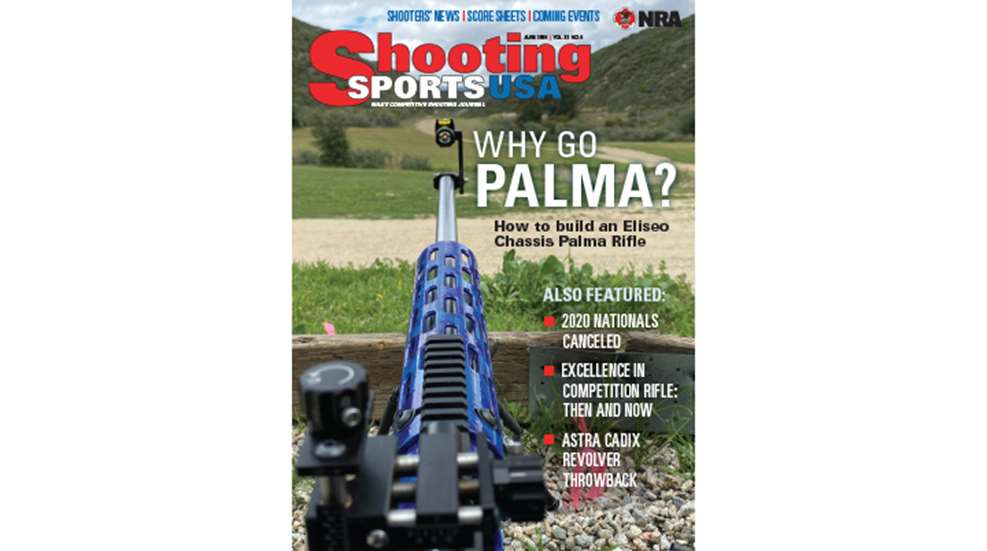 This month's cover feature details a money Palma rifle build by author Dennis Santiago. Prior to receiving the Gary Eliseo custom chassis treatment, this Remington 700 short-action was customized with a .308 Win. boldface one-piece bolt with a smaller 0.062-inch firing pin hole, a 30-inch Obermeyer barrel with 1:11-inch right-hand twist and a Palma chamber. Read all about it here.
Ruger has been on a roll with great new products, and its newest Ruger PC carbine model is no different. The new Ruger PC Carbine Chassis models feature the same operating action, controls, takedown mode and barrel features as the original PC 9mm released in 2018. Check out Field Editor Chris Christian's review of Ruger's latest in June's Product Focus.
It takes something big, like Covid-19, to cancel the NRA National Matches. In conjunction with noted National Matches historian Hap Rocketto, I examined the previous instances the matches were canceled, going back to the early 20th century. Review our findings here.
What happens when two competitors, one a Baby Boomer, the other from Generation Z, examine the past and contemplate the future of High Power Rifle competition? Shooting Sports USA authors Dick Jones and Serena Juchnowski asked this very question in their Excellence in Competition article you can read at this link.
While Spanish revolvers frequently get a bad rap from shooters, Astra's Cadix is a copy of the Smith & Wesson doubleaction revolver, both on the outside and the inside. Read Art Merrill's article here.
Abnormal Times
I'm not a big fan of the so-called "new normal." For starters, Zoom seems to be the preferred method of communication, even above telephone and email. Putting together a magazine over Zoom has become a new "normal" for me, along with phrases like "Sorry, I was on mute," and "Can everyone see my screen?"
When I first wrote this in April, Virginia was over two months into our stay-at-home order, and I began thinking about how Covid-19 is much more than an extended break from normal; it will forever be ingrained into what we know as normal, into the way we communicate. I never thought I'd be Zooming with my family every weekend. I never thought we'd live in a post-handshake world.
I do hope things return to normal soon, but for now, I'm dealing with these abnormal times the best I can just like you. I'm not sure how much returning to things as we knew them before will actually happen, but one thing is certain—competitive shooters will find a way to bring themselves back to the firing line.
On a brighter note, the revamped NRA Women website launched last month and it's a real winner. Be sure to check it out at www.nrawomen.com.
—John Parker
Executive Editor, Shooting Sports USA
---
Reporters Welcome
In our efforts to recruit more reporters, we frequently hear the comment: "But I'm not a writer." What people overlook is that they are on the scene, hearing and seeing the action first-hand. Editing and completing the article is our job, so if you'd like to try your hand at sharing draft reports and photographs from national-level matches or interviews with key people in the shooting sports, please email us at [email protected].