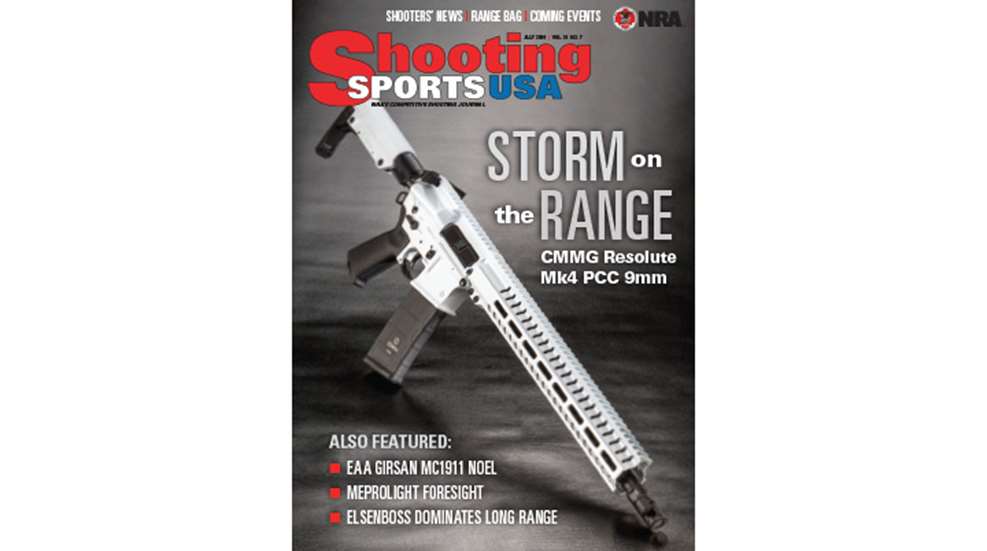 NRA Sanctioned Matches Resume
Earlier this year it seemed as if there would be no formal competitive shooting matches at all in the foreseeable future. However, starting Wednesday, July 1 the NRA Competitive Shooting Division will be once again open for business and will begin accepting tournament registrations for sanctioned matches. Find out more about NRA sanctioned matches reopening by reading my article in the July 2020 issue of Shooting Sports USA.
Are matches being held near you? Be sure to check out our Coming Events section for a full listing of matches held around the country. I'm excited to head to the range and shoot. It's our rite of summer. And so I'll grab my rifle and my ammunition and my gear, and I'll set up shop on the firing line, just like I always do—waiting for the party to start.
CMMG Resolute 300 Mk4 PCC 9mm, Girsan MC1911 Noel and more
Field Editor Chris Christian nicknamed the CMMG Resolute 300 Mk4 PCC 9mm he reviewed for this month's cover feature the "Stormtrooper," in light of the stormtrooper white his test model was finished in. Living up to its improvised moniker, the eye-popping white CMMG proved to be a storm on the range and leaving him quite impressed. Read this month's cover feature on this advanced PCC here.
Since its introduction over a century ago, John Browning's iconic 1911 pistol has been mostly associated with the stalwart .45 ACP cartridge, but in recent years there has been a shift among action-pistol competitors toward 9mm. In this month's Product Focus, Chris Christian takes one of EAA's latest imports for a spin, the Turkish-made Girsan MC1911 Noel, a full-sized 1911 in 9mm with a five-inch barrel. You can read his review here.
The highly capable Meprolight Foresight is a glimpse into the future of red-dot optics. Author Frank Melloni had the chance to test the Bluetooth-equipped red dot that works in conjunction with your smartphone to deliver a staggering number of reticles to choose from, as well as a roll level and 50 hours of continuous-use battery life. This "augmented red-dot sight" even allows users to create multiple profiles—each with their unique settings and zero. Learn more about the Meprolight Foresight.
Last year, SSgt. Amanda Elsenboss of the U.S. Army Marksmanship Unit completed a High Power Rifle championships shooting trifecta after garnering top honors at the Interservice Matches, CMP Long-Range Nationals at Camp Perry and the NRA High Power Rifle Long-Range Championships at Camp Atterbury. Learn all about Elsenboss, including her gear choices, by reading my article about her in the July issue of Shooting Sports USA.
—John Parker
Executive Editor, Shooting Sports USA
---
Reporters Welcome
In our efforts to recruit more reporters, we frequently hear the comment: "But I'm not a writer." What people overlook is that they are on the scene, hearing and seeing the action first-hand. Editing and completing the article is our job, so if you'd like to try your hand at sharing draft reports and photographs from national-level matches or interviews with key people in the shooting sports, please email us at [email protected].
---
Read more Competitors' Corner articles: