This month's cover feature is about the most popular pistol-caliber carbine (PCC) for competitive shooting, the JP Enterprises GMR-15 Match 9mm. For example, at the 2019 USPSA PCC Nationals, 37 percent of shooters surveyed were using the GMR- 15—making it the most well-liked at the match for the third consecutive year. Field Editor Chris Christian put this AR-15-style, 9mm blowback-action carbine to the test. Be sure to check out his article here.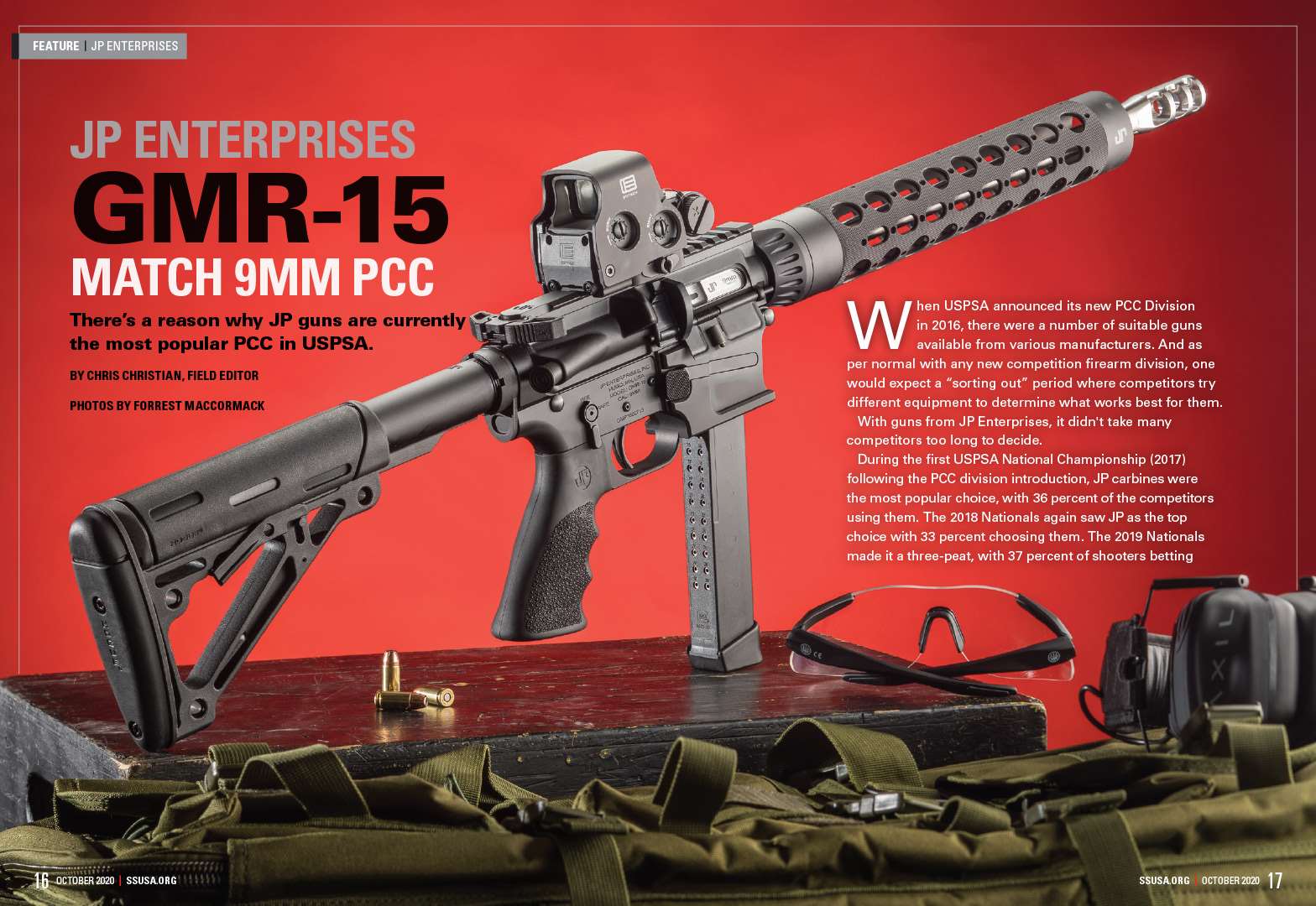 Smith & Wesson rarely disappoints when it comes to guns from the Performance Center, and the M&P 9 M2.0 5-inch Barrel Pro Series keeps up this trend. According to Chris Christian in October's Product Focus, "this modestly-priced M&P is a solid choice for a number of action-pistol games." Learn more here.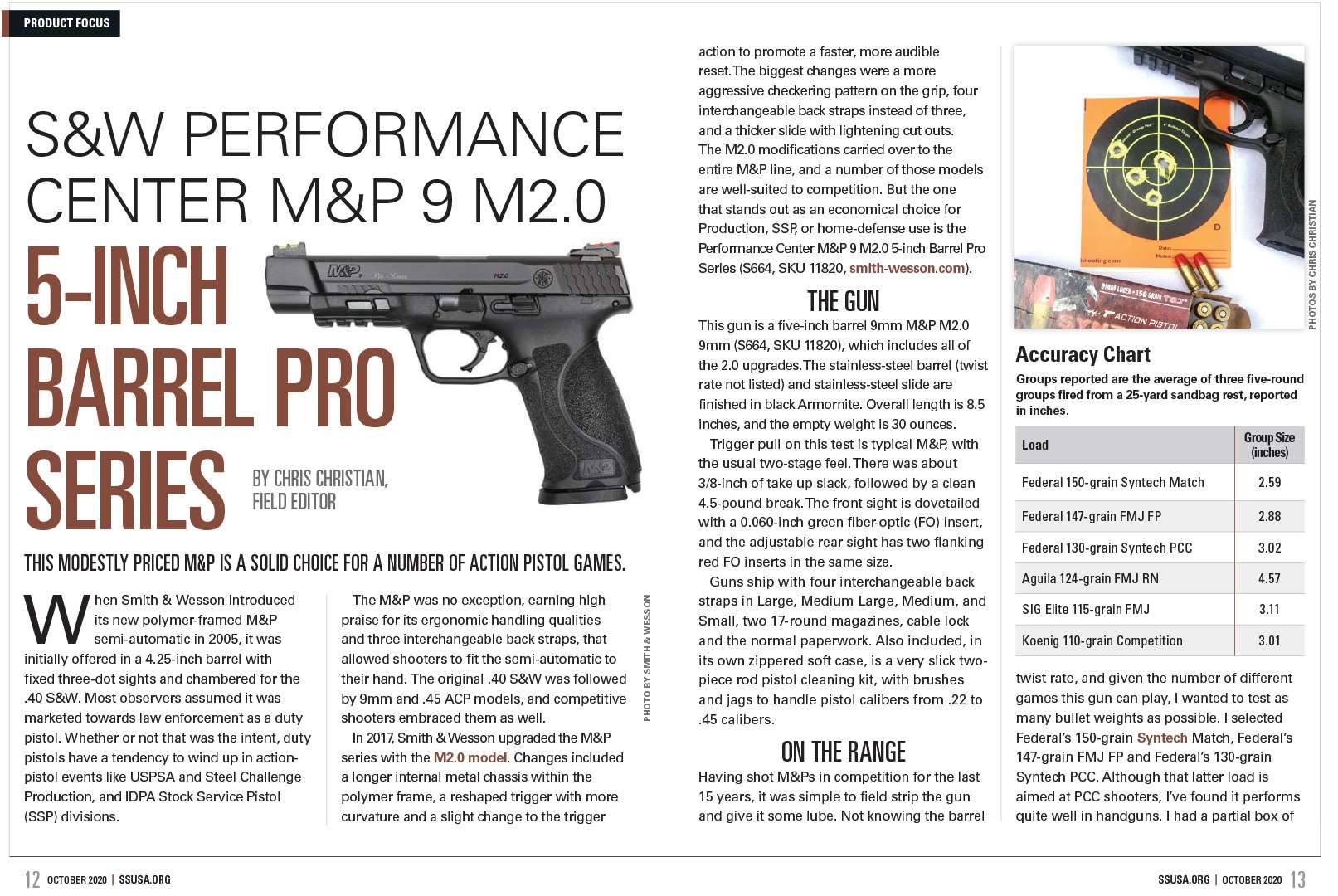 The folks at Tetra Hearing are raising the bar for hearing protection in the shooting sports and also for hunting. Not only innovating with high-tech electronic earplugs, the company's online hearing test allows for prospective buyers to get the exact level of hearing protection they need. In less time than it takes to make a cup of coffee, you can have a personal hearing profile. Find out more about Tetra and its AlphaShield line of earplugs.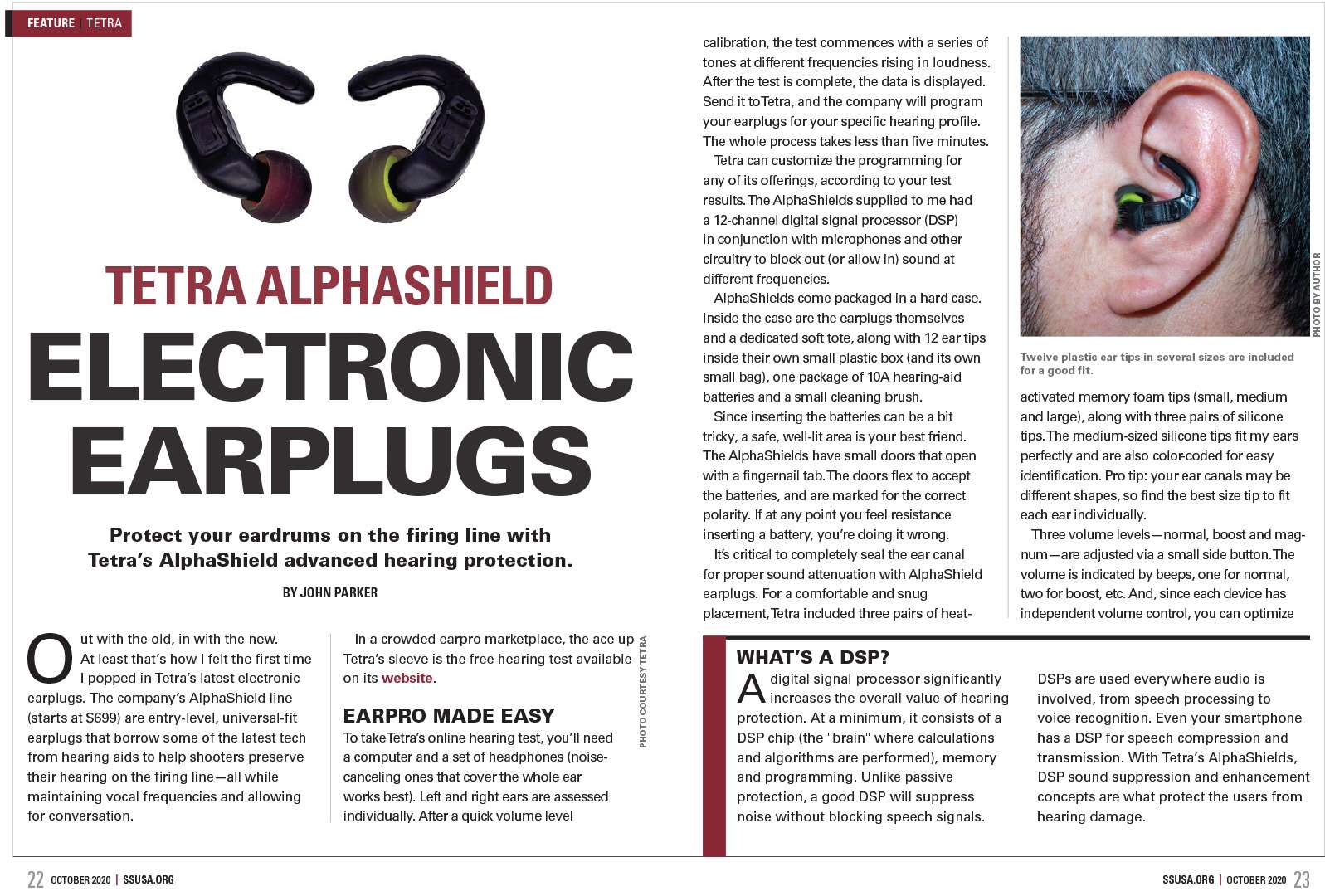 Over the last few years, extreme long-range (ELR) competition has exploded in popularity. And with good reason. Thanks to the latest technology, reaching out and ringing steel at two miles (and beyond) has become easier, relatively speaking, than ever before. Our friend Rei Hoang, an experienced PRS and NRL shooter, had her first taste of ELR competition earlier this year at the Mimbres River Mile Shootout in New Mexico. Learn more about her experiences.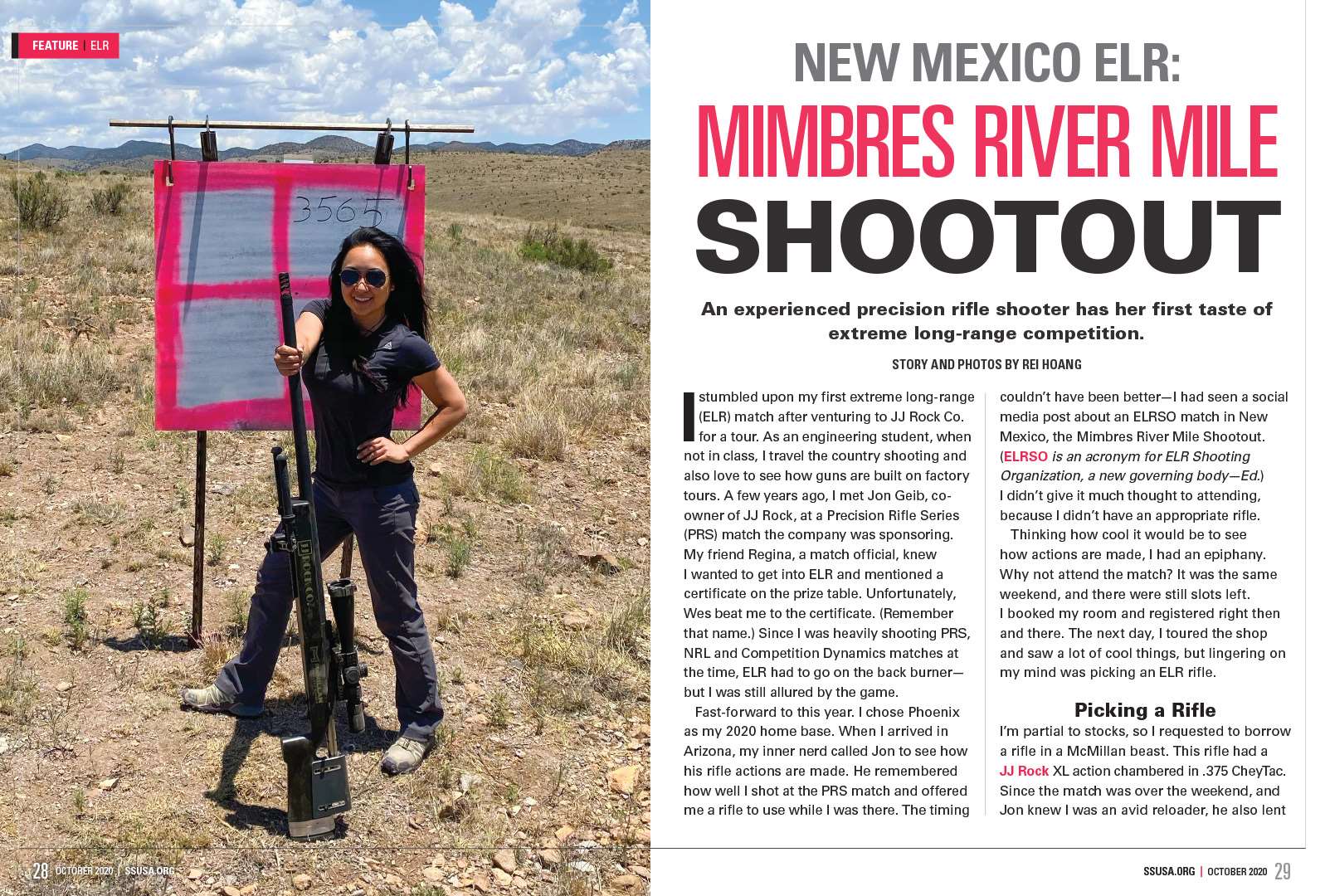 After the cancellation of the NRA National Rifle and Pistol Championships at Camp Atterbury and the CMP's National Trophy Matches at Camp Perry earlier this year due to the coronavirus pandemic, a few high-power rifle shooters stepped up to fill the gap by creating a special 2020-only rifle event. Author Serena Juchnowski attended and brought us the scoop on the 2020 Buckeye Blossom Midwest Nationals, held at the Alliance Rifle Club in Malvern, Ohio. Read her match report.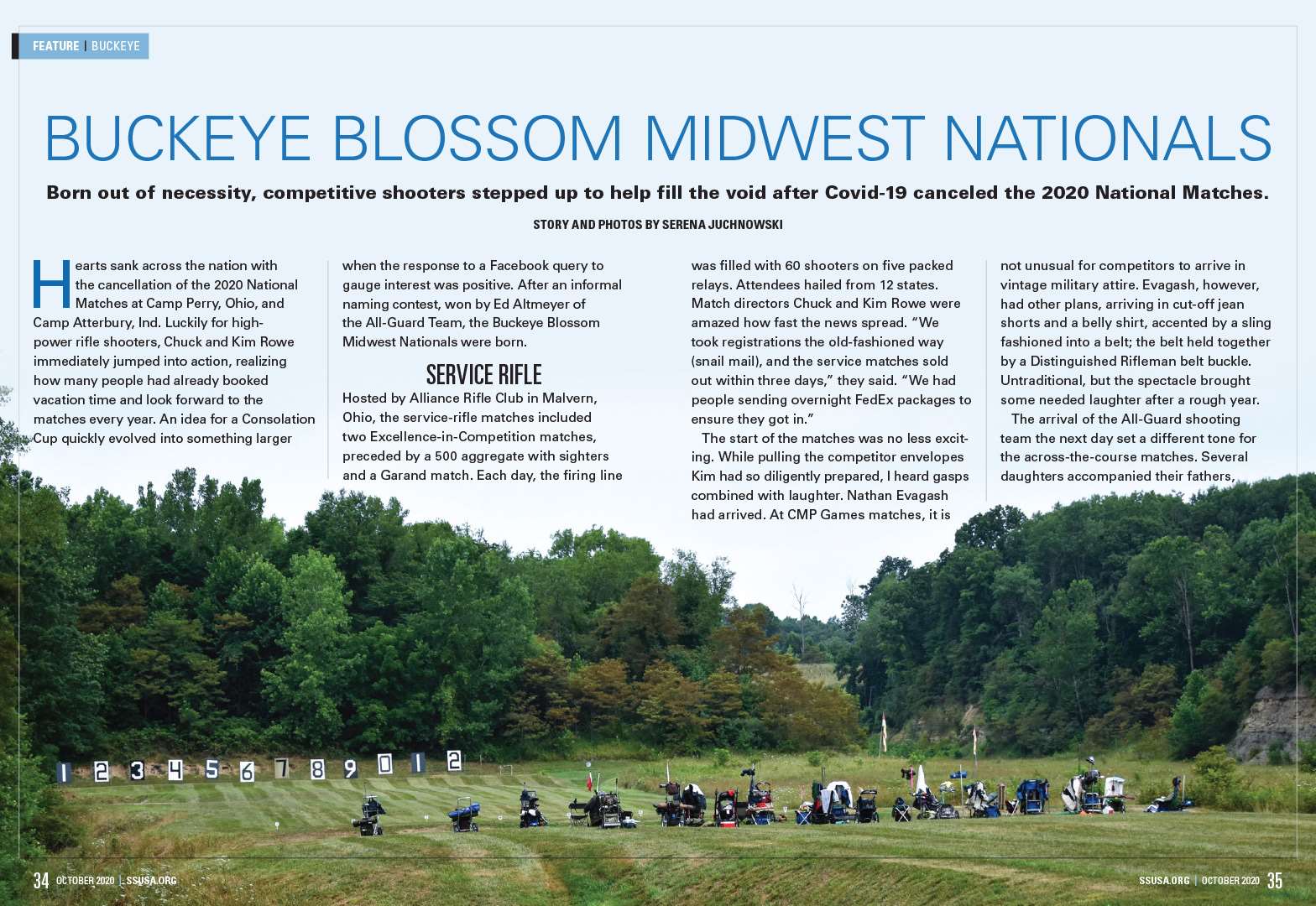 Beginning in the late 19th century, famous names like Adolph and "Plinky" Topperwein, Annie Oakley, Herb Parsons and more would dazzle audiences with their trick-shooting prowess during exhibition shoots. Sadly, the popularity of these promotional events waned as the 20th century came to a close, and they are practically nonexistent today. Author Hap Rocketto takes an in-depth look at the "Golden Era of Exhibition Shooters" in his article, check it out here.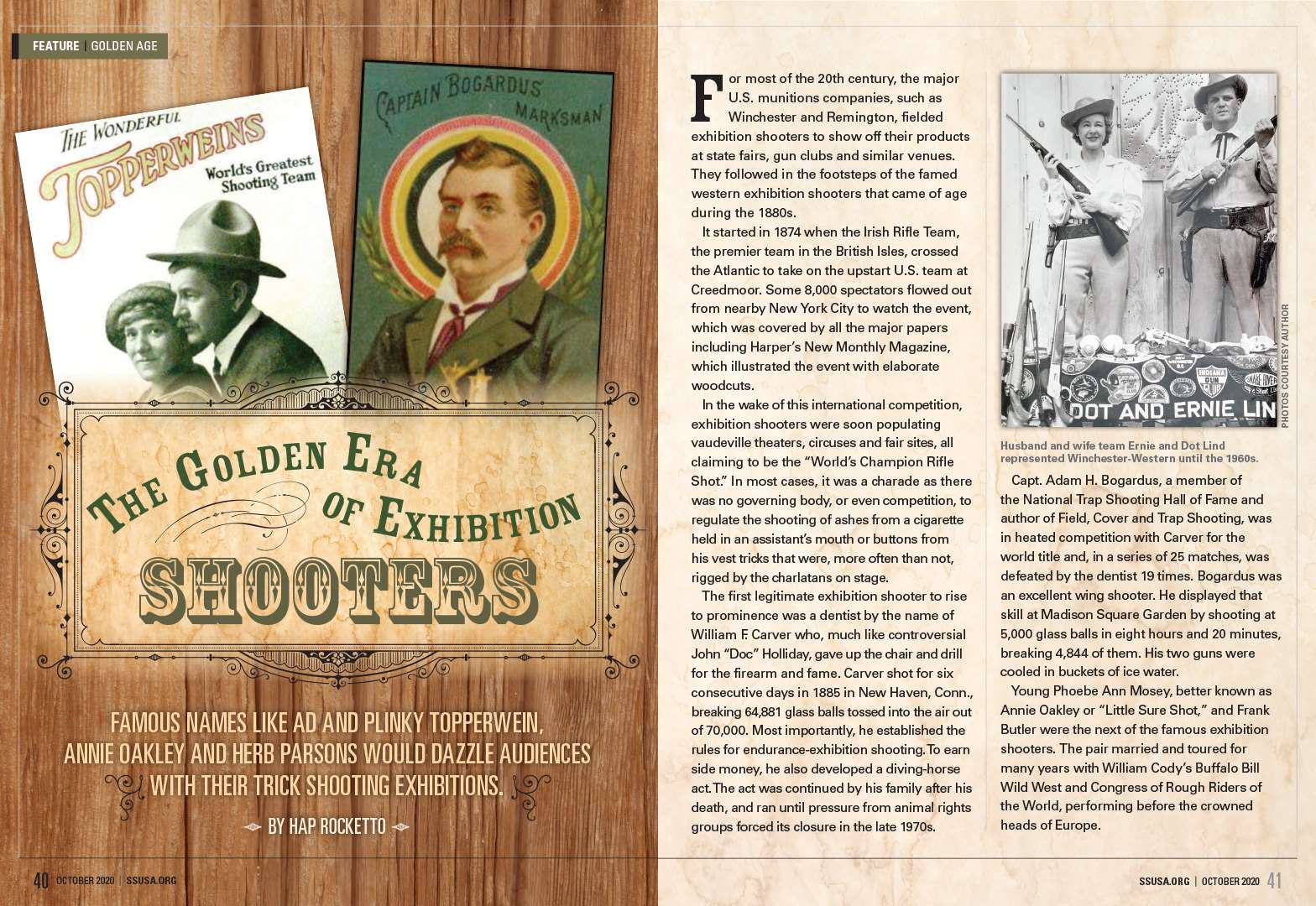 Finally, a reminder—please send us your match reports. The Score Sheets section of SSUSA is an excellent tool to promote your club's matches, and best of all—it's completely free. You can find the form here, and completed submissions can be emailed to [email protected].
---
Read more Competitors' Corner articles: