This month's Shooting Sports USA cover features the TriStar Arms TT-15 Deluxe Trap Combo, which is an affordable trap gun that's loaded with premium features normally found on shotguns that can cost thousands of dollars more. Tested with Federal's Gold Medal Grand shotshells, you can read my review of the TT-15 in this month's Product Focus.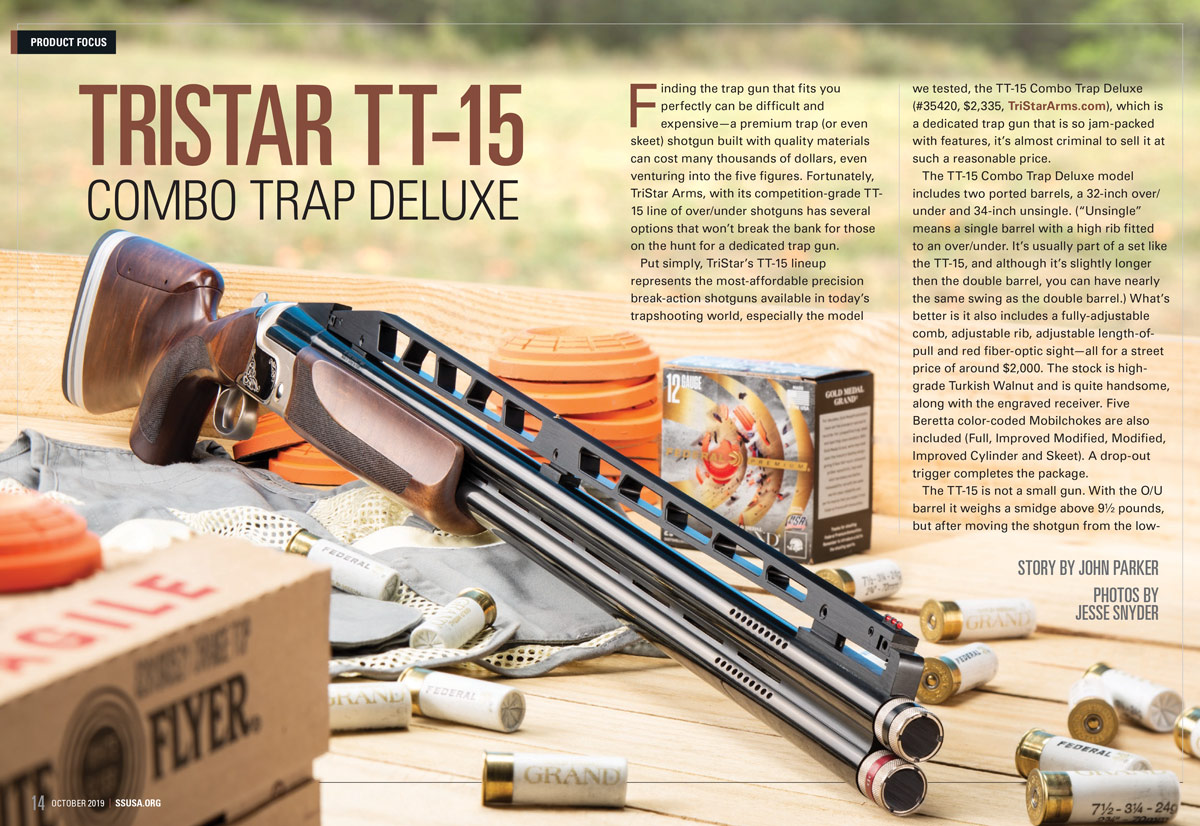 ---
October's Product Focus also includes Field Editor Chris Christian's review of Ruger's newest 8-shot revolver, the Super GP-100. Since 8-shot Minor has displaced 6-shot Major revolvers in USPSA competition because A Zone hits count the same for both power factors, savvy shooters are gravitating toward 8-shot wheelguns for obvious reasons. Read Christian's Super GP-100 review here.
---
This year marked the third summer of NRA High Power Rifle competition at Camp Atterbury, where one name stood out above all others: U.S. Army Marksmanship Unit rifle shooter SSG Amanda Elsenboss. Hot off the heels of big wins earlier this year at the Interservice and CMP matches, Elsenboss came to Camp Atterbury poised and ready to bring down the house. You can read all about her long-range rifle victory at Camp Atterbury, along with the full results of the 2019 NRA High Power Rifle Nationals at this link.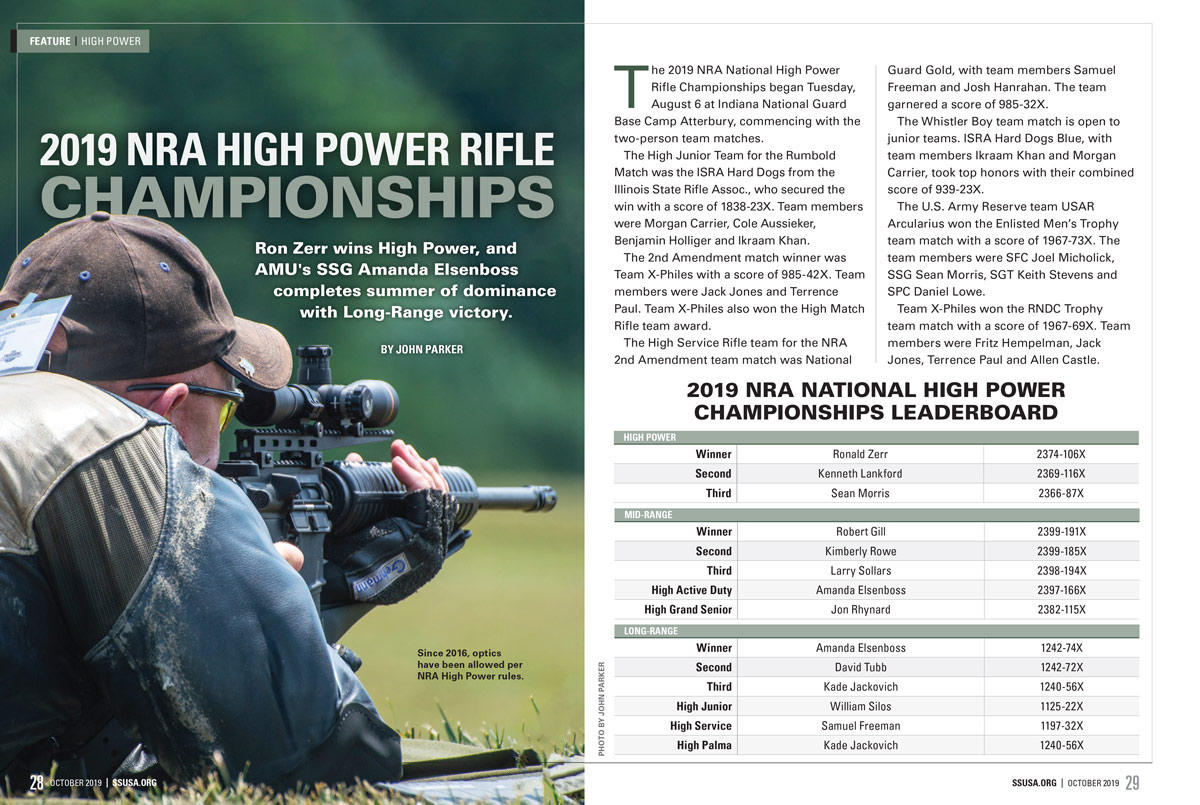 ---
Extreme Long-Range shooting has exploded over the last year, but if you attend the NRA High Power Nationals, you already know at least a little something about this phenomenon, since the NRA ELR Championship is held concurrently at the same venue as High Power—the Indiana National Guard's Camp Atterbury. At the 2019 contest, competitors engaged targets at ranges out to 2,150 yards. Read how the two division winners David Tubb and Ray Gross fared at the match.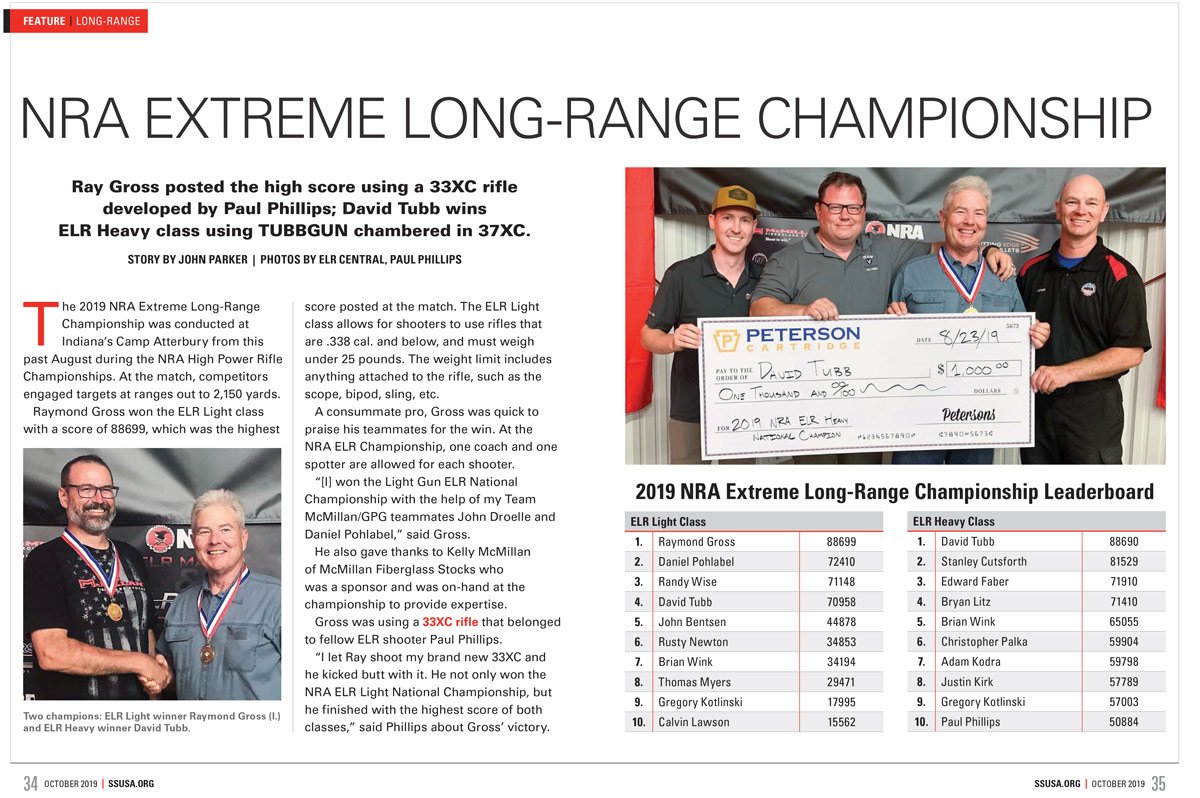 ---
According to Field Editor Art Merrill, the 7.5x55mm Swiss cartridge has got two things going for it in Vintage Military Rifle competition: "The bullet and the K31 rifle." With a history that stretches back to the early 1880s, the Swiss K31 rifle in combination with Swiss GP11 service ammunition may be the most-accurate— and least-used—battle combo ever issued. Read Merrill's treatise on the 7.5 Swiss.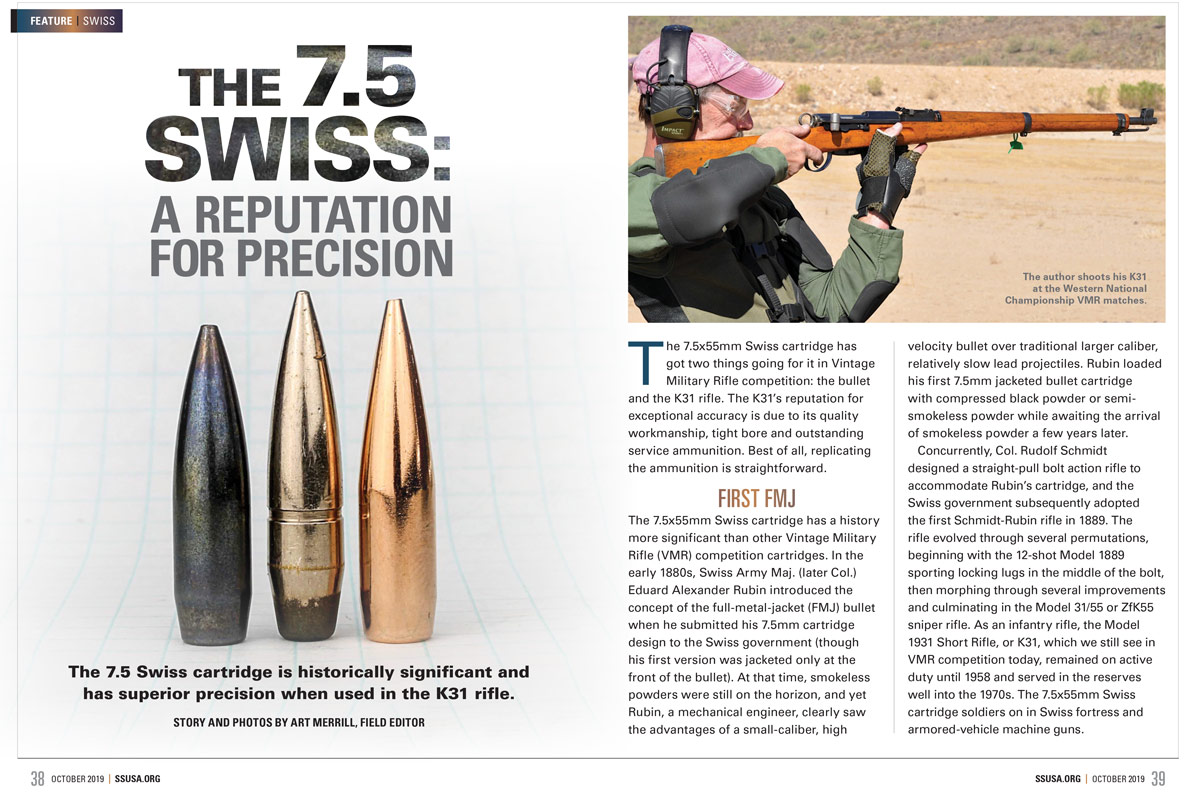 ---
And finally, a sneak preview of next month's issue, which will feature the recently concluded NRA World Shooting Championship. This year saw 2017 champion Greg Jordan once again at the top of the leaderboard, after a dominating performance with nearly 80 points separating him and the runner-up, 2018 champion Tim Yackley. The NRA World Shooting Championship has become highly regarded despite its short history, with an unparalleled format—12 stages drawn from different shooting disciplines that run the gamut from pistol to shotgun, and all guns and ammunition provided. The fat cash purse, along with separate prize tables for professional and amateur shooters, further places it on the "must-do" list for competitive shooters around the globe. See the 30 best photos from this year at the NRA World Shooting Championship here.
—John Parker
Managing Editor, Shooting Sports USA
---
Reporters Welcome
In our efforts to recruit more reporters, we frequently hear the comment: "But I'm not a writer." What people overlook is that they are on the scene, hearing and seeing the action first-hand. Editing and completing the article is our job, so if you'd like to try your hand at sharing draft reports and photographs from national-level matches or interviews with key people in the shooting sports, please email us at [email protected].