Cory Kruse was crowned the champion of the 2019 World English Sporting Championship on Sunday, August 11 at Northbrook Sports Club in Hainesville, IL. This is his first World English Sporting title. 
The three-day competition was hosted by the National Sporting Clays Association, and boasted 880 competitors that tackled three courses to shoot 200 English sporting targets. The top 12 competitors securing a place in the Sunday super final.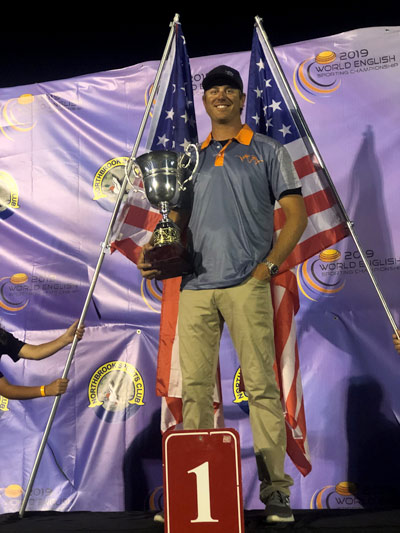 Kruse, who hails from Willis, TX, was using his Blaser F3 shotgun. He finished with an impressive leading score of 181ex200 by shooting 61 on the red course, 60 on white and 60 on blue, which was two targets ahead of his competition. Despite leading scores of 23ex25 in the super final by fellow U.S. shooters Joseph Fanizzi and Wendell Cherry, Kruse's score of 21ex25 was enough to hold pole position. He finished with a combined score of 202 to secure the world title.
Commenting on his big win, Kruse said: "I've been close a few times. I bagged a silver in 2008 but finally tagged a gold! What a cool tournament and I obviously really enjoyed the targets. They were exactly what I enjoy shooting and feel challenged to shoot. I was very entertained and scared at the same time." 
About his firearm, Kruse said, "My gun performed flawlessly. This, my friends, is why Blaser is the best. Great products and they offer the best customer service."
For Team Blaser, it didn't end there. Tennessee's Bill McGuire claimed the World Veteran Champion title with a score of 164ex200, a full four points ahead of the field. Additionally, Mike Wilgus from Washington brought home the Preliminary Champion and 5-Stand World Champion titles, garnering scores of 98ex100 and 96ex100, respectively. Both shooters were using Blaser F3 shotguns.
"It felt great to win the preliminary event on Thursday with a 98ex100. I even had the pleasure of shooting with my 12-year-old daughter Kayla," said Wilgus. "Winning the 5-stand title meant a lot to me, and I'm very pleased with my results. We also came home with USA team gold, which makes me very proud."
---
See more:
Aguila Cup: Clay Shooting, Rimfire & 3-Gun Competition