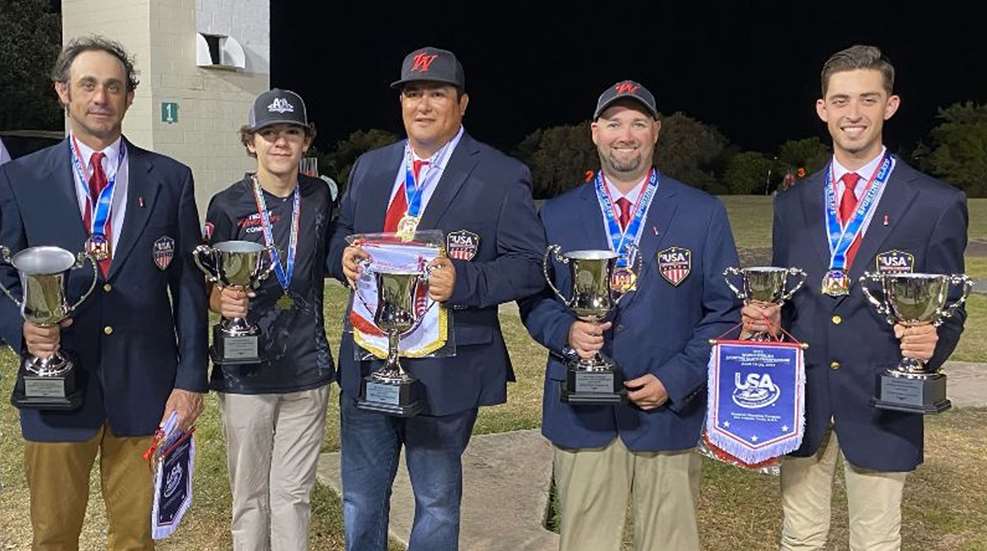 Team Winchester shooters performed well at the 2022 World English Sporting Clays Championship, which is the second stop on the prestigious National Sporting Clays Association (NSCA) Championship Tour, Powered by Winchester. The match was held April 19-24 at the National Shooting Complex in San Antonio, Texas.
An international event that alternates between the United States and England each year, the World English Sporting Clays Championship attracts top sporting clays shooters from around the globe. More than 1,000 competitors attended the match this year.
Team Winchester members reaching the podium included Eric Harvey, the 2022 World English Sporting Clays Championship bronze medalist and FITASC event champion, and Connor Daniel, the Prelim Sub-Junior concurrent world champion. Additionally, Anthony Matarese secured the Lone Star Cup title, while Kayla Wilgus took runner-up in Sub-Junior Five-Stand. Joe Fanizzi was the High Junior for Five-Stand, as well as FITASC runner-up and World English third place. The Ladies FITASC and Super Sporting titles went to Desirae Edmunds, who was also the runner-up in Five-Stand. Finally, Zach Kienbaum finished third in FITASC.
In addition, 2022 Winchester Ladies Cup regional awards were handed out at the match:
Champion: Karen Shedd
Runner-up: Madison Sharpe
Third place: Desirae Edmunds
See the full results of the 2022 World English Sporting Clays Championship here.
The next stop on this year's NSCA Championship Tour will be the 2022 U.S. Open at Back Woods Quail Club in Georgetown, South Carolina, May 16-22. Learn more about the tour at winchester.com and nsca.nssa-nsca.org.