At the 2021 Powder Creek Kansas Sporting Clays Championship, Team Federal's Derrick Mein secured his 14th state title. The match was held June 24-27 in Lenexa, Kan., at the Powder Creek Shooting Park.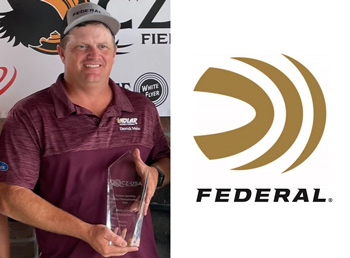 Mein, a member of the U.S. Shooting Team, topped the podium of the Powder Creek Cup Championship and the Promatic Cup Championship, also taking the runner-up spot in the Preliminary.
Mein has been on fire in competition this summer, earning victories in multiple disciplines. Additionally, last year he won the NSCA Sporting Clays Nationals. His most recent accomplishment at Powder Creek adds fuel to the fire, as Mein prepares to compete at the Tokyo Olympics next month.
"I fully expect to put forth my best effort at this year's Olympic Games," said Mein. "I will represent our country with dignity. There is no greater honor than to get to represent the USA in the largest and most prestigious sporting event in the world."
Federal is the official shotshell ammunition sponsor and supplier of USA Shooting, and is also a big supporter of the Amateur Trapshooting Association, National Skeet Shooters Association and the National Sporting Clays Association. As a Federal Ammunition sponsored shooter, naturally Mein uses the company's shotshells for competition. He favors Federal's Gold Medal loads.
"I have been shooting a lot of Federal Gold Medals at various competitions this year to get ready for the Olympics. Federal's consistency, quality and reliability allow me to focus on my skills without worry."
Learn more about Federal at federalpremium.com. Subscribe to the free SSUSA Insider newsletter for the latest Tokyo Olympics updates.
---
Read more:
Meet The Leverett Brothers, Team USA's New Rapid-Fire Pistol Shooters