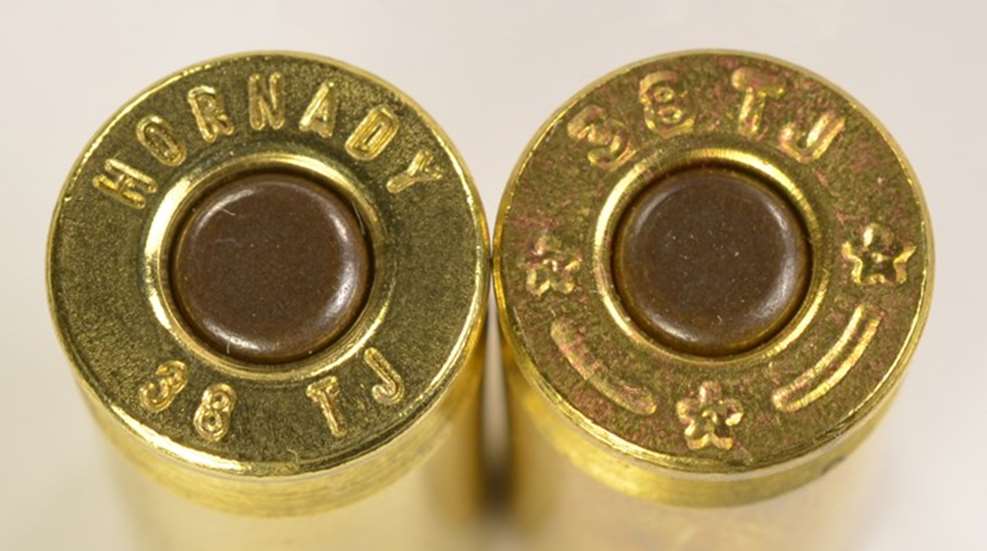 Cartridge nomenclature can be confusing, as there has never been a standardized procedure for naming cartridges. Basically, pistol cartridge names have two parts. The first part of the name is a number, either in millimeters or in decimal inch measurements (known as caliber), that represents either the bullet or bore diameter (often only approximately). Sometimes there are two numbers—European cartridges in particular are designated by both the bullet diameter in millimeters and the case length in millimeters (e.g. 9x19 mm).
The second part of the designation is far more variable, and may represent any of several things: the name of the company responsible for the cartridge's development (.40 Smith & Wesson); the individual (.454 Casull) who originated or designed the cartridge; a popular or descriptive name (.38 Special); or, with military-designed cartridges, the firearm in which is was used (.455 Webley). A few cartridges have both decimal and metric designations, such as the .32 ACP and 7.65 mm Auto. FInally, some cartridges may be known by more than one name (9 mm Para, 9 mm Parabellum, 9 mm Luger and 9x19 mm).
For the pistol owner to select the proper ammunition for his or her firearm, all that is required is to match the designation on the barrel and/or slide with that on the cartridge box and the cartridge headstamp. If the barrel or slide of the firearm lacks a cartridge designation, or if there is a suspicion that the pistol may have been modified to fire a cartridge other then what is indicated by the markings, the gun should be taken to a competent gunsmith for an evaluation.
Lead photo by Brad Miller.
---
See more:
Do You Know Advanced-Handgun Training Terms?