Above: During college, Natasha Dinsmore (fifth from left) was a CMP Summer Camp counselor. She later went on to become the assistant director after graduation.

Thinking back to her senior year of high school, Natasha Dinsmore, now 30, remembered how she thought she had it all figured out. She had earned a scholarship to play field hockey (the sport she loved) at a university in Pennsylvania and had landed one of the few slots in the Congress-Bundestag Youth Exchange—a scholarship program designed for students wanting to become completely immersed in the German culture.

The trip to Germany was, in her mind, just something fun to do before college—but in reality, it was the start of a chain of events that would lead her to some of the most unique experiences of her life. They were her "it happened for a reason" moments.

"It was October 16, 2003—it was a Tuesday. I will never forget it!" Natasha said as she laughed.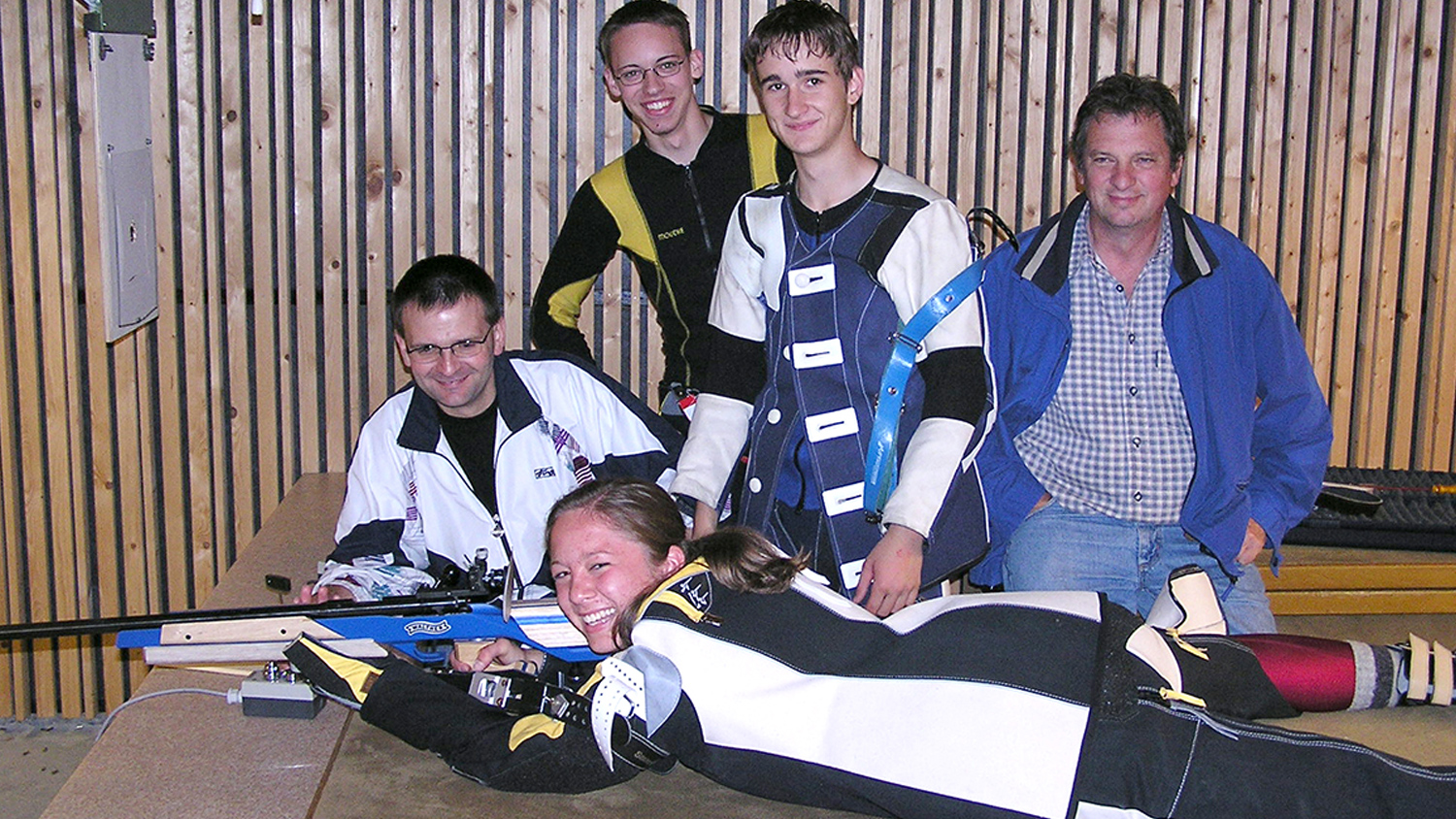 That day, one of her fellow classmates in Germany struck up a conversation with her through note passing. Through that piece of paper, she learned about the existence of rifle shooting. Curious about the sport she knew absolutely nothing about, she visited a shooting club in Germany to get a better idea.

"I did not even know what rifle was—I had never even heard of it," she said. "I saw it, and I was like . . . what are these spacesuits and weird gloves these people are wearing?"

Though she was oblivious about what was happening on the firing line in front of her, she still took a rifle in her hand and gave it a try. Instantly, she was hooked, and she never missed another day of practice.

Very much a detail-oriented person, Natasha fell in love with the sport that constantly calls for perfection. After telling her parents about her new infatuation, her mom mentioned a boy in Natasha's high school back in the United States who received a scholarship for rifle shooting. Natasha contacted him and came up with an idea that would completely change her future—beginning her own rifling career.

It was a tough decision. Shooting in college meant she would have to give up field hockey, but, with confidence, she decided that she was going to give it a chance. This was her moment—when rifle began to lead her on an incredible journey.

Born and raised in Morgantown, WV, she got in touch with West Virginia University (WVU), expecting to join a shooting club. To her surprise, she ended up a walk-on member of the WVU NCAA rifle team—with less than a year's experience in her rifling career.

"I was blessed to be involved, because I was still a baby!" she said. "My teammate had to teach me everything because I didn't know any of the English words for the parts of the rifle, since I only had heard them in German."

She explained as she laughed, "One time, the head coach asked, 'What kind of pellets do you guys want to shoot?' And I leaned over to my teammate and said, 'Well what are pellets?'"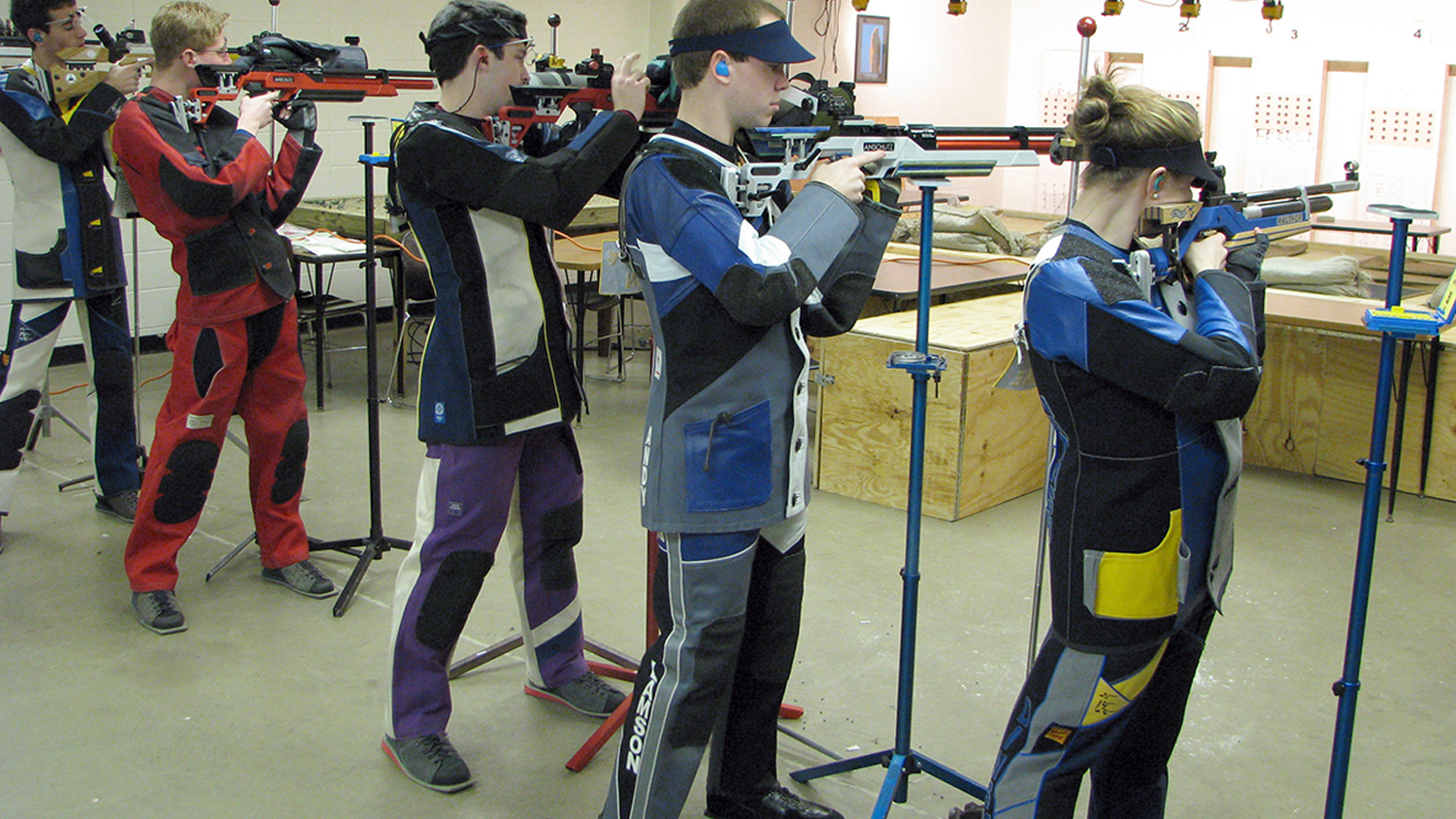 Wanting to learn more about the sport she had just begun, Natasha was urged to become a counselor at the Civilian Marksmanship Program (CMP) Summer Air Rifle Camps, where many collegiate shooters spend their summers. She returned to the camps year after year of her college days—teaching others about rifle while also learning more for herself along the way.

"I loved the camps. It was super fun," she said. "Everyone helping me become a better shooter—I felt amazing and made life-long friends. I feel very thankful and blessed from the things that came from that."

As part of a team at the beginning of a rebuilding period, her collegiate career was full of ups and downs. But her fondest memory came during her senior year, on the very last string of her last home match.

She was talking to her teammate and told him that her last shot needed to be a "10." Not paying much attention to her scores, she finally looked down at one point to see that her entire string had been all 10s—with one shot to go. She closed her eyes, pulled the trigger, held for a moment, then looked at her monitor: 10. And she began to cry.

"I didn't come into college being the best, but I finished on 100, and that was my shining moment," she said. "I was really there for the experience. And I got better and better."

After college, Natasha served as the CMP Summer Camp assistant director, where she taught camp-goers about nutrition, exercise and mental aspects. She also performed many other tasks, which helped her develop organizational skills and leadership abilities.

From her connections with the camps, and after receiving her bachelor's and first master's degree from WVU, she decided to take a grad assistant position on the University of Mississippi (Ole Miss) rifle team for a year, followed by an assistant coach position for the next three. It was there that she earned her second master's degree.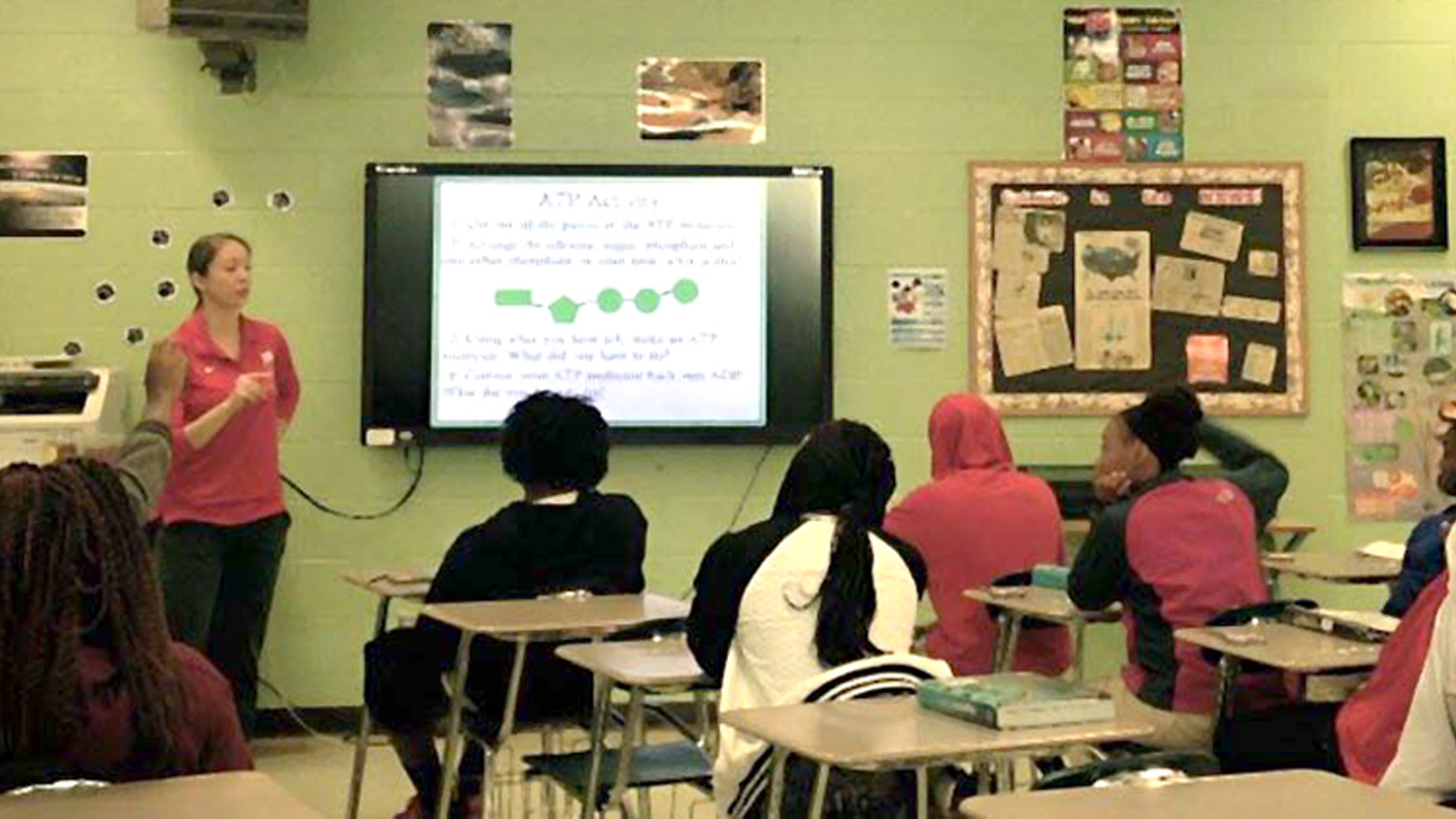 During that time, a devastating personal tragedy made her reflect on her life, and after some soul-searching, she decided to take on her third master's degree at Ole Miss. That's what led her to the Mississippi Teacher Corps—a select group of college graduates sent to teach in high-poverty public schools. After graduating from the Corps in May 2016, Natasha became a licensed teacher.

Her degrees in hand and a new freedom in front of her, she was ready to make the final step toward a goal she had dreamed about for years: living in Alaska.

"I've kind of been obsessed with Alaska for a while now," she admitted. "And after my personal tragedy, I realized that life is too short. I really need to do what I want—it's now or never. I have to do this."

With new determination, she found a website showcasing open teaching positions throughout the entire state of Alaska and applied to a biology teacher posting—not anticipating much. That same day, she received a call. Natasha expected to hear about the teaching position, but the very first thing the voice on the other end said was, "I see that you've worked with the CMP—we have a team here, and we'd love to get it going."

The call was from Nome-Beltz Junior/Senior High School in Nome, Alaska, where Natasha will serve as teacher and new administrator of the school's rifle team beginning in the fall of 2016. She will also be conducting a rifle class period during the school day.

"Rifle is going to be my comforting moment. I've been doing it for so long, I'll be able to just fall into it, hopefully," she said.

Always an assistant during her other rifle instructor positions, this will be the first time she will be the sole leader of a group. Though slightly nervous, her entire life after high school and her rifling career has led her to this opportunity—to make a difference in the lives of others while also fulfilling her own dreams.

"My dad reminded me that you don't necessarily have to be the best athlete to be the best coach. But it's a lot like teaching," she said. "I like to work one-on-one with people and troubleshoot things. And I think it's so fun when you are able to help shape and mold somebody else so that they are able to be successful."

After a trip to Germany and a nonchalant tour of a shooting range, Natasha managed to receive a spot on a NCAA rifle team, spend summers traveling the country as a CMP camp counselor, earn four college degrees, and now, she will be reaching yet another remarkable life goal with a move to Alaska. To Natasha, each phase was a tier leading to something even greater, and each moment put her where she needed to be—it all happened for a reason.

"I owe it all to being able to try new things and take risks—to just go for it," she said. "I want to show my students that they shouldn't be afraid to do what they want. I want them to see that if they want to do something bad enough, they should pick up and go. There's nothing stopping them. I'm hoping that it's inspiring to them—because you only have one life, and you really need to do what you want."

"I'm going to take a shot in Alaska—metaphorically and physically," she said with a laugh. "I'm sure it'll be hard at times, but I am so ready. I'm definitely up for the challenge."