Earlier this month, Team Federal's Josh Froelich secured the 2X4 division title at the 2021 Texas 3-Gun Championship. The match was held at the Reveille Peak Ranch near Burnet, Texas, from April 30 to May 2. Froelich won the 2X4 division with a final time of 727.64 seconds, which also placed him sixth in the overall rankings.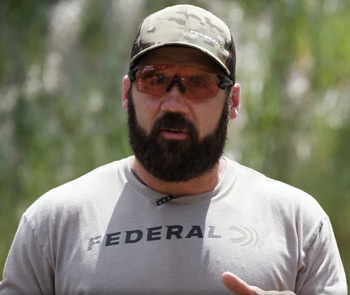 Competing with a field of more than 250 competitors, Froelich fired his way through 10 natural terrain stages at the match. The weekend was filled with gusty winds and rain. Here is what he said about the match on his Facebook page.
"Pretty pumped to pull a win in 2X4 division at the Texas 3-Gun Championship again this year. Texas beats me up with the wind and this year added a whole lot of rain on top. Grateful to sneak away with the W."
Relying on Federal Syntech Action Pistol, Gold Medal Berger rifle and Gold Medal shotgun shells for ammo, Froelich navigated the tricky footing in the Texas hill country for the win. "Shooting well came down to who could manage the mental game amidst the weather and who could trust their gear and ammunition and just focus on the shooting," said Froelich.
Four of the match stages were outright won by Froelich. Overall, he was pleased with his performance at the match, but with an eye on future competitions.
"This was my 3rd win in a row in Texas and one of the more challenging matches in the country, so a win here lets me know things are tracking in the right direction at the beginning of the shooting season."
View the full results of the 2021 Texas 3-Gun Championship at the Practiscore website. For his next match, Froelich heads to Alabama in June for the USPSA 2-Gun/PCC/Pistol Nationals.
Lead photo courtesy of Josh Froelich/Facebook.
---
Read more:
Top Open Class Handguns In 2020