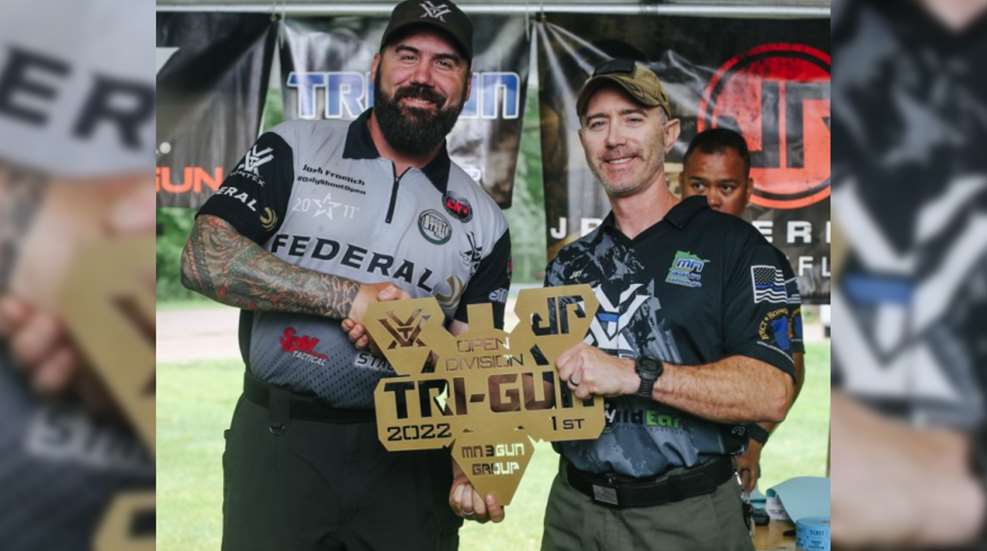 Federal brand ambassador Josh Froelich cleaned house at the 2022 Minnesota Vortex-JP TriGun Championship, taking the overall title with a score of 674.70, also winning first place in Open division. The 3-Gun competition was held June 11-12 at Forest Lake Sportsmen's Club in Chisago County, Minnesota.
"Competition is always tight and many of the best in the country come up to Minnesota to compete," said Froelich, a Minnesota native. "The Minnesota TriGun Championship is one of my favorite events of the year and I am super excited that I was able to secure the win here in 2022."
He also had the high score in Open division for six of the nine stages at the match, including a blistering 53.05-second run at Stage 3.
"This event is shotgun heavy, as most Minnesota events are, and had a focus on technical shooting skills. That meant small steel plates and challenging paper targets. A lot of movement and difficult shooting positions were the name of the game up here," added Froelich, who was shooting Federal handgun, rifle, and shotshell ammunition to win his titles at this match.
Federal Ammunition was a Platinum Sponsor of the 2022 Vortex-JP Minnesota TriGun Championship.
In addition, with a score of 755.94, fellow Team Federal shooter Tucker Schmidt garnered a third place finish in Open division, as well as fifth place in the overall field. He was running the Federal Gold Medal Match with 69-grain Sierra bullets in his rifle. "They always provide handload-level quality, consistency, and they never disappoint. That's why I choose Federal."
See the full results of the 2022 Minnesota TriGun Championship at the Practiscore website. Learn more about Federal Ammunition at federalpremium.com.