The University of Michigan is this year's NRA Intercollegiate Rifle Club Championship winner. At the match this past March, Michigan was able to sweep both the air rifle and smallbore stages—finishing the match with a final score of 4405.

Purdue University came in second place with a final score of 4385, followed by the University of Akron in third place with a score of 4322.

In individual competition, Rachel Mangan of Clemson University dominated, winning the overall individual aggregate and the individual air rifle championship. Mangan had a final score of 1145, with 561 points from a second place finish in smallbore, and the remaining 584 points from a stellar performance during the air rifle championship.

Brandon Godbout of Notre Dame College (NDC) placed second in the individual aggregate, with a final score of 1141. Godbout won second place in air rifle as well, with a score of 582. Last year's overall champion Madeleine Godwin of Thomas Nelson Community College (TNCC) won third place in air rifle, finishing with a score of 577.

Matt Plummer of Kansas State University (KSU) won the individual smallbore championship with a score of 562, finishing ahead of Mangan by a single point.

To advance to the NRA Intercollegiate Rifle Club Championship, individual qualifiers needed to score higher than 450 in smallbore rifle and 495 in air rifle. Teams needed to score more than 1800 in smallbore rifle or 1980 in air rifle.

The 2016 NRA Intercollegiate Rifle Club Championships were held at the Pool Range Complex in Ft. Benning, GA, immediately following the NRA Intercollegiate Pistol Championship. The support of the U.S. Army Marksmanship Unit is crucial for the success of this championship, and the NRA is grateful for the support given.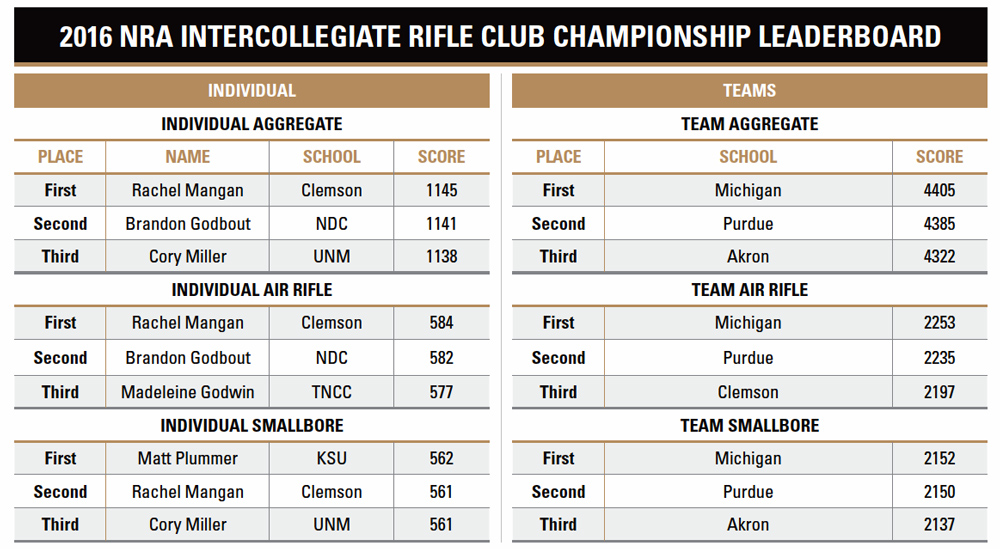 Learn more about NRA Collegiate Programs at this link: collegiate.nra.org.