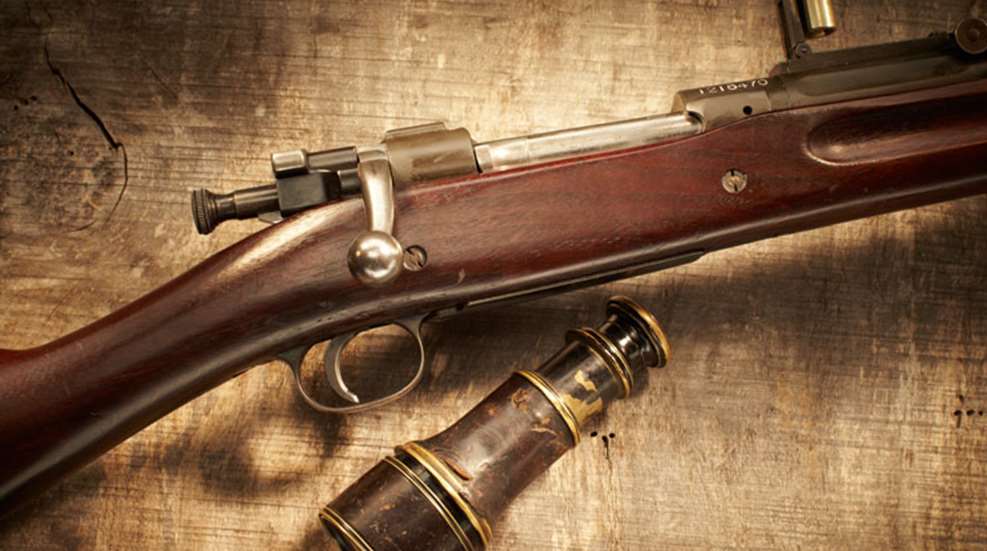 1903 Springfields
We first arrived at the case holding George Farrs' 1903 Springfield. Roberts explained how Farrs walked on to the course at Camp Perry in September 1921 as an observer. He became interested in competing that very day, and so, match officials pulled an old Springfield off the rack, supplied him with military ammo and then, he commenced to shooting. He shot 71 consecutive bullseyes at 1000 yards with an open sight. A description of that day reads, "Only fading twilight prevented further shooting."
"That's the only thing that probably prevented him from shooting 75 or 80 bullseyes," Roberts suggested. Farrs impressed the other competitors so much that they took up a collection and bought him that Springfield, the one now on display. Farrs was 62 years old when he shot that score. "As you start reaching your senior years, remember that doesn't mean it's the end of the world," said Roberts.
Roberts then moved down the line to stand in front of another Springfield 1903. Renowned competitive shooter Major John Hession, USMC, sent his rifle to England at the start of World War II, as part of the Lend-Lease program. Major Henson put a plaque on the gun, which read, "For obvious reasons, the return of this rifle after Germany is defeated would be greatly appreciated." "This gun was actually used in the defense of England and returned to Major Hession at the end of the war," added Roberts.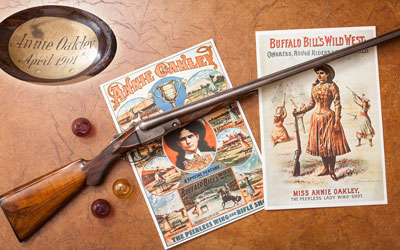 Parker Brothers Double-Barreled Shotgun
The museum features three of Annie Oakley's guns. Roberts dubbed Oakley as "one of the first international female shooting superstars." Her Parker Brothers double-barreled shotgun lies in a case, next to a few delicate glass balls (preceded clay pigeons). Oakley shot these three-inch diameter targets out of the sky, and often filled them with glitter or feathers for a theatrical effect.
Roberts explained about how Oakley, as a child, supported her family and even paid off their mortgage by winning competitions and providing game to local markets. Because of shooting competitions, she met her future husband, exhibition shooter Frank Butler. He and Oakley performed in Buffalo Bill's Wild West Show.
W.C. Scott & Sons Shotgun
Also on display is a W.C. Scott & Sons (1881) 20 gauge owned by Captain A. H. Bogardus. Annie Oakley performed with exhibition shooter Bogardus in the aforementioned Buffalo Bill's show. A sharpshooter from Illinois, Bogardus is credited with designing a trap machine of his own patent that launched the glass balls that Oakley shot during exhibitions. Although trap machines had been patented before Bogardus arrived on the scene, he is credited with the origination of modern day trap competition rules and regulations.
John Philip Sousa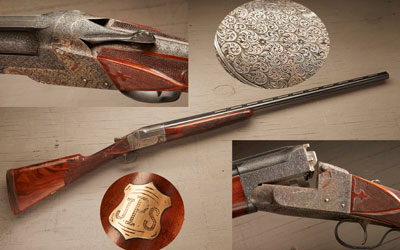 "Many people know John Philip Sousa as a band director and composer, but don't know that he was a world famous competition trap shooter," said Roberts. The museum has Sousa's personal Sousa Grade gun; this was Ithaca's very best production gun, with gold mermaids on the trigger guards. It is particularly interesting to see the worn pads, and realize that Sousa himself made the impressions on the guns.
McMillan's Gold Medal and Pistol
USMC LTC Bill McMillan's High Standard Supermatic Trophy .22 pistol and the ensuing gold medal that he won at the 1960 Olympic Games in Rome gleam from a case. McMillan brought home the only medal awarded to the American shooting team that year. The medal displays that year's ancient Roman symbol, of Romulus and Remus. McMillan scored 587 out of a possible 600.
Many other competition guns are featured at this museum, and of course, each comes with an interesting story.
The
NRA National Sporting Arms Museum
is located at 1935 S. Campbell, Springfield, Missouri. Admission is free. Hours run from 10 a.m. to 7 p.m. daily. Guided tours of the Museum can be scheduled by calling 417-891-5346.
Visit the museum online
.