Support NRA Shooting Sports USA
DONATE
Holosun Technologies, Inc. is a company that specializes in the development and production of optical devices, particularly sights and lasers for firearms. Founded in 2013 and based in California,, Holosun has quickly made a name for itself in the shooting and outdoor markets. Holosun offers a variety of products ranging from red- and green-dot sights, holographic sights, lasers and related accessories. Holosun products are typically designed for applications such as hunting, shooting sports, law enforcement and military use.
The company is known for its innovative technologies, offering optics with multiple reticle systems, allowing users to switch between different reticle styles based on their needs and preferences, as well as the "Solar Failsafe," solar-powered sights that use battery backups and impressive battery life. Holosun has been recognized for the durability and longevity of its products, many of which are built with high-strength materials to withstand harsh conditions and heavy use.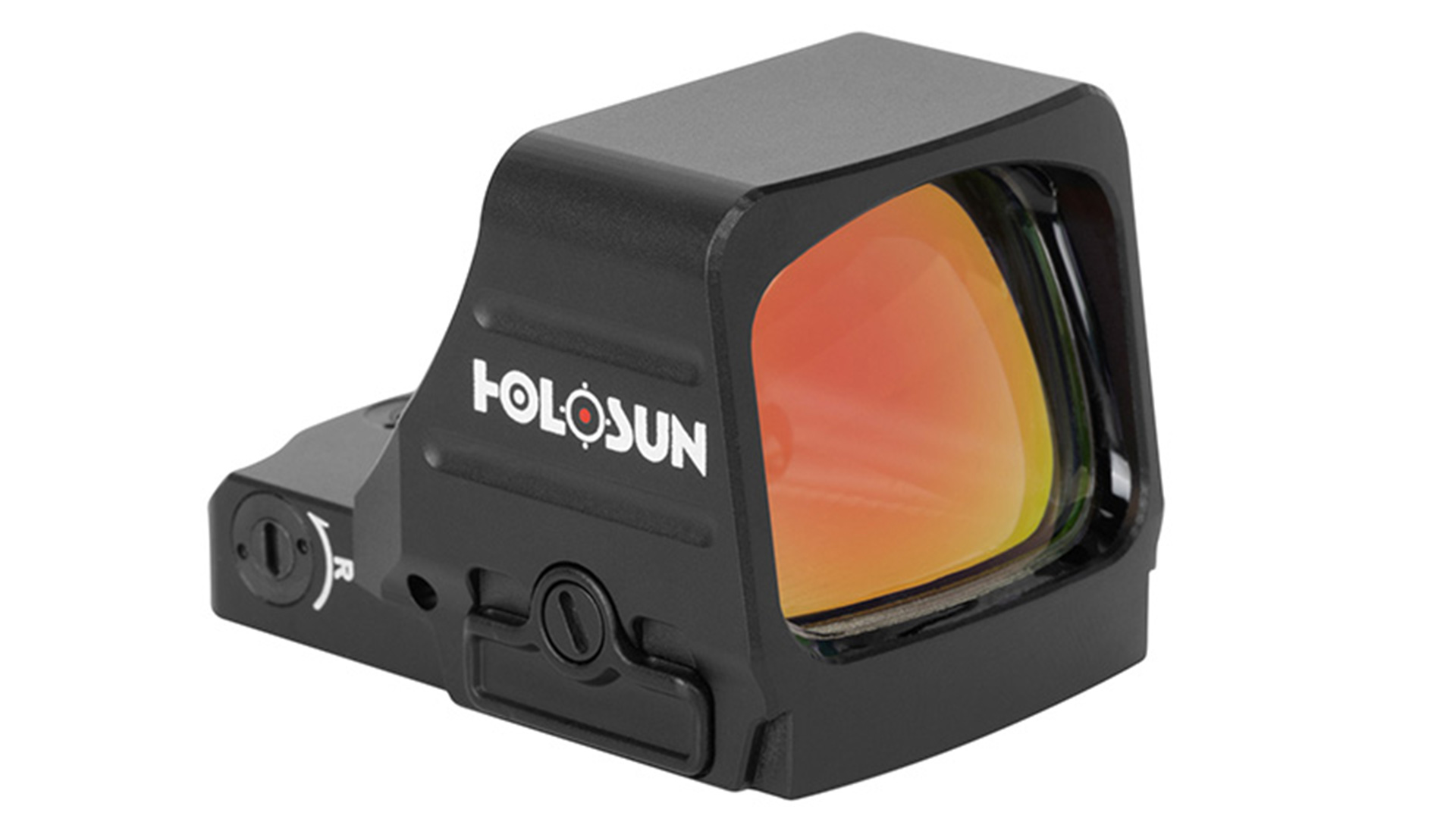 In the competitive shooting world, Holosun optics haven't enjoyed as much popularity as some other manufacturers. However, that is about to change. Meet the Holosun 507COMP, an innovative red-dot optic engineered explicitly for competitive shooters by Holosun. This new red dot, featuring an optic window comparable to that of a rifle but crafted for handguns, presents a significant expansion in the shooting area relative to the other Holosun optics.
The 507COMP is outfitted with Holosun's advanced Competition Reticle System (C.R.S.), providing shooters a selection of precision options, encompassing a two-MOA dot and various circle dimensions. Constructed with a robust 7075 T6 aluminum casing and an impressive battery life that reaches up to 50,000 hours, the 507COMP is ready to take on the other optics in competitive shooting. This cutting-edge optic is already starting to earn the approval from several shooters.
The Holosun 507COMP, like its counterparts in the Holosun lineup, boasts a remarkable battery life of 50,000 hours. However, a notable distinction from the 507C is its lack of a solar panel. Another feature of the 507COMP is the "Shake Awake" technology, which activates the optic when it detects movement. It also has a memory function that recalls the last brightness setting when turned off and on. Shake Awake Technology is a standard feature on all current model Holosun optics and serves to extend battery life by deactivating the optic's LED while not in use. A highly sensitive motion sensor works to detect motion, keeping the LED powered on during use. At the end of your day or match when your firearm is stored, the motion sensor will detect a motionlessness state and after 10 minutes (default setting) Shake Awake Technology powers the LED off until motion is again detected. Shake Awake offers settings from 10 minutes to 12 hours depending on the model, and can be deactivated altogether if preferred. The slightest touch of the optic instantly reactivates the LED so your Holosun optic is ready when needed.
The 507COMP has a total of eight brightness levels—six for daylight and two that are night-vision compatible. When it comes to durability, the 507COMP doesn't disappoint. As mentioned previously, its housing is constructed of sturdy 7075 T6 aluminum, identical to many other Holosun optics, including the 507C. Given this, it's reasonable to anticipate the same level of resilience from the 507COMP as from its sibling models.
The 507COMP features a large 1.1-inch by 0.087-inch objective lens for enhanced shooting performance, along with Holosun's parallax-free and unlimited eye relief features. One of the reasons the previous Holosun products didn't find their way onto competition handguns was due to dot size. Most competition shooters have settled on the six-MOA or larger dot. The new Competition Reticle System (CRS) is an enhanced multi-reticle system with four components including a precision two-MOA dot, an eight-MOA circle, 20-MOA circle and 32-MOA circle, with multiple combination settings to suit the individual user. This dot is available in both red and green variants.
The footprint should not be a surprise; it is an RMR/SRO, which by all indications is the dot that Holosun is hoping to knock off of the top of many competition shooters' slides. The 507COMP mounted easily to the Shadow Systems slide, quick sight-in with one-MOA adjustments. Going through the multiple reticle selections to find the desired size was easy enough; settling on the two-MOA dot with eight-MOA circle left me with a large (and bright) green dot. The size of the window was as large as expected and easy to track the dot in.
The Holosun 507COMP optic comes shipped in the box with a T10 L Key, CR1632 battery, manual and cleaning cloth. The Red CRS option's MSRP is $435, while the Green CRS is priced at $470. Both models have been available since this past June. Go to holosun.com to learn more.
Article from the July/August 2023 issue of USPSA's magazine.