Hornady introduced its M1 Garand Match ammunition in 2008. Designed specifically for the M1 Garand's gas system (higher-pressure, commercial .30-06 cartridges can damage the Garand), Hornady intended that it be used by shooters in the Civilian Marksmanship Program's (CMP) John C. Garand matches. It was the CMP's "issue" ammunition, until CMP ceased issuing ammo a few years ago, due to the high cost of the ammo and the relatively low entry fees collected from each shooter.
On the heels of that success, Hornady unveiled the Vintage Match line of cartridges in the four most popular calibers among Vintage Military Rifle competitors. Intended for the Swedish and K98 Mausers, the British Enfield rifles and the Moisin-Nagant, Hornady says they replicate the performance of the military ammunition specific to each.
Hornady meets that claim with the cartridge for the Swedish Mausers. Hornady's Swedish 6.5x55 loading, a 140-grain BTHP with a 2600 fps muzzle velocity, is almost spot-on to the 1941 Swedish military round's 139-grain bullet at 2627 fps. The .303 British cartridge does even better, essentially achieving MILSPEC with a 174-grain BTHP that leaves the muzzle at 2430 fps, compared to the original's 175-grain bullet at 2440 fps. The cases bear the Sellier & Bellot head stamp, but future production will be stamped Hornady.
As first introduced, the 7.62x54R is loaded in polymer coated steel, Berdan-primed cases. But a Hornady spokesman said they are transitioning to a brass case. There were a great many different military loadings over the service life of the 7.62x54R cartridge among Warsaw Pact nations. Examples include a 147-grain light steel core bullet at over 2800 fps, and heavyweight 182-grain bullets at 2600 fps. Hornady's 17-grain BTHP at 2800 fps is in that ballpark.
For all those K98 Mauser-variant rifles shooting the 8 mm Mauser cartridge, Hornady's 8x57 JS load pushes a 196-grain BTHP bullet at 2500 fps. That's very close to the WWII loading of a 196-grain spitzer bullet at about 2475 fps. Hornady provided samples of the cartridges for examination and testing. Checking 10 samples of each cartridge with a Sinclair run out gauge showed most had no deviation at all, and only a few had a maximum deviation of .001 inch. Measuring cartridge overall length from case base to bullet ogive with a comparator and caliper showed maximum deviations of only .003 inches.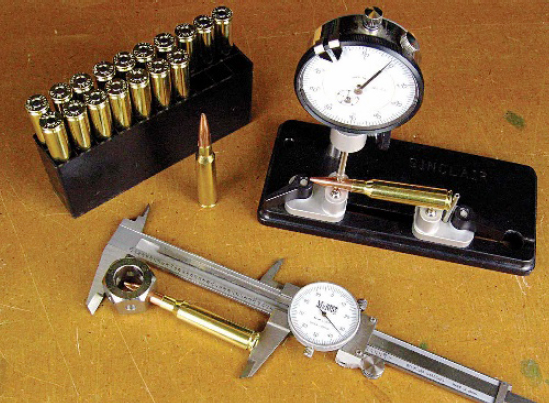 Except for the early 7.62x54R in steel cases, the Vintage Match cases are Boxer-primed brass, suitable for reloading. If your rifle likes the factory version, then your testing is already done and you can load the same Hornady bullets at the same advertised velocity for similar results.

Each box includes a chart of bullet trajectories with a 200-yard zero. Not coincidentally, VMR matches are typically fired at 200 yards. Clubs with smaller shooting ranges can shoot the VMR course at 100 yards on reduced size targets, and Hornady thoughtfully includes the 100 yard trajectory as well. All these rifles have sniper variants, and CMP has formalized their Vintage Military Sniper Rifle matches, fired at 300 and 600 yards. Hornady's trajectory tables stop at 500 yards, but, who knows? The next table printing may include trajectory at 600 yards with a 300 yard zero.
The MSRP for Vintage Match hovers around $2 per round, significantly more than military surplus. Consider, however, that CMP rules don't allow any accurizing of rifles for "as-issued" Vintage Military Rifle matches. But your ammunition can be as accurate as you wish. With tested Vintage Match ammo delivering groups about half the size of those fired with military surplus, it can help you get the most out of whatever inherent accuracy you rifle possesses.
For additional specifications and pricing, see: www.hornady.com/store/Vintage-Match.