By now you have probably noticed that the old Coming Events PDF document has been updated with a new online directory. Here are some tips on how to search for competitions near you using the new system.
You can reach the Coming Events directory by clicking on the "Coming Events" tab on the menu bar at the top of the website. Additionally, you can find a link to Coming Events, along with the schedules for upcoming major NRA championships, on the last page of the digital magazine published each month. (If you haven't already, subscribe for free at this link.) If you prefer, you can also type this in your address bar to reach the Coming Events page: https://www.ssusa.org/coming-events.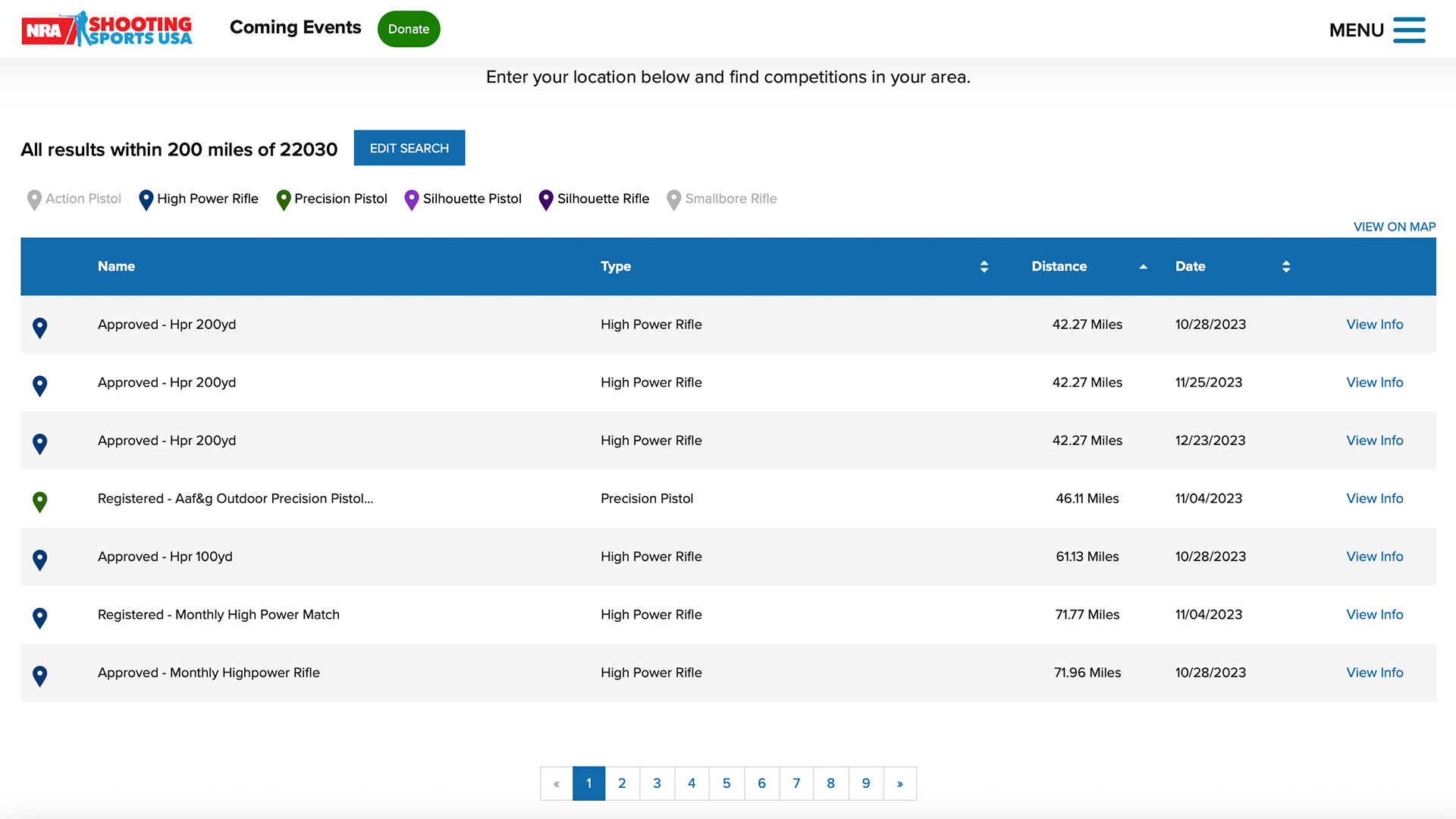 To find NRA-sanctioned competitions in your area, click the button marked "Edit Search" and enter your ZIP code or city and state. You can adjust your search radius to 25, 50, 75, 100 and 200 miles away. To find a match that is more than 200 miles from the specified area, you should adjust the location of your search. In addition, there are checkboxes to filter the types of matches you are searching for, e.g., Action Pistol, High Power Rifle, Precision Pistol and the various Silhouette sub-disciplines. You can mark as many discipline checkboxes as necessary for your search.
After you have set your search parameters, click the "Search" box and the results will be displayed in list format. You can also switch to a map view with pins marking the locations of competitions by clicking the "View On Map" text on the upper right side of the directory. To return to the list format, click the "View As List" text located in the same spot.
Once your search results are displayed, you can click the "View Info" text for each competition to find out more details. If you are in map mode, click on the individual pins to learn more about the chosen match. The details included for each listing are similar to what was included in the old Coming Events PDF format, such as the type of competition, discipline, contact information, the date and the location, plus the distance of the match from your specified search location.
In list mode, the results are displayed in order of distance. Use the page numbers below the listings to view matches farther away from your chosen location. While using map mode, click the "+" and "-" buttons on the right side of the map to zoom in and out.
If you are interested in entering a tournament, contact the individual listed. For any cancellations or changes to this listing, please contact the NRA Competitive Shooting Division at [email protected].
Click this link to go to Coming Events.
Learn more about the NRA Competitive Shooting Division at competitions.nra.org.