by
Ashley Dugan, CMP Staff Writer
posted on September 14, 2022
Support NRA Shooting Sports USA
DONATE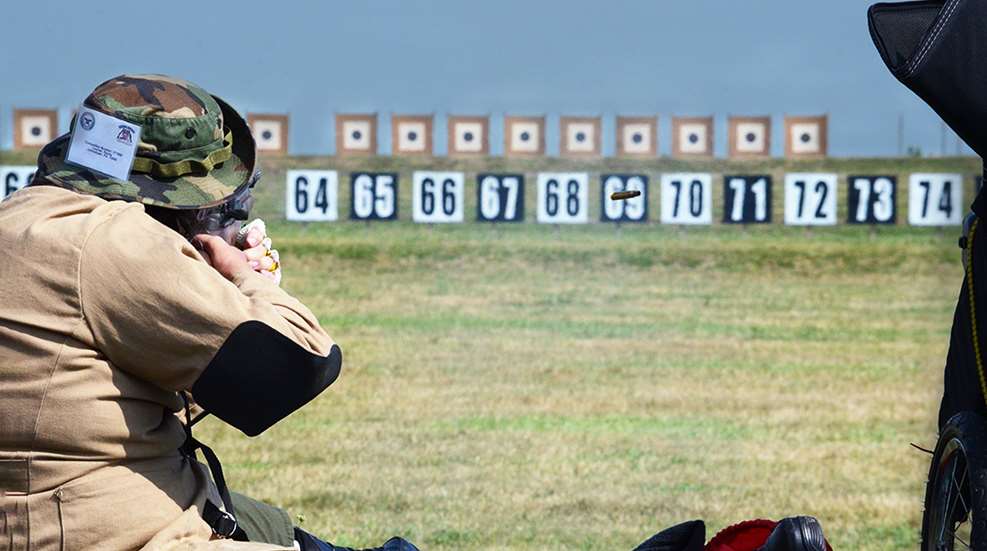 Three generations of the Williams family were represented on the ranges of Camp Perry this summer. The group, hailing from Greensburg, Pennsylvania, traveled to Port Clinton, Ohio, to participate in the 2022 CMP National Games Matches—joining others who have made the event series a yearly pastime.
"It's a tradition that was 'restarted' in 2002," said David Williams, 52, of the National Games. "My father wanted to get back into shooting, and with the Garand Match, he found that opportunity."
For David, a 3-gun competitor, getting into the Vintage National Games events seemed like a great way to improve his basic marksmanship skills—and firing them at Camp Perry brought back experiences from his childhood.
"Camp Perry was the place I spent my birthday until I turned 13," he said. "Every year over Memorial Day—my birthday—we were there."
The patriarch of the Williams group, Gerald, age 84, is a veteran. His extensive marksmanship career includes service with the first Army rifle team and the 99th Army Reserve Command. His time with the teams brought him to Camp Perry for matches, often bringing David along for the trip.
David remembers those days clearly—riding his bike all over Camp Perry, while Gerald shot at the 600-yard line on Rodriguez Range. David's first shots of his own were between the 300- and 600-yard line on Rodriguez Range in the evening after matches completed, with the compound bow he got for his birthday. Following Memorial Day, the family would return to Camp Perry for the National Matches.
This year, Gerald competed in the Modern Military Unlimited competition with his grandson Cole, (David's son). All three also shot the Vintage Sniper Match team match. Additionally, this summer marked Cole's first year participating in National Rifle Games events, though he's been shooting in the National Rimfire Sporter Match—also fired at Camp Perry—the past few summers.
Along with the Springfield and Modern Military Games competitions, David participated in the President's Rifle Match, National Trophy Individual Match and the Hearst Doubles team event. For the latter, he was paired with his cousin.
"We keep coming back every year because we get to spend a week together doing what we enjoy with family and friends," David said. "Plus, we all agree punching an X at 600 in 25-miles-per-hour wind is better than anything at Cedar Point."
CMP's National Games feature a lineup of recreational-style vintage and modern rifle competitions, including the Springfield, Vintage Military and John C. Garand matches. Learn more about CMP at thecmp.org.