by
Ashley Dugan, CMP Staff Writer
posted on September 28, 2022
Support NRA Shooting Sports USA
DONATE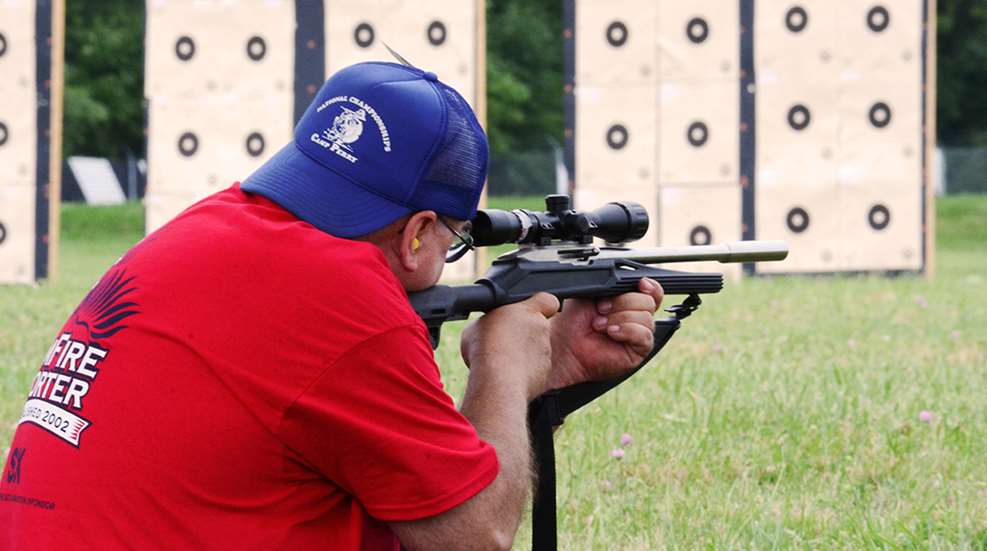 Rex Walter, 62, of Parker, Pennsylvania, has never missed the CMP National Rimfire Sporter Match at Camp Perry, Ohio.
Over the match's 20-year history, Rex is the last known competitor to have attended every year since the start. "I've never missed a match, but I have missed the target," he joked.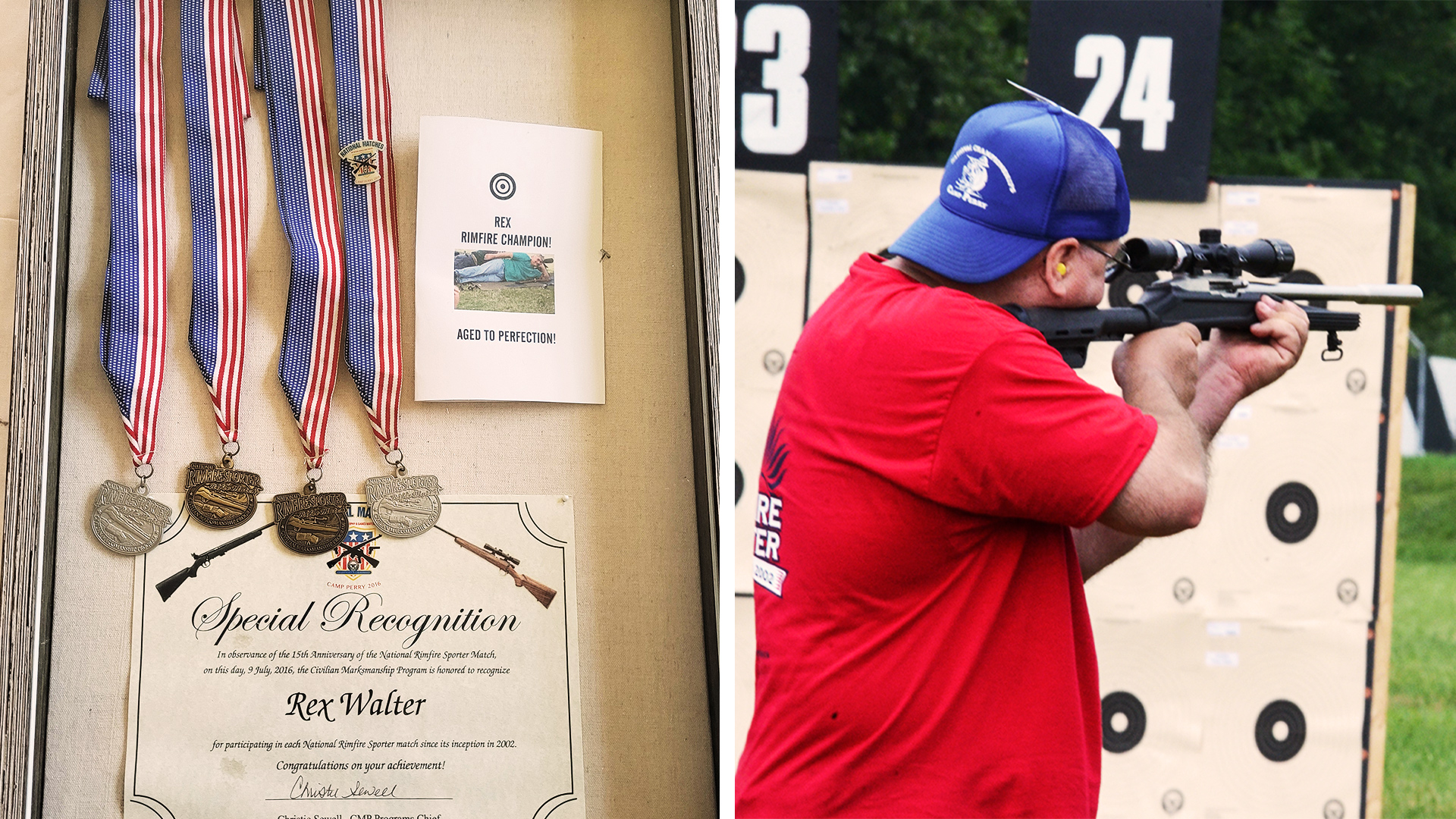 The Rimfire Sporter Rifle Match was introduced to the CMP Games schedule in 2002, and can now be found at year-round events around the country. These matches emphasize participation, accessibility, affordability and fun.
It's a match for all ages that showcases marksmanship skills through slow and rapid fire stages in prone, sitting and standing positions. Using .22-caliber rifles fired from 50 and 25 yards in three classes (O-Class for open sight, T-Class for telescopic and TU Class for tactical and unlimited), the Rimfire Sporter Rifle Match is ideal for introducing adults and juniors alike to the excitement and challenge of competitive shooting.
Currently, Rex works in a steel mill—13-hour shifts six to seven days a week—making it hard to take a vacation. But he makes a point every February to request time off just to shoot in Rimfire. He's shot in all the Rimfire classes over the years, not having a preference, though he chose to shoot in the scoped and tactical classes in 2022. "They're all fun," he said.
For Rex, traveling to Camp Perry is more than just about the sport—it's about seeing old friends and making new acquaintances—as well as passing on marksmanship knowledge to the next generation.
"Twenty years ago, I would've said I do this to see how good I could be, but I'm passed that stage. I like to see people continue to come out—I like to see the young people," he explained. "Every time we come over here, it's not the same young people—it's different groups, but there's a constant influx of new young people. It's good to see people bringing in youth, and this is a great entry."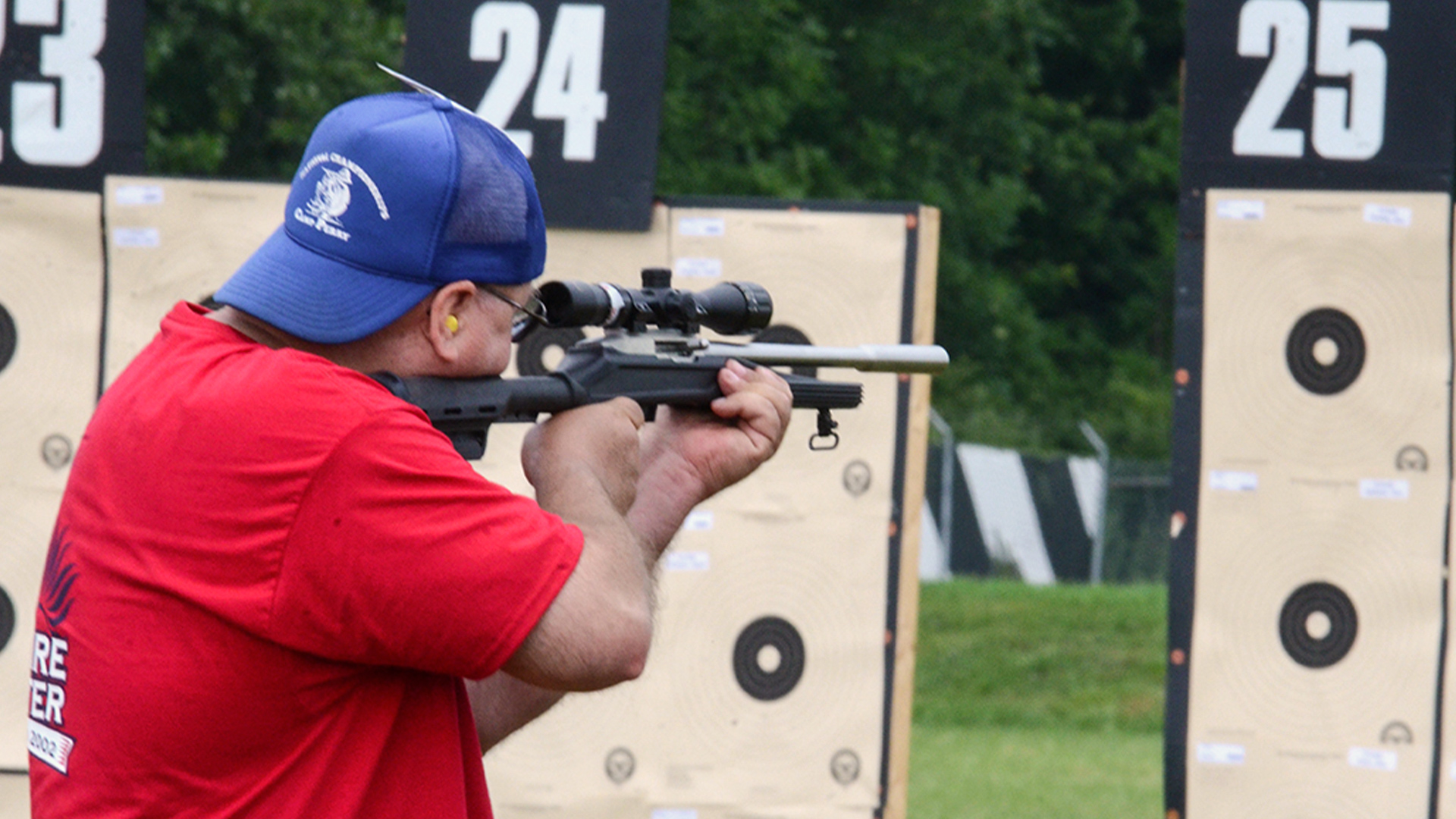 Rex's beginnings in marksmanship started at age five, when he took his first shot using a .22 rifle. From there, his parents taught him about firearm safety—hunting and shooting often on the farm where he grew up. As he got older, he found a gun club where he started in competitions.
Eventually, Rex became involved with coaching kids from different school districts at the Koppel Big Beaver Sportsmen's Club in Wampum, Pennsylvania. During this time, he conducted several introductions to firearms and firearm safety courses—working with more than 2,000 people over a decade's work. "It was a place where they could relax and speak their minds in a safe place," he said.
The youth group would shoot every week, with practice first and hot dogs after (after they washed their hands, of course). At Thanksgiving, they would have pumpkin pie. Rex and the other adult leaders did what they could to make the group fun and encourage kids to come to practice. Rex even created a game called "Shoot the Dot Out," where the kids would have to fully shoot out an orange sticker—no matter how many rounds it took. Unbeknownst to them, the sticker was the same size as the X-ring on a target. "We made it a fun activity. They wanted to come—they wanted to be there."
The group of kids was the reason Rex traveled to Camp Perry in the first place. "We were looking for something to do, to get youth involved in shooting," he said. "The Rimfire Sporter Match was a great opportunity for that."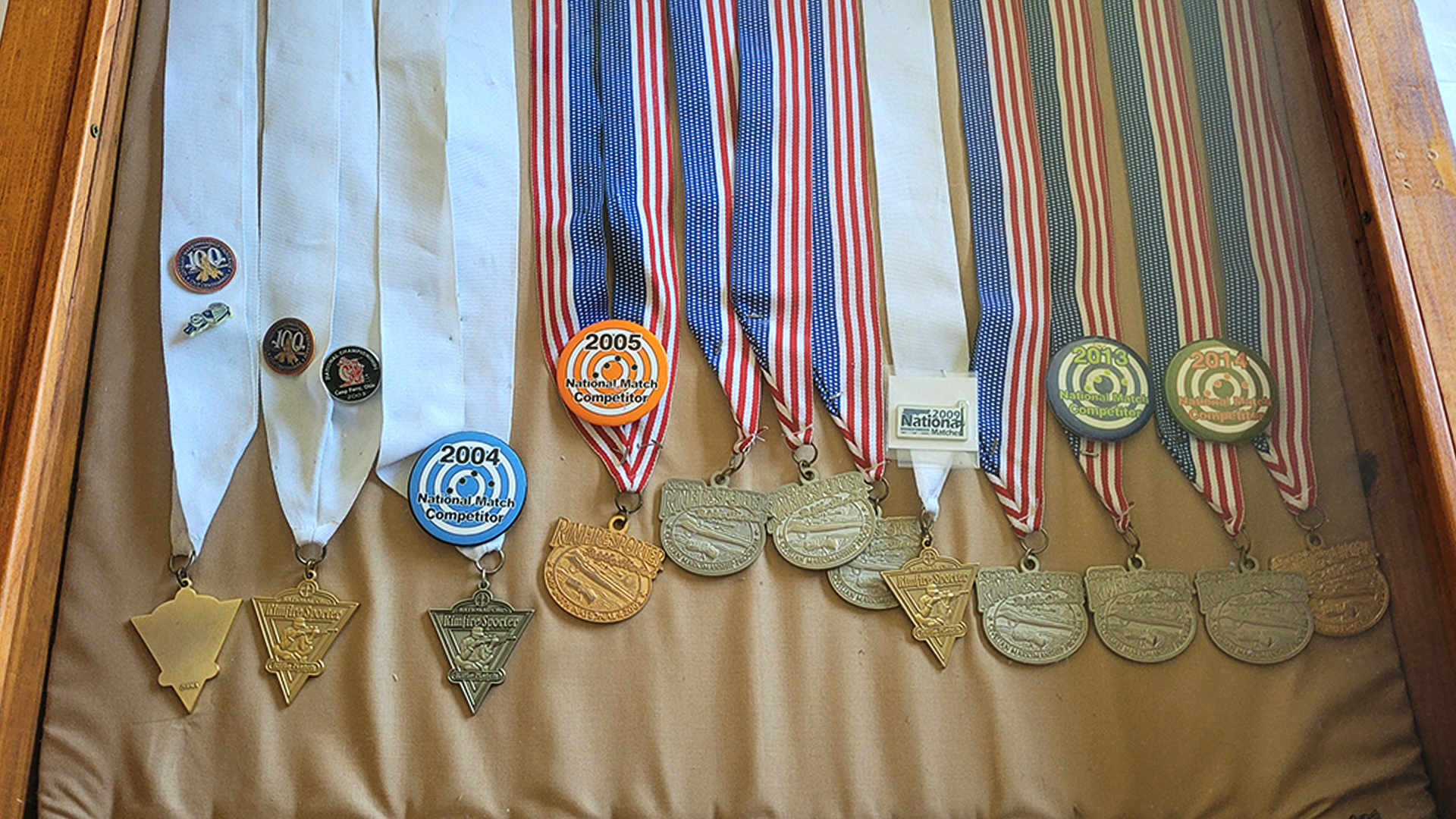 The first year, the club brought five kids to Camp Perry. The following year, he purchased a used military training rifle for $49 and spent $1 at a gun show for a sling and $1 for a swivel. With his $51 worth of equipment, he fired in the Rimfire Sporter event and won a gold medal.
"Once parents heard of our success, we started getting more and more kids," he said. The following years saw the club bringing multiple vanloads of 15 adults and youth who all stayed in the huts on Camp Perry's grounds. They also traveled to other locations for matches, such as Winchester in Virginia and Canton-McKinley in Ohio.
Though he's the only one on the firing line, he brings along his wife, Pam. While not a markswoman herself, Pam remained present in the sport—serving as a den mother to their club's youth program, while also watching Rex train their own kids on marksmanship safety.
Out of all his years firing in the National Rimfire Sporter Match, Rex's highest score (so far) has been 593, and he has finished within the top 20 over the hundreds of participants who fire each year. Counting local matches, he has more than 100 awards that Pam has placed within display cases, along with a hat full of pins.
Rex plans to retire next year. "It's been a good experience," he said. After retirement, Rex hopes to gather another group to join him at the National Rimfire Sporter Match. "I'll keep coming as long as I'm able."
Outside of Camp Perry, CMP Rimfire Sporter Matches can be found all year long at clubs around the nation. Learn more at thecmp.org.