by
Ashley Dugan, CMP Staff Writer
posted on September 27, 2023
Support NRA Shooting Sports USA
DONATE
Command Sgt. Maj. Steven Slee, 59, of Dimondale, Mich., has found a way to keep competitive in a sport he has loved his entire life, despite the challenges that come with the passing years.
A triple-distinguished shooter in Service Rifle, Service Pistol and .22 Rimfire Pistol, Slee began competitive smallbore .22 caliber rifle shooting at age 14 with a local sportsman's club. Now, more than four decades later, Slee returns to his roots after a career that has brought him many profound experiences and lifelong memories.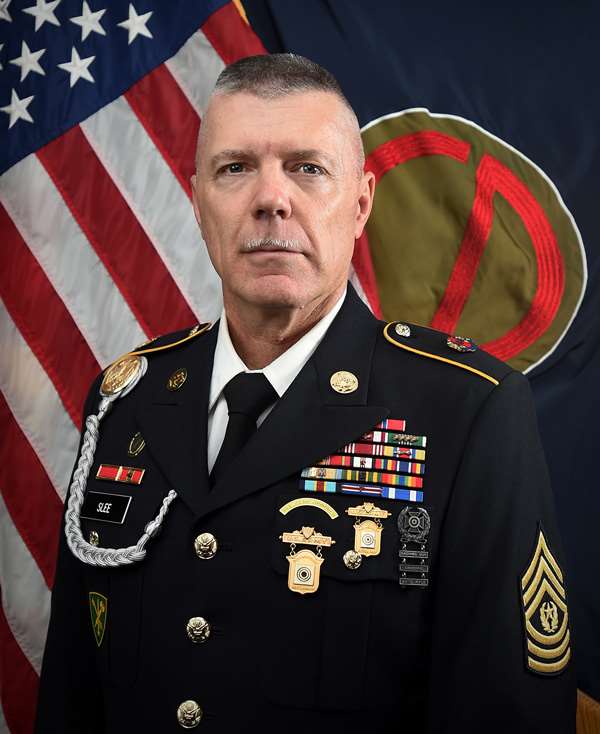 "When I was young, I had a fascination with all things Army, including firearms," he said. "I guess I wanted to march in formation, wear a uniform and shoot guns."
Slee had his chance when he enlisted in the Army Reserve in 1982. Two years later, he learned of the Army's shooting program. He tried out and made the Fifth Army Rifle Team, later joining the Army Reserve Rifle Team the following spring. Later, Slee became the Non-Commissioned Officer in Charge of the Army Reserve Service Pistol Team.
"I am still trying to earn credibility with a pistol," he said. "I do find pistol a little more convenient in that I don't have to go through the physical strain caused by the firing positions in rifle."
Recently, wrist and elbow issues have limited him to .22 pistol competitions to avoid the impact of the larger calibers, though Slee still shoots service pistol on occasion. Accepting his ailments, he has gone on to find success.
At Camp Perry this summer, Slee led the .22 Rimfire Pistol portion of the Warm-Up Match and was runner-up in the .22 Rimfire Pistol portion of the Pistol 2700 aggregate, also claiming the High Military title.
"I do like to succeed and win. Being recognized among your peers is an honor," he said.
"It has to do with goal setting ... The other major factor in winning is having confidence in your ammunition and equipment."
Outside of pistol, Slee also found his sixth overall win in the O-Class of the 2023 Rimfire Sporter Rifle Match—dedicated this year in honor of local fallen soldier and Camp Perry competitor Max Soviak. The match features three different classes for competitors: O-Class for open sights, T-Class for telescopic and TU-Class for tactical and unlimited.
Slee previously won O-Class in 2021, 2018, 2016, 2010 and 2009, and holds the national record overall score. Astoundingly, Slee also found his first overall win in the T-Class in 2023 by one point over current record holder, Samuel Payne.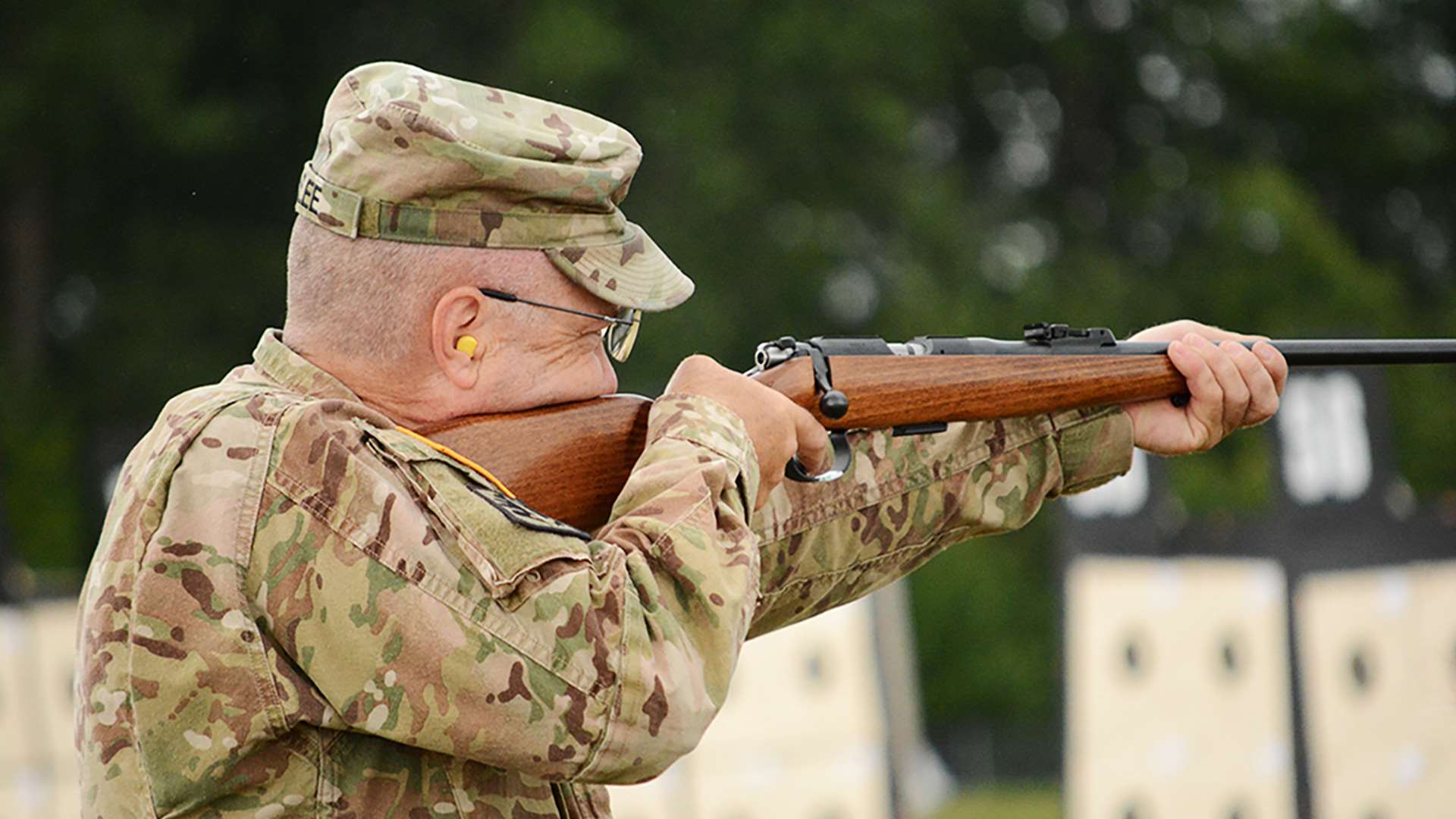 "It has to do with goal setting," he explained of his victories. "The other major factor in winning is having confidence in your ammunition and equipment. I meticulously group tested at least 15 lots of ammunition to learn which would deliver an acceptable group. My goal was finding a rifle and ammo combination capable of benching a 10-shot group no bigger than three-quarters of the X-ring at 50 yards. Believe it or not, that is possible with an off-the-shelf rifle and quality ammunition."
For Rimfire Sporter Rifle, Slee uses a Ruger 10/22 with the factory light varmint barrel and aftermarket Kidd target trigger. His favorite rifle for O-Class is an out-of-the-box CZ 452 Trainer that he borrows from a friend.
"When I learned about Rimfire Sporter, I set a performance goal that I figured would give me a win at just about any match and set out to achieve it," he said.
It's a strategy that seems to have worked for Slee over the years, especially at Camp Perry.
His first year competing at Camp Perry was in 1985 when he shot the National Trophy Matches and National Rifle Association Championship with a service rifle. He has since returned many times as a firing member of the Army Reserve Service Rifle Team, where he competed in 25 National Trophy Matches and 15 NRA National Rifle Championships.
"I do have my name carved in a couple of the National Matches and NRA Championship Trophies," he said.
Though his involvement with service rifle has waned, he does find himself shooting the occasional vintage military match and other events. He tries to compete at least monthly throughout the summer, and during the winter months, he shoots weekly in a .22 indoor pistol league using a Walther LP-400.
"I believe it is extremely important to have citizens and soldiers that know how to effectively engage and hit a target."
He also makes the trip to Camp Perry to participate in the monthly Air Gun Matches to stay on top of his game as well as to lead others in their own marksmanship journeys.
"The Monthly Air Gun Match is an excellent venue for our junior and collegiate teams," Slee said. "I was fortunate in having the opportunity to coach both here in Michigan starting about eight years ago. I like shooting alongside our athletes with the goal of giving them an opportunity to beat the coach. It is great to see their eyes light up when they do well."
Introducing competitive shooting to youth and service members alike is an important mission to Slee and one that he holds in high regard. It's all part of his efforts in passing on his knowledge to new marksmen and women for the benefit of generations to come.
"I believe it is extremely important to have citizens and soldiers that know how to effectively engage and hit a target," he said. "I'd like to share my gratitude with the entire CMP leadership and staff for their continued efforts in promoting marksmanship training, and for modeling the premier arena for firearms competition."
Outside of competitive shooting, Slee enjoys his work supporting soldiers in the Army Reserve as a Division Command Sergeant Major, along with fixing and repairing items around the house, building and remodeling, getting outside in the woods on the trails, hunting and four-wheeling.
As for the future, Slee said "I think after I retire, I will be coming back out of habit."
Learn more about the CMP at thecmp.org.