At 22 years old, Ryan Flowers is the only 11-division Steel Challenge Grand Master in history and also the sport's reigning Single-Stack World Champion. Flowers balances his pursuit of the "Grand Master Sweep" with the demands of being at the helm of Clemson University's Scholastic Action Shooting Program (SASP) team.
Participation in USPSA and Steel Challenge made him a competitive shooter. Recognizing the need for a team-based shooting experience for Clemson students, Flowers and like-minded classmates took it upon themselves to start a SASP team for their university.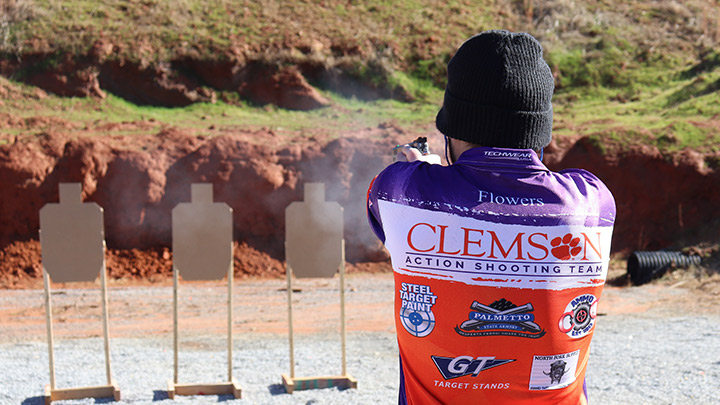 "There wasn't a shooting team, so we made one," said Flowers. "Andrew Jezewski contacted me once the team was established and at first, I wore a lot of hats—founding member, president, recruitment manager, training scheduler—you name it."
Making himself known as an individual in Steel Challenge, the team-based atmosphere that comes with SASP competition came easily to Flowers.
"The team scoring shows how well you can get four individuals shooting together comprehensively," said Flowers. "It also shows how well you work together as a team and how you've brought up everyone's skills to a certain level when it comes time for the match. It's not just your performance that matters anymore. You've got three teammates that are relying on you to perform and vice-versa."

The team atmosphere also exhibits how the competitive shooting community will form a tight-knit group dedicated to supporting each other—especially beginners.
"Another great thing about the team is the ability to take people who otherwise would not be able to financially get into the sport and even people who would normally be intimidated about shooting matches, we can help them and encourage them when they are first starting out," said Flowers. He added, "The majority of our members had never competed in a match before or even really shot a firearm before. It's all about furthering the shooting sports."
Flowers also notes that skills gained from SASP competition have translated well to other action-shooting sports, like Steel Challenge.
Next up for Flowers and the Clemson University SASP team is the 2020 SASP Collegiate Nationals, which will begin Friday, March 13 at the CMP Marksmanship Park in Talladega, AL. Last year at the match, the Clemson action-shooting squad earned third-place honors in PCC and also runner-up in the 1911 division. Flowers himself secured titles in four divisions—Centerfire Pistol, 1911, PCC and Iron Sight Rifle.
Learn more about this year's SASP Collegiate Nationals here.
---
See more:
Diabetes Didn't Stop This Junior Trapshooter From Competing