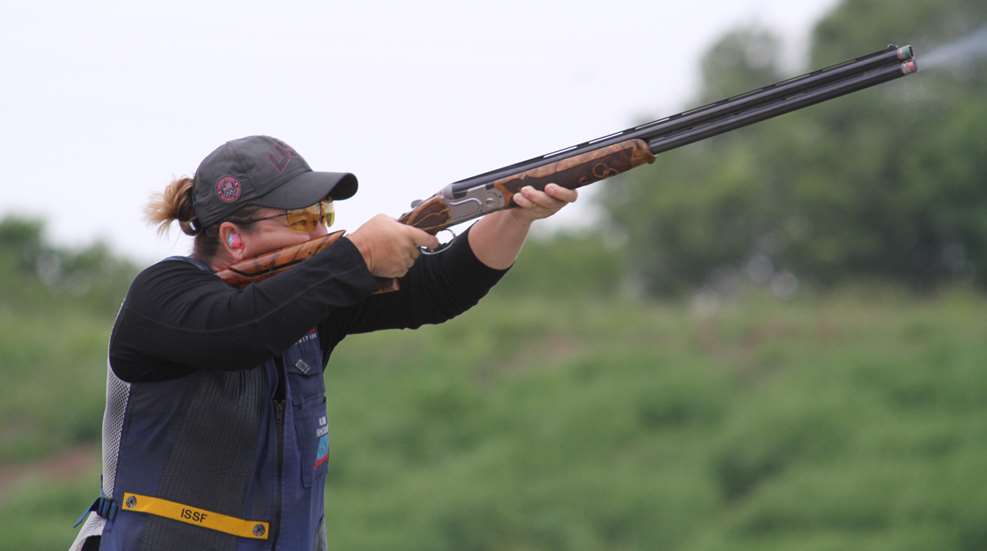 In the pantheon of America's Olympic sports greatness, Kim Rhode has no equal. Not one person competing in an individual sport can boast of winning five Olympic medals in five consecutive Olympic Games.

Rhode's eventual autobiography would be best structured like the popular Choose Your Own Adventure Series, but with a lot more plot, fantasy and almost no regrettable paths. Each chapter used to detail specific periods of an Olympic career unlike anything we've ever seen before.

Capturing a World Championship at the tender age of 13, she catapulted that into an Olympic gold-medal run in Double Trap at just 17 years of age at the 1996 Olympic Games in Atlanta. The first of many accolades, she's still the youngest female gold medalist in the history of her sport.

Fourteen years later she was in London on top of her game and gunning for history. Two big things happened to Rhode in lead-up to London, neither of them good. First, her $15,000 gun "Old Faithful" was stolen out of the back of her pick-up after being marked for the taking while out running errands. She also had a breast cancer scare that caused significant concern and interrupted her always arduous training routine. But in the end, not even those setbacks could deter her from achieving Olympic greatness. The way she did it, setting an Olympic and World Record qualifying score and then while on the precipice of history, putting it on cruise-control in a dominant final. She shot women's trap too afterwards, finishing ninth, and became the first shotgun shooter in the history of the sport to compete at the Olympics in all three disciplines.

Is there any encore for the already unprecedented? With nothing left to prove in her sport and legendary status already achieved, what awaits Rhode's journey with Rio ahead? As before, the challenges are real. Now a mother after giving birth to son Carter in 2013, she's balancing motherhood while trying to maintain her place atop the sport. That she can handle no doubt and has demonstrated as much having earned five World Cup medals, including three gold, and a Pan Am Games title since London. The challenge comes in dealing with the health setbacks that afflicted her all throughout a rough pregnancy and which still continue to be an issue. She had her gall bladder removed six weeks after Carter was born. She's been admitted to the hospital three more times post-pregnancy for various things including vitamin deficiency.

The greater the challenge, the sweeter the reward, according to Rhode. She takes great pride in both recognizing and embracing the incredible journey. It's this premise that essentially captures nearly 30 years of competitive shooting.

"Every medal has been so unique, each tied to a specific obstacle," said Rhode. It's not necessarily the medals you cherish, but the journey that goes into it and overcoming those obstacles. Winning is what makes it that much sweeter. The harder the obstacle to overcome, the sweeter the victory. It's what makes each Olympian come back again and again."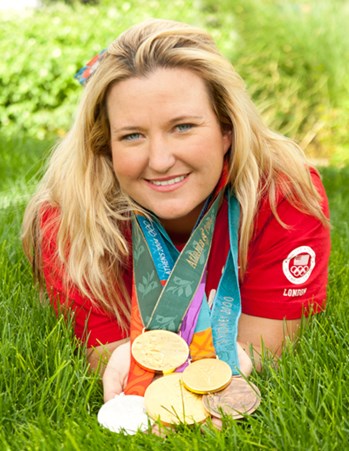 How much does winning a sixth medal motivate her? "It would be huge," she admits. "But it's not about just me. It's what it means to the sport, to the shooting industry. It's a huge driving force in that aspect. Personally, I think it would be big, but it's more about all the other factors. It's never about that for me. It's always been about what I can do to give back, move forward and hopefully inspire kids and the next generation."

She is this generation's Annie Oakley, but perhaps identifies most closely with a quote uttered by Calamity Jane, another fabled female figure of American western history. "I figure if a girl wants to be a legend, she should go ahead and be one."

Just how good has Kim Rhode's Olympic success been? Her resume also includes three other top-10 finishes in skeet and trap, disciplines she rarely trained or competed in at the time. In eight Olympic events, her lowest finish is ninth. Her accolades don't just stop at Olympic medals. Add three World Championship medals, one of each color, four Pan American and 28 World Cup medals, including 14 wins. Simply put, domination and the pursuit of perfection hasn't become a once-in-a-while thing but rather a full-time occupation for Rhode.

She readily aware that one doesn't build a legacy on medals alone. The face of USA Shooting, she's as giving of her time as her training, competition and family schedule permits these days participating in industry shows, sponsor events and any opportunity she can find to get in front of youth and talk about the sport she loves. She carries all five Olympic medals with her, more show-and-tell now than untouchable showpieces, many frayed and scarred from wear-and-tear. She encourages her fans to not only embrace in her success, but pushes them to wear the medals like glorified superheroes. Mostly, she recognizes that giving back is perhaps the most important gift of all.

"Legacy is such a big word," says Rhode. "It's about passing on what you love to the generations behind you. It's about making sure my son and other people's kids will be able to enjoy this sport and to enjoy the outdoors. I'm hoping that's what my legacy will be. You should be giving of your time. You should want to give back. What am I going to do with a shiny new medal when I'm 80. When I'm dead and gone, people aren't going to have the same impression of this sport or me if I don't give them something to experience. I realize the importance of what I'm doing for my sport."

The fun she derives from shooting comes in setting a goal, trying to achieve it and bettering herself, feeling no pressure from anyone other than herself to do so. She reaps the greatest joy from traveling with her teammates to different countries and cities and seeing new things, something she hopes to be able to do with Carter soon. "The idea of doing this for fun is still as much a part of me as it was when I was 16," Rhode claims.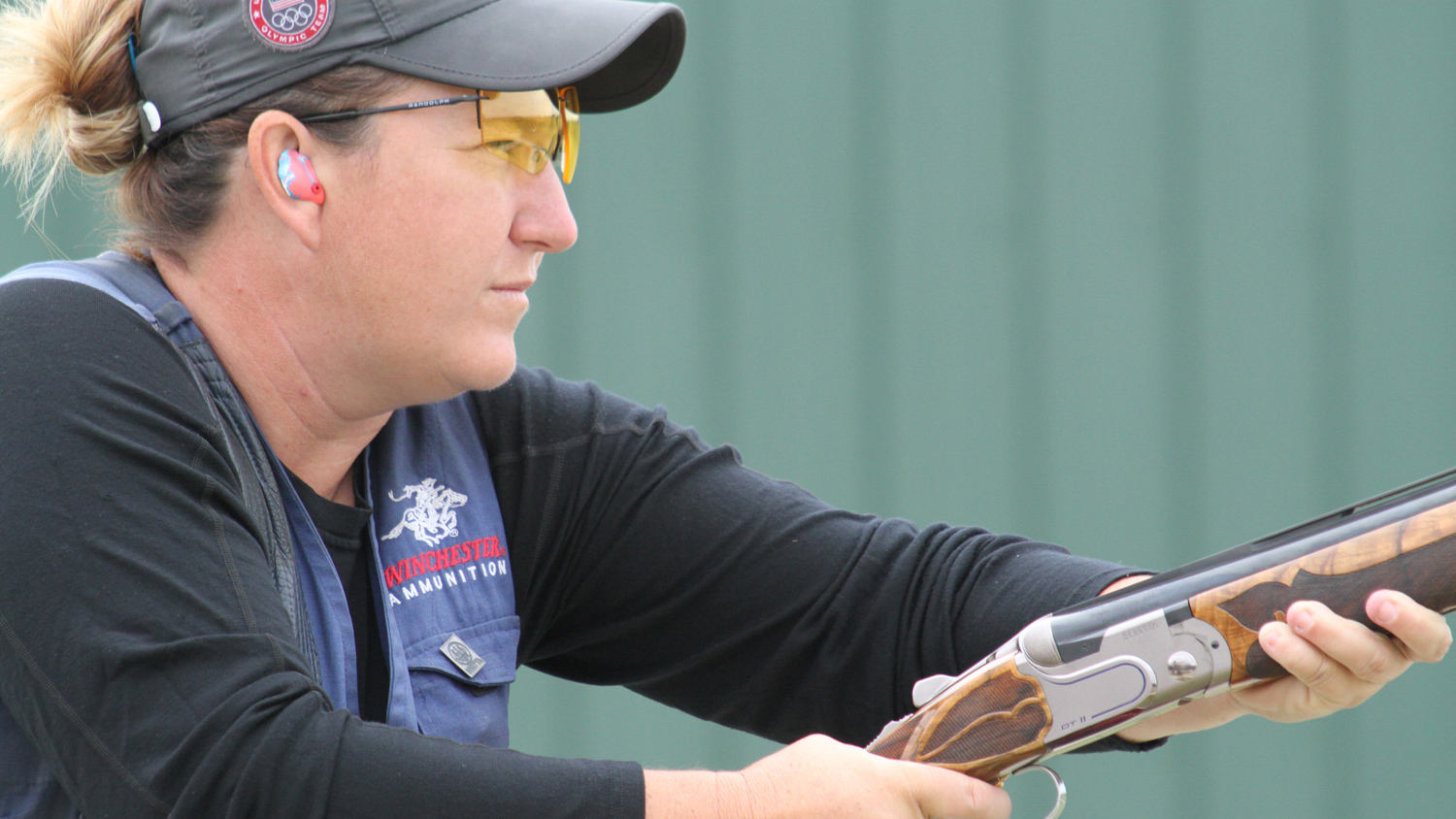 "From Day 1 we've always said that if she won, it was like the cherry on top of the cake," adds her father Rick. "There's never been any pressure to perform from the family. Whether she wins or loses, her family is still going to love her all the same. Everyone knows she gave it everything she had."

Support like that runs thick throughout the Rhode clan, something that Kim acknowledges has been a vital ingredient in her successes. Rick is coach and favored target-puller. Mother, Sharon, is essential in keeping Kim's busy schedule in order as phone answerer, e-mail returner, planner, scheduler and part-time provider for Carter when Kim is training and traveling. Husband, Mike, is a stay-at-home dad who is a part of the band, Fishing for Neptune, and oversees a recording studio out of their Monrovia home in southern California. The list of people she'd like to thank is vast and varied.

"Getting to the Olympics is not something you do on your own and I get a lot of support from a lot of people," Rhode admits. "From my family, to my sponsors and other individuals, what they do for me, it's too many things to count."

With her place in this sport and Olympic lore already cemented firmly in place, it is right to wonder how the next adventure will play out. With demands of motherhood, stiff competition and health concerns, can she do it again in Rio?  If so, will she be able to maintain her level of success, a bar that has already been set higher than any American before her. All this will play itself out this summer, but this much we do know, her motivation to rekindle the success she's found at every Olympic stop since 1996 is as high as it has ever been.

"When you have a passion for something and you love what you do, you want to get to a certain point or certain level. It's just natural," Rhode concludes. "Your motivation comes for what is important in your life at that particular time. Now, my motivation comes from my son and being able to travel to all these great places with him, showing him that you can overcome obstacles, and teaching him to understand that hard work does pay off. Every Olympics you renegotiate what that motivation is. The motivating factor is having experienced that and wanting to have that experience again.  As Olympians, we're like thrill seekers and once you have that taste, you want that sensation again. I've become addicted to that podium and the journey it takes to get there."

Here's to hoping she feeds that addiction one more time in Rio.