From the vault: In April 2010, the first-ever NRA Intercollegiate Rifle Club Championship represented a breakthrough for student-athletes that participated in competitive shooting. Nearly a decade later, the match has become one of the most well-attended collegiate rifle events in the country. Read our coverage of the inaugural NRA Intercollegiate Rifle Club Championship, as published in the July 2010 issue of Shooting Sports USA.
---
Inaugural Intercollegiate Rifle Club Championship
Without an NCAA ranking, college rifle clubs had only their own intramural matches with no national end-of-year recognition. After a decade-long effort, all that has changed.
The Mid Atlantic Rifle Conference (MAC) is the largest rifle conference in the USA composed of many NCAA teams and club teams. When I attended my first MAC meeting over 10 years ago, the NRA was present and listening to requests to support a national collegiate club championship. It was the desire of the MAC for the club teams to have a season-ending championship similar to the opportunities offered the NCAA teams. For the past several years, NRA Collegiate Programs Manager Victoria "Tori" Croft has been asking more questions and successfully put all the pieces together. This inaugural collegiate club championship offers collegiate clubs all across America a chance to compete head-to-head, ending with the best shooters being crowned the national champions. A huge thanks to the NRA and "Tori" for making this request become a reality.
—Newt Engle
Head Rifle Coach, University of Akron Zips Rifle Team
Collegiate shooting championships are considered some of the most competitive of all college sports. NRA intercollegiate sectionals have traditionally provided rifle and pistol shooters the opportunity to compare their marksmanship skills against their peers nationwide. Beginning this year, NRA added a new tradition—the Intercollegiate Rifle Club Championship. By invitation, this new tournament includes NRA college rifle clubs, ROTC teams and independent shooters. "As a result of the new championship, we hope to see higher levels of awareness toward collegiate shooting that will help foster rifle programs across the nation," said Tori Croft.
Purdue University hosted the first club championship this year for nearly 20 schools and 50 contestants. The championship featured individual and team smallbore and air rifle matches, training summits for all participants and coaches, and an opportunity for coaches and shooters to meet others they would normally not see during the regular season. Shooting in the NRA Intercollegiate Rifle Sectionals is required to qualify for the championship. Additionally, the top three teams and top five individuals from sectionals were given free entry to the championship.
"I am extremely excited about this new championship and would like to thank Purdue University for being such generous hosts. The opportunities that this championship will afford collegiate rifle clubs are immeasurable," said Croft. "The NRA Intercollegiate Rifle Club Championship will grow and strengthen the competitive rifle teams on campuses across the nation." For more information on Collegiate Shooting, visit competitions.nra.org/competitions/nra-national-matches/collegiate-championships.
2010 NRA Intercollegiate Rifle Club Championship Leaderboard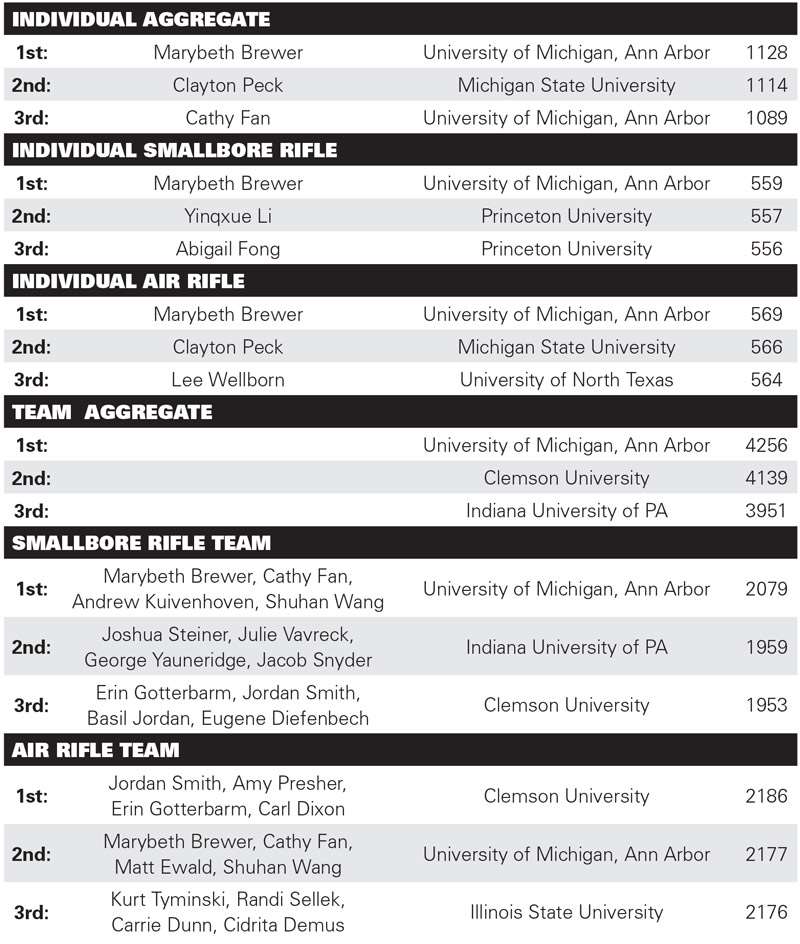 What Marybeth Brewer, first National Champion of the Intercollegiate Rifle Club Matches had to say about the inaugural match.
"I have been shooting guns since I was old enough to hold one and shooting competitively for about 10 years. It's something that my Dad and I have always done together. I completed the NRA marksmanship program at the Detroit Sportsman Congress and started shooting matches when I was in middle school. I found the guys (Gary, Paul, Mike, Don and Kevin) out at the Jackson County Sportsmen Club when I was in high school and they showed me that shooting is more that just throwing a bullet down range—it teaches discipline and gives kids something to work for. The guys in Jackson helped me progress in shooting, granting me a partial scholarship to the University of Akron. Shooting guns makes me happy and it is something that I will always be involved with."
---
See more:
Looking Back At The 2009 NRA Intercollegiate Pistol Championships