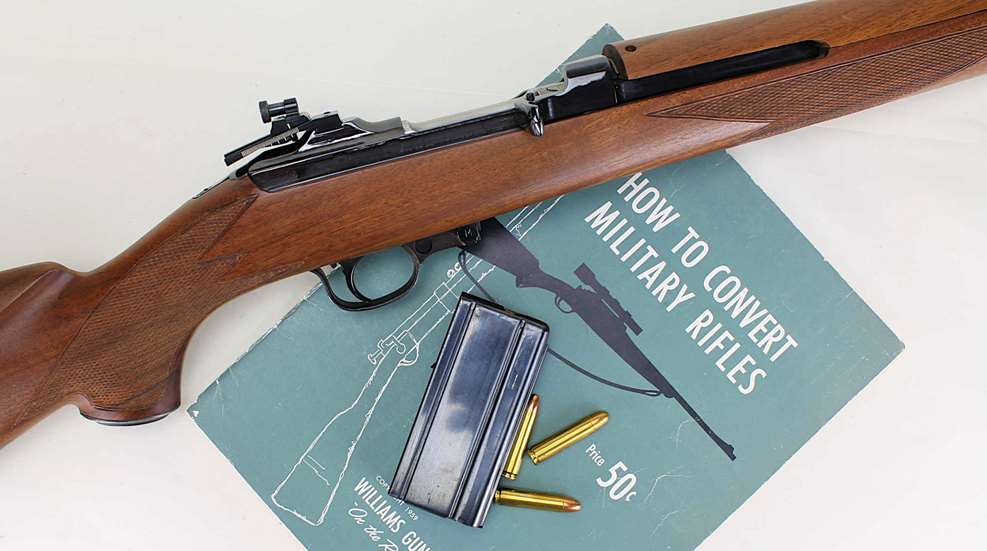 Every now and then, we stumble across a throwback firearm that throws us for a loop. Though rarely seen today, converting M1 Carbines to fine sporters was an art appreciated by many shooters—including by those who carried them in combat. But not everyone is a fan.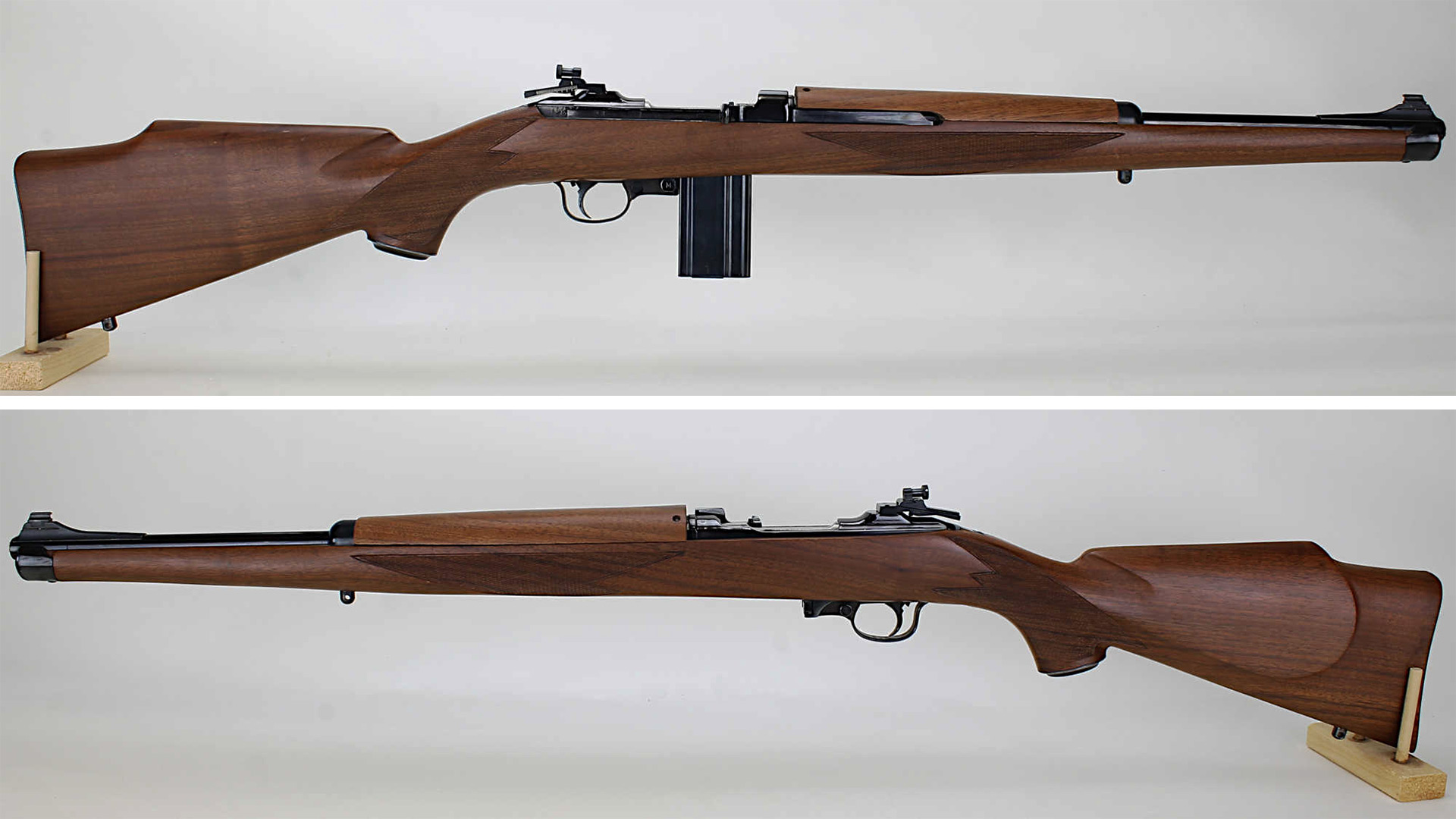 Converting such swords into plowshares was a major cottage industry in post-WWII America, a practice to which few objected. In fact, many gunsmiths earned reputations as skilled craftsmen for their bolt-action hunting rifles that, at their core, were former battle rifles. Companies large and small sold sporterized rifles, parts, gunsmithing services and even how-to instructions for DIYers to convert military rifles into hunters.
But today, as WWII and its generation (and its lessons) fade away, those old battle rifles are more valuable as historical artifacts when left in uniform. For example, an unexceptional original Springfield M1903A3 rifle in NRA Excellent condition with all the correct parts nudges the thousand-dollar mark, whereas the same rifle sporterized can be had for $300 in working condition.
While many shooters now look askance at continued sporterizing of old battle rifles, we routinely see bolt-action Springfields, Mausers and Enfields as gainfully employed hunters that were converted to civilian life back in the day. Less common, to the point of being unusual and sometimes rare, are the semi-automatic battle rifles such as the German G43, or the American Garand or M1 Carbine dressed in civilian attire. The latter is what we have here, and it is, indeed, quite nattily dressed; unfortunately, the tailor remains unidentified.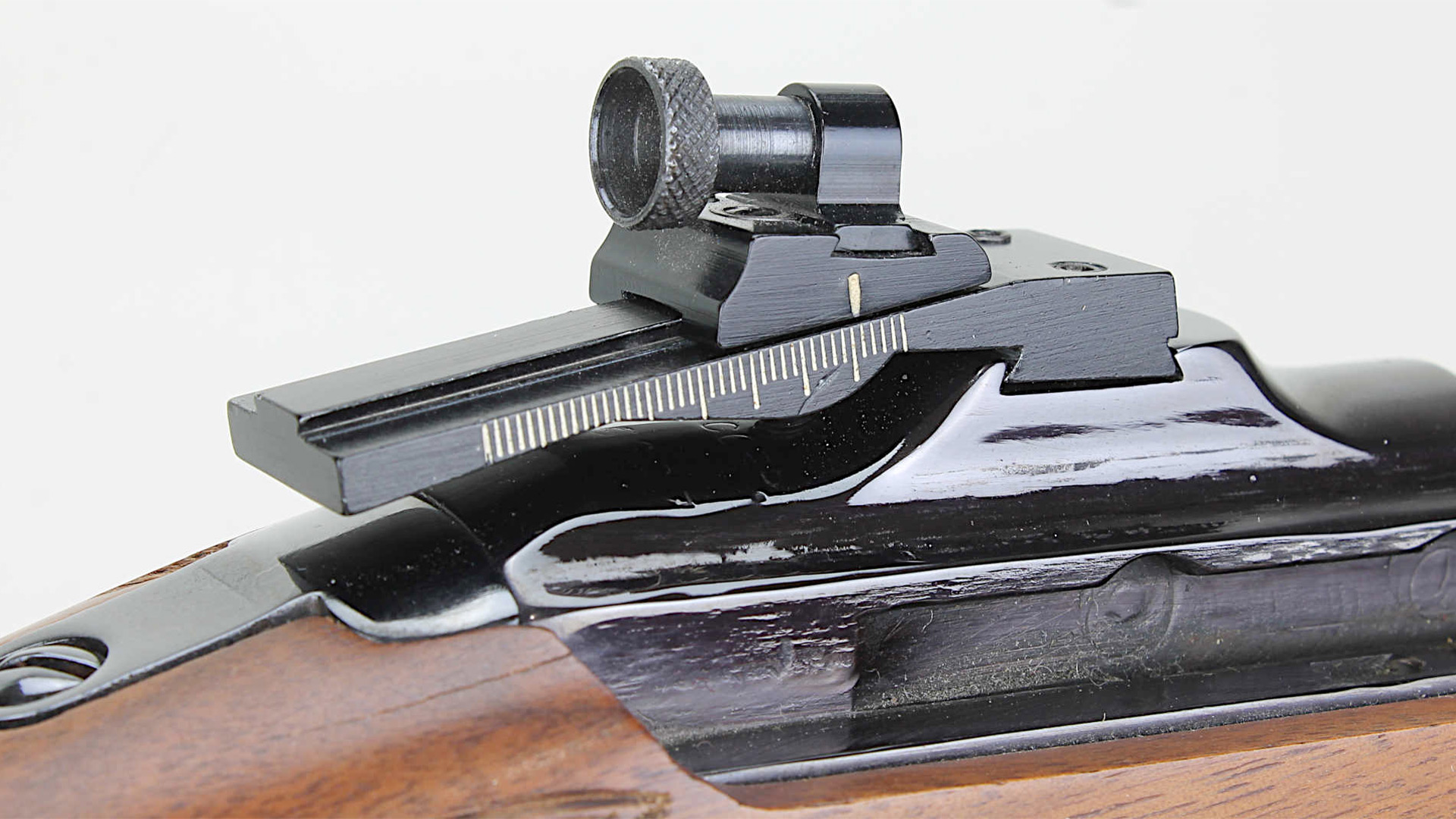 Elegant?
Of course, the first feature of this M1 Carbine conversion that jumps out at the viewer is the walnut stock. It is of Mannlicher style, running out to the muzzle, where it terminates in a steel fore end cap. The wood has decent figure, a Monte Carlo rollover, steel butt plate and pistol grip cap, sling swivel studs and nicely executed four-panel checkering. The hand guard wood matches well and also terminates in a steel cap.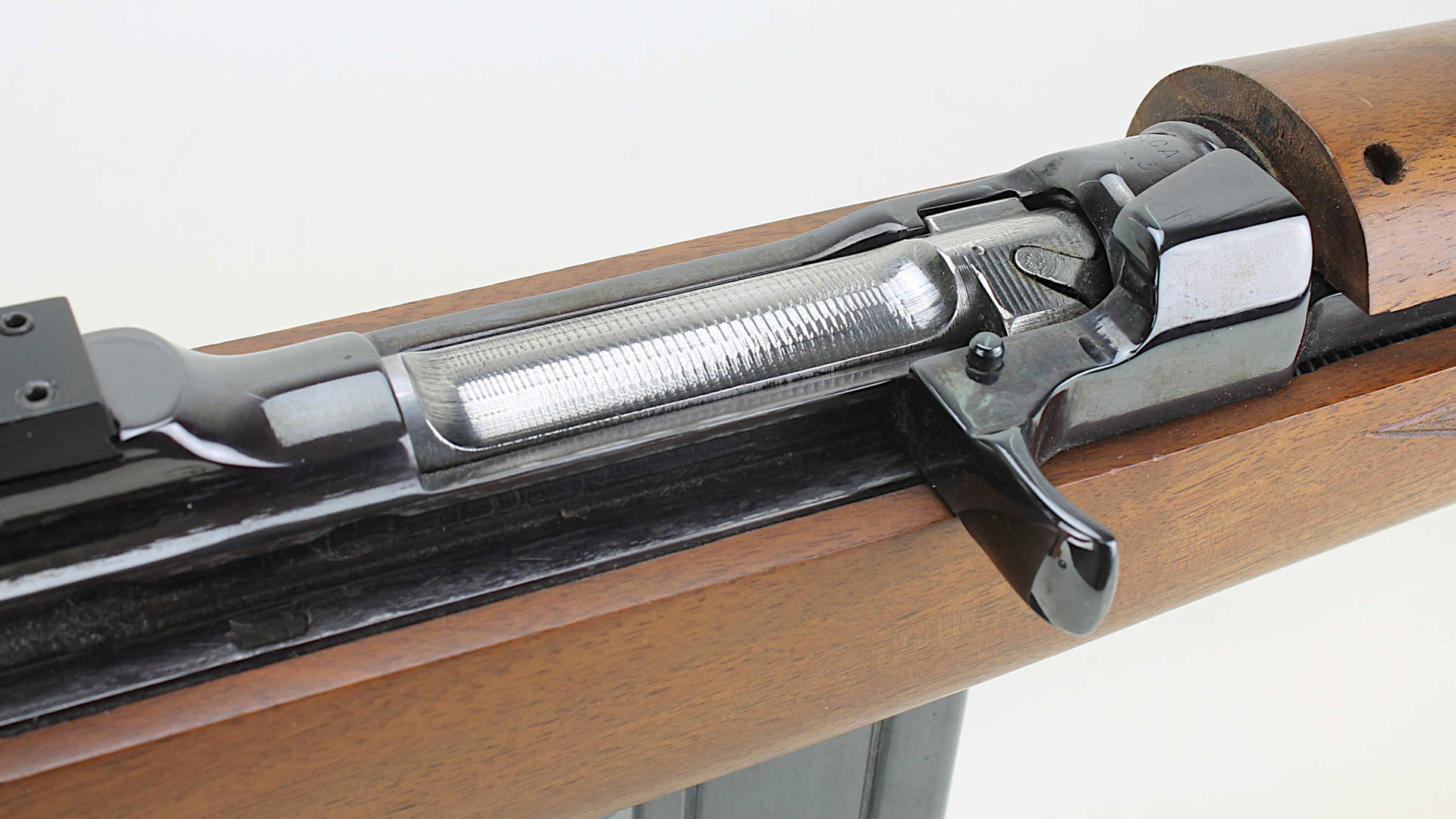 A gold bead front sight tops a long, sweeping ramp serrated to prevent glare. The rear sight is an unusual Williams design mounted directly to the original military dovetail on which the aperture slides fore and aft on an arched ramp to adjust elevation; windage is adjusted by loosening set screws and moving the ramp left or right with finger pressure.
Visible portions of the receiver and barrel sport a lustrous, high-polish blue; one might understand why the askance-lookers feel it looks unnatural on a (former) combat arm like the M1 Carbine. Ditto for the bolt, which, unblued, bears a high polish over a carefully machined scale-type pattern. Overall, the carbine presents a European kind of elegance at home on fine bolt-action rifles.

Abomination?
In the early 1960s, the Williams Gun Sight Company turned out 50 superbly sporterized M1 Carbines featuring Fajen thumbhole Mannlicher stocks. Williams was also the publisher of How to Convert Military Rifles, a catalog in which the company offered parts and basic instructions, as well as some gunsmith services, for sporterizing. My copy, a second edition dated 1959, does not show the stock or rear sight that appears on this specimen. Perhaps later issues, which ran to at least six editions up to 1968, includes them. That would help provide some provenance regarding the parts, anyway.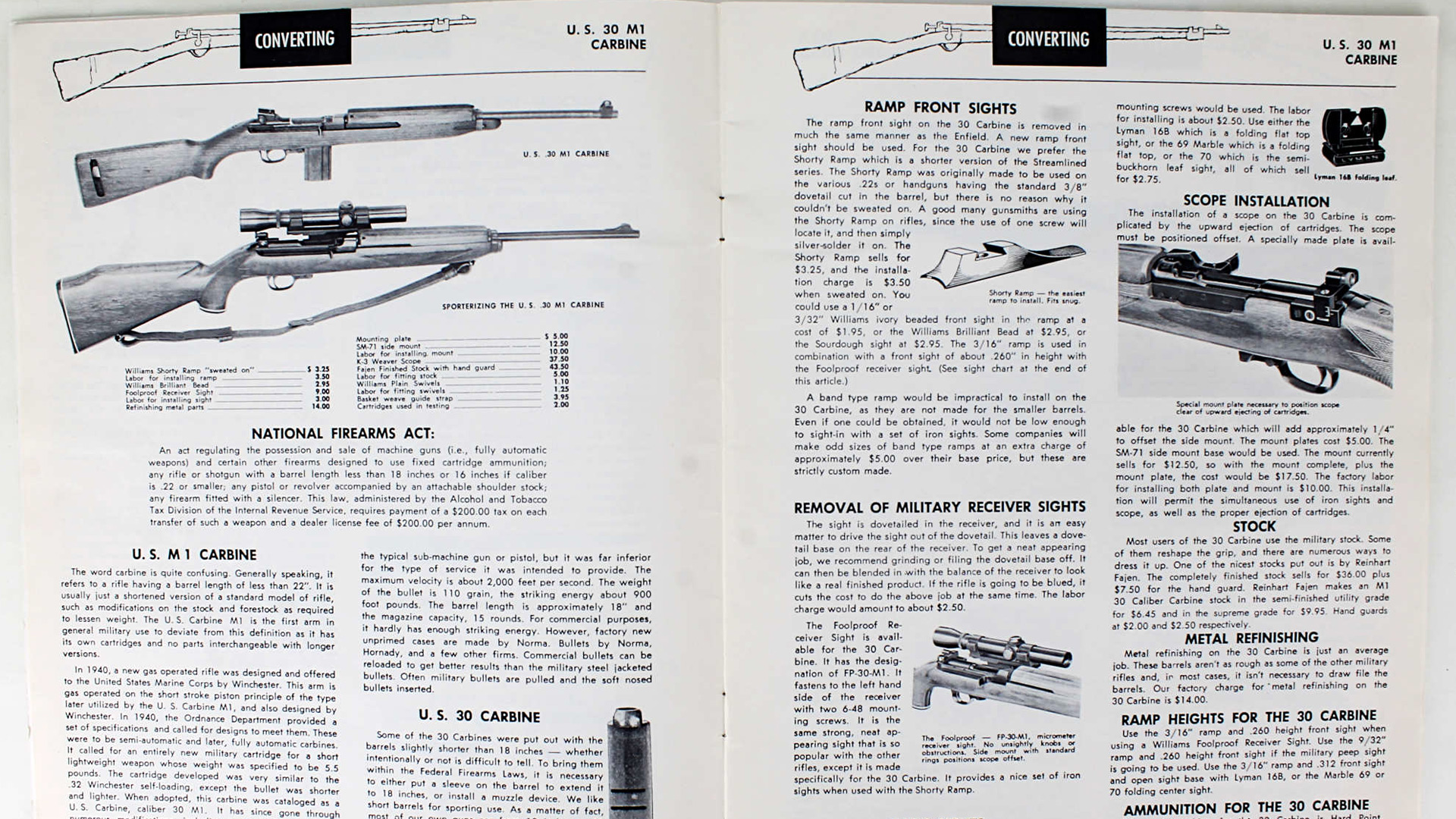 While at most merely tut-tutting over sporterized bolt-action battle rifles, afficionados of vintage military rifles are for some reason often horrified by such conversions applied to semi-automatics, and this M1 Carbine Mannlicher conversion, despite its excellent workmanship, elicit comments like, "abomination," "terrible" and, "It's just wrong." Beyond simply an eye-of-the-beholder matter, a moment's thought, however, brings the realization that these conversions, too, are historical artifacts with their own intrinsic value in reflecting the values of post-war American shooters—veterans among them. And those horrified can take some solace in current economics: such conversions conducted today would probably devalue the firearm, so few are likely to be undertaken, and certainly none under mass production.
For those reasons, these uncommon 1950s- to 1960s-era M1 Carbine Mannlicher conversions round out and add an interesting footnote to any collection of vintage military rifles.
---
See more:
NRA Gun of the Week: U.S. M1 Carbine