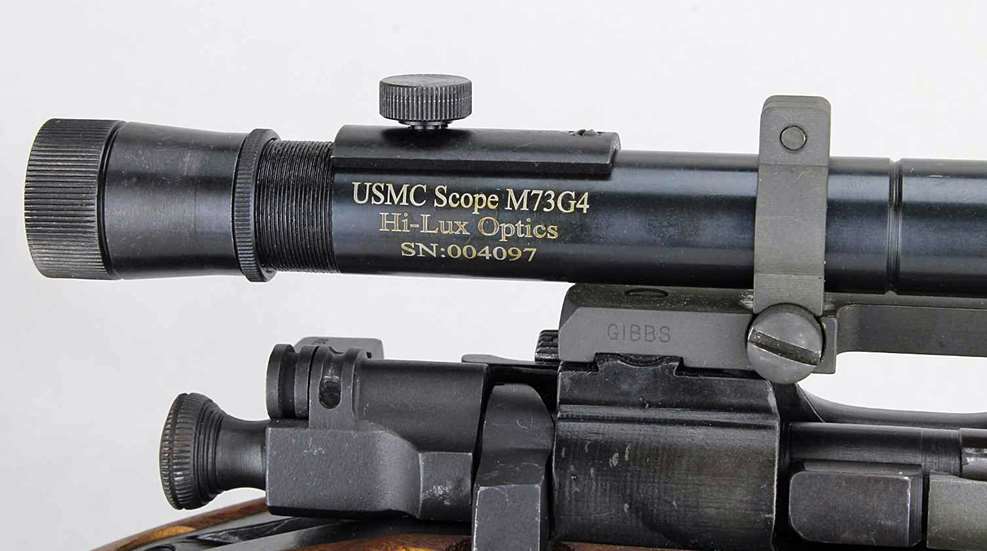 Vintage Military Sniper Rifle (VMSR) competition would be as arcane as Schuetzen if not for rules permitting reproductions and the firearms industry providing "new vintage" optics and "remanufactured" sniper rifles. Though there has apparently been no lack of the approximately 1.25 million Springfield M1903A3 rifles churned out by Remington and Smith-Corona available for conversion to replicate M1903A4 (Sniper's) rifles for VMSR competition, far fewer original World War II scopes survive.

In 2010, I tested early reproductions of U.S. M73B1, M82, M84 and German ZF-41 sniper scopes intended for VMSR competitors. Virtually all of them failed evaluation. The M73B1 replica for the M1903A4, dubbed M73G1 to differentiate it from the original, was particularly frustrating, my first example failing to adjust at all and the second literally falling apart in my hands upon unpacking. Better replicas finally became available a year later from Leatherwood/Hi-Lux Optics, which dubbed the replica scopes M73G2. Even these had some issues (or at least mine did), as its internals started rattling around and I had to send it back for factory replacement last year. The replacement is a new model dubbed the "2.5X Wm. Malcolm USMC Sniper Riflescope M73G4."

Mounts and rings

The World War II M73B1 and replica M73G4 scopes attach to the M1903A4 rifle via a Redfield Jr. one-piece mount base. The base itself slides over the rear-sight dovetail after removing the rear-sight assembly; the receiver ring requires drilling and tapping to permit two screws to further secure the mount. Leupold makes an identical one-piece base and 1-inch rings for the M1903A4 (MSRP $50). There are other types of mounts on the market, such as for Weaver-style rings, but be aware that the Civilian Marksmanship Program (CMP) rulebook states, "Scope mounts and rings may be original or reproduction replicas." Weaver, Picatinny and separate mounts, as well as beefy, multi-screw rings do not replicate originals and might be disqualified by match officials if challenged by another competitor.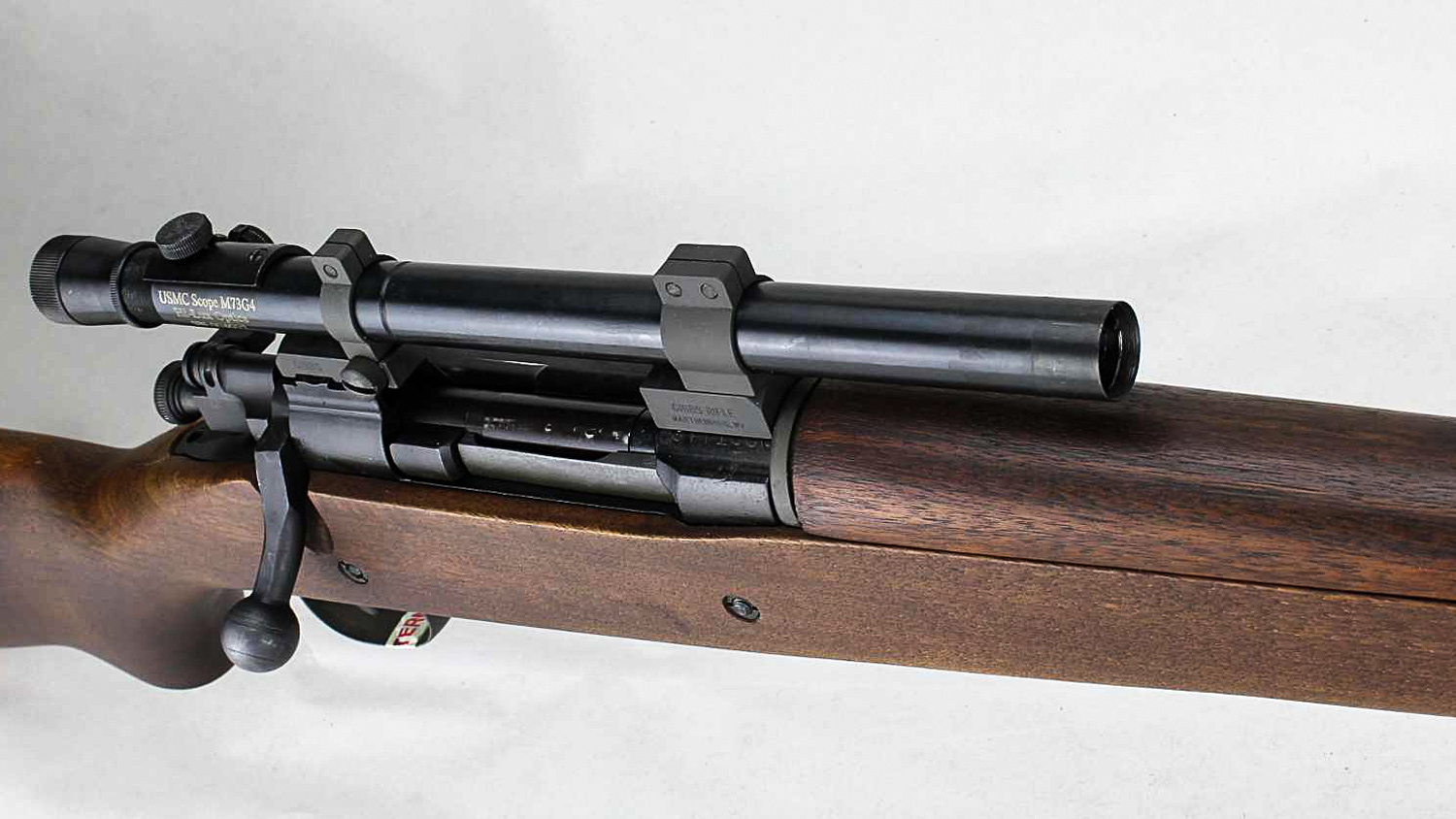 While finding scope-mount bases for the M1903A4 aren't a problem, the ¾-inch rings needed for mounting the M73G4 are about as common as honest politicians. That's because the ¾-inch scope tube has gone away, except for the new-made replicas and a few rimfire scopes. For the latter, ¾-inch rings are typically tip-off or claw style for grooved receivers and of no help to us here.

Hi-Lux sells the ¾-inch rings to accompany their M73G4 scope-mount base as a complete $115 set. Beyond that, an online search turned up Redfield Jr. compatible ¾-inch rings only at online auction sites. Happily, CMP rules permit us to solve this dearth of the ¾-inch rings with Brownells Delrin Ring Reducers. These fit into the readily available 1-inch rings to reduce the inside diameter to hold ¾-inch scope tubes.

Twisting knobs

The Hi-Lux M73G4 scope has a total elevation and windage adjustment range of 60 MOA—that is, 30 MOA up, 30 MOA down, 30 MOA left and 30 MOA right. Each click of either the windage or elevation knob moves the fine crosshair reticle ½ MOA, so there are 60 clicks in each of the four directions with the crosshairs physically centered in the scope. Barring any unusual mounting problems, this is plenty for 600-yard shooting, even in a stiff, full-value wind.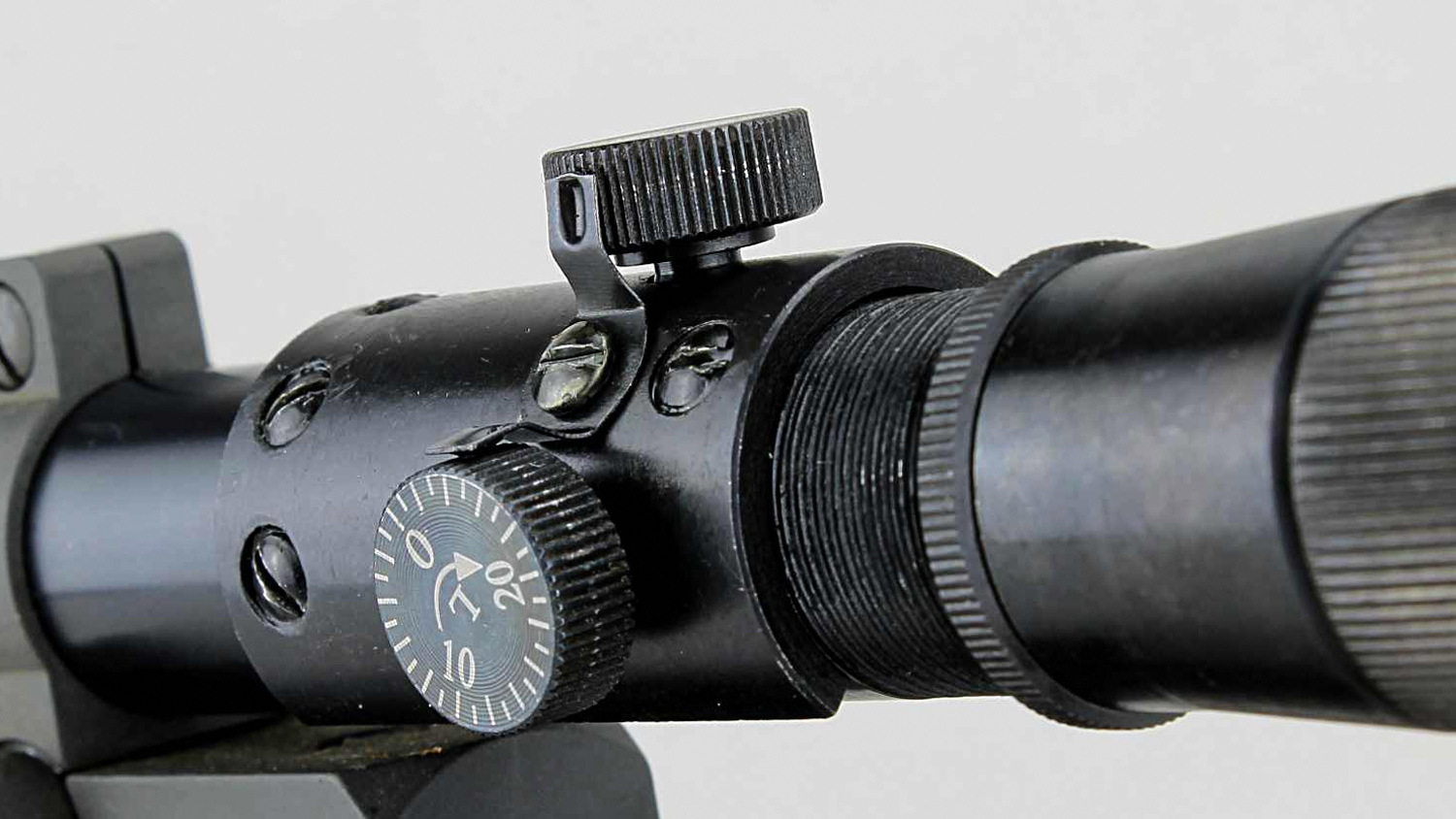 As an example, in a 20 mph, 9 o'clock wind, the Hornady 168-grain A-Max bullet with a muzzle velocity of 2700 fps will drift roughly 60 inches to the right at 600 yards—completely off the target. Since we know 1 MOA at 600 yards is 6 inches, bringing the bullet impact back to target center with an X-ring hold requires 10 minutes left windage (600 ÷ 60 = 10). That's 20 one-half MOA clicks.

Windage and elevation adjustments on the M73G4 scope have positive clicks, which is absolutely necessary for competition, but they are not especially deep—that is, the knobs are fairly easy to turn because the indent serrations on the knobs are very shallow. The clicks are also very close together, so it takes considerable care to ensure you don't overrun the desired setting. Their sensitive touch and the small diameter of the adjusting knobs makes them difficult to use when wearing cold-weather gloves. Also, the knobs are exposed and careless handling could inadvertently change your settings and leave you wondering where your first sighter went.

The M73G4's fine crosshair is excellent for 600-yard work, and I see no parallax at VMSR competition's 300 and 600 yards. The ocular lens has an adjustable focus with a lock ring. Eye relief is 3½ inches with about an inch of leeway, plenty enough for the recoil of the .30-'06 cartridge with the weight of the Springfield rifle. Exit pupil is 5.9mm, about all the eye can use. Objective lens diameter is, of course, ¾ inch, so image brightness is affected in low light, but I've found it completely adequate on cloudy days. The M73G4 is not sealed, and Hi-Lux recommends not using the scope in the rain.

Come-ups

"M73B1" was the Army's military designation for the commercial Weaver 330C, originally approved for the M1903A4 in 1942. Scope come-ups are in War Department Technical Manual TM 9-270 of 28 September 1943. A free PDF download is available. Note the  elevation and windage adjustments on the original M73B1 scope are ¼-inch clicks (which is ¼ MOA). Again, Hi-Lux M73G4 adjustments are ½-inch clicks (½ MOA), so if you use TM 9-270 come-ups for the replica scope remember to halve the number of clicks indicated on the publication's chart.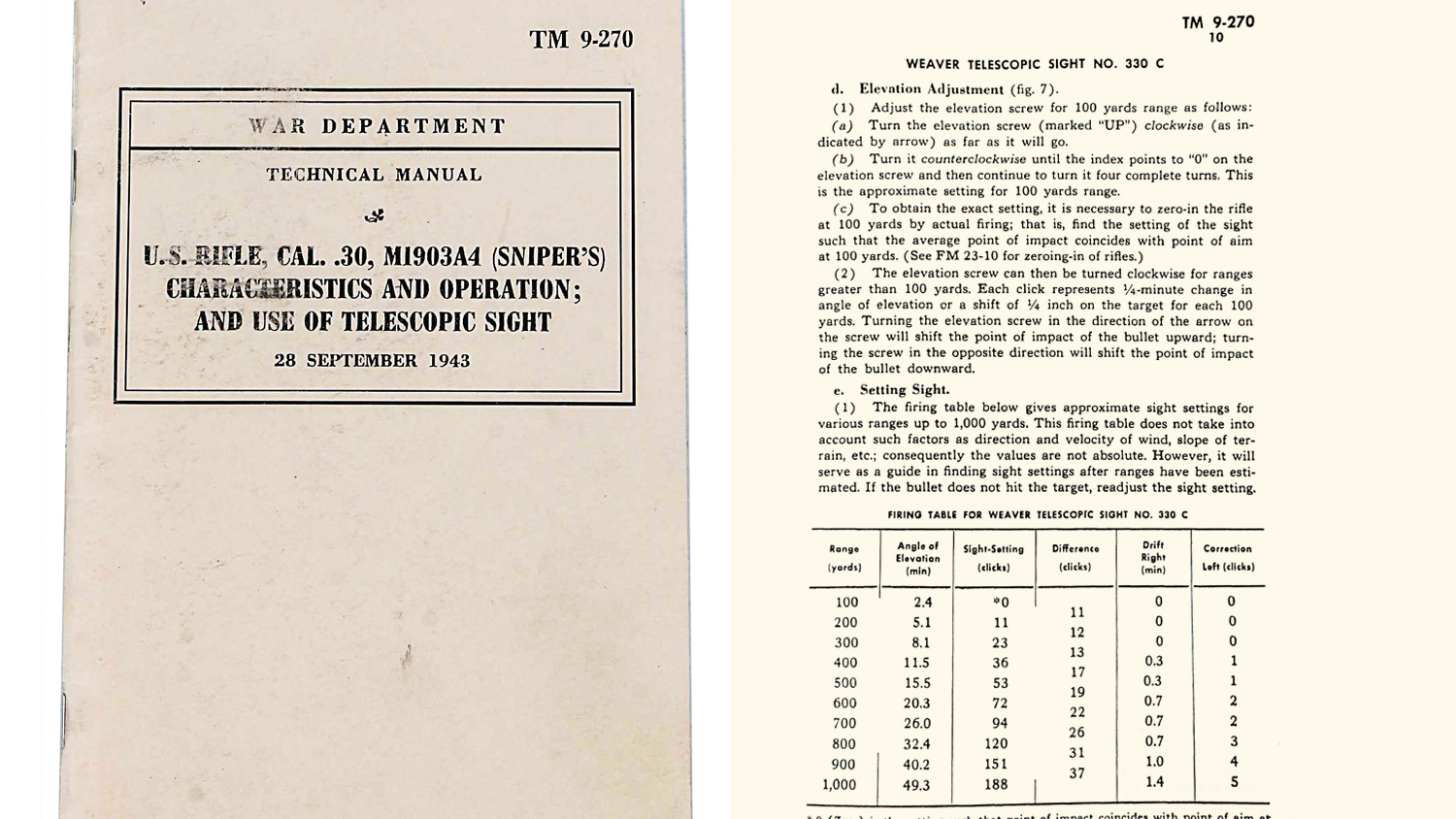 After obtaining a 100-yard zero (typical for a small club range), here are the come-ups with the M73G4 replica scope on my rifle, determined by shooting at actual distances with Hornady factory M1 Garand Match ammo featuring their 168-grain A-Max bullet at 2700 fps:
Moving from 100 yards to 300 yards, come up 11 clicks (5½ minutes).
Moving from 300 yards to 600 yards, come up 19 clicks (9½ minutes) and left 8 clicks (4 minutes—see below).

That compares favorably with the TM 9-270 chart's 5¾ minutes and 12¼ minutes, respectively, as the Hornady's bullet weight, BC and muzzle velocity are not the same as that of M2 Ball, for which the chart is intended.

Also, for the purist: No, MOA and inches are not precisely the same measurement. Hi-Lux data on its M73G4 are written in MOA, U.S. Army data on the M73B1 are in inches; the two are close enough to be interchangeable for our purposes—especially given the capabilities of both scope and platform.

Compensation

These results should get you in the ballpark with your own rifle using the same excellent factory ammo and the Hi-Lux M73G4 scope—or any other scope, for that matter, with emphasis on ballpark. However, note that the four minutes of left windage needed at 600 yards is due partially to the scope mounting on my specific rifle and partially to the M1903A4's right-hand rifling twist. TM 9-270 advises approximately two left clicks (one ½-inch click on the M73G4) needed at 600 yards to compensate for right drift induced by the rifling; the additional 3½ inches above needed on my rig we can attribute to off-center scope-mount holes the commercial factory drilled into my replica rifle's receiver. That tiny fraction of an inch error at the rifle magnifies to 3½ inches at 600 yards.


Horizontal screws mounted laterally in the Redfield Jr. and Leupold bases hold the rear ring in position. While it's tempting to utilize these for a coarse windage adjustment, that would put sideways bending stress on the scope tube, to no good effect. Of course, we save plenty of ammo by using a collimator or boresighter when mounting the scope.

Choices and limitations

The CMP rulebook also allows the use of original and replica M81, M82 and M84 scopes, and the Stith-Krollmorgan scope in USMC 1952 configuration on the Springfield rifle, which are all different beasties with improvements over the M73B1. Hi-Lux also offers a replica M82, and rules also specifically permit commercial Lyman Alaskan and Weaver K2.5 scopes. All are considered inadequate for combat sniping today, but the M73B1's 2.5x is what many American snipers worked with in the Second World War and Korea, with a few cameo appearances in Vietnam. Shooting within those same limitations with our vintage sniper rigs prompts a humble appreciation for those veterans' true marksmanship skills and the adversities under which they carried out their grim duty.

When in doubt about modifying, repairing or using any non-original parts on any rifle for "As-issued" games, re-read Rule 4.1.1, the Intent and Spirit of the Games, which includes, "These matches honor 'those who served' and [who] carried these rifles while on military duty, and strive to preserve the traditions of military marksmanship."

MSRP of the M73G4 is $359. Visit hi-luxoptics.com for additional information.