Support NRA Shooting Sports USA
DONATE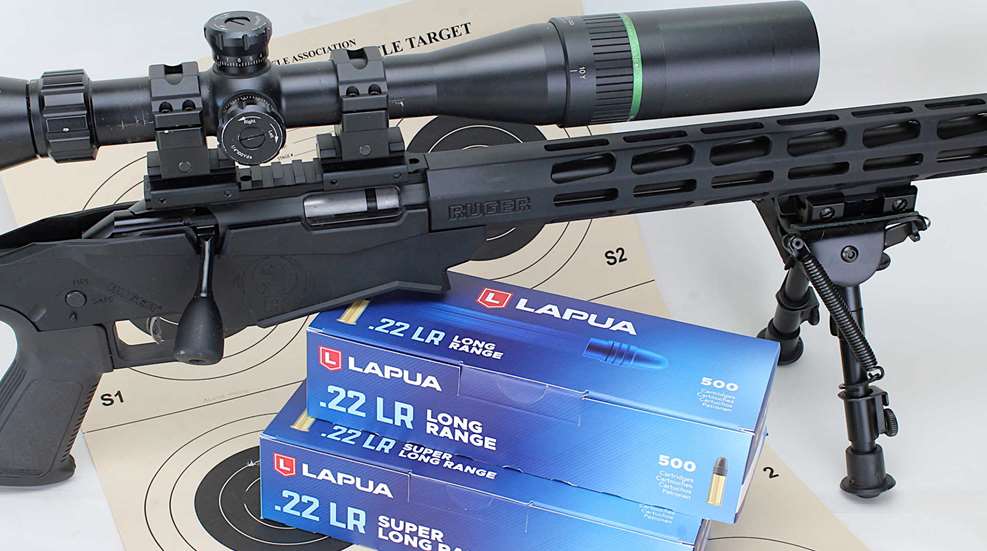 Shooters know each .22 LR rifle is an individual and will shoot best with a specific brand—and even specific lot—of ammunition. Those who shoot NRA Smallbore and reach beyond to compete in Extreme Long-Range, National Rifle League-22 and other long-range rimfire games have plenty of options in premium .22 Long Rifle ammo for those distant targets.
It used to be that .22 LR was either quite expensive match grade ammo, or it was cheap plinking or hunting ammo. Today, competitors have choices in grades of .22 LR match ammunition to suit their pocketbook or firearms. Here's a look at some .22 LR match ammo choices for 2023.
LAPUA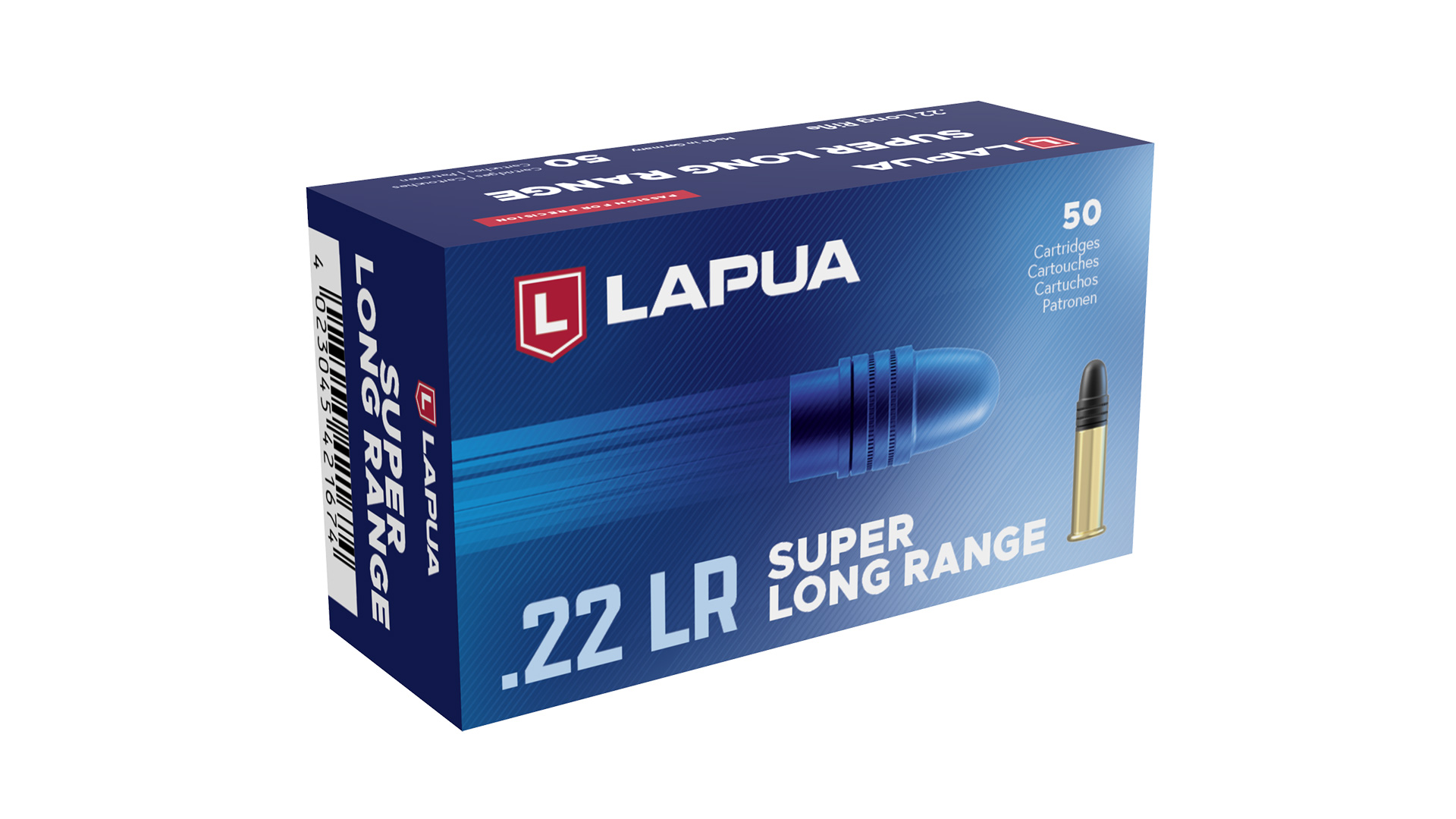 "Long range" has taken on a new meaning for the humble .22 Long Rifle cartridge since Lapua started making cartridges a century ago, and the company celebrated its centennial at SHOT Show by announcing two more offerings specifically for shooters who are up to the challenge—Lapua Long Range and Super Long Range.
Lapua Long Range and Super Long Range, imported from Finland by Capstone Precision Group in Mesa, Ariz., have both shown excellent performance in testing at 300 yards and beyond, with the Super Long Range offering a slight edge over the Lapua Long Range. "Each production lot of Lapua's new rimfire products are test-fired in 50-round groups for dispersion," Capstone's Marketing Director, Geoff Esterline, said. "The results determine whether it makes Super Long Range or Long Range packaging."
Both Lapua Long Range and Super Long Range feature the same 40-grain, round-nose lead bullet launched at 1,106 f.p.s.; Lapua calculates the bullet's G1 ballistic coefficient as 0.172, ranking high for such bullets. Lapua said Long Range and Super Long Range derive consistent downrange precision from precision in manufacturing that results in the lowest standard deviations (SD) and extreme spreads (ED).
MSRP for Long Range is $19.99 per box and $171.71 per brick, and for Super Long Range MSRP is $25.45 per box and $220.45 per brick. Additionally, Creedmoor Sports lists both slightly below retail. lapua.com
---
AGUILA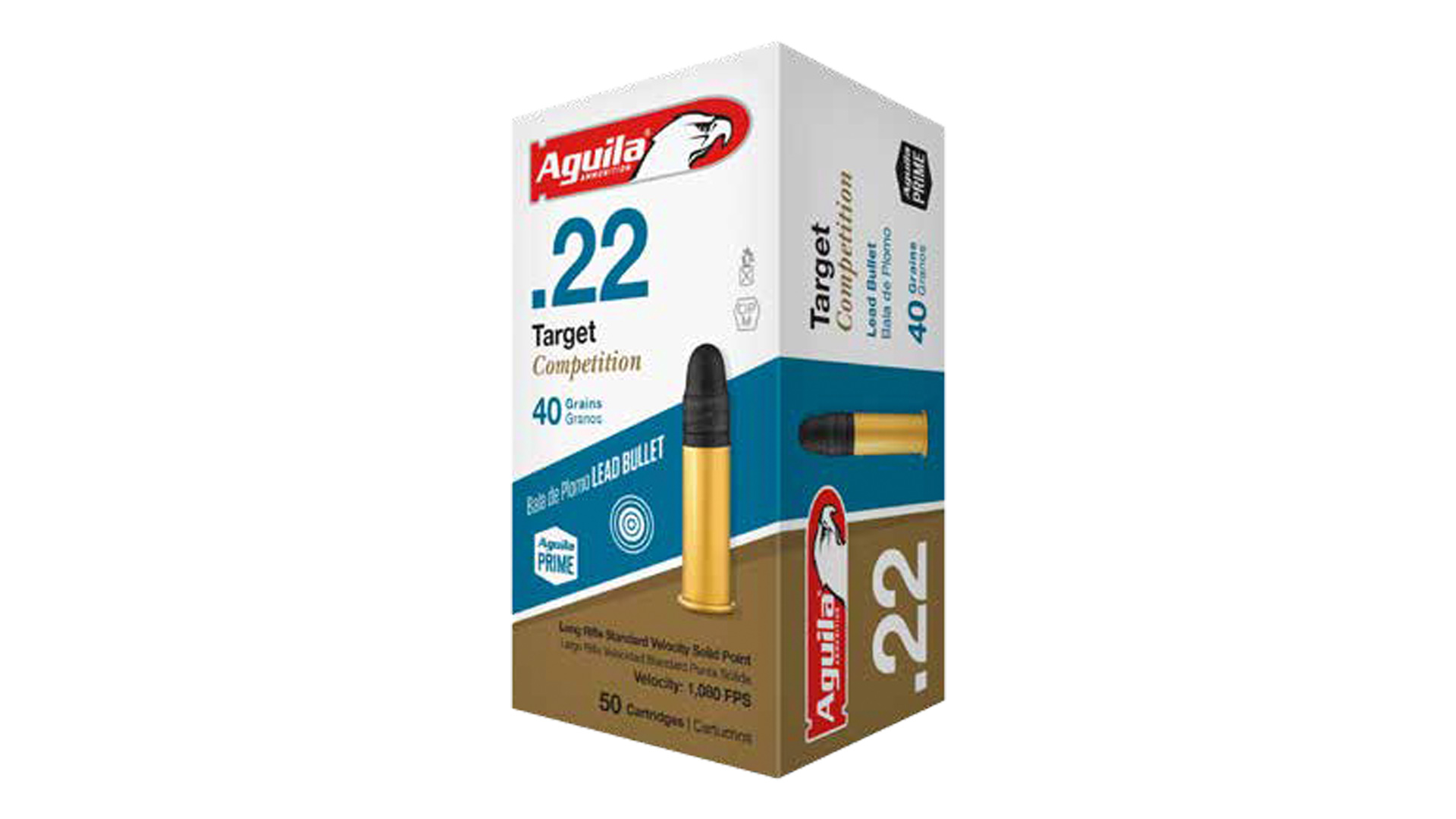 Most of Mexican manufacturer Aguila's .22 Long Rifle cartridges are packaged for recreational plinking and hunting, but Aguila .22 LR Target Competition is intended for more precise shooting. Aguila Rifle Match and Super Extra ammo will punch one-inch groups at 50 yards in two of my target rifles, but longer-range dispersion limits their usefulness to comparatively short-range practice only. In this regard, Aguila's appeal is more about price point, which tends to be less than other match ammo—and perhaps accounts for why it is frequently out of stock at online retailers. aguilaammo.com
---
RWS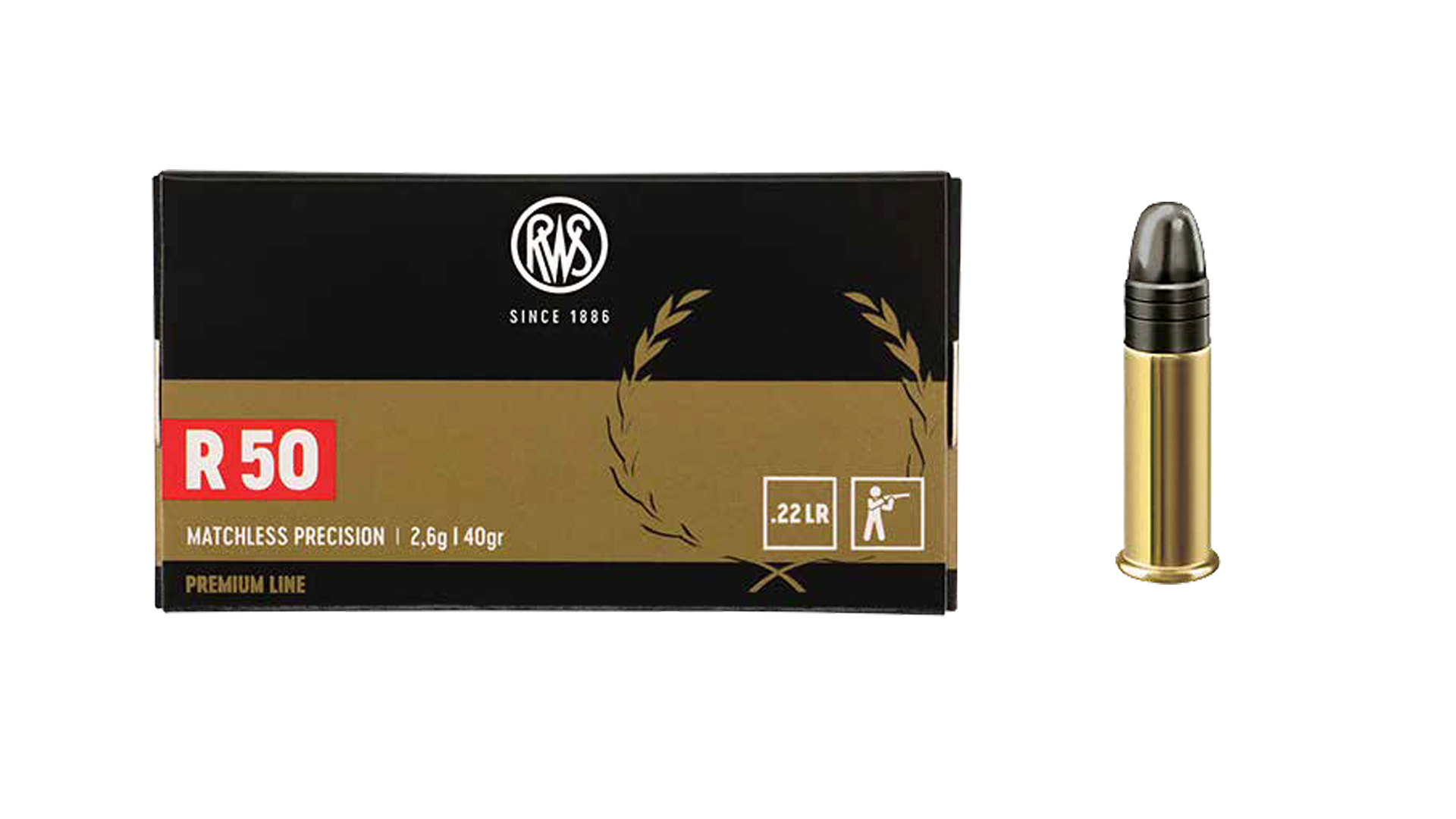 With nine .22 LR choices among its Premium Line and three in its Professional Line, RWS ranks up there with Eley in both selection and reputation, and it's worthwhile to visit the RWS website to get full information. In my Bergara BMR, RWS R50 (about $22 per box) shoots one-holers at 50 yards and about two MOA at 100 yards; RWS Rifle Match (about $10 per box) does the same at 50 yards and holds one MOA at 100—which illustrates that the most expensive ammo isn't always what shoots best in a particular rifle. rws-ammunition.com
---
SK AMMO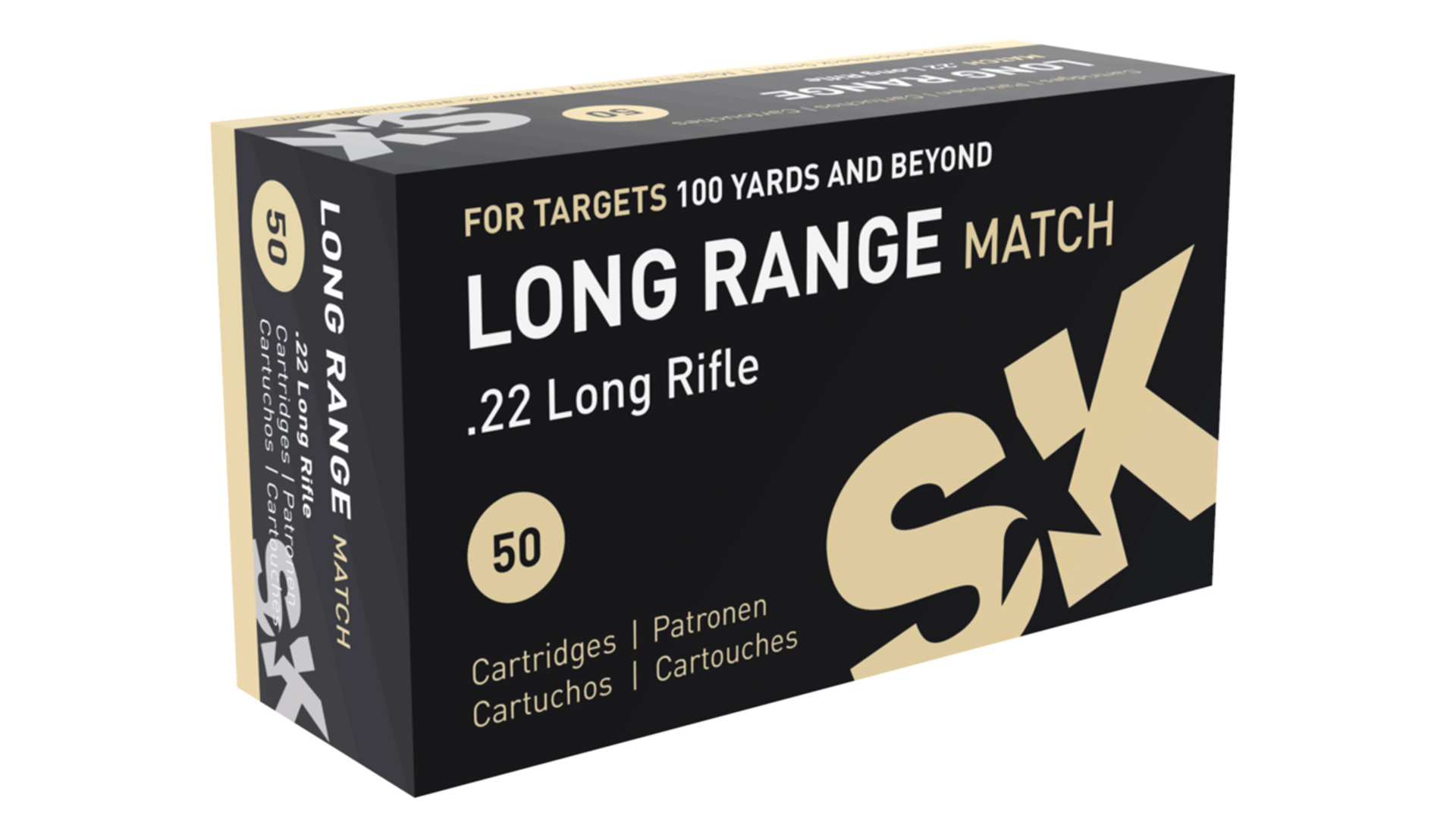 German manufacturer SK has eight match-grade .22 LR offerings, including two for pistols, one for semi-automatic rifles and one for frigid, wintertime conditions. For the latter, SK Biathlon Sport features a special bullet lubricant to stand up to freezing conditions, yet it performs in temperate weather, as well, and is worth testing in your rifle. MSRP is $11.29 per box and $99 per brick.
SK's approach to its High Velocity Match ammunition is to keep it supersonic to just beyond 100 yards, making it a good choice for NRA Smallbore Rifle. MSRP is $9.79 per box and $81.07 per brick. A favorite among the informal group with which I shoot, SK Long Range Match readily rings a 12x18-inch steel plate at 300 yards. This one has turned out to be an excellent value for the money. MSRP is $11.99 per box and $106.36 per brick. sk-ammunition.com
---
ELEY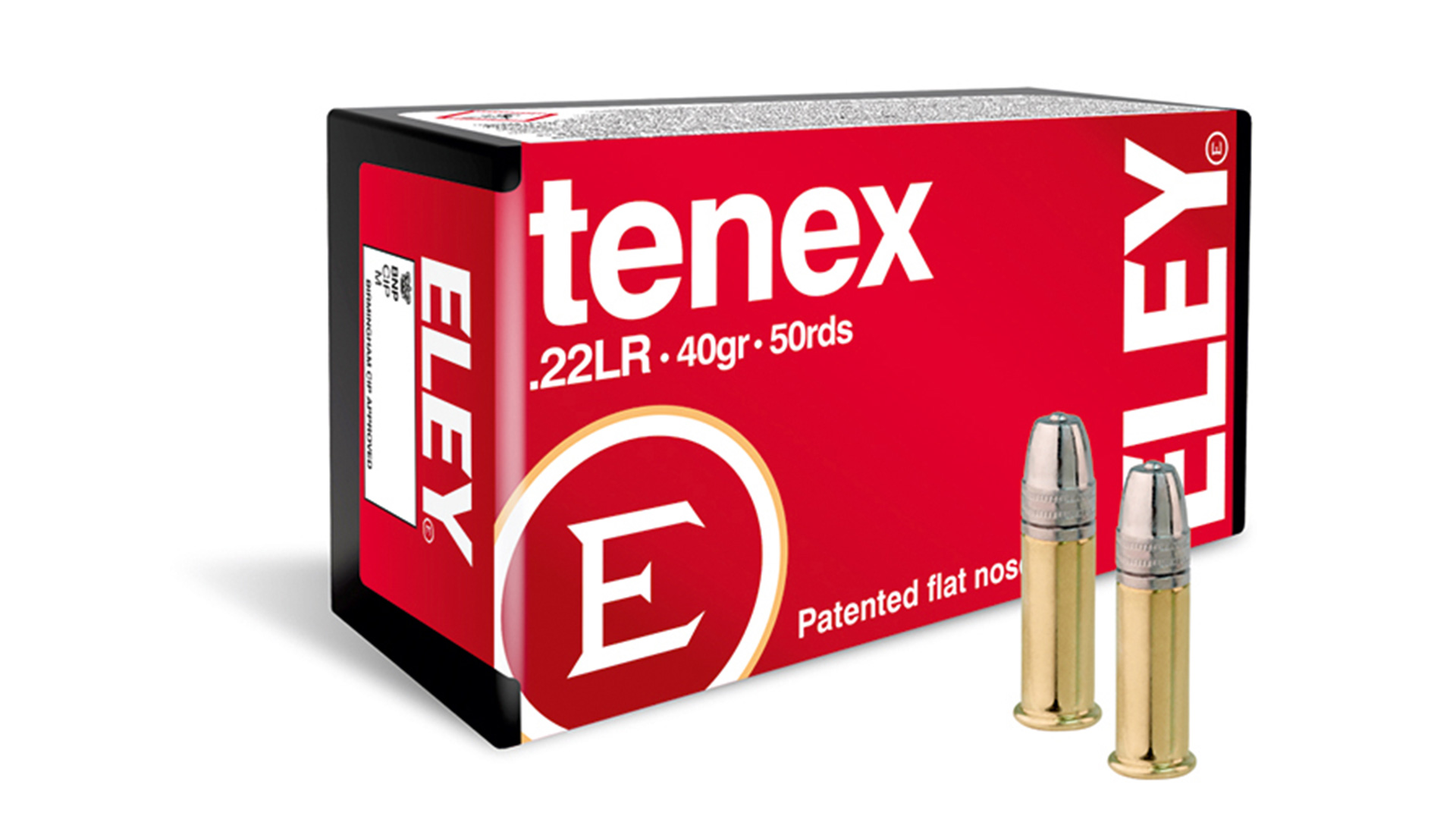 With a history going back to 1828, Eley is probably the best-known among makers of competition-grade .22 LR ammo simply from pure longevity. With 11 match-grade offerings of .22 LR, Eley's focus on competition includes specialties such as Semi-Auto .22 LR Benchrest Precision and Benchrest Outlaw, both with bullet noses contoured for reliable semi-automatic feeding, Tenex .22 LR Rapid Fire Pistol, and two Biathlon offerings. Eley Tenex, long recognized as a leader in precision .22 LR cartridges, is today segregated into four separate offerings, and Eley Match and Club are still with us. Expect retail prices of $7 (Benchrest Outlaw) to $20 (Eley Tenex) per box, or more, depending on source. eleyammunition.com
---
NORMA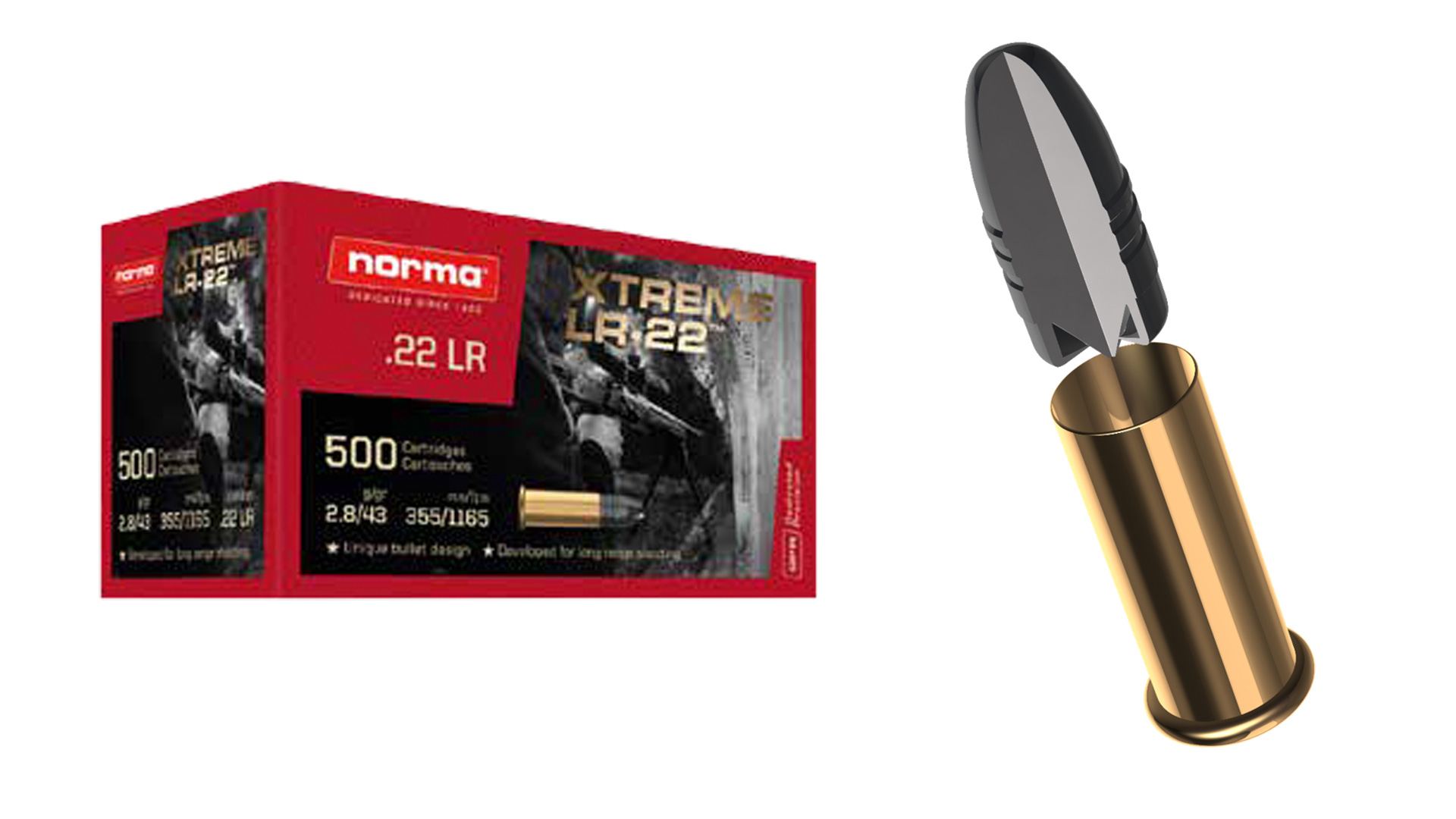 Norma's XTREME LR-22—with a patented 43-grain bullet specifically designed for 300 yards and beyond—is an exciting new development in match .22 LR ammo. During Norma tests conducted with a Vudoo match rifle, these bullets consistently struck a 12-inch plate at 600 yards. The bullet features an unusual configuration of a hollow base bullet with a cone inside, the point of the cone pointing backward and flush with the bullet's base. Norma said this "rocket tail" bullet configuration results in less negative pressure at the tail, minimizing drag and deceleration. Norma also claims flatter and more stable bullet trajectory, even though starting velocity is slightly supersonic at about 1,165 f.p.s. and the bullet must withstand that downrange transonic "wall" that causes bullets to depart stable flight. The 43-grain bullet's increased mass also reduces sensitivity to crosswind. MSRP is $9.69 per 50-round box. norma-ammunition.com
---
WOLF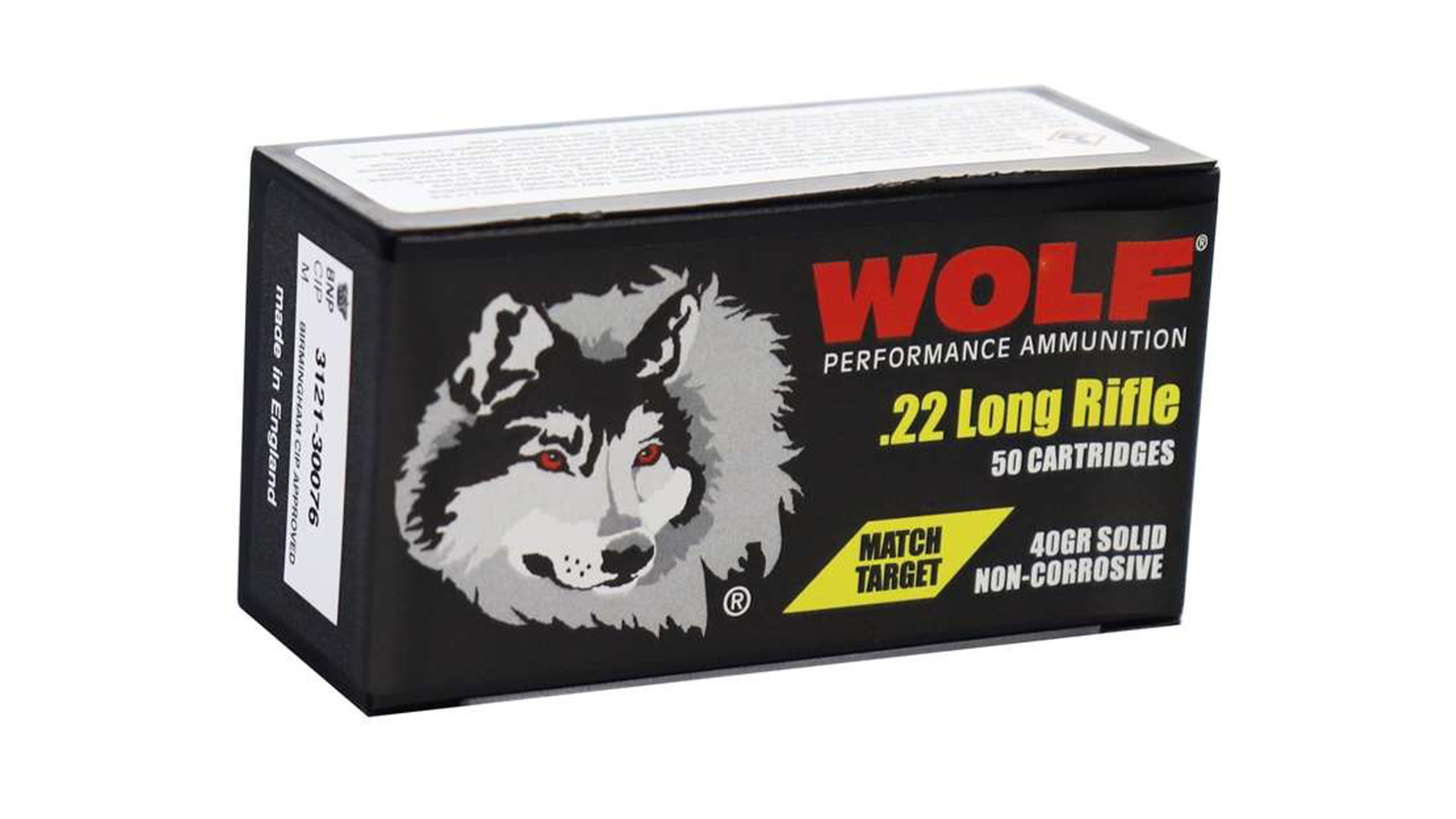 It may surprise some shooters that Wolf ammunition appears here, as Wolf bears a stereotype as "cheap" ammo. But .22 LR competitors know that Wolf Match Target is an exception, perhaps because it is manufactured by Eley in England (and loaded with Vihtavuori powder) and re-branded, if online information is correct. Wolf Match Target starts its standard 40-grain round-nose lead bullet at 1,050 f.p.s., which is subsonic at lower altitudes. From my Ruger Precision Rimfire rifle at 4,900 feet elevation, it routinely punches one-hole, 10-round groups at 50 yards, and longer-range dispersion is comparable to more expensive ammo. Retail price of a brick is in the $85-$95 neighborhood. Wolf Match Target Extra appears to be the same ammo but with a lesser dispersion in lot testing. wolfammo.com
---
It's good to have options, and we're fortunate to have so many choices in .22 Long Rifle match-grade ammunition today.