It's known as "the Home of Champions," thanks to President Dwight D. Eisenhower and his vision behind the creation of the U.S.
Army Marksmanship Unit
(AMU) in 1956, housed at Fort Benning, Georgia. The AMU's original mission? To win shooting competitions and specifically, to beat the Russians. Since then, it has morphed its mission to benefit recruiting efforts, to provide marksmanship training to troops, to increase combat readiness and to contribute to the advancement in technology for shooting.
We found four men who served with the AMU, and who have since gone on to other life missions. We asked them to tell us about what they learned from the AMU.
Donald L. Heuman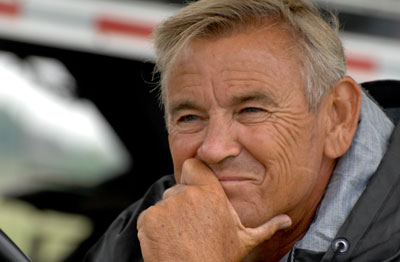 Donald L. Heuman joined the U.S. Marine Corps in 1974 and served for 26 years, attaining the rank of Master Sergeant. While in the Marine Corps, he spent time on the Marine Corps Shooting Team and also as an instructor for the team. After transferring to the Fleet Marine Corps Reserve, Heuman was asked by the U.S. Army Service Rifle Team to coach, and he became head coach in 2011. He retired in 2013, and now works as the Range Master and Park Manager for the CMP Talladega Marksmanship Park.
Max Michel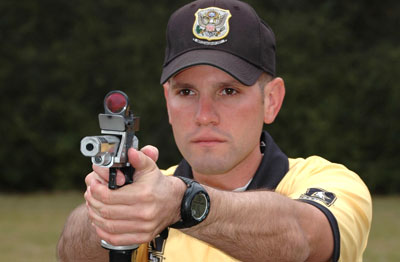 Max Michel spent 10 years on the Action Shooting Team. Michel said he felt that the most rewarding part of his job came with training soldiers for combat readiness, and it's what he misses most about the Army. He coached the team and tracked its progress. He left the Army in 2009.
Michel is the professional shooter for SIG SAUER where he spends time at Sig's Academy, working with the product managers on new/current equipment, performing demonstrations of product at various shows and more. He also operates his own training business where he trains federal groups, military, law enforcement and civilians to be better shooters. He is the current International Practical Shooting Confederation World Champion.
maxmichel.com
Grant Singley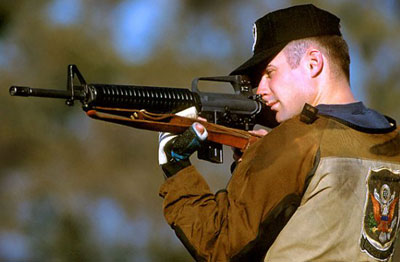 Grant Singley served as a shooter and instructor on the Service Rifle Team of the
AMU
from December 1989 to January 2013. Since his retirement, he has worked for Erik Buell Racing (EBR) as a motorcycle race team mechanic. He and his wife live Bergamo, Italy, while he is on the Team Hero EBR World Superbike Team. 
Travis Tomasie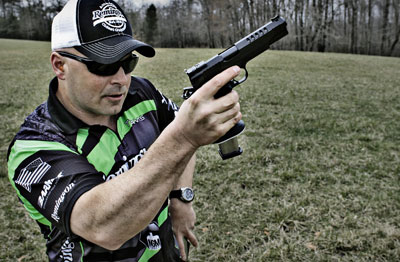 Travis Tomasie served on the AMU for eight years as a shooter and instructor on the Action Shooting Team. He represented the represented the U.S. Army in national and international competitions, in the sports of USPSA and IPSC. Tomasie agrees with Michel, that training soldiers for deployment ranks as one of the most "gratifying" aspects of his job.
Today, Tomasie is a professional shooter for Remington Arms. In addition to representing Remington on the shooting circuit, he assists in product management, plays a role in customer service, marketing, as well as research and development.
www.facebook.com/pages/Travis-Tomasie


What are some of the most valuable life lessons learned while in the AMU?

Heuman:
Basically, I feel that I learned the importance of listening to those I was coaching. Even the young and inexperienced can help the most experienced to learn more about life and their abilities.
Michel:
"Joining the Army and the AMU at such a young age (17), I learned everything. Something as simple as taking care of yourself, doing laundry, balancing a checkbook, etc... However, when it comes down to true life lessons that I carry with me today and raise my children on... the Army values. Loyalty, Duty, Respect, Selfless Service, Honor, Integrity, and Personal Courage. The Army truly has made me a better person, father, and husband. The AMU provided a platform for me at a young age to live out my dream and do what I love to do. I made the best out of my opportunity there and worked hard to progress my career to where I am today."
Singley:
"If you want to be the best at something you have to surround yourself with the best. Everyday I went downrange to train at the AMU, I shot alongside the best in the country. It motivated me! I learned about the benefits of being a team player. The discipline and dedication it took to be a National Service Rifle Champion can also be applied to a successful career after the military. Many of the skills and values I learned in the Army have helped me to succeed as a member of a professional motorcycle road racing team."  
Tomasie:
"The AMU was truly an opportunity of a lifetime! Among the many life lessons, was the power of teamwork. When you combine the efforts of a group of dedicated individuals, there is no limit to what you can achieve. I was also fortunate to learn a deep sense of discipline and perseverance. With enough hard work, any goal is within reach!"