by
posted on February 14, 2019
Support NRA Shooting Sports USA
DONATE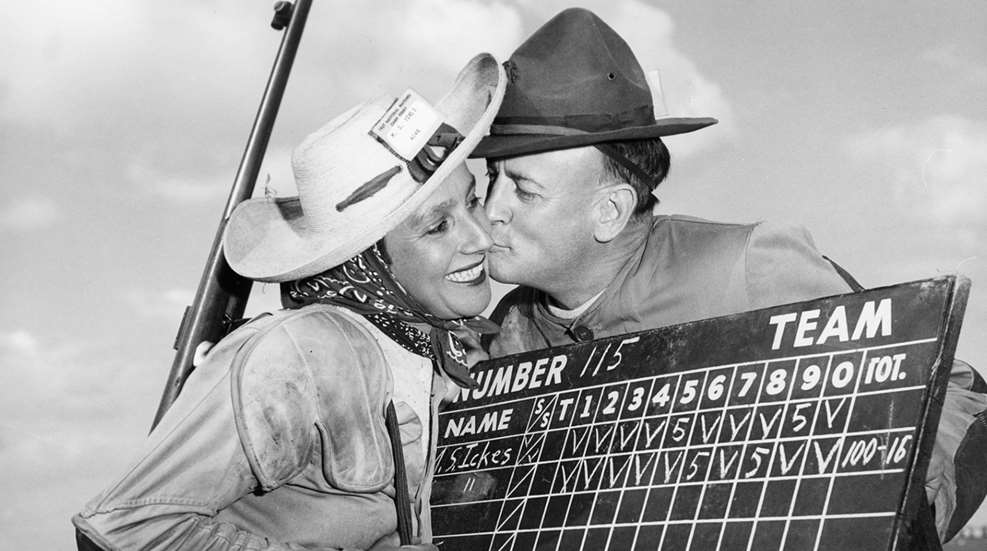 Above: Miralotte Ickes receives congratulations from her husband Raymond at Camp Perry in 1957. She had just won her first Women's National High Power Championship.

The daughter of Dr. Louis Sauer, developer of the whooping cough vaccine, Miralotte Ickes was a high power rifle shooter that went on to become a Camp Perry legend.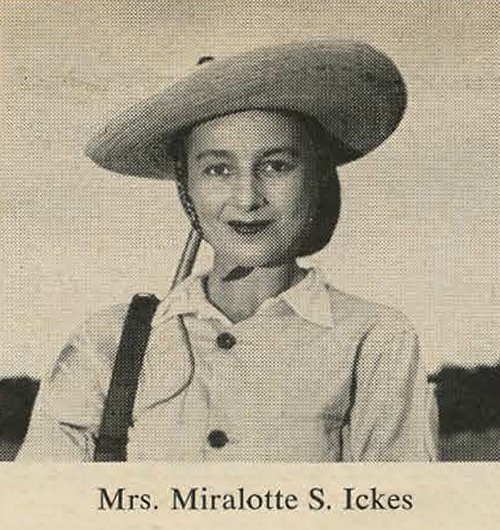 Ickes competed at Camp Perry and won the Women's National High Power Championship seven times, the first in 1957. This triumphant win that year was her first in a streak of four consecutive High Power Rifle Women's Championships at the National Matches. Four of Ickes' high power wins were Open, the rest were Match Rifle. Starting in 1952, she began shooting record-setting scores, garnering a dozen Women's National Records in different permutations of the National Short Range Course, National Long Range Course and the National Championship Aggregate Course.

In 1958, she repeated as Women's Champion at the National Matches with a national record score of 485-49V. Her performance that year also included first and second place open finishes in the Bolt-Action Rapid Fire and Members' Trophy Matches, respectively. Notably, Ickes outshot 218 competitors in the Bolt-Action Match, as well as topping the score of the 1,814 competitors firing the comparable Service Rifle Aggregate Match. That same year she also won the California High Power Rifle Championship.

Miralotte was married to Raymond Ickes, the son of "Old Curmudgeon" Harold Ickes, a former Secretary of the Interior in the Roosevelt and Truman administrations. Miralotte started competitive shooting under the guidance of her husband in 1932. She was a good student and he was a good teacher. In 1958, Miralotte outshot her husband to snag the Oregon Governor's Trophy from him (Raymond had won it for five of the seven preceding years).

Raymond was quite the impressive shooter himself, winning the .30 cal. rifle championship in 16 states by 1962. For many years, he was considered one of the finest shooters on the Marine Corps Reserve Team. Raymond was distinguished in both rifle and pistol. In 1951, he won the Marine Corps Cup with a score of 100-16V. California-based, the Ickes couple became prominent high power marksmen during the 1950s and 1960s. 

Not surprisingly, their daughter Andrea found that shooting came naturally to her. She started shooting a .22 LR rifle at the age of 13, with Miralotte and Raymond giving her instruction. Not even a year later, Andrea was a junior distinguished marksman. By the time she was in college, Andrea held three national records and was the California State Girl's Outdoor Rifle Champion. When she moved on from smallbore to high power rifle, it only took her three months to reach Master classification.

Sadly, Miralotte Ickes passed away in 1978, but her memory lives on in the annals of National Matches history as one of the premier high power rifle shooters of all time.

Read more articles about the National Matches.