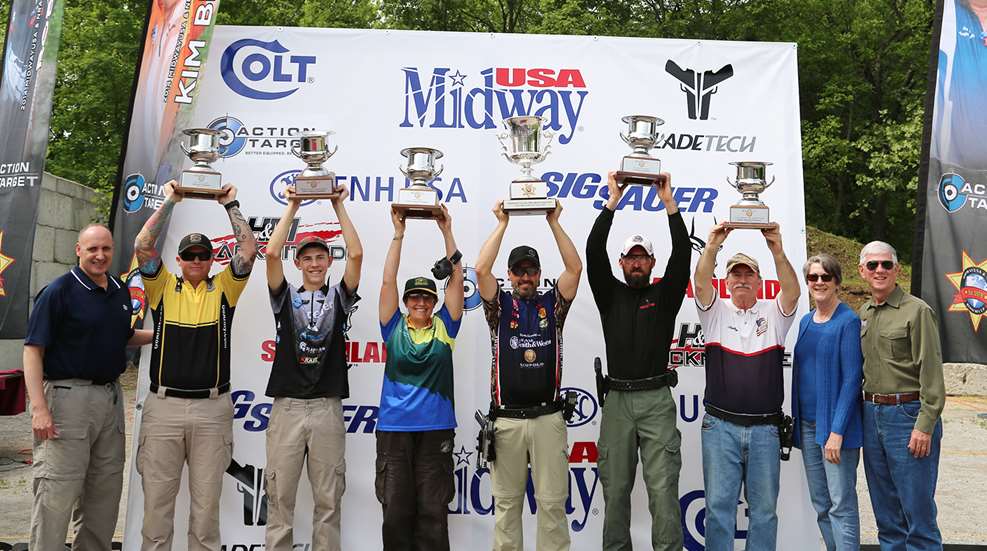 Above: All of the 2015 Bianchi Cup Champions.

The NRA has announced MidwayUSA as title sponsor of its 2016 National Action Pistol Championship for the eighth consecutive year. The championship will be held May 24-28, 2016 in Columbia, MO.

Joining MidwayUSA are event sponsors Colt, sponsoring the Colt Championship Final; FN America, sponsoring the Olin "Oli" C. Barjenbruch Falling Plate Event; SIG Sauer, sponsoring the Moving Target Event; Safariland, sponsoring the Barricade Event; Shooting Sports USA magazine, sponsoring the Practical Event; Action Target, the event target sponsor; and A.T. Wall, the event magazine sponsor.

"We are proud to join our sponsors in continuing the legacy of the Bianchi Cup, the most prestigious pistol tournament in the world," said Executive Director of NRA General Operations Kyle Weaver. "We thank MidwayUSA for their outstanding support over the past eight years, and extend a sincere thanks to all our sponsors for helping us bring together the world's best pistol competitors."

Founded in 1979 by former police officer and holster maker John Bianchi, the 192-shot NRA Bianchi Cup presented by MidwayUSA attracts the world's best pistol shooters. This year's competition features a change in format, as there will be no multi-gun aggregate match.

Additionally, the top 36 competitors from the first 1920 Match X will advance to the Colt Championship Final, where they will fire an additional 1920 through the same four NRA Bianchi Cup events. The aggregate of both 1920s will dictate the 2016 NRA Bianchi Cup Champions.

Competition categories are determined by age, gender, and the number of modifications a shooter makes to their pistol to increase speed and accuracy.

"The Bianchi Cup has come a long way since its inception back in 1979, and it's still as exciting as ever. Brenda and I look forward to watching some of the best competitive shooters in the world practice both discipline and marksmanship," said Larry Potterfield, Founder and CEO of MidwayUSA. "MidwayUSA is pleased to return as the presenting sponsor of the 2016 Bianchi Cup and we welcome first time and returning shooters to our home town of Columbia, MO."

Sign up to compete at http://www.bianchicup.nra.org/bianchiregistration. For more information on the 2016 NRA Bianchi Cup presented by MidwayUSA, visit http://www.bianchicup.nra.org, or contact Damien Orsinger at (703) 267-1478 or email [email protected].

About the National Rifle Association
Established in 1871, the National Rifle Association is America's oldest civil rights and sportsmen's group. Five million members strong, NRA continues its mission to uphold Second Amendment rights and is the leader in firearm education and training for law-abiding gun owners, law enforcement and the military. Visit http://nra.org.

About MidwayUSA
Both country kids from Missouri, Larry and Brenda Potterfield turned their passion for shooting sports into a career by opening a small gun shop in 1977 that would eventually become MidwayUSA (www.midwayusa.com). They instilled family values like honesty, integrity and respect for others into the business, and strive to maintain this culture with each employee added to their growing team. For over 38 years, MidwayUSA has offered JUST ABOUT EVERYTHING for Shooting, Reloading, Gunsmithing and Hunting with an unyielding focus on Customer Satisfaction. For more information on MidwayUSA, visit their website, or find them on Facebook (www.facebook.com/OfficialMidwayUSA), or follow them on Twitter (http://twitter.com/midwayusa).

About Colt
As a company, Colt firearms has always been an innovator, a pioneer – implementing mass production techniques, designing for parts interchangeability, always striving to improve production methods. Today, Colt's Manufacturing Company, LLC, operates just a few miles away from Samuel Colt's original Hartford, CT armory and continues to maintain its position as one of the world's leading gun manufacturers by blending state-of-the-art technologies and modernized manufacturing methods. After all, Colt tradition dictates that the technology be the best available and that quality never be compromised. Our legacy for the twenty first century will rest on how well we lay the groundwork today for a company that continues to be responsive to consumer needs and depends as much on inventiveness and innovation as it does on technology. We are striving to meet this challenge and to guarantee a secure place for Colt in the pages of history as they unfold in the decades to come. For more information, visit http://www.colt.com.

About FN America
FN America, LLC, is a U.S. subsidiary of FN Herstal, S.A., a global leader in the development and manufacturing of high quality, reliable firearms for military, law enforcement and commercial customers worldwide. Headquartered in McLean, Virginia, with manufacturing operations in Columbia, SC, FN America is passionately committed to providing its customers with a portfolio of products, training and support services under the FN brand name that enhance their performance and safeguard their lives. For more information, visit https://www.fnamerica.com.

About SIG Sauer
SIG Sauer world renowned firearms are the weapons of choice for many of the premier global military, law enforcement and commercial users. High quality, ultimate reliability and unmatched performance have always been hallmarks of the SIG Sauer brand. In the USA, nearly 1 in 3 law enforcement professionals use SIG Sauer firearms. Headquartered in Newington, NH, SIG Sauer is an ISO 9001 certified company with over 900 employees. It is the largest member of a worldwide business group of firearms manufacturers that includes J.P. Sauer & Sohn and Blaser, Gmbh. in Germany and Swiss Arms AG in Switzerland. This global network of companies gives SIG Sauer a world-class firearms knowledge base, unparalleled design expertise, and extensive manufacturing capacity, enabling the company to respond quickly and effectively to changing market conditions and the needs of its military, law enforcement, and commercial markets worldwide. For more information, visit http://www.sigsauer.com

About Safariland
The Safariland Group, a company with a rich heritage in the law enforcement and sporting markets for 50 years, encompasses a group of recognized and well-respected brands known for their innovation and quality. We are committed to focusing on the customer first in all we do. Our Mission, Together, We Save Lives, is much more than statement; it is a creed we live by. For more information, visit http://www.safariland.com.

About Shooting Sports USA Magazine
Over 100,000 competitive shooters read and share the modern-day digital edition of NRA's Shooting Sports USA every month for reviews of current firearm technology, what the winners are using and strategies for excellence on the firing line. Shooting Sports USA covers all shooting disciplines, features both big-name and local club shooters, and promotes the competitive shooting sports by listing thousands of upcoming matches nationwide. Each issue features reports for NRA-sanctioned matches and local club shoots, as well as product reviews. Visit Shooting Sports USA magazine online at https://www.ssusa.org.

About Action Target
Action Target is a business that has transformed the concept of shooting range installations. Founded in 1986, the company started by creating a pneumatic turning target system for the Provo Police Department training curriculum. From there, Action Target began working with armor steel and creating innovative designs resulting in unique, patented technology. Action Target created their initial product line for law enforcement, but the innovative technology eventually spread to the commercial and military markets. Action Target has the creativity and drive to develop innovative new firearms training technology, the experience to properly apply that technology to solve today's training problems, and the dedication to provide the best ongoing service and support in the industry. For more information, visit http://www.actiontarget.com.

About A.T. Wall
Founded in 1886, as a supplier of metal findings to the local jewelry trade A.T. Wall Company has become a world leader in the production of seamless cold drawn specialty tubing and metal stampings that include drawn and coined products. With our commitment to customer service, reliability and quality we have earned a unique reputation for excellence in the products and services we provide. Demanding markets such as Aerospace, Electronics, Telecommunications and Medical industries rely on A.T. Wall Company products for use in critical applications. The company's total capabilities include the development, prototyping and manufacturing of Waveguide tubing, precious metal tubing, general engineering tubing, and stamped metal components. Today, with our state-of-the-art manufacturing facility, A.T. Wall is uniquely positioned to serve the most exacting industrial and scientific requirements of the worldwide marketplace. Worldwide is not just a "buzz" word to A.T. Wall Company. We sell to every continent on the globe. Our reputation for quality products and exemplary service is known throughout the world. There is a good chance one of your customers or suppliers knows of this renowned reputation. Crucial to our success for over a century has been a commitment to quality. A.T. Wall Company believes that quality is a measurable and integral component of every product and service we provide. For that reason, our goal is excellence in everything we do. For more information, visit http://www.atwcompanies.com/a-t-wall.