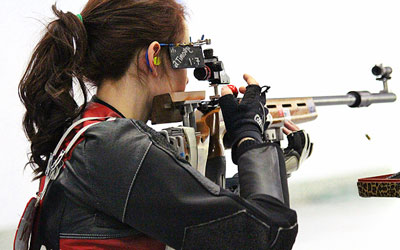 Rachel Martin never wanted to learn how to shoot. But thanks to a little prodding from dad, she eventually found a passion for the sport. A passion that brought her the 2015
NCAA National Smallbore Rifle Championship
.
"It's a little overwhelming right now," she exhaled after winning the title.
Emerging from a crop of 48 shooters selected specifically for the tournament, this Nebraska sophomore blazed through the opening rounds to earn a spot in the coveted final round. It was there that she held steady until making her move for the win.
"I was so nervous going in. Luckily, I talked to my teammates and they told me I was here because God let me be here, so have fun with it. That's all I needed to hear." For those unfamiliar with the procedures of the NCAA Rifle finals, here's the Reader's Digest version.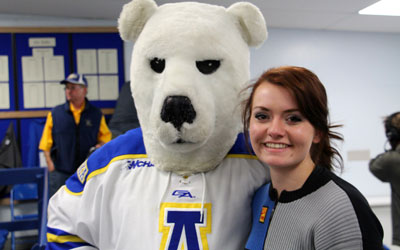 The top eight shooters from the day's early relays take the line. Shooting short, five-shot strings, competitors' fire from the kneeling, prone and standing positions. After the first round of standing position, the 7th and 8th placed shooters are removed from competition. Then the 6th place shooter is removed; then the 5th, and so on. This is where it gets interesting.
First one out of the final four was West Virginia's Garrett Spurgeon. Although leading throughout most of the finals match, Spurgeon was the first to see his hopes at the title fall short.
Next to drop was Connor Davis from the University of Kentucky. Keeping pace with the leaders throughout, it appeared as if Davis had a clear path to the 2015 title. Unfortunately, his final pull of the trigger landed three rungs outside the 10-ring. This is when Martin remembered the words of her father; the man who pushed her to become a shooter.
"I've been working on my mental game this year," Martin recalled. "Last year I got the positions down and this year it was more about what's going on upstairs. Once I got a grip on that I've been going up and it's been a lot more fun." Finding a spot on the University of Nebraska roster was essential to this New Mexico native's success. Not because of the equipment or facilities, or secret shooting practices known only to those residing in America's heartland. No, her success was due to her teammates. Or, as she calls them, the girls.
"I mean the academics are great, the Athletic Department is amazing, but when you get right down to it was the girls—the team. When I met them I just knew I was supposed to be here. I couldn't ask for a better team so that was definitely the deciding factor."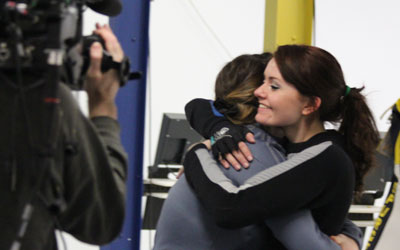 With her mind operating in top form, her scores continued to rise and she was primed for a stellar showing in the tournament. She was armed with a solid plan, and a little faith.
"There were a couple of times in the final I was a little doubtful because I was behind, but remembering why I was here and how faithful God is really helped me push through, do what I could do, and shoot a good shot."
Up by .5 points, and only 2 competitors remaining, all Martin needed was a 10. A perfect shot would all but guarantee her the title. That's when she remembered what her father told her, and took it to heart.
"My dad said that everybody takes shortcuts in the finals. There's not a lot of time and there is a lot of pressure. The one thing I have to do is not take shortcuts. That's why I'm usually the last to shoot, because I'm remembering what my dad said."
Taking her time, Martin waited, and waited, and waited. The final obstacle to her crown was Ryan Anderson from the University of Alaska, Fairbanks. A hometown favorite with plenty of fans in the stands. But Martin waited him out. Waited for him to fire a 9.1. All she needed was an 8.7. She shot a 9.3.
"I can't tell you how proud I am of her right now," said fellow Cornhusker Lauren Phillips. "She's been shooting amazing scores over the last couple of months, and this just goes to show you that hard work and concentration can really pay off."
As friends new and old descended to offer congratulations, Martin held a stoic look on her face. Barely a hint of a smile. Hugs, high-fives, handshakes and more were offered and accepted as everyone (including me) waited for their turn to speak with the new champ. It wasn't until Nanook, the University of Alaska at Fairbanks' mascot, appeared that she let a smile break through.
"It's been a long and great season. I kept positive, stayed strong, and just believed." Good thing dad was there to push.