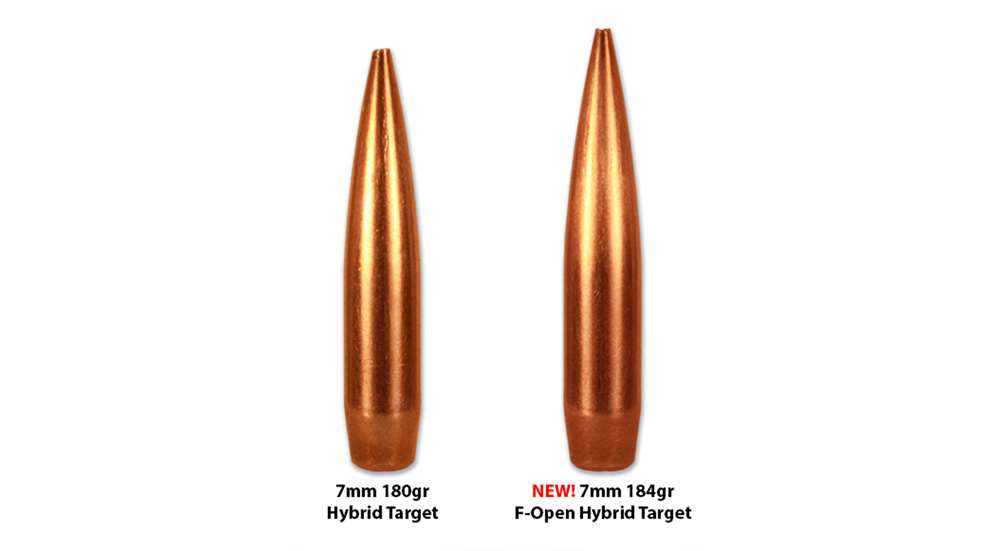 Berger Bullets, in conjunction with the U.S. F-Open Rifle Team, has announced the release of the new Berger 7mm 184-grain F-Open Hybrid Target bullet ($62 per box of 100). Berger say it is ideal for loading into 7-08 Rem., .284 Win., 7mm SAUM, 7mm RUM, 7mm Rem. Mag. and other 7mm cartridges.

F-Class has quickly become one of the most popular precision rifle shooting disciplines in all of the shooting sports. The discipline demands the very best in precision and accuracy to compete at a high level. F-Class rifles and other equipment have continued to advance as the sport matures.

Renowned ballistician and long range shooting guru Bryan Litz designed the new 184-grain F-Open Hybrid bullet to be slightly heavier, slightly longer and have a more aggressive ogive shape; giving it a ballistic advantage to existing 7mm 180-grain Hybrid and VLD Target bullet designs. Similar to the 200.20x bullet released with the help of the U.S. F-T/R Rifle Team in 2017, the existing design was optimized for a better ballistic profile.

Best of all: Berger Bullets will donate one dollar for every box of the new 7mm F-Open Hybrid bullets sold towards the expenses of the U.S. team for the upcoming 2021 F-Class World Championships in South Africa.