At Industry Day at the Range this year at SHOT Show 2019, we had a chance to check out Federal's new Shorty Shotshells. Federal Communication Coordinator Jared Hinton was on hand to give us the lowdown on this new mini-ammo option for 12-gauge scatterguns. 
Watch the video above.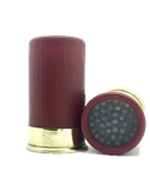 Diminutive to say the least, at 1¾-inches long, the Shorty Shotshells still pack a powerful punch that is comparable to their full-sized counterparts. These 12-gauge shells are available in No. 8 shot, No. 4 buck and rifled slug loads.
Here's more load data and pricing for the three new Federal Shorty Shotshell SKUs.
12-gauge, 

1

¾-inch, 15-pellet No. 4 buck, 1200 fps. $11.95 for a 10-count box.

12-gauge, 

1

¾-inch, 1-ounce rifled slug, 1200 fps. $11.95 for a 10-count box.

12-gauge, 

1

¾-inch, 15/16-ounce No. 8 shot, 1145 fps. $5.95 for a 10-count box.
Federals says the Shorty Shotshells function best in break-action or single-shot shotguns.
[Editors's note:
Some shotgun manufacturers make pump-action guns and semi-automatics that are specifically designed to run shortys or mini-shells. There are also some aftermarket adaptors. Basically, not all shotguns can run these shells effectively right now. Do your homework on what will work or not.
]
Visit
FederalPremium.com
for more information.
---
More SHOT Show 2019 coverage: