Quietly accepted by a DoD agency for a combat role to fit into the M-16/AR-15 platform and to outperform the 7.62/AR-10 without all the recoil and weight of the cartridge and platform, this week Hornady announced introduction of their 6mm Advanced Rifle Cartridge to the general public.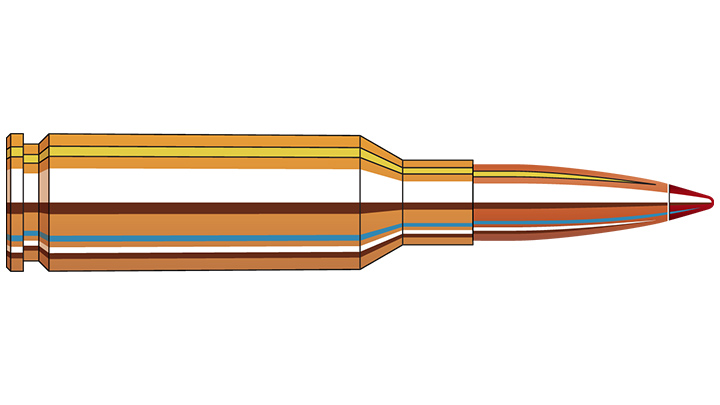 To meet DoD needs of lighter weight, improved long range performance and barrier penetration to fit into the AR-15, Hornady necked down the 6.5 Grendel case to create the 6mm Advanced Rifle Cartridge (6mm ARC), which Hornady says "delivers comparable performance from a wider assortment of bullets." The 6mm ARC shows promise for competition, of course, but where does it fit in a field of already established 6mms? Ballistic data at the Hornady website shows that, with a starting velocity of 2,750 fps, the .536 (G1) BC of Hornady's 108-grain ELD Match load keeps the 6mm ARC bullet supersonic at 1,000 yards at 1,357 fps, according to Hornady's online ballistic calculator. In a 10 mph crosswind, drift is just shy of 84 inches. 
As an apples-to-apples comparison with an existing popular reach-out-there competition cartridge, Berger's ballistic calculator shows their 109-grain Long Range Hybrid bullet in the 6x47 Lapua cartridge, when started at 2,600 fps, still retaining 1,291 fps velocity, and drifting 86 inches in a 10 mph full value wind. Performance is so similar that there isn't much to argue about. 
But unlike the 6x47 Lapua, which requires competitors to shoot it in an AR-10 platform or bolt gun, the 6mm ARC readily fits in AR-15 platform rifles: advantage Hornady. Same for the 6mm Creedmoor, which calculators give an edge over the 6mm ARC at long range, but doesn't fit the platform. The 6x45 fits, but can't match the ballistic performance of the 6mm ARC. Hornady has definitely found a niche for the new cartridge.
Shipment of Hornady 108-grain ELD Match loaded ammunition and 105-grain BTHP Black to distributors coincides with Hornady's announcement, and a 103-grain ELD-X Precision Hunter loading is slated for Fall 2020. In addition to loaded ammo, brass and dies are available to handloaders, as well. How about guns? Twenty manufacturers listed on Hornady's website are already making rifles or AR-15 uppers chambered for the new 6mm.
Given the immediate availability of Hornady reloading tools and loaded ammunition, and rifles and uppers (and magazines) from a score of manufacturers, it's obvious Hornady carefully planned release of the new cartridge to quickly get the cartridge into shooters' hands with a minimum of frustration. It all looks to be a recipe for success.
---
See more:
Use AmazonSmile To Benefit NRA International Rifle Teams