COVID-19 didn't keep firearms industry manufacturers away from the drawing board, and there's plenty of new gear and guns on their way to dealers' shelves. Here are some highlights for 2021.
Leupold Shrinks It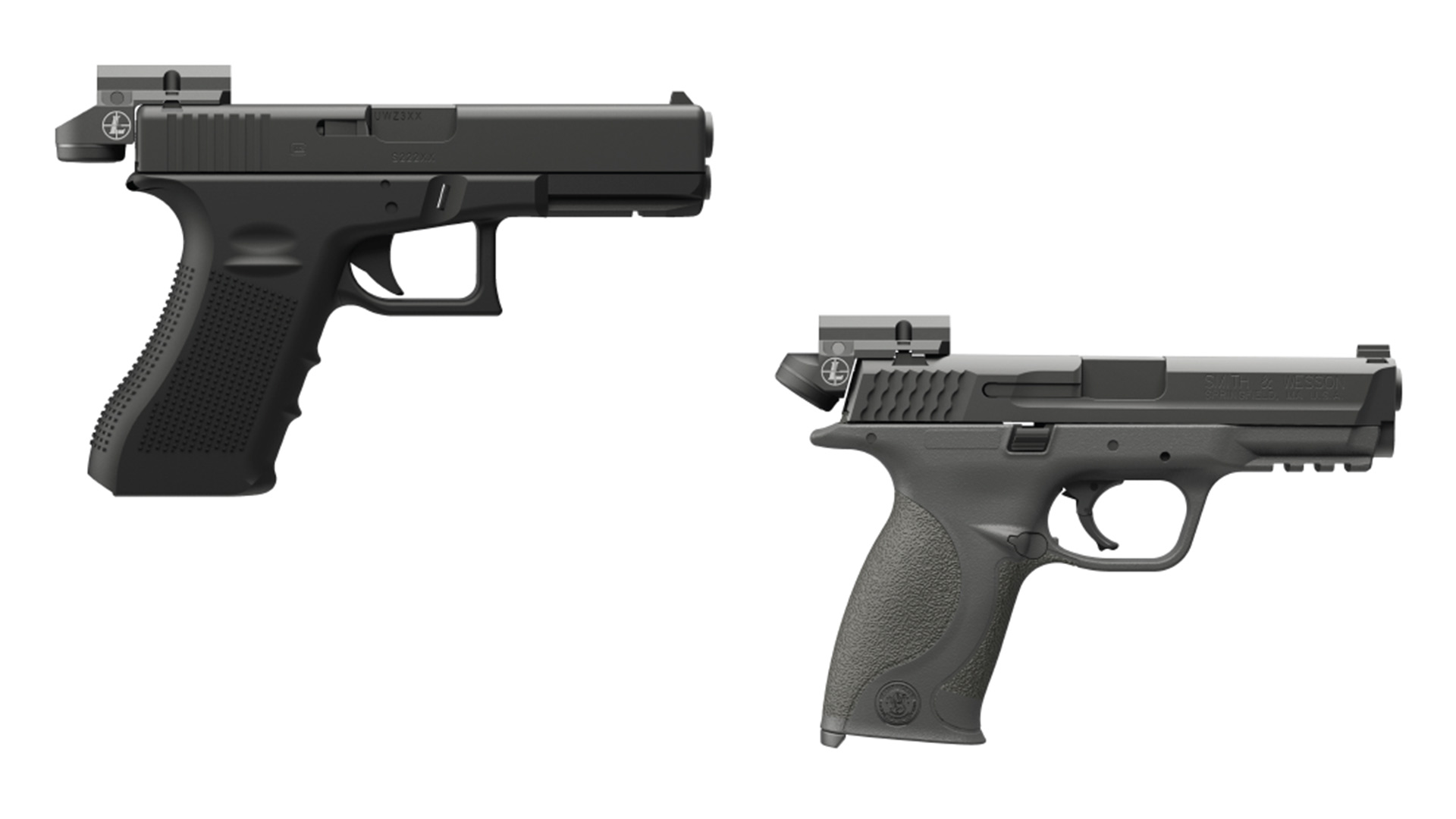 Leupold gets the salute for the single most innovative optical firearm sight for 2021. If you carry for self-defense, you've got to see Leupold's new DeltaPoint Micro red-dot sight. And the point is, it is less see-able. Designed for Smith & Wesson M&P and Glock pistols, this $400 red-dot sight is eminently concealable, especially compared to standard carry pistol optics, meaning it is less likely to print under a shirt. Perhaps even more important, if the battery fails the DeltaPoint Micro still works as a ghost-ring sight in a critical situation. (And what self-defense situation isn't critical?) The Micro slides right into the S&W and Glock rear sight dovetails—no specialized RMR slide required. The single control hangs over the back of the slide, and the Micro's 3-MOA daylight-bright dot co-witnesses with the factory front sights. Hopefully, Model 1911 carriers won't have to wait long for a DeltaPoint Micro to fit their own pistols.
Shooting Rests, Affordable from Birchwood Casey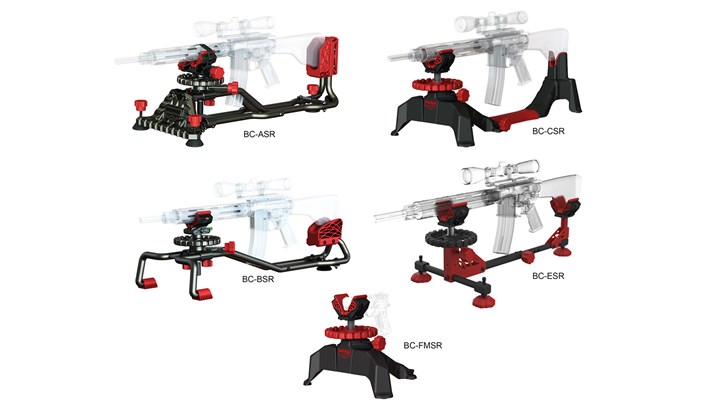 A bit pinched for pennies but looking for a shooting rest? Birchwood Casey has four new models to take a look at, all in the "affordable" classification, that will work with both full-length rifles and handguns sporting barrels of at least 7.5 inches (such as AR pistols).
The Alpha Shooting Rest is the beefiest of the new models, featuring a tubular steel frame, 35-pound integrated-weight front end with adjustable leveling feet and a bullseye level. The front rest also adjusts two inches in windage and 3.5 inches in elevation. Control knobs are oversize and ambidextrous, the stock rest is non-slip rubber and Birchwood Casey says the entire unit is low enough to use for prone shooting. At an MSRP of $229.99, the Alpha should cover all the needs of most shooters.
The Bravo model foregoes a couple of the Alpha's features to bring that MSRP down to $129.99. The Bravo keeps the tubular steel frame but drops the fully adjustable front end, though still retaining three inches of elevation adjustment and the bullseye bubble level. For $89.99, the Echo Shooting Rest drops another frill or two in order to be lightweight, compact and easily transportable but, again, is built on a steel framework and has windage and elevation adjustment. The Foxtrot model departs from the others in being molded of high-density polymer. The middle and buttstock rest sections remove to convert the unit into a pistol rest or break down for transport. With an MSRP of $49.99, you'll save enough to buy more ammunition. Check out Birchwood Casey's website for info on rests, shooting bags and more.
Bergara BMR for NRL22 and PRS Rimfire

What do you think of when someone says, "Spain?" While most probably visualize bullfighting, competitive shooters may start hearing, "Bergara" in their heads. Or maybe, "Marines," or the "sir sandwich" ("Sir, yes sir!") so many of us former military types remember not-so-fondly. An alumnus of former Precisions Weapons Section U.S. Marines is at the core of this Spanish company's production of the Bergara Micro Rifle (BMR), a scaled-down rimfire version of Bergara's B14 series of near-custom centerfires. While the heart of the bolt-action BMR is its match chamber, its external elements are clearly aimed at NRL22 and PRS precision rimfire competitive shooting. Lightweight synthetic stocks include sling swivel studs, and barrels come in 18- or 20-inch lengths, either carbon-wrapped or standard 4140 steel. Combined with the synthetic stock, the carbon-wrapped version weighs only five pounds. Muzzles are threaded for suppressors or brakes. The bolt knob appears somewhat, but not too-oversize, and a 30-MOA scope rail comes standard. The other key part of a match gun is its trigger, and the BMR includes that of the Remington 700. Best of all is the $659 MSRP for Bergara's BMR carbon-barrel model, which comes in well enough below the NRL22 "base class" rifle limit of $1,050 to leave enough cash for a nice optic.
Lapua PRC Brass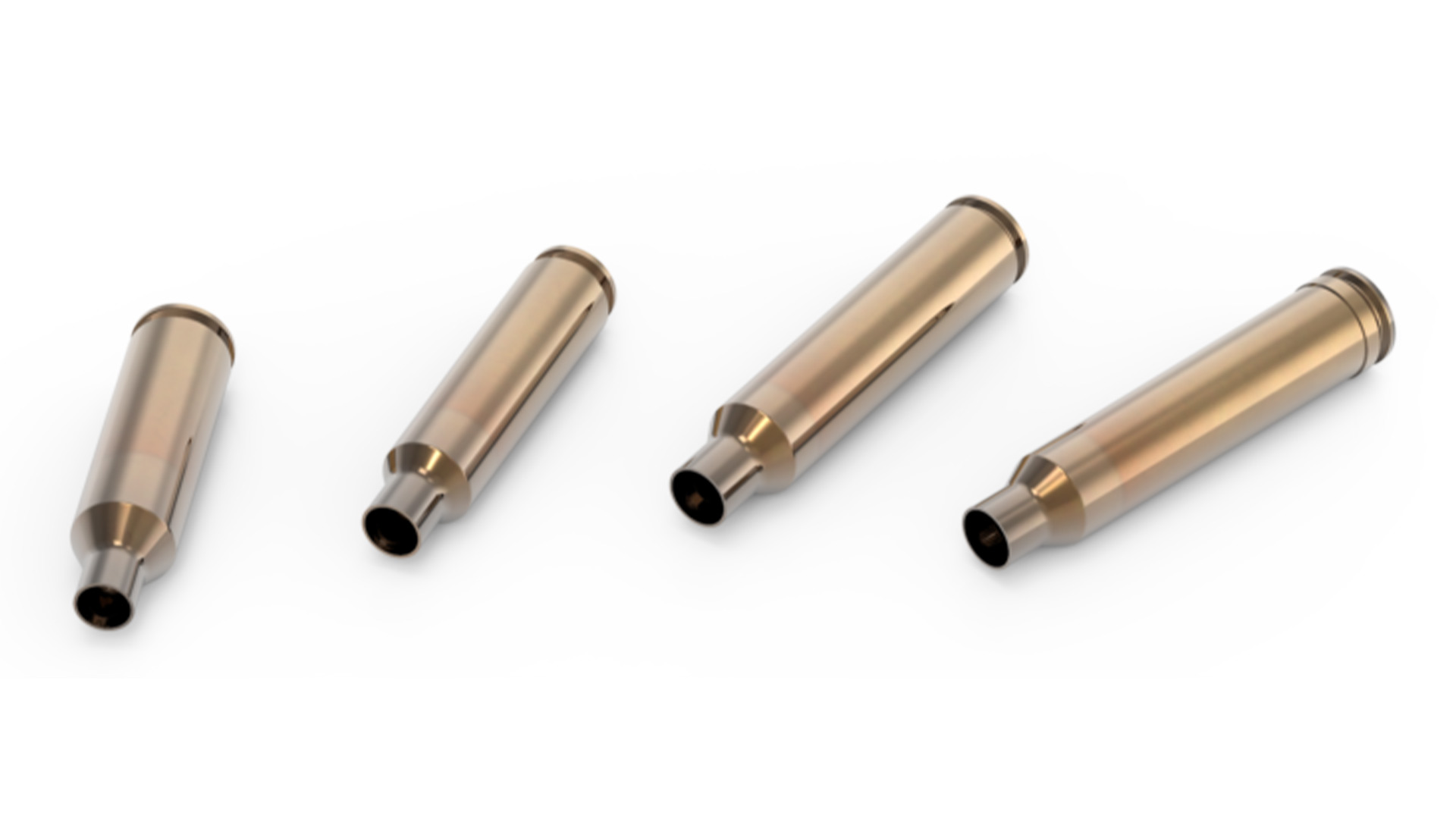 The precision reloader's friends at Lapua (pronounced, incidentally, "la-PYU-ah," not, "LAP-oo-ah") bring us four new brass offerings in 2021—6.5 PRC, .300 PRC, .284 Win. and .300 Win. Mag. The PRC cartridges are piquing a lot of interest, and Lapua sees a resurgence in the .284 Win. for long-range competition, where the necked-down case has long been used as the basis of the 6.5-284 in this game. Though the .300 Win. Mag. has been nearly, but not totally displaced from long-range competition by the various 6.5 cartridges, various militaries and law enforcement agencies have retained it for the grim work of serious sniping and the .300 Win. Mag. has remained a diet staple among big game hunters in the Western U.S. since its introduction in 1963. Lapua says these new brass cases will be available sometime this spring.
Lapua Match .300 Win. Mag.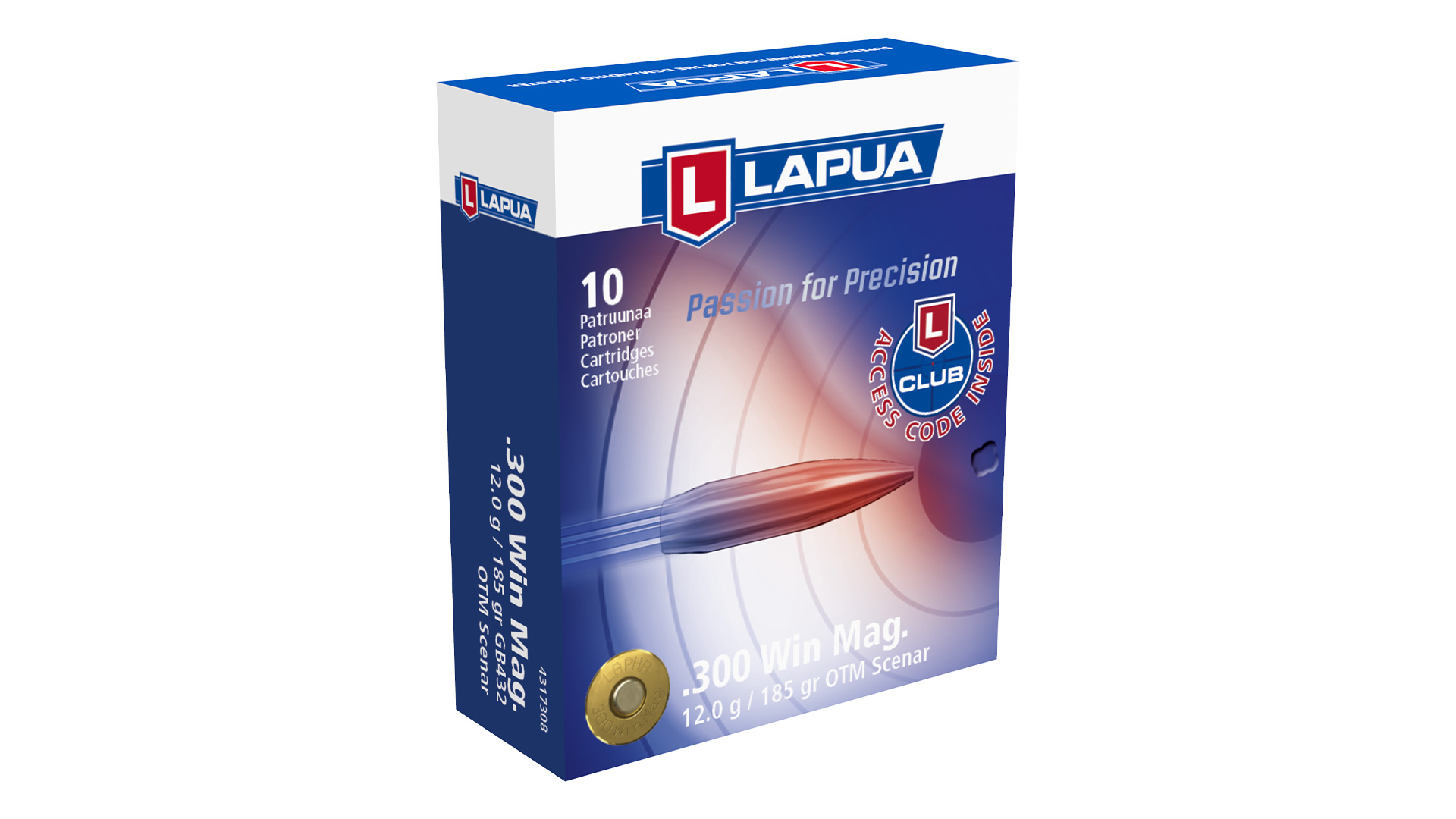 In addition to brass, this year Lapua is bringing out loaded .300 Win. Mag. ammunition that should also hit dealer shelves later in the Spring. This competition load sports the fine 185-grain OTM Scenar bullet, starting at a muzzle velocity of 3,051 f.p.s. and retaining 1,392 f.p.s. at 1,000 yards, making it a potentially viable 1,500-yard load. Hunters have two options, a traditional jacketed, lead-core 185-grain SP (Soft Point) MEGA bullet started at 2,723 f.p.s. and Lapua's lead-free 170-grain Naturalis expanding bullet that launches at 2,959 f.p.s. Here in the U.S., we'd call the Naturalis a polymer-tipped hollow point. In Finland, Lapua apparently calls that tip a "valve." The vagaries of language aside, the result is consistent expansion at a wide velocity range. Is Lapua's .300 Win. Mag. ammunition loaded with excellent Finnish VihtaVuori powder? That's a good bet.
Factory Custom Ruger Precision Rifle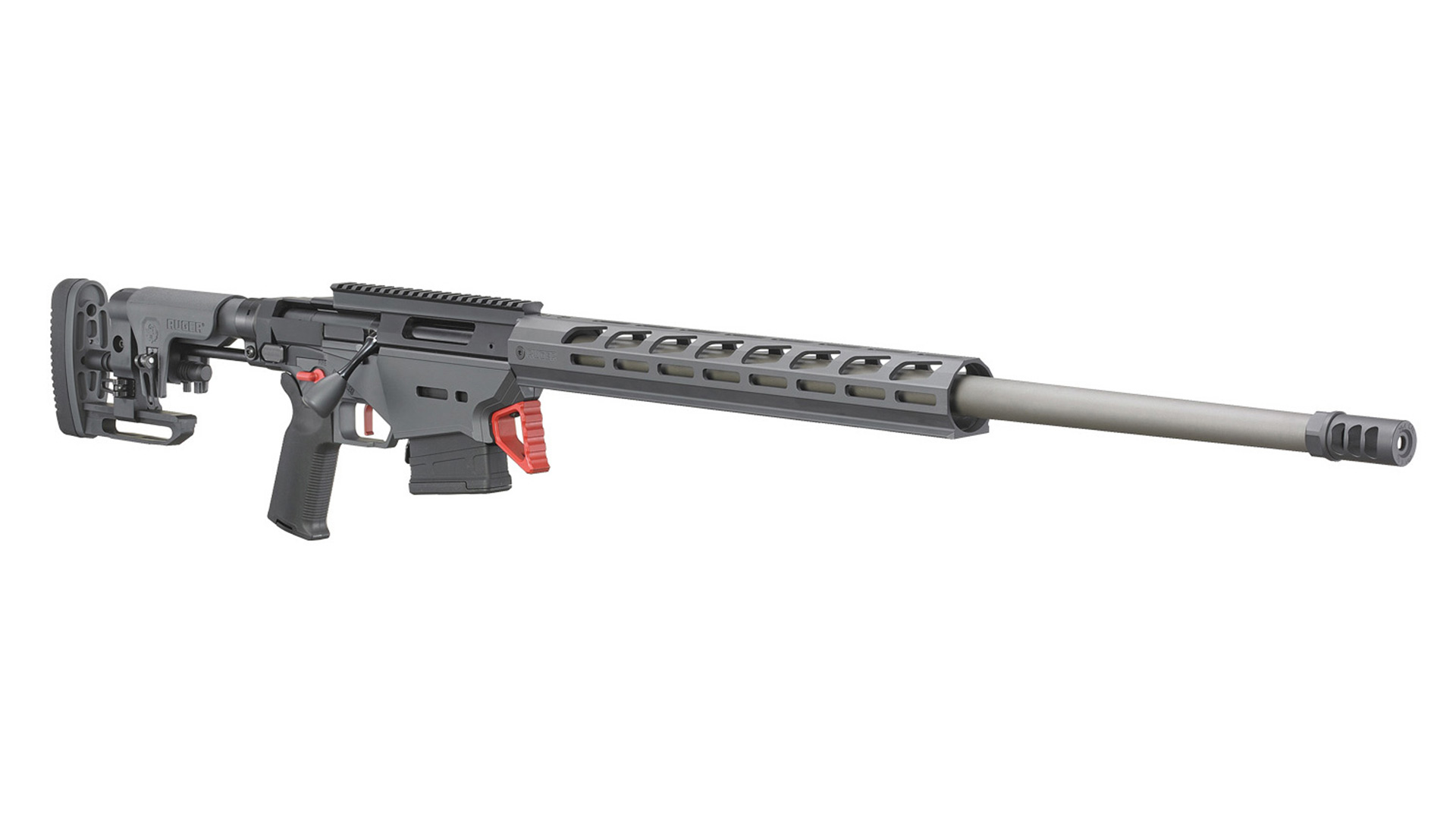 Ruger's Custom Shop has enhanced the already fine Ruger Precision Rifle with upgrades for the action competitor. Chambered in 6 mm Creedmoor, the heavy contour (0.850-inch at the muzzle) stainless steel 1:7-inch twist barrel includes a muzzle brake for faster follow-up shots. With the adjustable Trigger Tech trigger, shooters feel an exceptionally short, tactile reset. A barrier stop in front of the magwell provides a flat and stable surface to brace against. The Custom Shop has installed an ambidextrous safety for lefties or those "4.0—preventer" weak-hand stages, as well as a 20-MOA Picatinny rail to get your scope reaching out there. The mag well is flared for fumble-less fast mag changes, and there's more. The Ruger website has a veritable laundry list of 21 features found on their Custom Shop Precision Rifle. MSRP is $2,399.
A Browning For Those Who Can Hit the X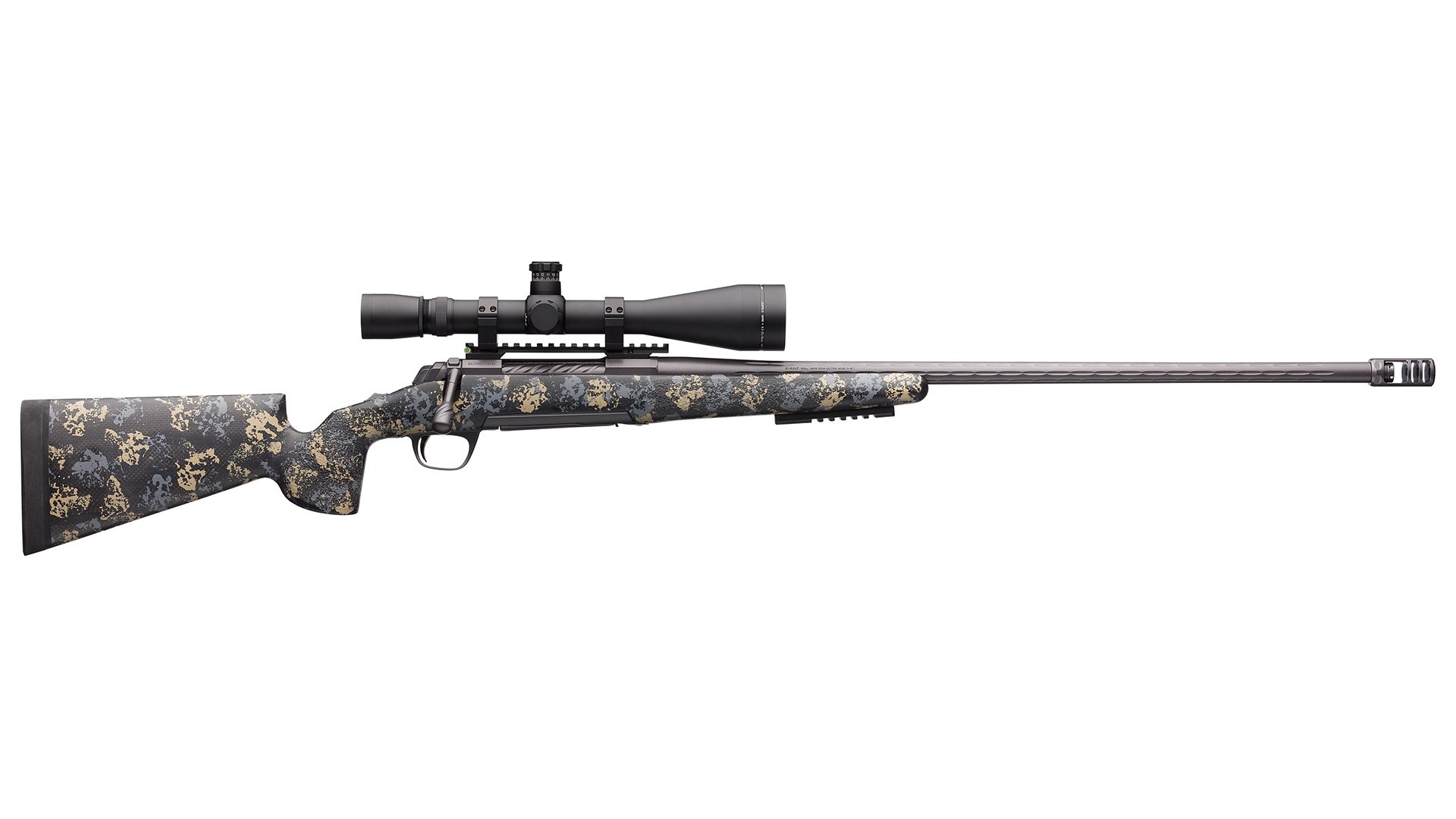 In 2021, Browning has the rifle for those with the marksmanship skills to take long-range shooting from the competition range to the big game hunting field. The X-Bolt Pro McMillan Long-Range rifle has a list of above-and-beyond features that reads as lengthy as Audie Murphy's combat commendations.
This X-Bolt begins with a 26-inch heavy sporter contour barrel featuring unusual "skip fluting" and a Recoil Hawg muzzle brake that, while the opposite of "unobtrusive," reduces recoil about 77 percent. Bolt and bolt knob, too, are fluted. Barrel, bolt and the long action have a weatherproof carbon gray Cerakote finish. Iron sights—are you kidding? A 20-MOA Picatinny rail with integral bubble level is included. Chamberings are all long-range numbers running from 6.5 Creedmoor to .300 RUM and including the new 6.8 Western. Twist rates appear to run on the fast side (e.g., 1:7-inch twist for the 6.5 Creedmoor and 1:8-inch twist for the .300 Win. Mag.), befitting heavy bullets intended to go far. The 60-degree bolt lift should clear the largest scope ocular lens. Scope mounting is via Browning's four-screw X-Lock base. Using Browning's integral ring-with-base, nothing is going to come loose under the heaviest recoil.
The "McMillan" part is that company's lightweight Game Scout carbon-fiber stock. The vertical grip with thumb shelf, and the forearm Picatinny rail for mounting a bipod clearly indicate this X-Bolt is made for long-range prone shooting. The Pachmayr Decelerator pad is no doubt welcome for the bigger calibers, as are the textured grip panels. What you don't see is the aluminum pillars for bedding the receiver, allowing the barrel to free-float. The "Sonoran Carbon Ambush" camo color scheme appears versatile enough for a variety of different hunt habitats.
While there is nothing diminutive about Browning's new X-Bolt, the 6.5 Creedmoor version remarkably weighs in at only seven pounds, with the .300 RUM adding less than half a pound to that. With an MSRP of $2,629.99 to $2,699.99, the long-range hunter is getting a lot for the money.
Speaking of 6.8 Western…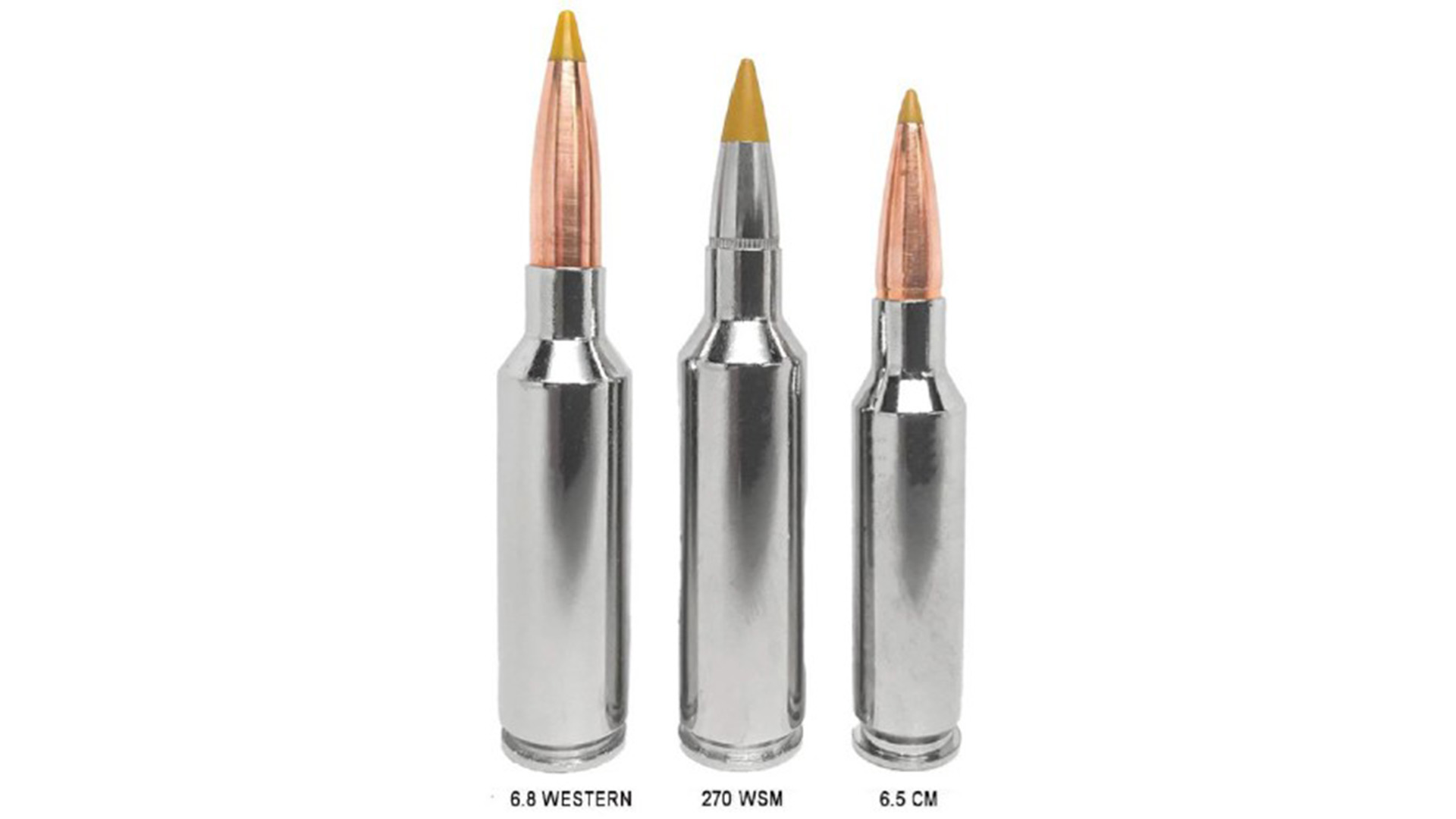 Not so long ago, American ammunition and gun manufacturers couldn't sell anything new with a metric designation. They had to call a 6 mm bullet a "244" and a 7 mm a "270." Times change, and in 2021, it is without vernacular reservation that Winchester introduces its 6.8 Western cartridge.
One might think of the 6.8 Western as essentially increasing the wallop of the .270 WSM, and he wouldn't be wrong. The 6.8 Western does so while maintaining the .270 WSM's advantage of chambering in a short action, but whereas the .270 WSM utilizes the same 130-grain and 150-grain bullets of the longer (and slightly slower) .270 Win., the 6.8 Western ups the ante to 175-grain bullets. It does so by seating bullets well out of the case, leaving more room for powder and allowing longer and heavier bullets of higher BC. Viewed side-by-side, the .270 WSM and 6.8 Western appear nearly identical, except for all that bullet sticking out of the latter's case.
There are several factory loads for the 6.8 Western (prepare for an acronym onslaught here). The Browning Long-Range Pro Hunter (LRPH) load launches Sierra's 175-grain Tipped GameKing (TGK) at 2,679 f.p.s. Winchester's Expedition Big Game Long-Range (EBGLR) load includes a 165-grain Nosler Accubond Long-Range bullet (ABLR) with a G1 BC of 0.620. Started at 2,896 f.p.s., the ABLR stays supersonic out to about 1,600 yards. There's also a Winchester 170-grain Ballistic Silvertip load. For competition, we've got Winchester 6.8 Match with Sierra's 170-grain HPBT MatchKing. The March 2021 issue of American Rifleman has more detailed information on cartridge performance. For handloaders, Hodgdon's online Load Center already has 95 different loads listed for the 6.8 Western cartridge—including data for seven bullet weights and 14 powders. And, of course, Browning has the new so-chambered X-Bolt. Is all that coincidence? Maybe not.
Check out more new products for 2021:
---
Read more: Choosing The Right Bullets For Pistol Compensators